Georgia Football: Young Bulldogs Who Will Soon Become Elite Players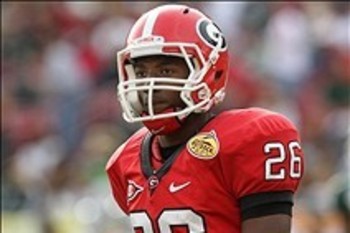 Kim Klement-US PRESSWIRE
There are many players that have played for the Georgia Bulldogs. Some have had great careers and will go down in the history books. Others had high expectations, but did not have the career fans or they would have liked.
Last year, there were a few young players that had good seasons and are on pace to be top players in the SEC. There's even one player that has not played a down yet, but could be Heisman candidate if he plays his cards right.
Here are five young Bulldogs that will soon become elite players.
Ray Drew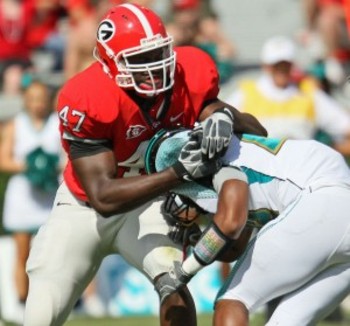 The Bulldogs may have lost Isaiah Crowell, but they still have another headliner from the 2011 "Dream Team" in Ray Drew.
Last year, Drew played seven games at outside linebacker and tallied eight tackles and one fumble recovery.
This year, Drew will play defensive end and will have serious chance to do some damage.
In fact, CBS Sports has Drew listed on their All-Breakthrough Team and they say that they will have trouble getting him off the field because he will make that much of an impact for the Bulldogs.
Drew played defensive end in high school. So going back to his natural position should pay dividends for him.
Photo Credit: Atlanta Journal-Constitution
Amarlo Herrera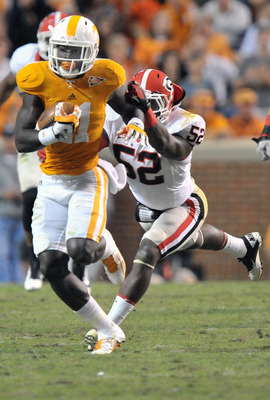 Jim Brown-US PRESSWIRE
Because of injuries, Amarlo Herrera was forced into the starting lineup, but he did not disappoint. In the 14 games that he played in (eight which he started), Herrera had 37 tackles, one fumble recovery and thee passes defended.
His players and coaches liked him so much, he was awarded Newcomer of the Year for his efforts.
Herrera will not be the full-time starter this year. But because of his experience and his ability to play sideline to sideline, he will see a lot more action this year than last year.
Jay Rome
With Aron White and Orson Charles gone, two new tight ends will take the reins and one of them is a standout freshman from Valdosta, Ga. Jay Rome maybe unproven, but he has all the tools to be an elite SEC tight end. At 6'6'', 254 pounds, Rome has the size to be that big target for Murray, but has enough speed to stretch the field.
Rome had a excellent spring season, but he still has a lot to learn about the offense. So that is why Arthur Lynch is the starter, but Rome will see a lot of action when the team goes into the two tight end set.
If Rome is able to build off the success he had this spring, he will be playing on Sundays sooner than later.
Keith Marshall
Keith Marshall has not played a down of college football, but he is already one play away from being the starter.
Marshall has breakaway speed and is very elusive. He also has enough size to have 200 carries a season.
With him being a true freshman, he will have his growing pains, but once he's a junior, he should be the top back in the SEC if he continues to grow as a player and learn from veterans like Ken Malcome and Richard Samuel.
Malcolm Mitchell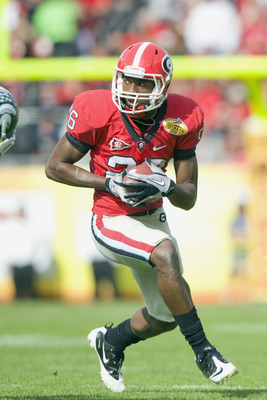 Jeff Griffith-US PRESSWIRE
One could argue that Malcolm Mitchell is already an elite player because of the year he had at wide receiver last year.
But with him playing some cornerback this season, he has a chance to be an impact player on both sides of the ball.
Mitchell has the speed to beat cornerbacks and hang with wide receivers. What will happen this season is that he will spend the first half at corner to relieve suspensions and then focus on wide receiver during the second half of the year.
If he is able to be a playmaker at corner and continue to be a playmaker at wide receiver, Mitchell will be numerous award watch lists by July 2013.
Keep Reading

Georgia Bulldogs Football: Like this team?