Invicta Fighting Championship: The MMA Version of the WNBA?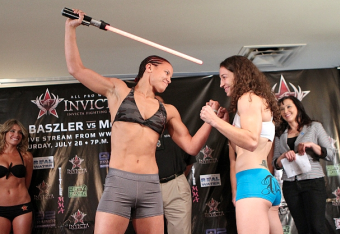 Photo via Invicta.com

I remember when it was announced that women would finally have their own professional basketball league. I was sitting in Madison Square Garden with my folks and the New York Liberty were holding a press conference with the first incarnation of the team.
Like most 12-year-olds, I was excited about another sports franchise in New York. Heck, my family was one of the first season-ticket holders for the New York/New Jersey Metrostars because of my fandom. It was the concept of professional sports rather than the actual gameplay that got me excited.
Then it started to settle in that what made the NBA so exciting was missing. Sure those women could hit a jumper and had the technical skills to drive the lane for a layup, but what kind of highlight reel is comprised of jump shots and layups? The game lacked the fast-paced action and hard-nosed gameplay in the paint.
That's how I feel about women's MMA.
For full disclosure, I didn't watch InvictaFC 2 live. I was having dinner with my family and instead watched it this morning on YouTube. I didn't have to deal with the mess that was the server errors and constant stream failures.
I also wasn't one of the supposed 227,000 (as tweeted by Shannon Knapp) people who were trying to tune in at 7 p.m. I say that with a bit of sarcasm as those numbers just don't make sense. The UFC's Facebook streams have roughly the same amount of traffic with a far stronger brand and streaming service.
There's also the big fact that the UFC's last event on Fuel TV, which pitted two top middleweights in Mark Munoz and Chris Weidman, had the same type of numbers.
Now I don't care that Invicta may be slightly misleading in their numbers. The only ones that they are truly affecting are sponsors and would-be television executives.
My issue is that people are trying to pretend that a card with absolutely ZERO name recognition was the card of the year. It was akin to an M-1 Global event or something you'd expect to see on HDNet.
Yes, I do appreciate when fights get finished—there were 10 finishes in 14 fights. But look at the level of talent. People are speaking as if the women who fought on InvictaFC 2 are the best of the best. And I'm not even talking about the best women.
I'm saying everyone's pretending that these are the absolute best fighters in completely fair and even matchups.
I don't want to come off as being the bully, but enough is enough already. I hope that Invicta survives because I'd like to see an outlet for female fighters. But there's a Bright Eyes song called "Let's Not Sh*t Ourselves"; I feel like that is what we should be doing when approaching and discussing regional MMA.
Last night you got to see the MMA equivalent of Sheryl Swoopes and Rebecca Lobo. Stop acting like you watched Jordan and Bird in their primes. It's an insult to yourself and everyone's intelligence.
This article is
What is the duplicate article?
Why is this article offensive?
Where is this article plagiarized from?
Why is this article poorly edited?