USA vs. France Basketball: 5 Things We Learned in US Opening Contest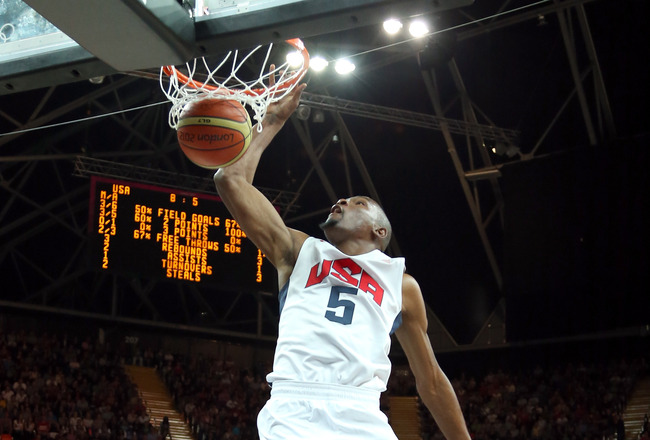 Christian Petersen/Getty Images
One game down, five to go in group play at the 2012 Summer Games in London.
Team USA was able to get ahead of France in the second quarter and had little trouble building on their lead as they won easily, 98-71.
Kevin Durant led all scorers with 22 points on 6-of-13 shooting from the field to go along with nine rebounds and a pair of assists and blocks.
France was paced by forward Ali Traore, who finished with 12 points (5-of-8 from the field) and five rebounds.
Aside from the fact that Durant can score with anyone in the world, what did we learn from the first game for both teams in London?
Let's take a look.
*Team USA's next game is Tuesday evening at 5:15 p.m. ET against Tunisia. Make sure to stay with Bleacher Report for the latest news and analysis on the Americans' quest for their 14th gold medal in Men's Basketball.
Tony Parker's Eye Injury Is an Issue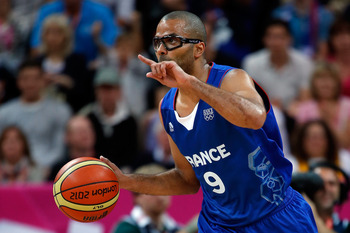 Parker wasn't himself against Team USA.
Jamie Squire/Getty Images
While he was able to break down the U.S. defense early, Tony Parker struggled.
A career 49-percent shooter from the field, Parker was never able to get into a rhythm offensively, finishing the day 4-of-11 from the field (2-of-3 from the line) with 10 points. Partially due to his wings struggling to find an outside shot, he only dished one assist while turning the ball over four times.
Whether it was a combination of his injured eye not being fully healed and his dislike of the protective goggles he's been forced to wear by Spurs coach Gregg Popovich or Team USA's defense that kept him off his game is something we'll get a more definitive answer to on Tuesday when France takes on Argentina.
If Parker isn't able to play at his usual high level, France will find it virtually impossible to medal in London.
It's Easy to Get into Foul Trouble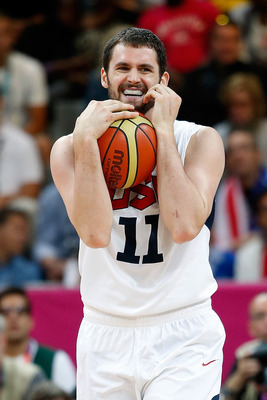 Kevin Love could only laugh at some of the calls against Team USA.
Jamie Squire/Getty Images
Players on both sides found out quickly that the officials don't care what your name is or how big of a superstar you are back home—in London, everyone is equal in their eyes.
And those eyes were working fast and furious, spotting and calling 26 fouls on each team and keeping the pace of the game to a crawl for much of the afternoon.
Consider this—every member of Team USA got into the game and only one, Andre Iguodala, didn't have an infraction called against him.
Four Americans (Carmelo Anthony, Kobe Bryant, Tyson Chandler and Kevin Love) finished with three fouls while Russell Westbrook was the only one with four.
Considering how easy it was to accumulate fouls in a relatively short period of time, everyone on Team USA's roster—especially the big men—will have to be mindful of the fact that this is not the NBA, where there is plenty that goes uncalled.
Against a team with a formidable frontcourt—Spain, for example, who brings Serge Ibaka and the Gasol Brothers to the party—early foul trouble could lead to unfavorable defensive matchups and issues for Team USA in the paint.
LeBron James Is the Best Playmaker in the World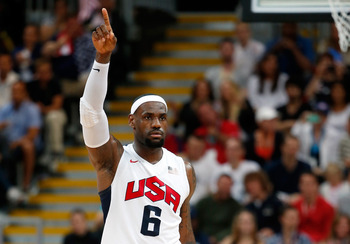 Jamie Squire/Getty Images
More than ever, comparing LeBron James to Michael Jordan becomes harder to do.
Because LeBron isn't the second coming of Jordan, he's the second coming of Magic Johnson.
While everyone knows that he can drop 30 points if necessary, he's very comfortable playing the role of facilitator, allowing him to utilize his otherworldly court vision and get his teammates involved. Case in point: he finished the game with nearly as many assists (eight) as points (nine).
So with all due respect to Chris Paul, Deron Williams and Russell Westbrook (who committed some silly fouls)—LeBron is not only the best player on the planet, he's the best playmaker as well.
Team USA Needs to Get Away from the Isolation Offense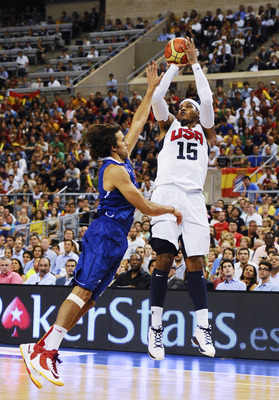 David Ramos/Getty Images
While Team USA didn't have much difficulty with France for the last three quarters of the game, the opening frame was a completely different story.
The Americans struggled to find their shot, going 0-for-6 from behind the arc while watching the ball get stuck with players as if they were enveloped by the gravitational force of a black hole.
Ball movement was at a minimum, and that allowed France to keep it close, only trailing 22-21 at the end of the first quarter.
Once they began to get back to solid ball movement, the offense opened up—no surprise that this coincided with an 11-0 run to start the second quarter. Shots became less contested and easier to drain and the high-powered attack of Team USA got out and running, never looking back.
Against a more formidable foe, sticking with isolation for too long could find the Americans playing from behind, a position that nobody expects them to become familiar with in London.
Team USA's Depth Might Be Too Much for the Rest of the Field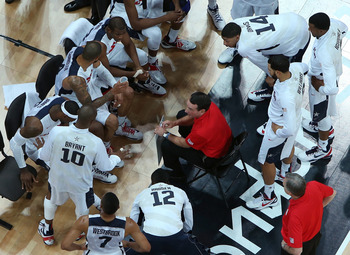 Who are the scrubs?
Rob Carr/Getty Images
It's the reason why the United States is the overwhelming favorite to repeat as gold medalists in London.
This team legitimately goes 12 deep—everyone on the roster is good enough to start in the Olympics. Where other countries have a noticeable drop off in ability and talent between their first unit and second unit, no such void exists on Team USA.
That simply might be too much for anyone to overcome. It was for France.
Keep Reading