Tottenham vs. Liverpool: 10 Things Learned About Brendan Rodgers in Preseason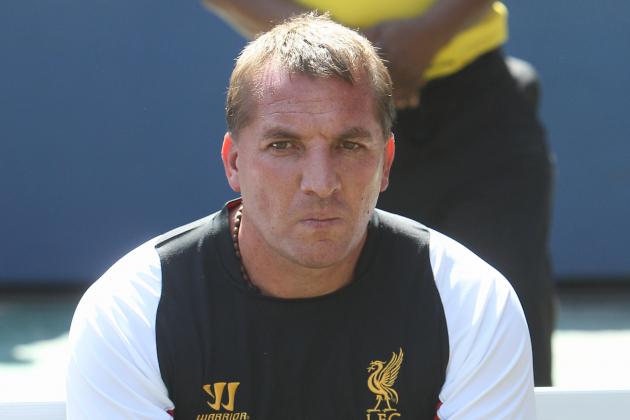 Tom Szczerbowski/Getty Images

Coach Brendan Rodgers has completed his first preseason with his new club Liverpool. Liverpool played Toronto, AS Roma and Tottenham before getting down with preparations for the opening competitive fixture of the 2012-13 season.
Liverpool will play FC Gomel in the third round of Europa League qualifying this coming Thursday. As Liverpool and Brendan Rodgers look forward to their first leg in Belarus, there has been a lot that Rodgers has revealed about himself through his actions and words in preseason.
Let us look at 10 things that we have learned about Brendan Rodgers while he moves forward in this job filled with immense pressure.
Begin Slideshow

»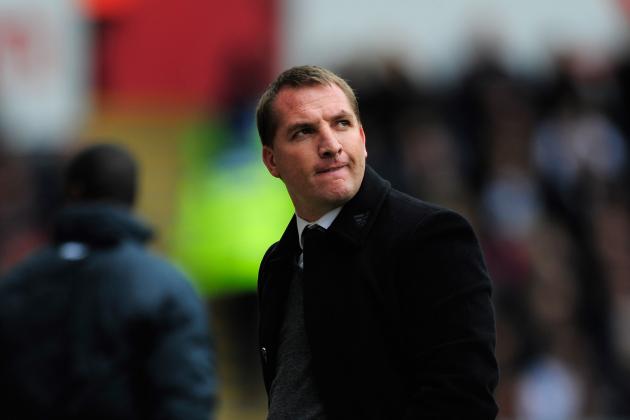 Stu Forster/Getty Images

Rodgers' words reveal a lot about him. In an interview telecast on television just prior to the match he reiterated an opinion most fans and people who have seen him come to associate with him. He is very clear on what he wants to do and the ways he wants to fit any jigsaw.
He expressed his plan and his intentions with the match. He was treating it as a match aiding in building fitness and did not feign trying to achieving brownie points with the fans while the Reds played a Premier League opponent.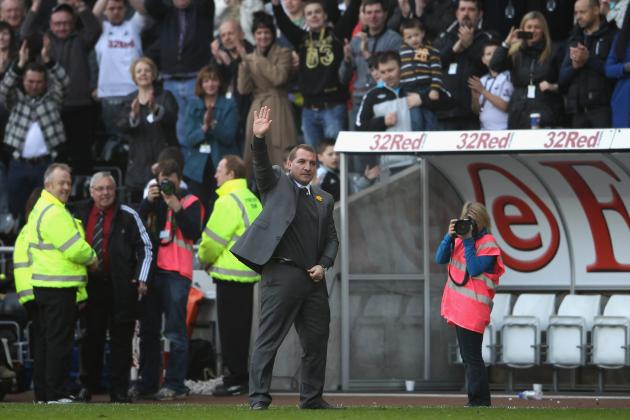 Scott Heavey/Getty Images

Rodgers lays importance on fitness as he knows that his style requires great physical attributes in terms of stamina at least. He was not quick to rush any of the senior players into action while he also made it sure that the youngsters also did not over-exert by giving 45 minutes to most.
It was only against Tottenham that he raised demands to gradually increase the players' fitness before Thursday's qualifier against Gomel.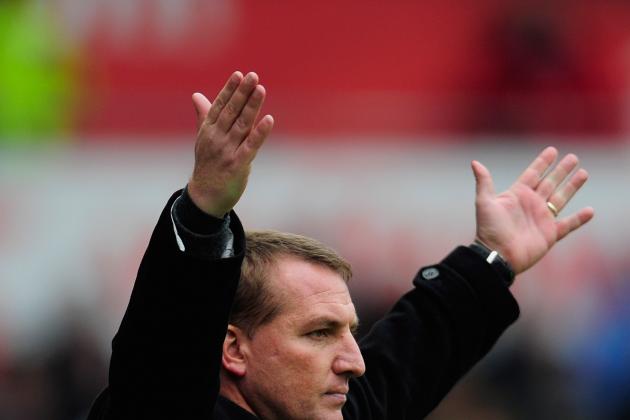 Stu Forster/Getty Images

Rodgers is very positive, and this bodes well for Liverpool who need such a personality now. His words exude confidence and his body language oozes class.
Fans should be hoping that the players take notice and incorporate such traits within themselves. He is not here to win a few matches and qualify for the Champions League. He wants to win as many trophies as possible.
Along with the talk, he is walking the walk as a Liverpool side hardly at full-strength has managed to be competitive in preseason and look threatening against a Tottenham side Liverpool failed to score against last season.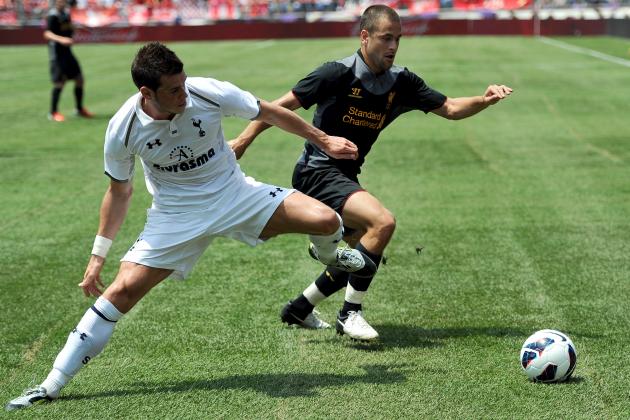 Patrick Smith/Getty Images

Rodgers is very resourceful. He has not given up on personnel such as Jay Spearing, Jamie Carragher and Joe Cole. Spearing showed glimpses of what he is capable of, although this was only preseason and things will get harder as the season progresses.
Carragher's affiliation with hoofing the ball upfield has been worked on by Rodgers. This sort of work is evident with Cole too as he looks a different player. Cole himself has said that the system of Rodgers suits him better.
I also do think that Rodgers will take a good amount of work from the youngsters.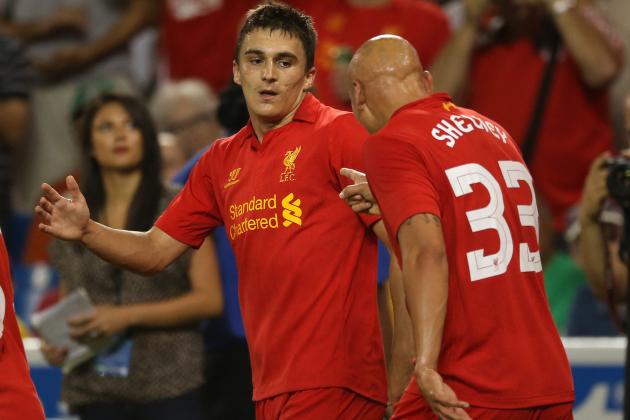 Tom Szczerbowski/Getty Images

Whether it is tying down players to new contracts, scouting for young talent or playing youngsters to help them develop, Rodgers and his philosophy have been conducive to success.
I am already beginning to see why Adam Morgan may genuinely play a good number of games next season.
Rodgers might have suggested a loan for Raheem Sterling, but that is primarily because he is a winger. A winger's defensive duties require much more discipline than that of a striker. A striker just has to fall back and press as he plays through the center.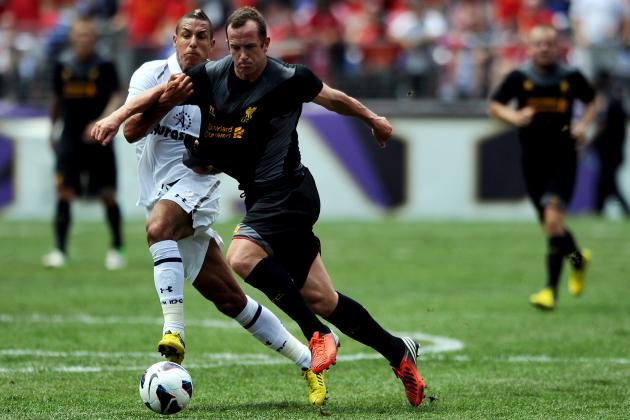 Patrick Smith/Getty Images

Possession football was already present at Anfield under Kenny Dalglish. Rodgers has moved it up to the next level. The pass-and-move under Dalglish did not have enough movement from the players.
Under Rodgers, the style is not exactly pass-and-move, but possession and movement.
It is not one and the same thing. Rodgers realizes the physical demands of modern-day football. Last season, Liverpool tried moving the ball fast without players that were speed demons. They were adamant on creating attack after attack without concentrating on the quality of the chances.
The Reds under Rodgers build attacks with patience. Penetration is also a new feature of this new culture at Anfield ,which sees players such as Joe Cole bombing forward whenever they see the opportunity.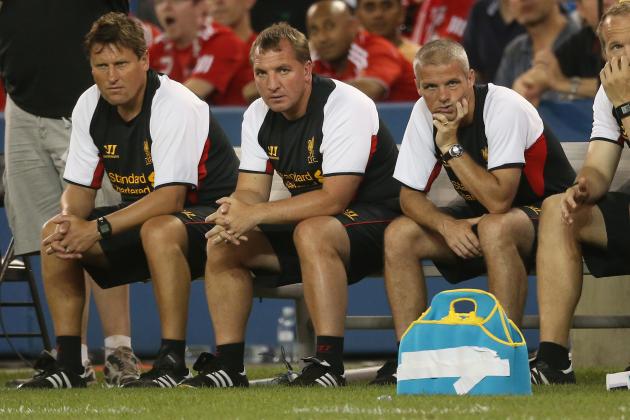 Tom Szczerbowski/Getty Images

The most recent example of the Liverpool gaffer talking to players was against Tottenham.
Charlie Adam had made a clumsy tackle on Gareth Bale and treatment was being provided. Adam Morgan was doing a good job leading the lineup till then, and Rodgers did not miss an opportunity to talk to him and give him more confidence besides supposedly telling him things he may try.
Kenny Dalglish exemplified such a stance when he entrusted Jack Robinson to deal with Theo Walcott against Arsenal. Fans can expect more of the same from Rodgers.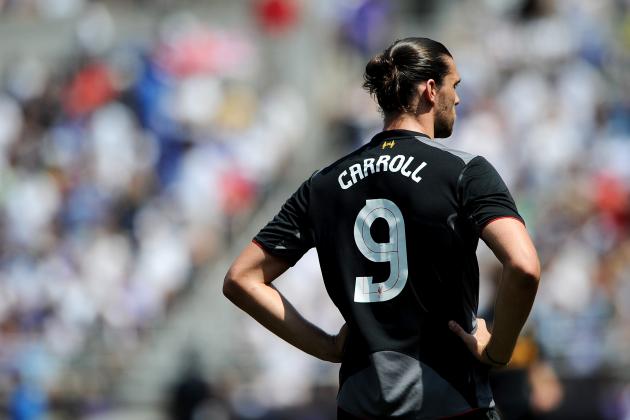 Patrick Smith/Getty Images

The new boss may be travelling the right path and showing encouraging signs but he still has a lot of work to do, as yet anyway. Liverpool's main problem last season was scoring goals. With only two goals scored in preseason there is still a lot of improvement to be desired.
The signs are there that Liverpool will improve, but Rodgers has to do it as early as possible to get the fans even more on his side.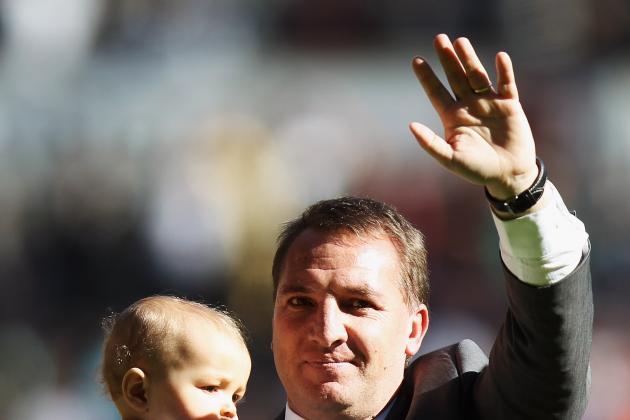 Bryn Lennon/Getty Images

When Adam Morgan broke through clear on goal against Tottenham, Liverpool fans must have been relishing the prospect of seeing more of such plays over the course of the season. Beating the offside trap and going one-on-one with the keeper has not been seen for a long time with Liverpool.
It is one of the main weapons to score but Liverpool have tried employing other tactics of late, such as bombarding the penalty area with crosses without people in the box.
The sight of Michael Owen against the keeper used to be refreshing. Now Morgan is no Owen, but he still managed to show game intelligence for executing such a play.
This and other features of Liverpool's play that will get fans reminiscing about past teams and successes will no doubt refresh the atmosphere of the Kop.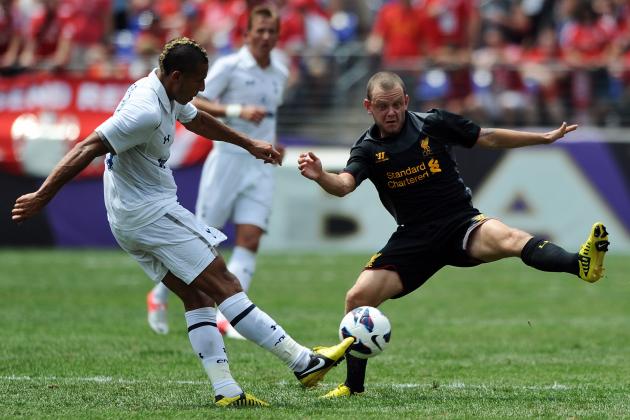 Patrick Smith/Getty Images

Liverpool were at a time linked with Andre Villas-Boas for the vacant managerial position after Dalglish was sacked. Rodgers was appointed for Liverpool and Tottenham have subsequently appointed AVB.
Seeing the Liverpool vs. Tottenham match I can rest assured that between the two of these, Rodgers is better, at least for the Premier League. He is much more well equipped to deal with the frailties that exist at the moment for the Reds.
Liverpool dominated Tottenham at times in the match and Morgan up front was causing one or two problems. In the sweltering heat, it was undoubtedly Liverpool who adapted better, and they will go home convinced that they can battle Tottenham and the others for a top-four berth in the EPL if not do more.