Predicting Chelsea's First-Choice Starting XI for the 2012-13 Season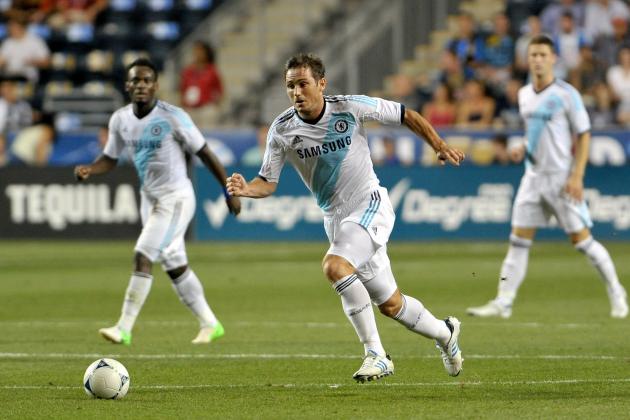 Drew Hallowell/Getty Images

Now that most Chelsea fans have realized that losing to the MLS All-Stars in a silly summer friendly is much better than losing to Bayern Munich in the UEFA Champions League final we can all simmer down a bit and concentrate on the upcoming season.

With the acquisitions of Marko Marin, Eden Hazard and now Oscar, the Blues are incredibly deep in the midfield and can now focus on solidifying a strong starting XI for the Community Shield on Aug. 12 at Villa Park against Manchester City.

What specific formation manager Roberto Di Matteo will employ is still a question but with this current roster it's quite obvious owner Roman Abramovich's desire to change from a club of domineering strength to a Spanish-Barcelona tiki-taka type of offense of short passes and ball control has truly begun.

There will no doubt be several more moves in the next three weeks but Abramovich and his barrels of Russian oil money have provided Di Matteo with more than enough toys to make a run at defending champions Manchester City and rival Manchester United in the English Premier League.

Here's who I think would be ideal in the starting lineup based on their past track records and what they've showed so far in the preseason tour in America.
Begin Slideshow

»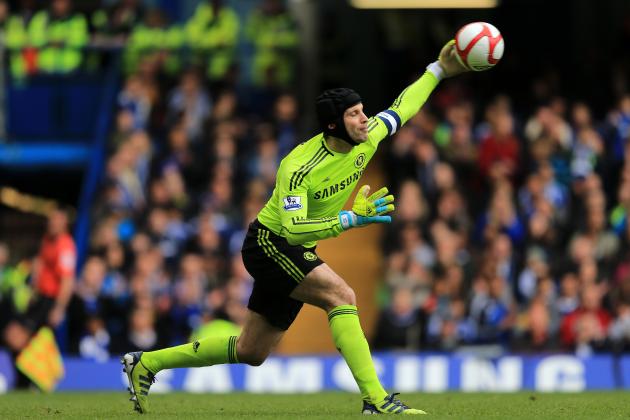 Richard Heathcote/Getty Images

He hasn't played as much as Chelsea fans would have probably liked so far in the preseason but that's a good thing.Di Matteo needs to see what his other three goalkeepers can do in game mode, they all need the playing time against quality opponents and Čech deserves a little rest.
What's beautiful for us royal blue-blooded, celery-eating Chelsea fans is that management signed the 30-year-old Čech to a four-year deal in May meaning the club is set in that position for quite some time.
And when you have one of the five best goalkeepers in the world under wraps and can then concentrate on bolstering other positions on the pitch, management deserves much credit.
Ross Turnbull, Henrique Hilário and Jamal Blackman will again compete for the No. 2 spot and although all of played adequately this preseason, none has really impressed enough in my opinion yet to be able to lay claim to be being Čech's first backup.
Drew Hallowell/Getty Images

Truly one of the most consistent players for the Blues over the years, the 31-year-old Cole is an automatic start at this spot until he shows some real signs of aging.

Cole is very adept at being in the right place at the right time but to date, management has failed to offer the Englishman a new deal and no talks have been planned meaning Chelsea is either seeing how much he has left or will simply let his contract run down and part ways with him next summer as they just did with Didier Drogba.

Who knows what will happen but having Cole—who suffered a fairly serious calf injury last season—and the talented Ryan Bertrand to choose from this season, and possibly more, means the left back position shouldn't be a big worry right now.

And he may not win any spelling bees but Cole made it clear on Twitter this week how he feels about it all:



untill chelsea dnt want me im #cfc4life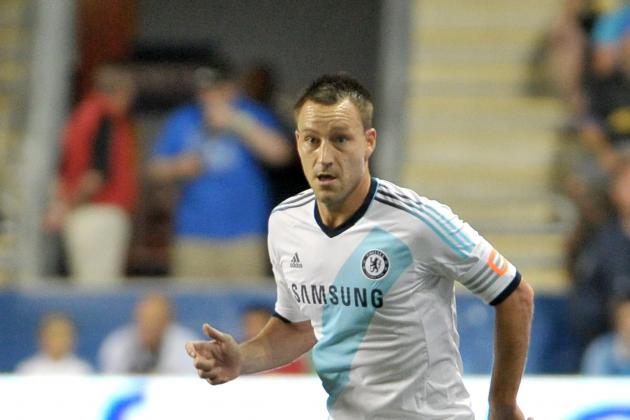 Drew Hallowell/Getty Images

This would be a no-brainer except for the fact that the Chelsea legend faces a possible ban that could rule him out for quite some time after the FA decided to press charges against him Friday for allegedly using "abusive and/or insulting words and/or behavior" toward QPR's Anton Ferdinand in a match last October.

Terry, who was cleared on a racially aggravated public order offense by Westminster Magistrates' Court two weeks ago, denied the charge and has already requested a personal hearing on the matter but the 31-year-old Blues captain may miss the start of the season because of it.

Whatever happens and when the dust clears, Terry will be starting in this spot and after having more passes than anyone on the club last season along with six goals in the English Premier League, this defenseman has proven through the years he can be very offensive—no pun implied—on the pitch (49 career goals) and has one of the strongest headers in the game.

Should Terry be banned, Gary Cahill or Paulo Ferreira both provide very capable backups in the spot.
Jeff Zelevansky/Getty Images

The Blues hairiest member, the 25-year-old Luiz always looks more like a midfielder than a defender but after how he played last season, this spot is his until further notice.

The energetic Brazilian led the team in interceptions last season, has proven to be a scoring threat as well as a good penalty kick option for what it's worth.

And like with Cole or Terry, should Luiz get injured or someday be moved up to a midfield spot, Cahill, Bertrand and Ferreira give Chelsea and Di Matteo a solid trio of backups with which to work.

But for the Community Shield against the Sky Blues, the EPL opener and the near future, expect Luiz to start at his usual right center back position.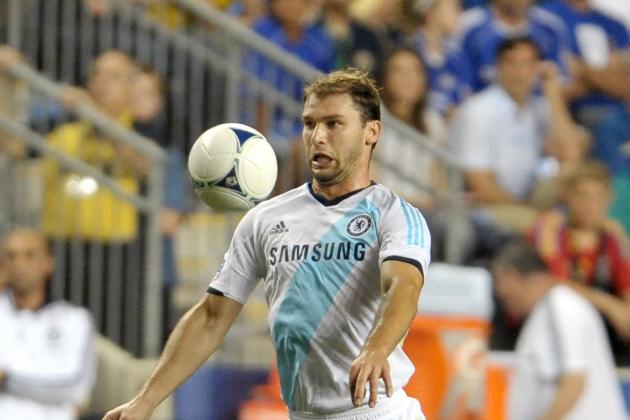 Drew Hallowell/Getty Images

I think it's safe to say all Chelsea fans feel better when Branislav Ivanović is in the starting lineup.

The 6'2" Serbian is like that speedy linebacker in football or that ornery defenseman in hockey that loves taking the body of opponents and quickly gets in their heads and makes them leery of going too fast and too hard in his general direction.

Intimidation is the perfect word for the presence Ivanović provides for Chelsea on the pitch.

And he's not only intimidating on the field as he showed this week when he fired a shot over the bow over defending EPL champs Manchester City in an interview.

"It's going to be very tough for City. It was the same with us," the 28-year-old said in an interview via ESPN. "When you win the league all the other teams, big or small, fight and have extra motivation against you. A lot of teams will be going for the title this season."

I'd go to war with the 6'2" Ivanović any day.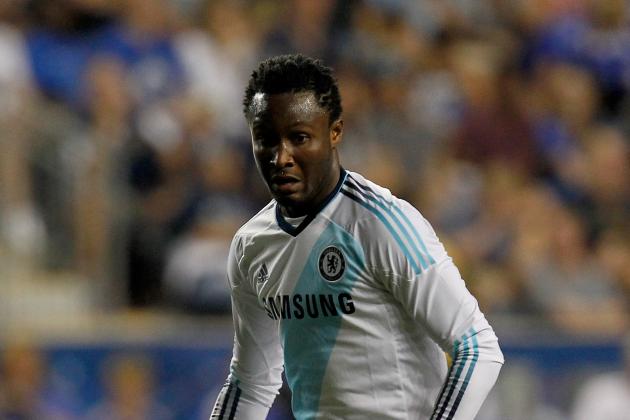 Jeff Zelevansky/Getty Images

One of the toughest calls of all the starting spots heading toward August, I give the slight edge here to John Obi Mikel over Michael Essien.

Although Essien has looked decent in the preseason tour in America so far, Mikel has
looked pretty darn good and I feel the 25-year-old Nigerian deserves this spot in the starting XI because of his defensive prowess.

Toss in the fact that Essien suffered a very serious knee injury last season and it would seem in the club's best interest to use the Ghanaian off the bench to start the season in one of the likely two midfield holding positions just to be safe.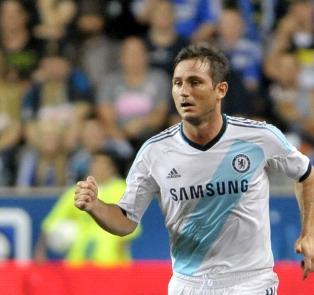 Drew Hallowell/Getty Images

With a plethora of attacking midfielders capable of scoring and creating offense now on the roster, it looks like Frank Lampard may now be in a position to reinvent himself more as a holding midfield player for Chelsea.

Like Cole, Lampard's contract will end after this season, and, like Drogba, Chelsea management will have a big decision to make in the future whether or not to keep the now 34-year-old Englishman.

Last season Lampard tied with Daniel Sturridge for the club lead in league goals (11) and he also won the most Man of the Match awards for the Blues.

With Drogba now playing for Shanghai Shenhua in the Chinese Premier League, I'd put Lampard in the starting lineup not only for his senior leadership but also for his ability to nail penalty kicks.

Lampard has a team-record 42 goals from the penalty spot and with tournaments like the UEFA Champions League, the Carling Cup and the FA Cup among others on the horizon, having a guy that's almost automatic from the spot will be essential.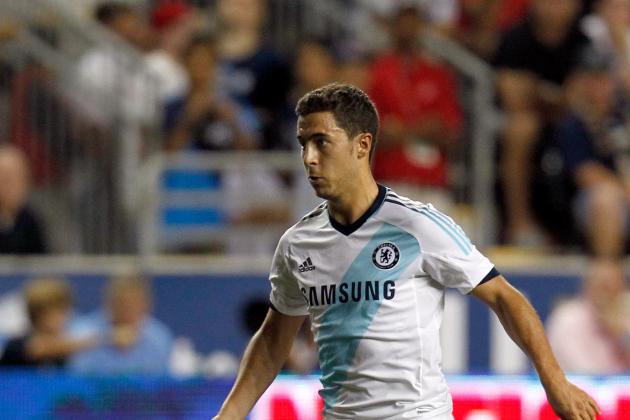 Jeff Zelevansky/Getty Images

Chelsea is loaded with potential players for this spot on the pitch with newbies Eden Hazard and Marko Marin and Florent Malouda, Gaël Kakuta, Lucas Piazón. Yossi Benayoun and Kevin De Bruyne.

For me, both Hazard and Marin have been brilliant in their first three matches on this American tour and perfectly fit the future Chelsea mold.

Malouda, Kakuta and De Bruyne (Werder Bremen loan?) may not be on the first team, or the team at all, a month from now but with Hazard and Marin—as well as Oscar—Blues management should give themselves a big pat on the back for their work so far in this summer transfer window.

The 21-year-old Belgian, who signed a £32 million deal, should start for me as his passing and scoring potential warrants maximum time on the field and anyone who hopes to be Chelsea's answer to Lionel Messi needs to get into the flow as quickly as possible.

Hazard scored 20 goals and had 17 assists for France Ligue 1's Lille OSC last season and was named Man Of the Match 14 times for Les Dogues.

Having Marin available on the bench in Hazard or Mata's stead is a wonderful notion.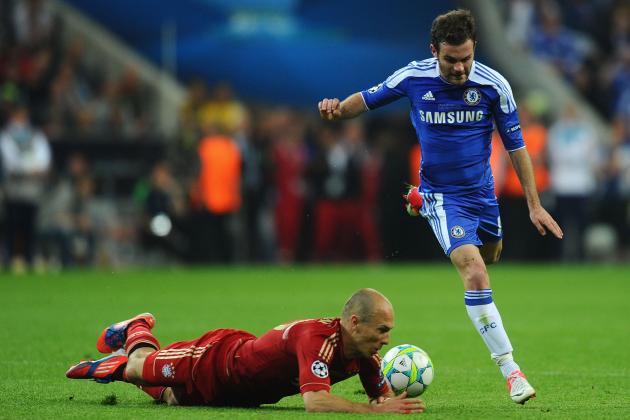 Mike Hewitt/Getty Images

The first player on Chelsea to really play in the Spanish tiki-taka mode, Juan Mata showed he can assist and score in his first season at Stamford Bridge last season scoring nine goals and assisting on 11 others.

As he showed in Euro 2012 for champions Spain, Mata can hang with the best of them and proved that adjusting to the EPL is different for different players. He simply shined in his first year and was justly named Chelsea's Player of the Season.

And when we look back at the 2011-12 season years from now, we may remember it not only as the year Chelsea won the European Championship and the FA Cup and Drogba's last season, but also as the season Mata came onto the scene.

For those who know basketball, Mata reminds me a bit of the Los Angeles Lakers legend Magic Johnson—a guy you want running the offense with the ball in his possession and who always seems to make the right decision at the right time.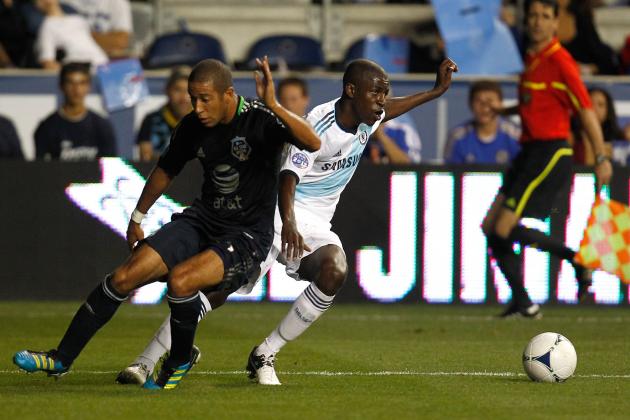 Jeff Zelevansky/Getty Images

Here is another spot where two young and talented guys—Brazilians Ramires and Oscar—will be fighting for playing time.

With his performance last campaign where he led Chelsea in successful dribbles per game and tackles and won the club's Players' Player of the Year award, the speedy 25-year-old Ramires deserves to start and is an absolute nightmare for opposing defenses.

Oscar has a similar slashing style as Ramires and also would be a fantastic player to come in off the bench when Chelsea is chasing a goal late in the game.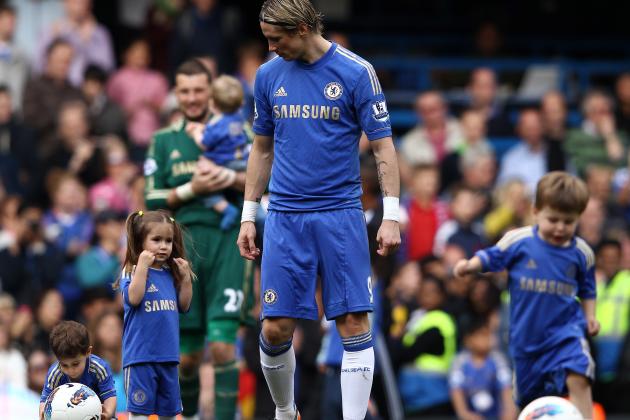 Ian Walton/Getty Images

A big key to Chelsea's success this season will lie on the right foot of Spaniard Fernando Torres.

Daniel Sturridge tied for the team lead in goals (11) in EPL play last year but El Niño will most likely be the player the Blues look to replace Drogba for scoring up front. And with extremely talented guys like Mata, Hazard, Marin, Ramires and Oscar feeding him passes, I would not be surprised if Torres eclipsed the 15-goal mark in 2012-13.
Besides Sturridge, Romelu Lukaku is also a candidate at the position and he has been brilliant on the American tour and scored two goals against the MLS's Seattle Sounders in a 4-2 Blues win.
Torres should finally see his first preseason action on Saturday when Chelsea faces Italian Serie A powerhouse AC Milan in the World Soccer Challenge in Miami (ESPN2, 6:30 p.m. ET/3:30 p.m. PT).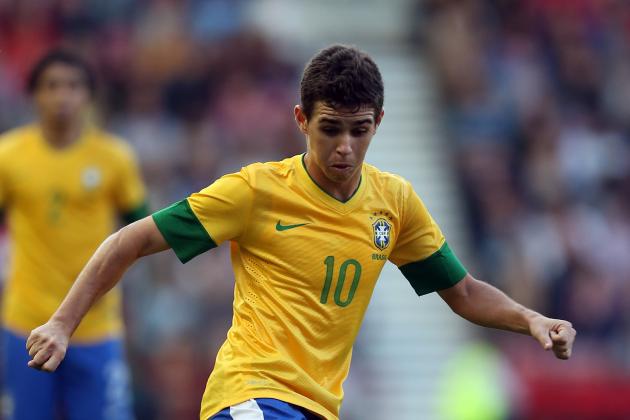 Julian Finney/Getty Images

So the metamorphosis at Stamford Bridge has officially begun. And with a couple more acquisitions possible and so much talent on the roster now, no doubt some fairly familiar names to Chelsea fans will either be let go, sold or loaned out very soon.

And because of the money reaped by winning the Champions League—thank you Didier Drogba—the Blues have been able to make all these moves and set themselves up for a run at the EPL title this season as well as a possible repeat in the oh-so-tough Champions League tournament.

So get ready everybody. This is going to get real fun, real quick.


Follow me on Twitter: @KevinStott11