NFL: Pittsburgh Steelers Can't Afford to Lose These Players in 2012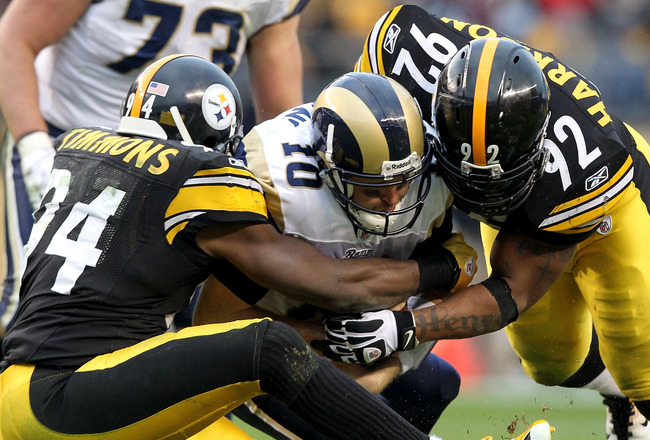 James Harrison and Lawrence Timmons are two such players, as Kellen Clemens would agree.
Karl Walter/Getty Images
"If we stay healthy, we ought to be okay this year."

It's a cliché on the lines with "taking them one at a time" and "focus on the fundamentals."

Still, there's a bit of truth to it.

The following are the seven players the Steelers can't afford to get hurt in 2012 (and a few players who they actually can afford to lose).
These Players the Steelers CAN Afford to Lose!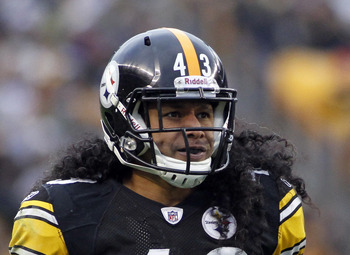 It's just that the Steelers have depth at safety. That's all Troy!
Justin K. Aller/Getty Images
As far as the linemen go, on defense an injury would figure to be plugged by last year's top draft choice, Cameron Heyward. Heyward may even wind up starting somewhere by season's end. There is depth on the defensive line.

There's also depth on the offensive line following the resigning of Max Starks and the drafting of David DeCastro and Mike Adams.
Furthermore, there's always the mindset that a team can find a player to fill in on the offensive line.
Ramon Foster wasn't even drafted coming out of the University of Tennessee in 2009. He's started 22 games over the past three years and the Steelers have won 35 games in that time.

Running backs? Even if Issac Redman gets hurt, Jonathan Dwyer rushed for more than 100 yards against Tennessee last season.
John Clay showed promise and could be a bowling-ball type in limited action, and Chris Rainey comes off a fine collegiate career at Florida. There's plenty of depth at running back.

Leonard Pope, a clutch receiver with more than 100 career receptions, is a nice pickup to back up/play opposite tight end Heath Miller.

There's a school of thought that strong safety Troy Polamalu could be a player the Steelers can't afford to miss, but his gambling cost the Steelers their playoff game against Denver. In his 10th year in the league of playing high-intensity football, one must wonder if he is irreplaceable or about to drop off.

The Steelers lost Rod Woodson at cornerback for the entire 1995 season and still made the Super Bowl that year. Could Pittsburgh go as far with Ryan Clark, and Ryan Mundy starting at safety, if worse came to worst?
It may be harsh to say that kickers are a dime a dozen. This writer, after all, remembers David Trout. But the Steelers replaced punters in 2008 and won the Super Bowl and kickers in 2010, and made it to the Big Dance. Why wouldn't 2012 be the same?
Ben Roethlisberger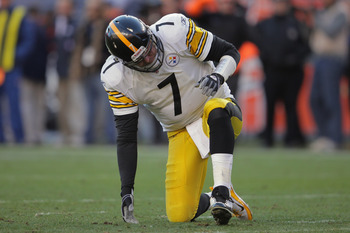 This is a scary sight to Steelers fans
Doug Pensinger/Getty Images
This one is so obvious it seems any time spent elaborating why is folly.

However, it should be mentioned when Roethlisberger hasn't been able to play, either because of injury or suspension, the Steelers have often played well.
Pittsburgh was 3-1 during his 2010 suspension, and there is a school of thought the Steelers would have been better off letting Charlie Batch play at the end of last year. It may have been better than seeing Roethlisberger hobble around with a high-ankle sprain and put up point totals of seven, three, and 13 points in two-and-a-half games after the injury.

For a game or two, playing a healthy quarterback, be he Batch or Byron Leftwich, instead of a battered Roethlisberger makes sense and would likely put up better results in both the short and long run.

The question here is if either of them could put the team on their shoulders for a stretch of three or more games. Batch and Leftwich have been known to get hurt themselves.
Add to the fact Leftwich has made five starts in the NFL since 2006 and his team has lost all five of these games: The value of Roethlisberger becomes apparent.
Antonio Brown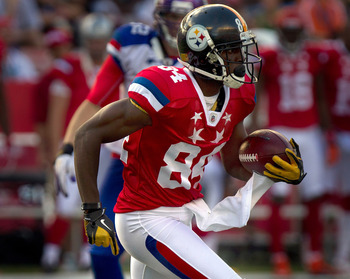 Mike Wallace may be expendable. Brown isn't.
Kent Nishimura/Getty Images
If Mike Wallace was in the fold, it could be argued the Steelers could lose a receiver and still be in good shape as Emmanuel Sanders and Jerricho Cotchery have been productive players in the past.

While Cotchery doesn't figure to go back to his days of catching 82 passes in back-to-back seasons like he did in 2006-07, one gets the feeling he can still be a productive player: Witness his career-high 14.8 yards-per-catch average last year.
Sanders showed flashes the past two years, catching 50 passes in 24 games and averaging more than 13 yards per catch in both of these seasons. There's something to be said for a guy who catches five passes for 70 yards in a 25-17 victory against New England last year.
But right now we don't know if and when Wallace will play in 2012 as he continues to hold out. So Brown, who averaged more than 16 yards in his 69 catches last year and made the Pro Bowl, becomes the team's "burner."
Even if Wallace were to return, one has to wonder how well he will perform initially, witness the sluggish beginning Tennessee Titans running back Chris Johnson had after he held out for all of training camp with just 302 yards in seven games.
Furthermore, Wallace slumped at the end of last season without a 100-yard receiving game in his last nine games, while Brown enjoyed two such games despite not starting until the end of the year.
Brown is the receiver the Steelers cannot afford to lose.
Ike Taylor
Jason O. Watson-US PRESSWIRE
For the past seven years, Ike Taylor has been the Steelers shutdown corner.

He often seems to be the forgotten man on the Steelers' defense. Maybe it's because during all that time he's had just 12 interceptions.

But the fact of the matter is this: Since Taylor became a starter, the Steelers have won three conference championships and two world titles in seven years.
The only year he didn't start 15 or more games is the only year during which the Steelers had a non-winning record.

Last season the Steelers had the stingiest pass defense in the league, yet still felt compelled to let William Gay, the team's other starting cornerback, go. Gay is five years younger than Taylor.

Taylor also made just 44 tackles, a drop of 22 from the 2010 season and 47 from his initial season as a starter. This indicates he's shutting down so many opposing receivers quarterbacks simply aren't throwing his way.

Add to the mix the open competition for the left cornerback position across from Taylor place on the right, and Taylor is the one player on defense the Steelers can't afford to lose.
Any Starting Linebacker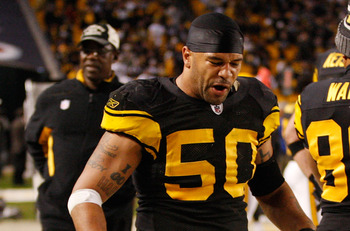 Larry Foote
Jared Wickerham/Getty Images
Here are the projected starting linebackers for the Pittsburgh Steelers: Lamarr Woodley, Larry Foote, Lawrence Timmons, and James Harrison.

That's two former Pro Bowlers (Woodley and Harrison), the hero of the 2005 AFC Championship Game (Foote), and a guy with 228 tackles for the last two years (Timmons).

The guys after them? Jason Worilds, who is currently on the "physically unable to perform" list.

Stevenson Sylvester—last year he had one more tackle than Heath Miller.

Third round pick Sean Spence? This piece http://bleacherreport.com/articles/1173362-pittsburgh-steelers-sean-spence-will-eventually-replace-troy-polamalu makes the argument he's more Carnell Lake than Jack Ham.

As it stands right now, the Steelers simply don't have much linebacker depth. Following the departure of veteran James Farrior, any injury sustained by Woodley, Foote, Timmons, or Harrison could be fatal.
Keep Reading