Big Ten Media Days: Denard Robinson Shakes off Speaking Fear, Wows Crowd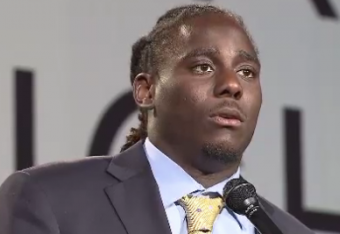 Screencap via MGoBlue.com

CHICAGO—Denard Robinson is no stranger to pressure. What's 100,000 screaming fans? He's done that every time he steps onto the field at the Big House. And at the 'Shoe. And at Beaver Stadium. The Superdome with the Sugar Bowl on the line? Denard's done that, too, and he's got the ring to show for it.
But that's sports. That's Denard's escape (in multiple ways). As he told reporters prior to his speaking role at the Big Ten Kickoff Luncheon, "You can hide your face when you're playing football." And while Robinson's never been the run-and-hide type on the field (unless it's in the opposing team's end zone with 11 defenders chasing him), his point was clear: There's no safety net when it's just you and the podium.
The "old" Denard wouldn't have done something like this. Heck, the "old" Denard didn't do anything like this. But for every report the offseason brought about Robinson's passing or mechanics improving, there were two about his leadership improving. That's not just a nebulous, vague concept, either—and the leadership seminars Robinson took with his seniors over the offseason proved exactly that.
The luncheon came around, and Robinson's turn to speak came up. And frankly, he knocked it out of the park. Watch the full speech here on Michigan's official website, or watch the YouTube below via GoBlueWolverine.com:
"What you may not know is, I wasn't even the best athlete in my neighborhood," Robinson told the luncheon attendees. "But I happened to be one of the ones that made it out."
"Everyone thought I was going to leave and go to a school closer to home," Robinson said of the situation after Rich Rodriguez was fired. "Go to a school with a familiar offense. But those who questioned me didn't know me.
"First, because I bleed blue," Robinson said. "Second, because it's an honor to play for the University of Michigan, the most storied program in college football. Third, because those teammates are my brothers and I wouldn't trade them for anything and family sticks together through thick and thin.
"It's about choices," Robinson said later. "It's OK to work hard. It's OK to be uncommon. It's up to us to use our stories, our platform, to help others. It has been an honor to represent the University of Michigan. It's been an honor to represent the Big Ten. It's been an honor to share the field with the guys on the stage today. It's a big life, big stage, Big Ten.
"This has all been a dream for me and although it is almost over I still have a few more days to make somebody else's day and I challenge you to do the same."
The full transcript is here, thanks to Mike Rothstein of ESPN.com. There isn't a wasted sentence in the lot. If you don't watch the entire speech, at least read it, because it's worth it.
Moving forward, Denard Robinson doesn't just let his on-field exploits speak for themselves anymore. On Friday, he was speaking on behalf of the entire Big Ten, and come fall he'll be speaking for Michigan and leading the Wolverines into battle. This is the new Denard. And it's a hell of a thing.
Adam Jacobi is a Lead Writer for Bleacher Report. Unless otherwise noted, all quotes were obtained first-hand.
This article is
What is the duplicate article?
Why is this article offensive?
Where is this article plagiarized from?
Why is this article poorly edited?