Texas Rangers: Zack Greinke Trade to Angels Turns Up Pressure on Rangers to Deal
Use your ← → (arrow) keys to browse more stories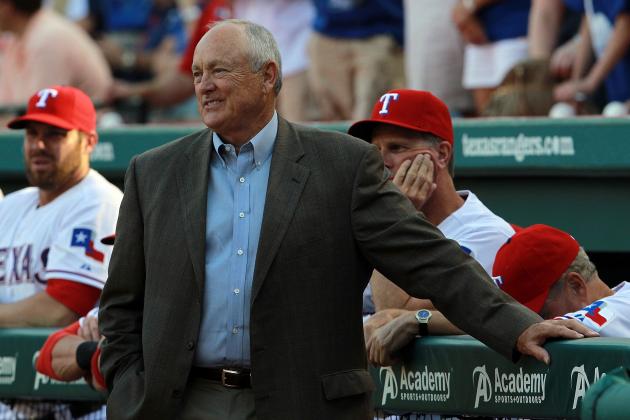 Ronald Martinez/Getty Images
Nolan Ryan's Rangers just got beat in the Zack Greinke sweepstakes.
Things were already interesting in the American League West, as the Los Angeles Angels and Oakland A's have found themselves jockeying for position behind the two-time defending AL champion Texas Rangers. It's turned into the wildest division race in the American League.
Things got even more interesting on Friday, and not in a good way for the Rangers.
If you're just now joining us, the Angels have traded for Milwaukee Brewers ace and former AL Cy Young award winner Zack Greinke (h/t MLB). He'll join a starting rotation that already includes Jered Weaver, C.J. Wilson and Dan Haren, and he'll be backed by an offense that includes Mike Trout, Albert Pujols and Mark Trumbo.
The Angels are now the most dangerous team in the American League. No doubt about it.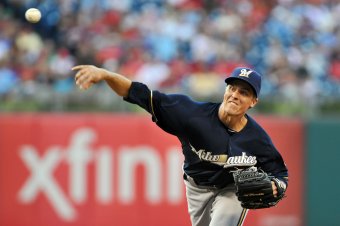 Drew Hallowell/Getty Images
Up until the Angels acquired Greinke, that designation belonged to the Rangers—and for good reason. Even with Josh Hamilton's prolonged slump at the plate, the Rangers have the American League's deepest and most explosive lineup. When fully healthy, their bullpen is the deepest in the American League. Though it's had its problems, Texas' starting rotation is good enough most nights.
"Good enough" is no longer good enough now. After all, the Rangers have to worry about two things now that the Angels have Greinke.
One: They need to worry about holding off the Angels in the division race. The Angels are only five games off the pace, and Greinke's presence could help them close the gap. With the new wild-card play-in game looming, winning the division is more important than ever before.
Two: The Rangers now need to worry about how they're going to match up with the Angels if they happen to meet them in the playoffs. It was going to be hard enough for them to match up with the Angels' key trio of Weaver, Wilson and Haren. That trio has now become a foursome that no team in the American League can match up with, including the Rangers.
They're going to have to do something. Indeed, something drastic.
They're going to have to respond in kind by acquiring an ace pitcher of their own.
The Rangers were already trying to do this, of course, and the rumor mill suggested that Greinke was their top target. As recently as earlier on Friday, Danny Knobler of CBSSports.com tweeted that Greinke was No. 1 on Texas' wish list.
Next on their wish list: Miami Marlins right-hander Josh Johnson. One supposes he's now their top choice.
According to Bob Nightengale of USA Today, the Rangers are taking the possibility of acquiring Johnson very seriously:
The #marlins are leaving no doubt that they intend to trade Josh Johnson w #Rangers still heavy in talks

— Bob Nightengale (@BNightengale) July 27, 2012
With Greinke being traded to the Angels, the Marlins must be licking their chops. They now have the top starting pitcher on the trade market. To make matters even better, they have a desperate team on the line.
To make matters perfect, the desperate team they have on the line is one with a very, very deep farm system—the deepest in baseball, according to Baseball America.
Jon Heyman of CBSSports.com has reported that the Marlins are looking for a "Teixeira-like" package for Johnson, a reference to the 2007 trade with the Braves that netted the Rangers Elvis Andrus, Neftali Feliz, Matt Harrison and Jarrod Saltalamacchia in exchange for Mark Teixeira.
ESPN's Jerry Crasnick got even more specific:
Sources say the #Marlins are asking for each team's top 2 or 3 prospects in every trade scenario involving Josh Johnson.

— Jerry Crasnick (@jcrasnick) July 27, 2012
If Baseball America's rankings are to be believed, this means that it could take shortstop prospect Jurickson Profar, third-base prospect Mike Olt and lefty pitching prospect Martin Perez to land Johnson in Texas.
The question is whether the Rangers should even think about making such a trade before hanging up the phone in frustration.
Well, one thing that's for sure is that they won't be able to do better than Johnson. Some have him pegged as an underachiever, but he ranks eighth in baseball in fielding independent pitching (FIP) at 2.98 this year, according to FanGraphs. That's a sign that Johnson has as much pure pitching ability as any hurler in the league.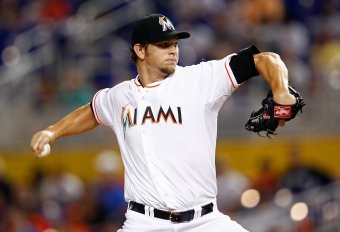 Sarah Glenn/Getty Images
In fact, Johnson has the lowest FIP of any pitcher in baseball with at least 500 innings pitched since 2009.
The Rangers can either give up a boatload of prospects for him, or they can settle for lesser targets like James Shields, Matt Garza or Ryan Dempster. Or they can try to convince the Seattle Mariners to give up Felix Hernandez (I just LOL'd).
The only other option would be to do nothing. In this case, that would be unacceptable.
It's not about making it to the playoffs, of course. The Rangers can do that without making a move, even if it means settling for a wild-card berth.
It's about winning it all. The Rangers didn't have enough pitching firepower to do that before, and now the concern is whether they'll have enough pitching firepower to even make it to the World Series.
They will if they go out and acquire an ace (i.e. Johnson). If they do that, they'll be able to line up their ace, Matt Harrison and Yu Darvish to face the Weaver-Greinke-Wilson trio. The slight edge would go the Angels, but the point is that the edge would indeed be slight.
The Detroit Tigers and New York Yankees have good starting pitching too, and the Rangers are just as likely to come up against them as they are to come up against the Angels.
Earlier in the season, there was no doubt that the Rangers were the best team in the American League. They're no longer the best team in the AL now, and it's a little too easy to debate if they're even the second-best team in the Junior Circuit.
The only way they're going to make the question marks go away is by making a deal. It's time to act.
If you want to talk baseball, hit me up on Twitter.