Olympic Opening Ceremony 2012: The Worst Outfits of the Night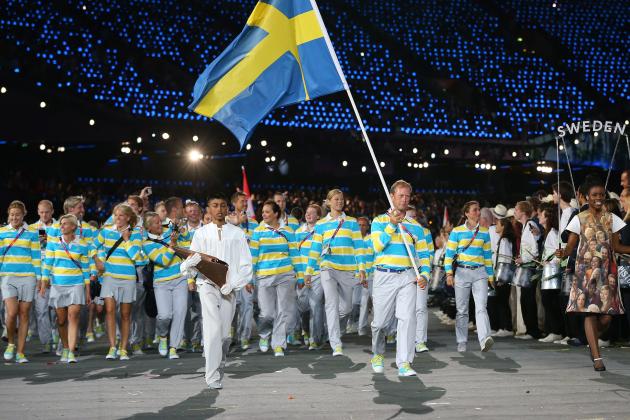 Cameron Spencer/Getty Images

The Opening Ceremony of the Olympics is one of the most incredible spectacles in all of sport. And the ball-dropping of the 2012 Summer Games in London didn't disappoint.
Well, maybe these nations did.
Some countries looked super-slick in their ceremonial garb—the Italians were wearing Armani suits, for example—but some nations' choices resulted in serious fashion fails.
Let's take a gander at the 17 worst uniforms from the Opening Ceremony on Friday night in London.
Begin Slideshow

»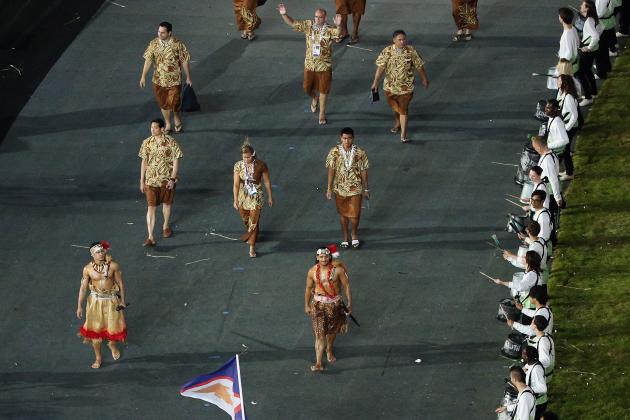 Ian Walton/Getty Images

"Hey, there! We're tourists headed to a traditional 'luau' while we're here in Hawaii! Not sure how we got into this parade or why so many fans are cheering for us..."
Also in attendance for the American Samoans, wrestling legend "Superfly" Jimmy Snuka!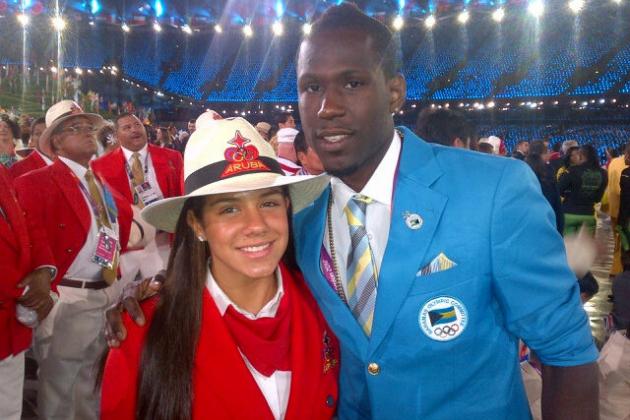 Courtesy of @donald_thomas on Twitter
Not sure which of these is worse...the women's hats or the men's bright blue suit coats.
I love Aruba, love the flag, love the athletes—but there isn't much to love stylistically about these outfits.
Seriously, guys, did you all just win a new golf major? Because these give all ceremonial jackets a bad name.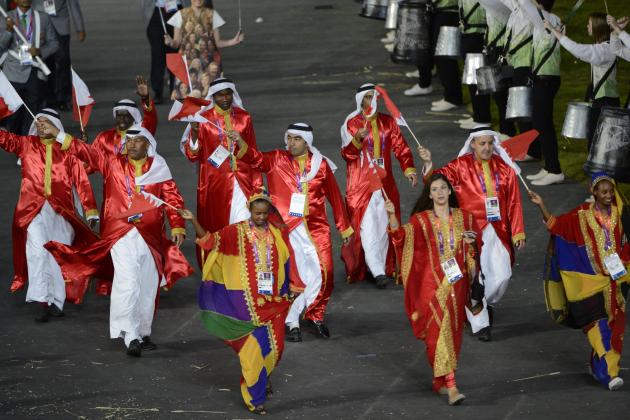 Robert Deutsch-USA TODAY Sports

I get that some of these are considered traditional garb in their respective countries, and I can respect that.
But honestly, are the women in front auditioning for the London cast of Joseph's Technicolor Dreamcoat?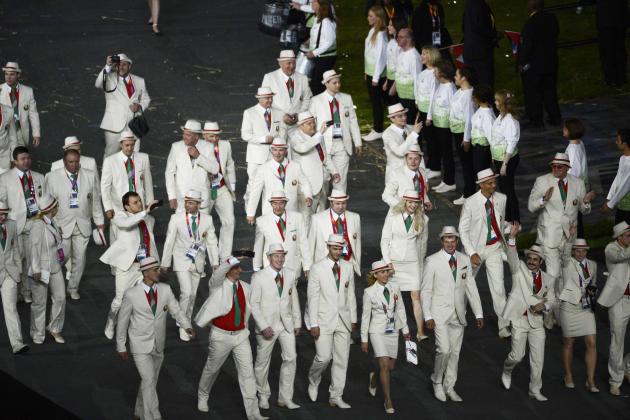 Richard Mackson-US PRESSWIRE

I can get down with the all-white. It's a classic style.
But these folks and their bowler hats? They look like friendly versions of Oddjob from the James Bond films.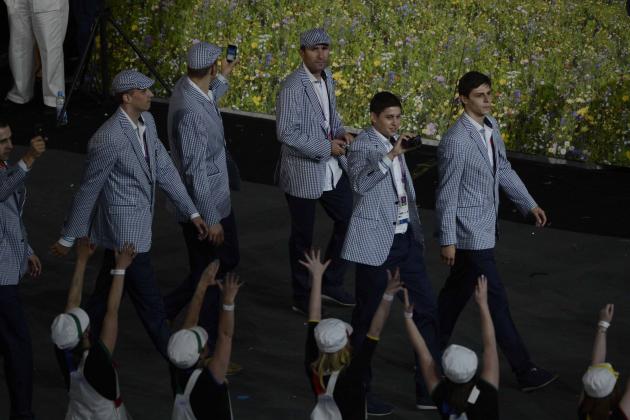 Richard Mackson-US PRESSWIRE

I wanted to like these old-school, gray-and-white striped, seersucker-looking jackets.
But I'm sorry—the Bulgarians look like prison inmates out for an evening stroll.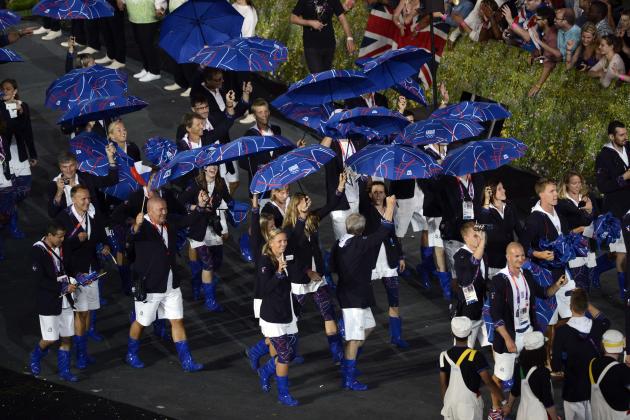 Richard Mackson-US PRESSWIRE

Now if you know me, you'll know that I'm normally a huge fan of Czech Republic fashion.
But these rain outfits—including umbrellas and full rubber-bootie galoshes—are just plain mean to the British hosts.
You could almost hear Prince Harry saying, "Aye, we know it rains a lot here. Thanks for the reminder, Czech Republic!"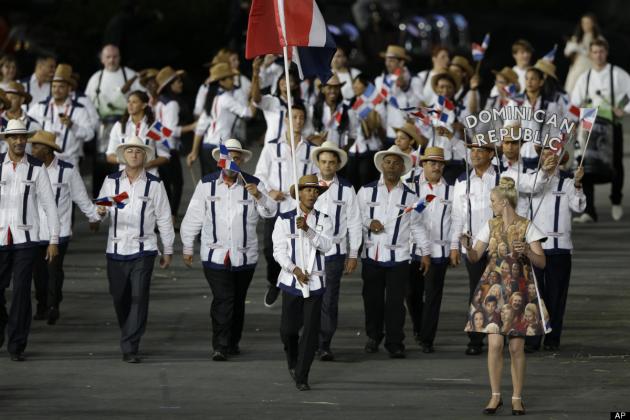 AP
There was so much more the Dominicans could have done with these unis!
But no, they're wearing shirts with fake suspenders and schlocky brimmed hats? They look like wannabe cowboys, which doesn't even make any sense given the history of their country.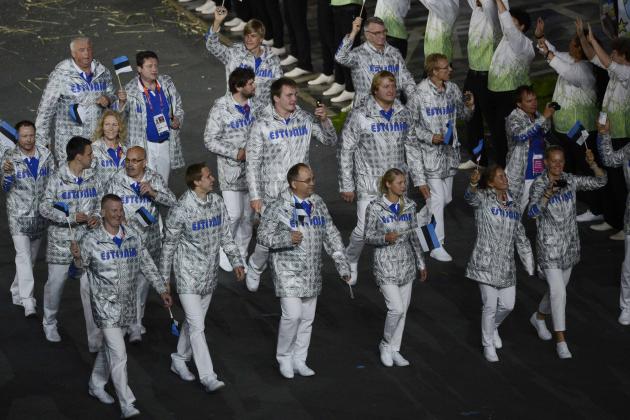 Richard Mackson-US PRESSWIRE

I'll give you credit, Estonia. You've brought us into the future of Olympic gear.
But this is a future I don't want to be a part of.
These jackets look like Marty McFly's outfit from Back to the Future II.
Or they may simply be leftovers from the Estonian Winter Olympic uniforms in Vancouver.
Or maybe they're surplus from the Estonian army.
Or maybe...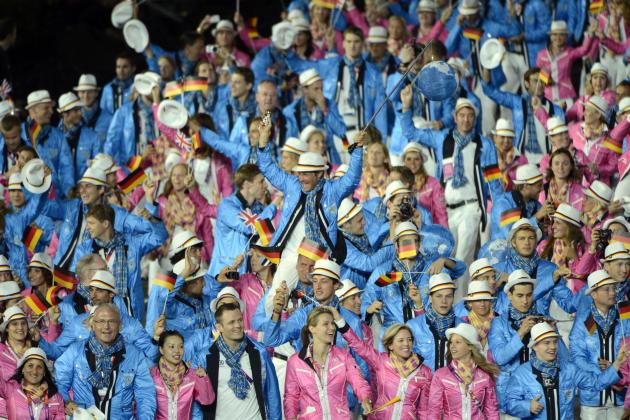 Robert Deutsch-USA TODAY Sports

Ahhh, Germany. The land of the people! Die mannschaft! Angela Merkel! One of the strongest economies in the world!
Dressed in their traditional...pink and sky blue?
WTF, Germany?
That'd be like the USA men's basketball team wearing brown and yellow out onto the court. Boooo!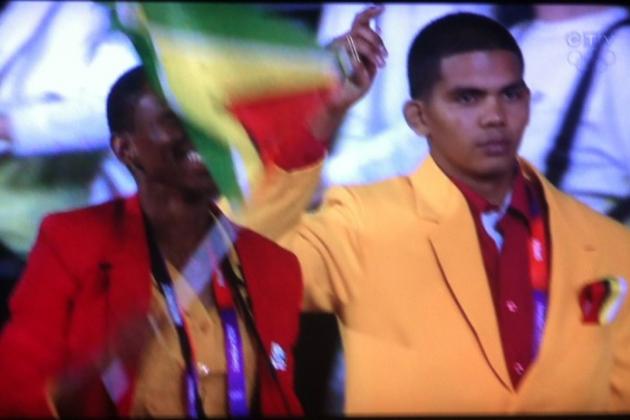 Courtesy of @andreamcatcher on Twitter
Apparently, Guyana means "land of many waters," a beautiful sentiment.
If you're just looking at their Opening Ceremony outfits, however, I'd bet that actually translates to "land of real-estate agents."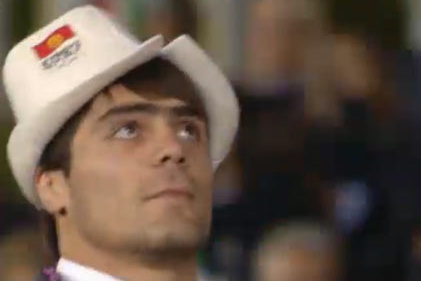 With those ridiculous hats, it looks like the entire team from Kyrgyzstan is working the hamburger station at Burger King.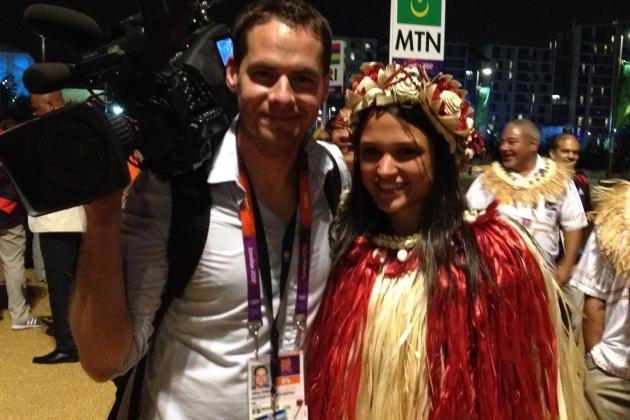 Courtesy of @K5Greg on Twitter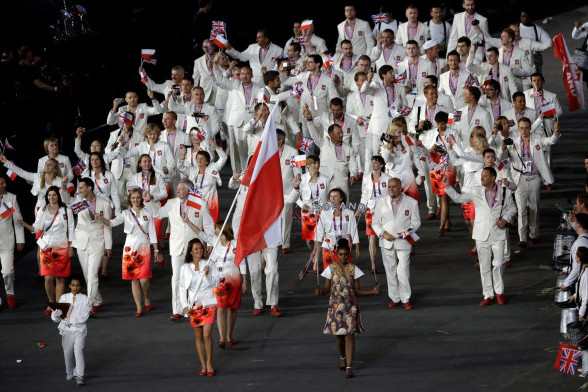 Courtesy of @IVIich4eL on Twitter
Wow, ladies of Poland.... I'm sorry to tell you, but it looks like someone threw up on all of your skirts just before you came out for the Opening Ceremony.
Laurence Griffiths/Getty Images

Spain, like it's not bad enough that your outfits make your athletes look like cashiers at McDonald's....
But you have the world's most awkward-looking human carrying your flag in Pau Gasol?
That's a rough night.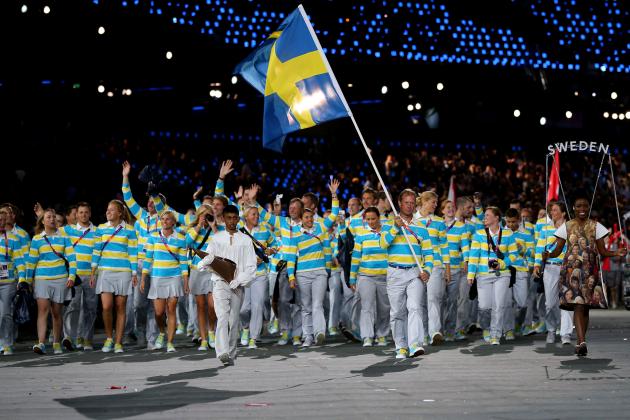 Cameron Spencer/Getty Images

Wow, those are some awful rugby shirts.
C'mon, Sweden! You're full of arguably the world's most attractive people. This makes your nation look like a bad Gap ad.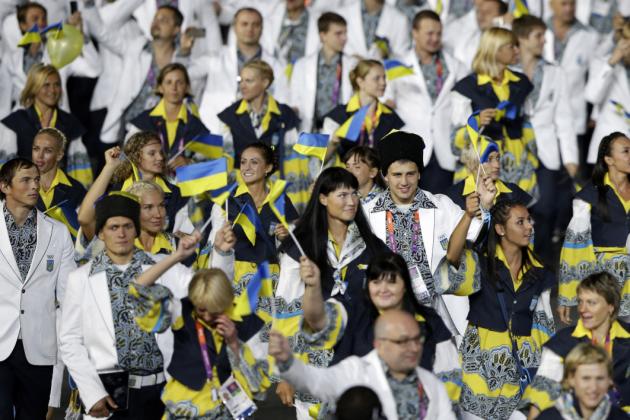 AP
I don't always reach the Olympics…but when I do, I prefer to do it wearing a hideously ugly black-and-white '70s-style shirt.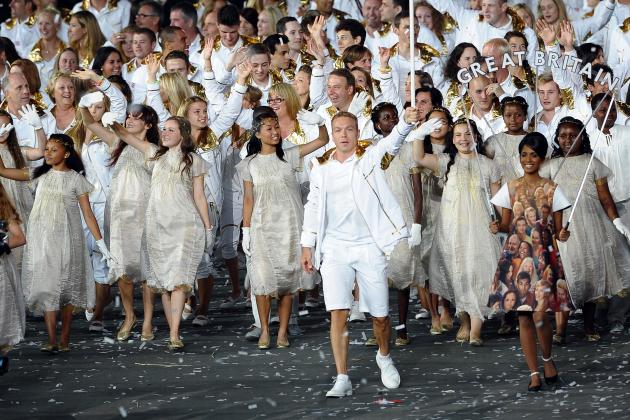 Laurence Griffiths/Getty Images

It was ironic that David Bowie's "Heroes" was playing as Team GB entered the Olympic Stadium wearing its gold-shouldered unis, because these awful uniforms made these wonderful athletes look something like Ziggy Stardust.
The women in front, on the other hand, looked like they're going to a prom. In 1974.
Either that or they're the worst bridesmaid dresses ever.