College Football 2012: Power Ranking the Best Non-Saturday Games of 2012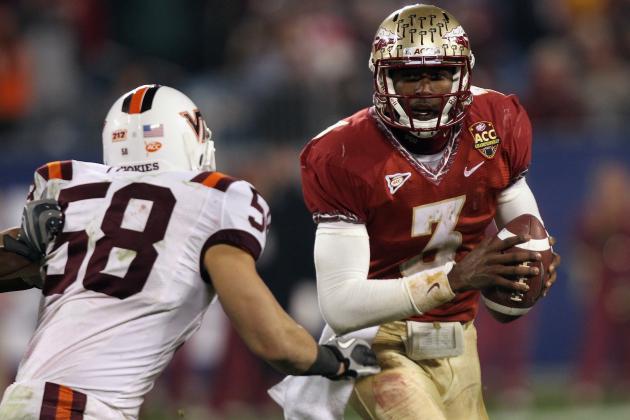 Streeter Lecka/Getty Images

Saturdays during the fall is something that every sport should be a bit jealous of simply due to the fact that there is nothing better than game day for your coveted teams.
However, weekday night games are just as special because they often have conference and national title implications on the line.
The later in the season often has more on the line, albeit we have seen several early season matchups before that have a vital impact on the BCS (once the standings rolls along into October).
We already listed all of your season opening contests and now we need to breakdown the best of the best for non-Saturday games.
Projecting into the future, here are your top games of the 2012 season that will not be played on Saturdays.
Note: This will include your MAC and Pac-12 Championships, and the power ranking is done from worst to first
Begin Slideshow

»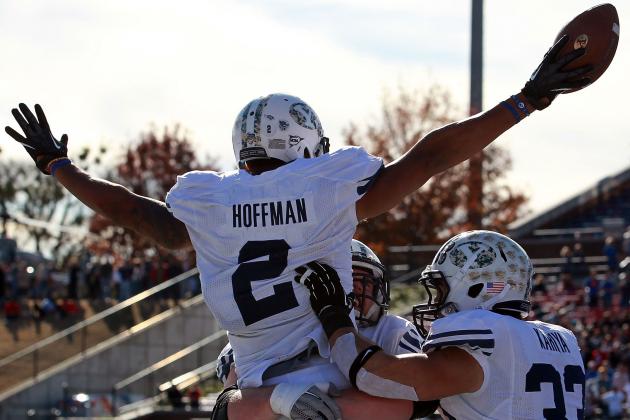 Ronald Martinez/Getty Images

An early season challenge for the Warriors will go a long way for the early tenure of Norm Chow, but this game is about the Cougars attempting to improve upon their double-digit win season from a year ago.
If BYU expects to compete with the likes of Georgia Tech, Notre Dame and Boise State, the Cougars should obliterate a Hawai'i program that is still revamping a bit.
Riley Nelson and Cody Hoffman are quite the duo that have connected six times in the last two postseason trips against decent competition, so don't be shocked if the offense scores on nearly every possession in this early contest.
Danny V's Pick: BYU by 35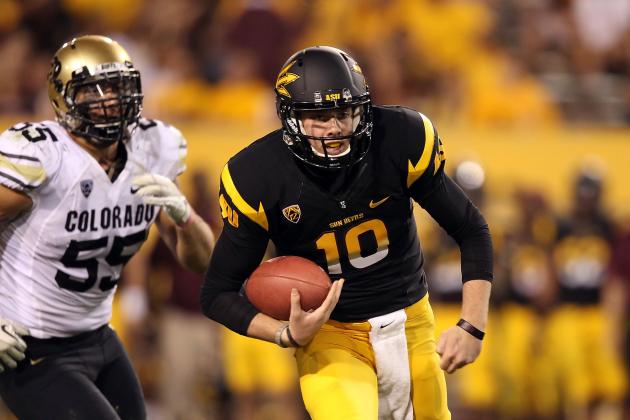 Christian Petersen/Getty Images

Todd Graham needs a solid win on the road in Pac-12 play early on in the season or else his Sun Devils could be mathematically eliminated from a bowl bid before November rolls along.
Colorado isn't the most talented team out there, but it is vastly underrated with 44 lettermen returning. Texas transfer Connor Wood has a chance to thrive with the Buffaloes thanks to the miraculous recovery from star wide receiver Paul Richardson.
Throw in a defense that will only get better for Jon Embree's squad and this CU team will likely become dark-horse contenders for the postseason.
Danny V's Pick: CU by 4
Stephen Dunn/Getty Images

Two teams that will be departing from the Big East to the ACC make for one intriguing matchup. Although these two offenses have had some issues over the years, the winner could get an advantage in terms of appearing in a potential postseason trip.
Paul Chryst looks to take an inconsistent Panthers squad into a much more consistent one as the coaching overhauls has not been fun to endure.
Danny V's Pick: Pitt by 7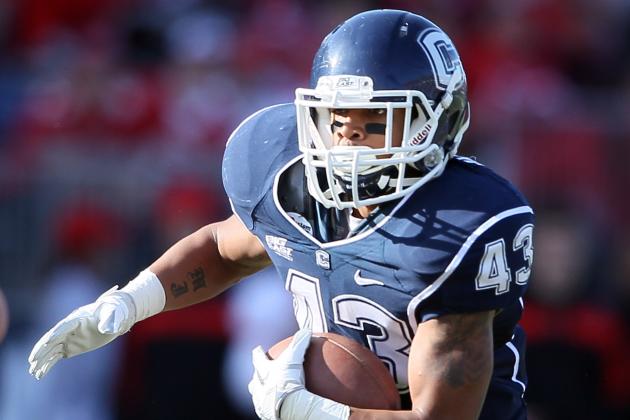 Elsa/Getty Images

In what would be a tremendous matchup in basketball, this could be an underrated matchup for football.
Ryan Nassib is a solid signal-caller, and most should be excited to watch Lyle McCombs run wild in the Big East.
Points may not be plentiful in this one, but the loser can arguably guarantee its plans to be wide open during the holidays.
Danny V's Pick: 'Cuse by 3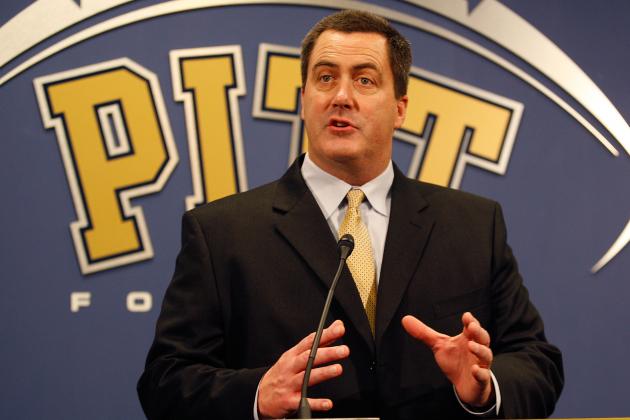 Jared Wickerham/Getty Images

The Big East has had its struggles keeping the attention of most college football die-hard fans simply due to the fact that weekday games are not always the most entertaining or alluring matchups.
Still, these teams will have no problems inflicting pain upon one another in what will be their final matchup in perhaps quite a while with the Panthers heading off to the ACC.
Danny V's Pick: Pitt by 8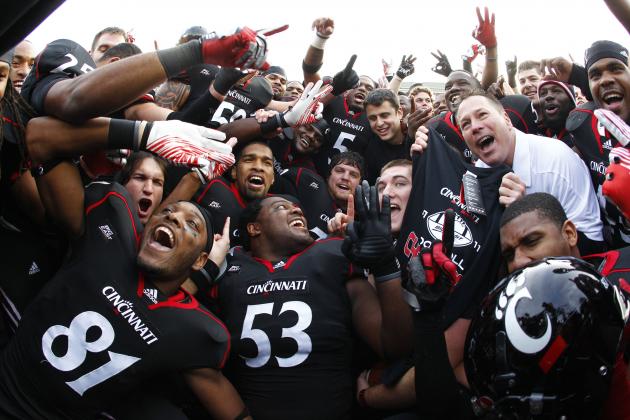 Tyler Barrick/Getty Images

Butch Jones had a fantastic season last year and yet many are not expecting much from the Bearcats this season. Most did not give them much credit for beating Vanderbilt in the Liberty Bowl, but last time I checked they were still from the SEC.
The depth shown has been fairly impressive, and the Bearcats should once again exceed some of their achievable expectations.
Danny V's Pick: UC by 10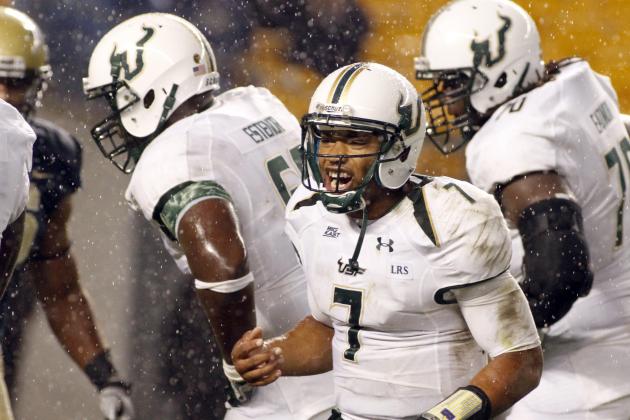 Justin K. Aller/Getty Images

We are just warming up with these Big East contests, and while the offenses may not be all that great, this one could feature a ton of points. A potential game with major Big East implications for just September, South Florida better be prepared.
Rutgers brings back a ton of talent despite the coaching overhaul of Greg Schiano, but this is the game for USF quarterback B.J. Daniels to show the nation what he truly is made of.
Danny V's Pick: USF by 14
Chris Graythen/Getty Images

Didn't think a pair of Sun Belt squads would make it, did you?
Guess again because these two offenses might just be among the best in the country for non-BCS squads in 2012.
Gus Malzahn has a capable quarterback in Ryan Aplin that can post gaudy numbers, whereas Louisiana-Lafayette has a southpaw in Blaine Gautier that is exceptionally productive as well.
Javone Lawson put on an absolute clinic in their bowl victory over San Diego State, and we should expect more of the same in this game that will display some fireworks.
Danny V's Pick: ULL by 7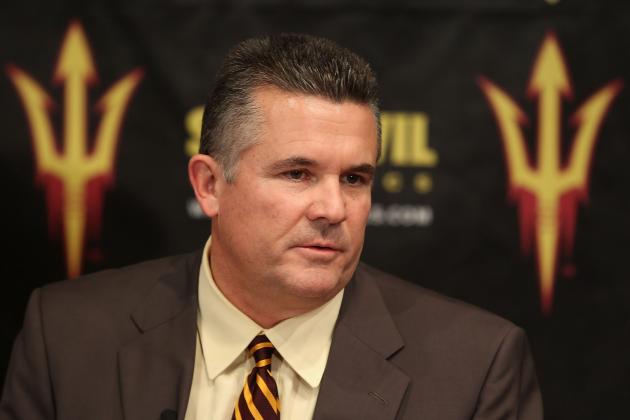 Christian Petersen/Getty Images

Rich Rodriguez and Todd Graham will fight for supremacy in the state of Arizona, but neither may be bowling after this one.
Still, there are a few talented players that have a chance to end their careers on a strong note and putting their programs in the right direction could go a long way for the future.
Danny V's Pick: AZ by 6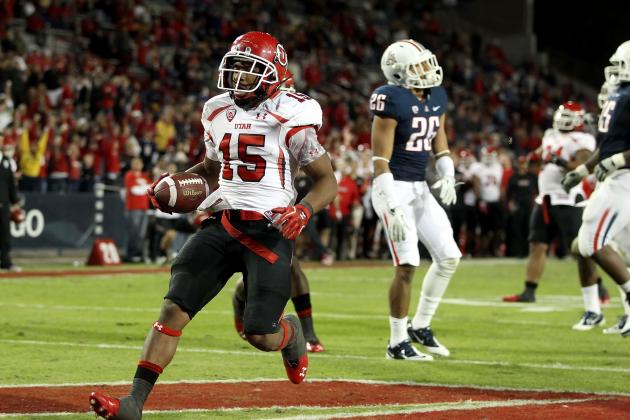 Christian Petersen/Getty Images

John White IV is a stud back and he should be able to dazzle America this season, and certainly an earlier season contest against the Trojans could put a whole lot more stock into this one as well.
Most are not even talking about the Utes because of USC's and Oregon's talented offenses, but Utah has just enough talent to upset and ruin some national title hopes.
Plus, even if the Utes were to be unsuccessful in accomplishing such a task, a road victory in Boulder could propel them to a double-digit season.
Danny V's Pick: Utes by 14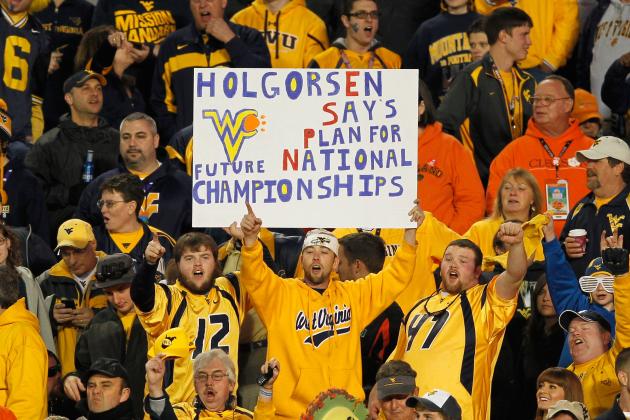 Streeter Lecka/Getty Images

Brandon Weeden, Justin Blackmon and the Pokes' unstoppable offense ran into a buzzsaw in Ames last season, so could we déjà-vu on a weekday night with another high-profile offense?
Geno Smith and his Mountaineers might just be the 2012 version of last year's Cowboys if they can manage to come away with a boatload of takeaways.
Danny V's Pick: WV by 21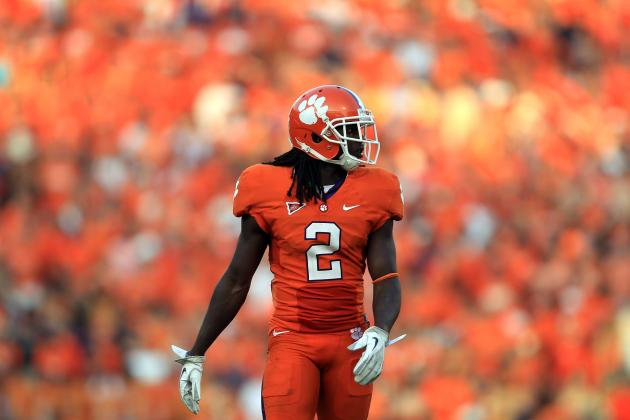 Streeter Lecka/Getty Images

Sammy Watkins burst onto the scene right away last season as a freshman, but he may takes steps toward greatness as a sophomore.
There have been several receivers in the BCS era that have dazzled us, but Watkins will likely be entering that against the ACC competition that will have no shot at slowing him down.
Danny V's Pick: CU by 17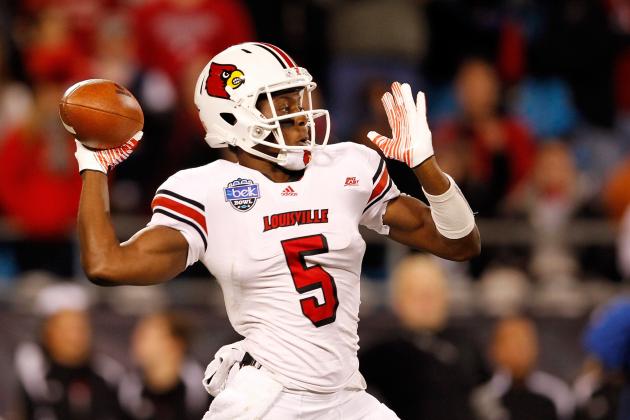 Streeter Lecka/Getty Images

Teddy Bridgewater wants to become a future All-American caliber of a quarterback, but he needs to avoid the growing pains along the way.
Every youngster has a few in their careers before they become elite performers, but playing in the Big East should allow the Cardinals stud to avoid most of them under Charlie Strong.
As a defensive-minded coach, Strong will likely take the 'Ville back to bigger and better things in the immediate future.
Danny V's Pick: 'Ville by 7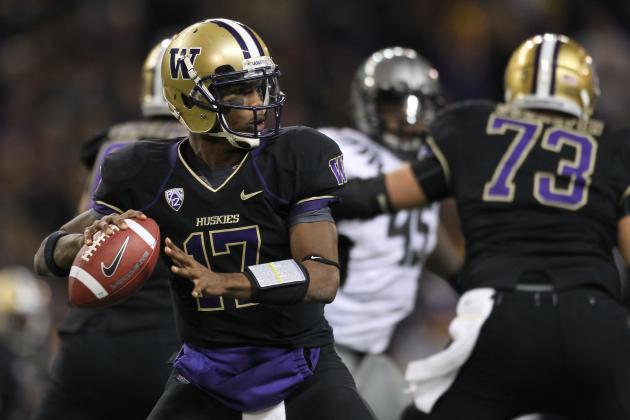 Otto Greule Jr/Getty Images

Keith Price is arguably the most underrated player in the nation, but not far behind would be his All-American target in Austin Seferian-Jenkins (tight end).
The Huskies should be improving from their 2011 campaign, whereas the Bears could be declining.
Steve Sarkisian is still a coach on the rise, and UW should be inching closer to a potential sensational double-digit campaign.
Danny V's Pick: UW by 14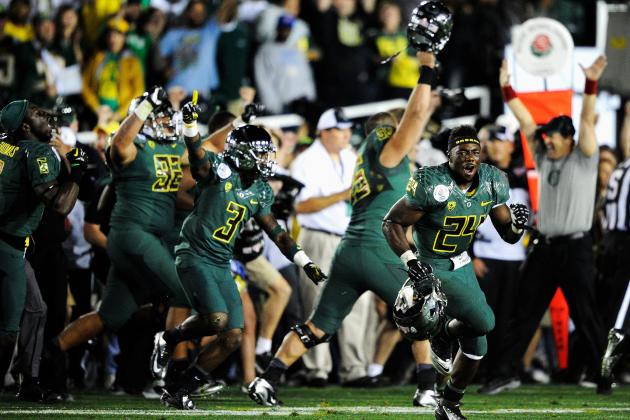 Kevork Djansezian/Getty Images

De'Anthony Thomas and Kenjon Barner were often shadowed by the incredible LaMichael James last season, but there will be no denying these high-flying Ducks backs this upcoming season.
Combining for well over 200 yards should be a strong possibility in this matchup regardless of who is starting at quarterback (Bryan Bennett).
Danny V's Pick: UO by 35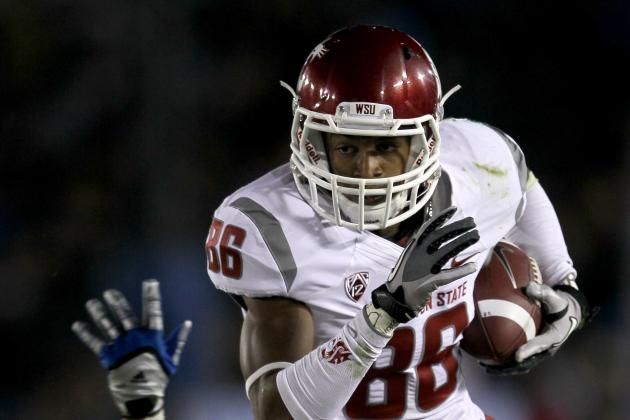 Stephen Dunn/Getty Images

The Apple Cup has always been an underrated rivalry game, but this is a contest that could make the Cougars season if a bowl berth is on the line.
Mike Leach should surely spice up this season finale, but Wazzu is capable of already being bowl-eligible before this final game. We know about UW's star power, but Jeff Tuel is back at quarterback and he has an All-American target in Marquess Wilson.
Danny V's Pick: UW by 10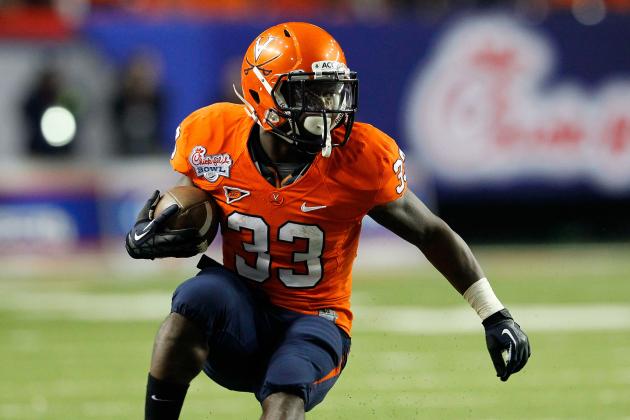 Kevin C. Cox/Getty Images

Perhaps this is the game that is the coming out party for one Phillip Sims. The former Alabama transfer has a chance to play right away, and the job very well could (should) be his by this time of the season.
North Carolina is not eligible for an ACC title or bowl appearance, but it could put together a nice 9-3 season still.
Larry Fedora will also make this program relevant in the ACC once again, something Mike London did with his Wahoos last season.
Danny V's Pick: UVA by 3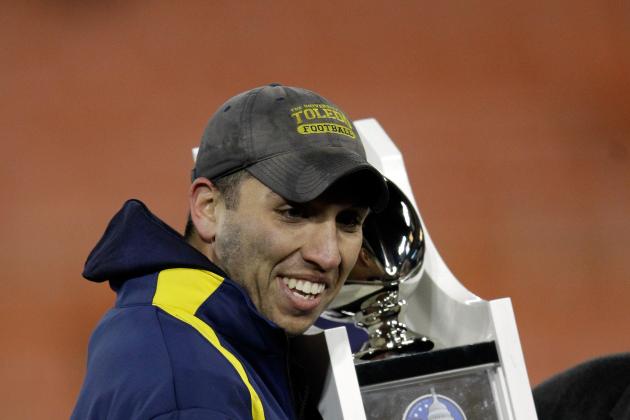 Rob Carr/Getty Images

The MAC deserves some love because quite frankly it happens to entertain us quite a bit (at least for me).
It should also be noted that Matt Campbell is the youngest coach in the FBS (32), and his Rockets should give the consistent Huskies all they can handle.
Lastly, if you have ever watched a ton of MAC ball during the weekdays, then you will realize how chaotic and fun-filled these games can be.
Danny V's Pick: NIU by 1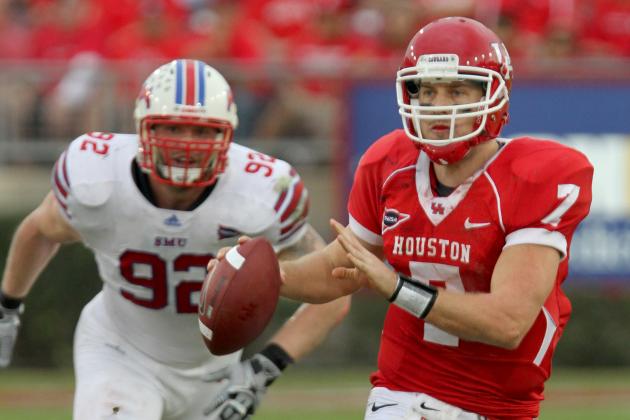 Thomas B. Shea/Getty Images

Margus Hunt is one of the biggest freaks in America, and it might just be the defense that leads the Mustangs to a C-USA title.
It should also be intriguing to see Garrett Gilbert perform under center since he has a stud back (Zach Line) and receiver (Darius Johnson) to make him shine right away.
Tony Lentine takes over for the Cougars, who have lost a ton from their near-magical 2011 campaign.
Danny V' Pick: SMU by 14
Mark A. Cunningham/Getty Images

The love for the MAC needs to increase because of the ability these two have at lighting up the scoreboard. Northern Illinois and Toledo would be the dream matchup, but they are both in the same division.
Tyler Tettleton and his Ohio Bobcats are the favorites in the East, which should give us a great game regardless of who comes out of the West.
Danny V's Pick: Ohio by 7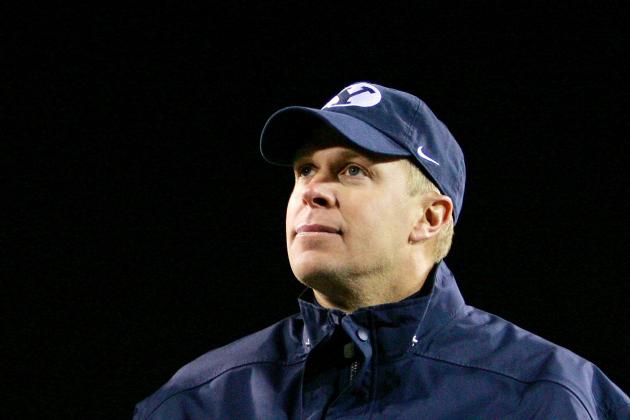 Ethan Miller/Getty Images

Talk about an interesting season-opening matchup!
Cody Hoffman and Marquess Wilson are two of the better receivers in the country and their quarterbacks are underrated passers as well.
BYU can handle lower-tier BCS competition, but the Cougars are far from chopped liver with Mike Leach taking over.
Danny V's Pick: BYU by 8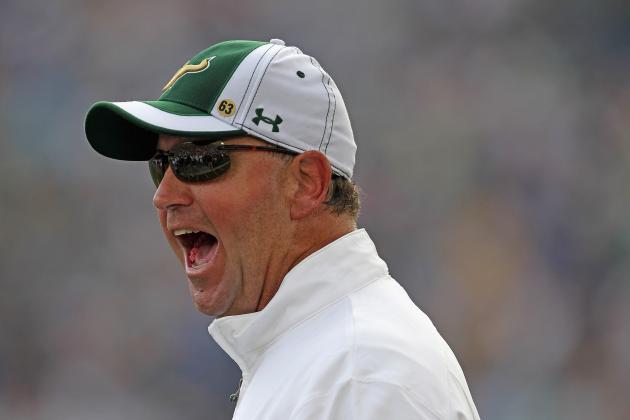 Jonathan Daniel/Getty Images

Can we ever trust the South Florida Bulls?
Skip Holtz may have received a contract extension this offseason, but B.J. Daniels has given us a ton of roller-coaster rides.
Still, he is entering his senior season, which should be full of much more consistent play.
A road victory would all but put them in the running for a conference crown, but these feisty Bearcats are too reliable to count out at the moment.
Danny V's Pick: UC by 4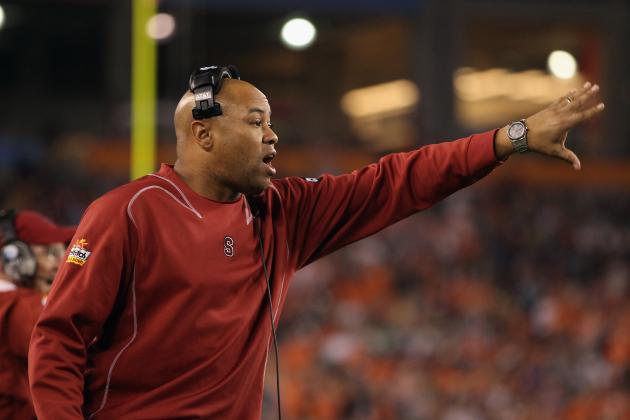 Christian Petersen/Getty Images

There will not be too much of a home gridiron advantage since the Huskies are not playing in their home stadium (CenturyLink).
Don't think for a second that will slow down Keith Price's offense, as the expectations the Huskies are heading in with might be their highest in a decade.
Jake Locker had some lofty expectations, but Price is a better pure passer and has a chance to become one of the elites in the country in the perfect offense that will allow him to thrive.
Meanwhile, the Cardinal look to move on after Andrew Luck with Brett Nottingham, and head coach David Shaw will find a way to get this team clicking.
They are recruiting with the best in the country at the line of scrimmage, and their athletic, physical tight ends might just be the best (Levine Toilolo, Zach Ertz).
Danny V's Pick: UW by 4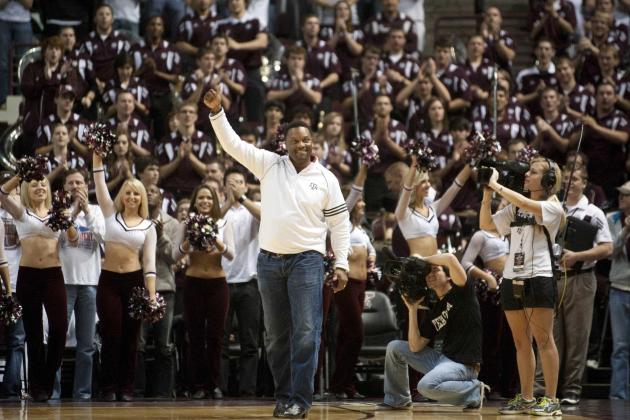 Brendan Maloney-US PRESSWIRE

Colby Cameron and Quinton Patton are two of the most productive and underrated duos in the country, and they will give major issues to the Aggies defense.
Luckily, A&M's offense should be able to hang punch-for-punch with Kevin Sumlin's knack for running productive offenses. This game will not be talked about a bunch for national exposure, but it should be with so much on the line.
If the Aggies were to lose this opener, a bowl bid may be out of reach (it is August but Aggies Nation will not be pleased) depending on how much they shock the SEC, and all of a sudden the Bulldogs could become the Houston BCS dark horse from last season.
Danny V's Pick: A&M by 3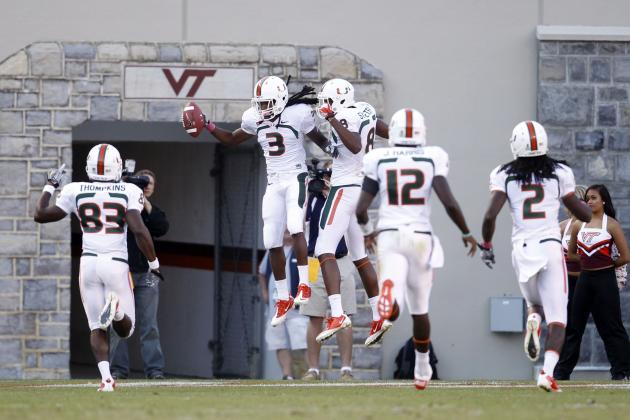 US PRESSWIRE

The past matchups between the Hokies and Hurricanes were once entertaining, but they have lost most of their luster because the games are not nearly as meaningful.
Virginia Tech has taken over the ACC having dominated it by winning the conference in all but four of the years (played in BCS all but three).
Frank Beamer is one of the best in the game, and many are once again banking on a double-digit victory season by the Hokies because of that consistent defense and special teams ("Beamer Ball").
Danny V's Pick: VT by 14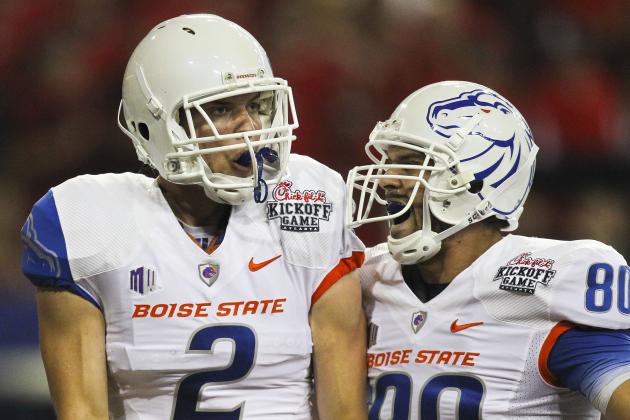 Daniel Shirey-US PRESSWIRE

Boise State is back for some Thursday night football, and we know how deadly they are at Bronco Stadium.
Try going 77-2 at home against even D-III competition and you may be hard-pressed to accomplish such an achievement.
BYU though is actually coming off a double-digit win season as well, and its offense is more than capable of scaring the Broncos to death.
Cody Hoffman could play for anybody and Riley Nelson is more than decent at quarterback, so look for a tight game until the Broncos' own top receiver (Matt Miller) makes a few game-breaking grabs.
Danny V's Pick: Boise by 14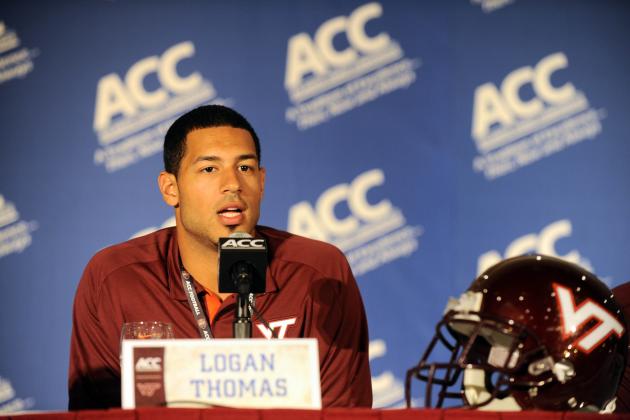 Sam Sharpe-US PRESSWIRE

A Labor Day tilt between two talented quarterbacks and coaches is always a must-watch, but Virginia Tech's defense against the Tevin Washington-led option attack will truly be worthy of keeping a close eye on.
Orwin Smith and David Sims are talented backs that can gash any opposing defense, but the Hokies have the run-stoppers and defenders to really bottle up any offense ACC.
Danny V's Pick: VT by 11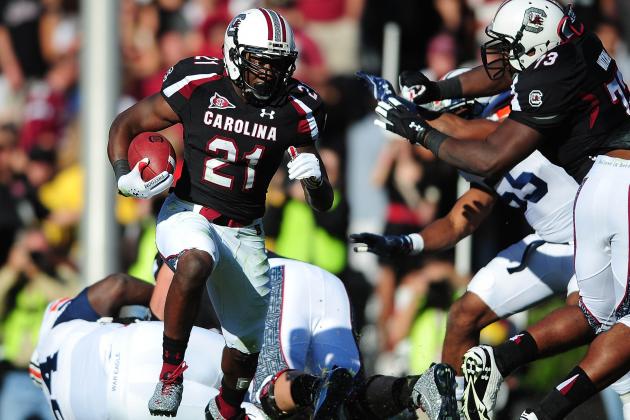 Andrew Weber-US PRESSWIRE

The 2012 college football year will seem like the best season yet with two SEC squads squaring off against one another.
South Carolina will be right around the Top 10, but it will be on upset alert with the tricky Commodores playing in what may their biggest home game in program history.
James Franklin has everybody believing after last year's bowl berth, but the Commodores have the pieces to challenge with the likes of a Gamecocks team because of the legit talent they have in Zac Stacy and Jordan Matthews.
Danny V's Pick: SC by 4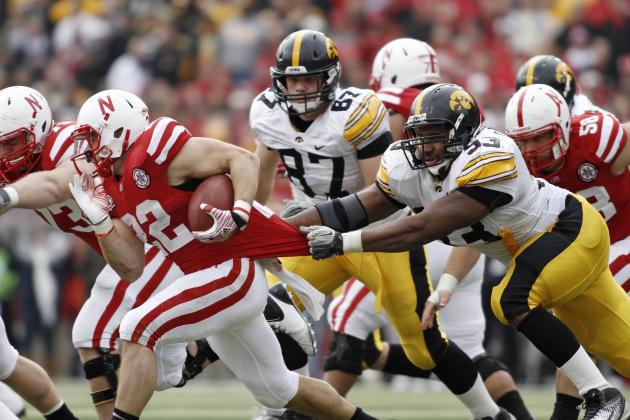 Matt Ryerson-US PRESSWIRE

Thanksgiving weekend is the best because of those leftovers that are tough to pass up on, but it surely helps to have underrated matchups like this one.
Iowa tops the list for underrated Big Ten teams since it could win eight or nine games without anybody noticing, but the Huskers might just go bonkers in 2012.
Rex Burkhead is everything and more in terms of what you count in for your superstar running back, but the development of Taylor Martinez and his receivers could allow them to challenge for both a Big Ten title and a BCS bid.
Danny V's Pick: NU by 17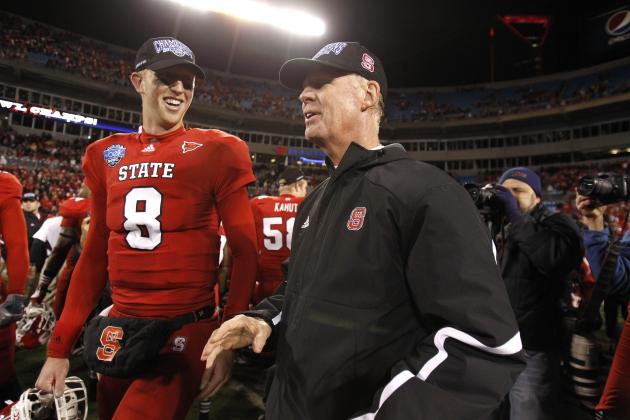 US PRESSWIRE

Tyler Bray and Mike Glennon need to be watched when Boise State and Michigan State are playing during the same time because these two dark horses have the potential to challenge for a division crown.
The Pack clearly need their defense to improve, especially going up against an SEC squad.
That SEC squad is getting better on defense so a young and unproven set of receivers need to stretch the field against the Vols or else they won't be able to keep up.
Bray has a ton of star options to thread the needle to with Da'Rick Rogers and Justin Hunter leading the way. David Amerson cannot cover both of them, but look for a ton of red-zone opportunities Tennessee should be able to take advantage of.
Danny V's Pick: UT by 13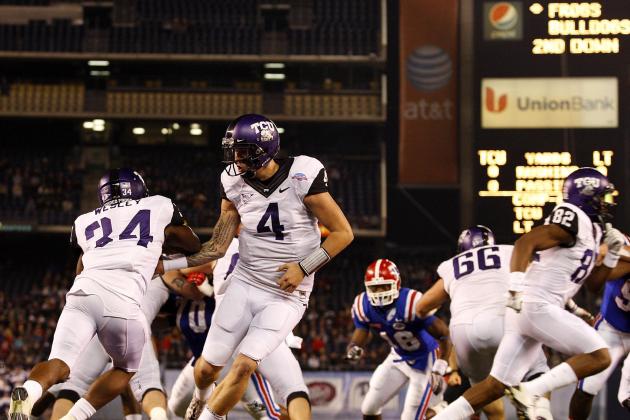 Jake Roth-US PRESSWIRE

A Thanksgiving dinner while watching the Longhorns and Horned Frogs has the makings of becoming an excellent game.
The Big 12 could be at stake in this one depending on what those Sooners or Mountaineers have accomplished, but TCU's receivers against the Texas secondary will be one of the best weekday matchups of the season.
Plus, the battle of lines of scrimmages will not be too shabby either since Texas brings a ton of beef, and it better with Casey Pachall spinning it with the best of the Big 12 quarterbacks.
Danny V's Pick: TX by 7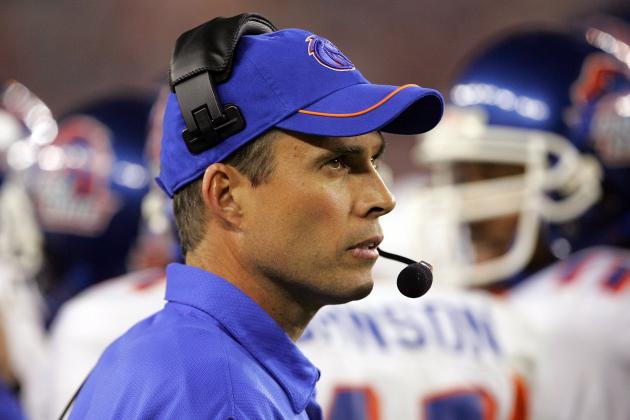 Lisa Blumenfeld/Getty Images

Chris Petersen is 73-6 thus far in his career, and that record by itself is absurd. Throw in his two BCS bids and his ability to knock off the BCS squads, and his Smurfs should be feared by most.
Michigan State possesses one of the elite defenses in college football, but it will be intriguing to see how well quarterback Andrew Maxwell and his new receivers perform against an underrated Broncos secondary.
If this game were played on the blue turf, we might be thinking of a different result. but not on the road against a legitimate contender in the Big Ten.
Danny V's Pick: MSU by 6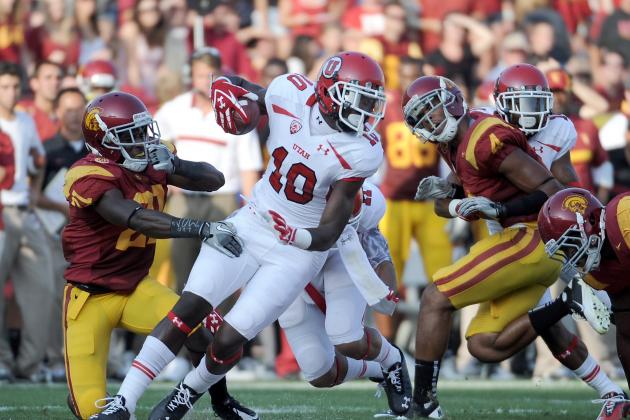 Harry How/Getty Images

I marked this date the day the matchup was announced because I knew there would be a chance to see the top-ranked team in the country compete and more importantly go down perhaps.
USC is as talented as any team in the country, but we are truly going to find out if its front seven can handle a bruising back in John White IV.
Matt Barkley always plays well on national television, and his options in Robert Woods and Marqise Lee could make your local mailman look decent.
Still, if the Trojans are the best, they must be able to pass this brutal exam in Salt Lake City as the entire country will be watching.
Danny V's Pick: Utah by 2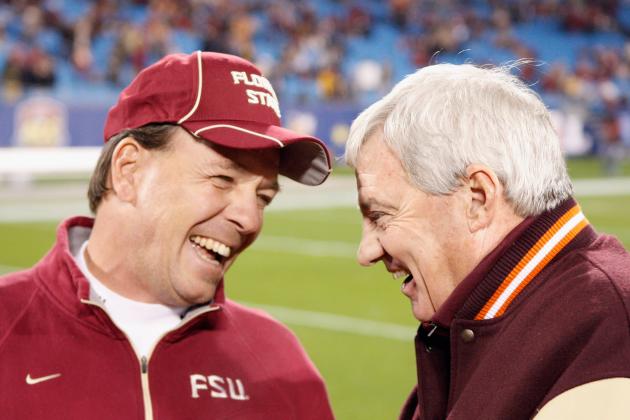 Streeter Lecka/Getty Images

The ACC title has seen these pair of teams on two separate occasions (tied 1-1), but a November trip to Blacksburg for the Noles could have BCS title implications.
More importantly, this ACC tilt might just be the first of what will become two matchups this season. The Hokies should be in the Top 15 and Florida State could be in the Top Five if it were to remain flawless.
Jimbo Fisher looks to make a name for himself as he will once again attempt to get his Noles above the preseason expectations, which is not easy.
Lastly, E.J. Manuel and Logan Thomas are two of the best in the country, but they will be going up against the best defenses they will see all season (save UF for FSU).
Danny V's Pick: FSU by 3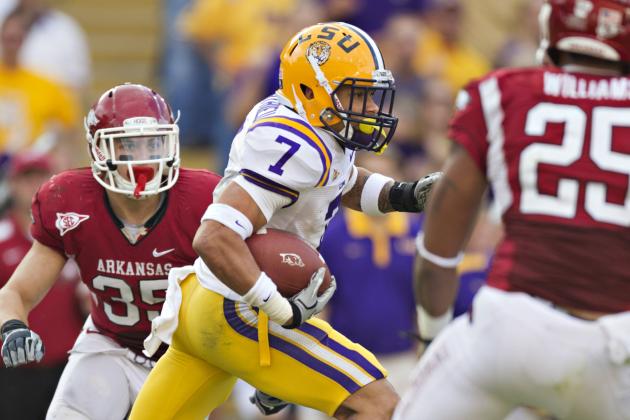 Wesley Hitt/Getty Images

The Bayou Bengals harassed and obliterated Tyler Wilson and the Razorbacks offense last season.
Will there be some payback, or is LSU simply too talented for an Arkansas squad that has actually given Les Miles some troubles?
These games have turned into shootouts (BCS impact), but the ability on defense and special teams should give LSU the slightest of edges against a powerful Arkansas offense that may have other ideas once again.
Danny V's Pick: LSU by 7
Steve Dykes/Getty Images

Most have already planned on this future contest between the USC Trojans and Oregon Ducks simply due to the fact they have the looks of clearly being better than the rest of the competition.
Obviously, the winner from their regular season tilt will likely decide who gets the home crowd advantage, but the road team (whoever it is) will be as dangerous as they come.
The national title and BCS implications on the line in this one are filled with endless drama.
The SEC title is always the most significant game in the regular season, but a battle between perhaps the best undefeated and one-loss team in the nation will have the entire country watching.
Matt Barkley, Robert Woods, Marqise Lee, De'Anthony Thomas and Kenjon Barner are just a few of the likely superstars that will be electrifying the landscape of college football, so this (very likely) will be one weekday heavyweight dream matchup you better not miss.
Danny V's Pick: USC by 7