Milwaukee Brewers: The Top 10 Moments in Franchise History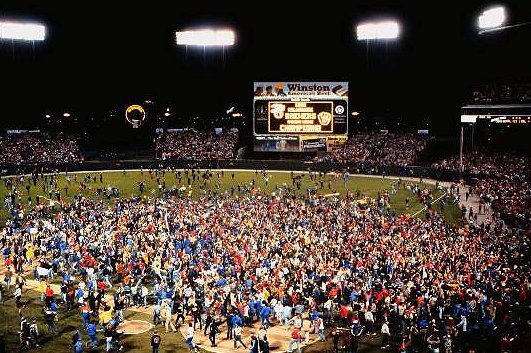 Fans pile on the County Stadium field after Game 5 of the '82 ALCS.
The Milwaukee Brewers are going through a rough stretch right now, so what better time is there to relive some memorable moments in Brewers history to lift some spirits?
Sure, the Brewers don't exactly have a rich history of winning, but they have had their fair share of chills-down-your-spine moments.
Numerous top Milwaukee Brewers moments lists were released in 2010 when the team celebrated its 40th anniversary, but after experiencing their best regular season in franchise history last year, a revision of these lists is in order.
Before we kick things off, let's take a look at the criteria used to assemble the Top 10 Moments in Brewers' History.
Begin Slideshow

»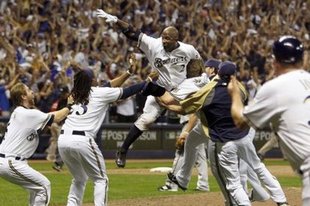 Several top moment lists tend to have moments that aren't really—you know—exciting.
That's not to say they weren't special in some way, but take Hank Aaron hitting his 755th home run in a Brewers uniform. Is that really a moment you would place ahead of a diving catch to help seal a no-hitter?
In my opinion, for a moment to crack the top 10, it has to have some legitimate implications. Was it ground-breaking milestone? Did it create excitement for the future? Did it result in either immediate or future success?
All of these factors were considered when accumulating this top moments list, and while there are obviously more than ten moments that fit this criteria, I believe the following moments take the cake when looking back at the history of Brewers baseball.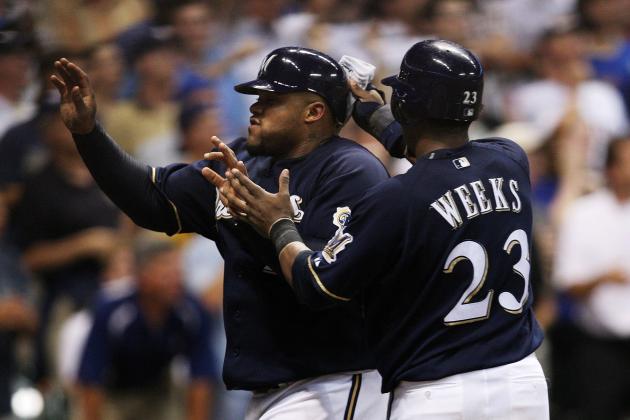 Jonathan Daniel/Getty Images

No game has ever given us a better glimpse into the Brewers' future than the one Milwaukee played against the Minnesota Twins on June 25, 2005.
Rookies Rickie Weeks and Prince Fielder each went deep, with Fielder's home run coming in a pinch-hitting role in the form of a three run blast to give the Brewers the lead.
It was each player's first career home run.
Both highly touted prospects coming into the season, Weeks and Fielder figured to be the backbone in the Brewers' future success. They would prove to be just that over the next seven years, culminating with both becoming All-Stars in 2011.
As if the performance of Weeks and Fielder wasn't enough, paying a visit to the television booth during the game was none other than the Brewers' 2005 first round draft pick—Ryan Braun.
The Brewers would defeat the Twins—and Johan Santana—7-6.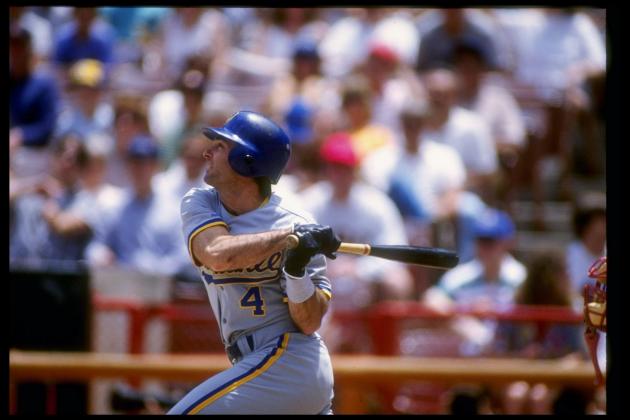 Stephen Dunn/Getty Images

While this can't exactly be bundled up into one moment, the fact that Paul Molitor had the seventh longest hitting streak in MLB history should be noted in the Brewers top moments.
Molitor's 39-game hitting streak came in 1987, the last season the Brewers would win 90 games until their memorable 2008 season.
The Ignitor is one of just two players to enter the Hall of Fame as a Milwaukee Brewer, and the other is due for an appearance on this list soon.
What might be the most memorable part of Molly's hit streak is how it ended. As Molitor waited in the on deck circle in the bottom of the 10th with no hits in the game, the Brewers' Rick Manning had the game-winning hit, ending Molitor's streak and earning boos from the County Stadium crowd.
That's right. Boos. For a game-winning hit. That combined with Molitor's historic stretch makes Molly's 39-game hit streak good for ninth on the list of top Brewers moments.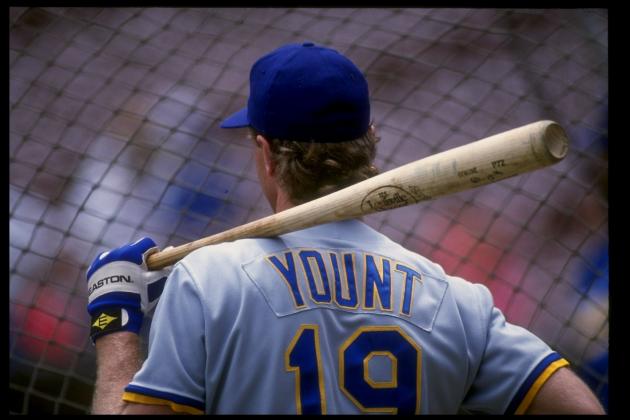 Stephen Dunn/Getty Images

There is little argument over who the best to ever wear a Brewers uniform was, and that man is Robin Yount.
On Sept. 9, 1992, Yount became the 17th member of the 3000 hit club when he singled to right field in the seventh inning against Jose Mesa of the Cleveland Indians.
Yount admitted there was a lot of pressure throughout the chase for 3000, and 47,000-plus finally watched Yount reach the historic milestone at his home ballpark.
It even resulted in a short delay as Brewers players piled onto the field to lift The Kid onto their shoulders in celebration.
When it was all said and done, Yount ended his career with 3,142 hits, good for 17th all-time.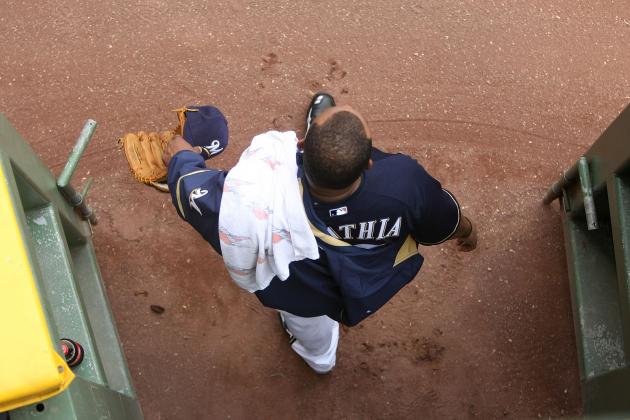 Jonathan Daniel/Getty Images

In the years building up to 2008, the Brewers were already contending for a playoff spot, but they were still missing that one piece that would put them over the top.
Brewers general manager Doug Melvin knew he would have to make a splash as the trade deadline approached, and he pulled off one of the biggest trades in franchise history.
Shipping off a couple of prized prospects to Cleveland, Milwaukee in return received former Cy Young recipient CC Sabathia.
From there, the Brewers would ride Sabathia's coattails to their first playoff appearance in 26 years, with Sabathia pitching on three days rest on several occasions.
To this day, it would be difficult to find many Brewers fans who don't believe Melvin made the right move.
Even though the Brewers were ousted in the opening round of the postseason, Sabathia brought an excitement to the city that fans hadn't experienced for quite some time.
Most importantly, Milwaukee was a contender once again.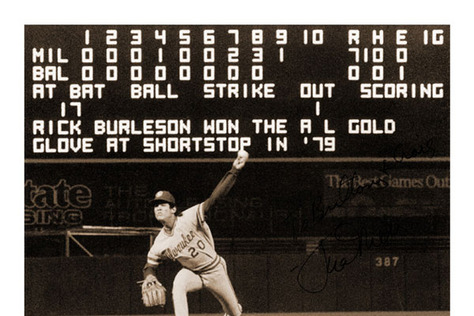 You saw the video on the criteria slide. If not, here it is again.
The 22-year-old Juan Nieves was one out away from throwing the first no-hitter in Brewers franchise history, and Cal Ripken Jr. was at the plate.
Falling behind in the count 2-0, the decision was made to intentionally put Ripken on base and face Eddie Murray.
Murray ripped a sinking liner to right center, and that's when Robin Yount laid out and made a diving catch for the final out in the greatest pitched game in Brewers' history.
We'll never know what would have happened if Ripken wasn't put on base.
Without Yount's heroics and Nieves' incredible performance, the Brewers would still be in search of their first no-hitter, and that's why this moment occupies No. 6 in the countdown.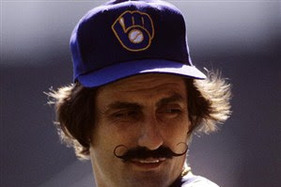 After a disappointing 1980 campaign marred by a poor bullpen and manager George Bamberger suffering a heart attack, the Brewers were looking to rebound.
The following offseason, the Brewers traded for relief pitcher Rollie Fingers, starting pitcher Pete Vuckovich and catcher Ted Simmons.
All three proved to be valuable assets in the coming years, helping the Brewers make their first playoff appearance in a strike-shortened 1981 season.
Fingers would win the AL Cy Young and MVP Award in '81 and was a key part of the Brewers successful 1982 season, but Fingers tore a muscle in his throwing arm, his absence from the playoffs likely costing Milwaukee a World Series.
Vuckovich won a Cy Young of his own in that historical '82 season.
For what little the Brewers gave up and the success the trades brought in return, these acquisitions combine to rank No. 5 in top moments in team history.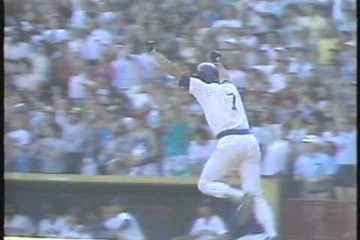 1987 has already proven to be a magical year in Brewers franchise history, but Dale Sveum's walk-off home run on Easter Sunday makes it that much more memorable.
The Brewers had already won 11 straight games to kick off the '87 season, but entered the bottom of the ninth inning on Easter down 4-1 to the Texas Rangers.
In front of nearly 50,000 fans, Rob Deer crushed a three-run home run to left to tie the game. Two batters later, up stepped Dale Sveum.
Sveum's deep fly to right would extended the winning streak to 12 games and the packed house at County Stadium was perhaps never louder.
For a season that wouldn't even result in a playoff berth, Sveum's Easter Sunday home run still resonates in the minds of Brewers fans as one of the most memorable moments in team history.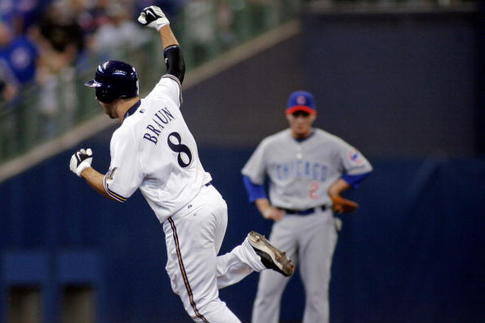 Darren Hauck/Getty Images

It was 26 years since the Brewers had last experienced postseason baseball.
It was game 162 of the 2008 season, Milwaukee squaring off against the rival Chicago Cubs—a playoff berth on the line.
It was the bottom of the eighth inning, one man on, with second-year player Ryan Braun stepping to the plate.
First pitch swinging, as he is still known to do in clutch situations, Braun launched a two-run home run to left field to give the Brewers a 3-1 lead.
Pitching that day was none other than CC Sabathia, who pulled off some dramatics of his own by inducing a game-ending double play. Afterwards, Brewers players stood outside the home dugout and watched the then Florida Marlins defeat the New York Mets to seal Milwaukee's playoff spot.
Braun's heroics and Sabathia's grittiness in the final game of the '08 regular season are moments that will stick with Brewers fans for many years to come.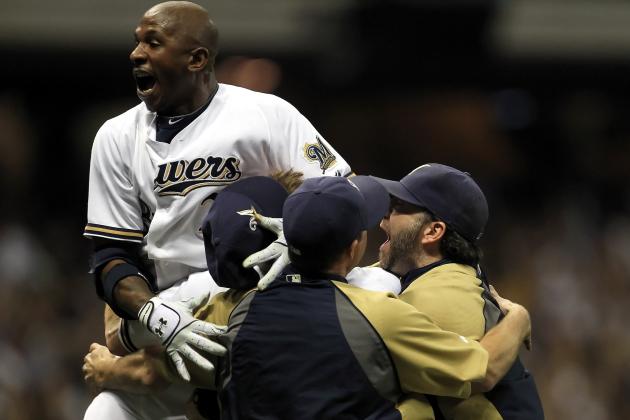 Jonathan Daniel/Getty Images

The Brewers were coming off their most successful regular season in franchise history. Expectations were high.
In the National League Divisional Series, Milwaukee squared off against the Arizona Diamondbacks and after the Brewers jumped out to a two games to nothing lead, the D-Backs fought right back and forced a Game 5.
The tension was at an all-time high at Miller Park as the game leaked into extra innings, with the Brewers encountering numerous close calls.
With one out in the bottom of the 10th, Carlos Gomez knocked a one-out single to left, stole second and then took off running again when Nyjer Morgan smashed a single to center. Gomez slid in to home safe and was greeted by players streaming onto the field as Brewers players and their fans went into a frenzy.
Morgan—perhaps better known around Milwaukee as Tony Plush—was mobbed as well, responsible for one of the biggest hits in Brewers' history as the Crew would move on to the NLCS with a 3-2 victory against the Diamondbacks.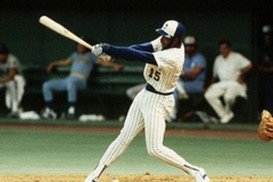 As memorable as Morgan's NLDS walk-off single was, it can't quite live up to the hit that put the Brewers into their first ever World Series.
That hit belongs to Cecil Cooper.
Just as in 2011, the Brewers were deadlocked with their opponent at two games apiece, this time in the American League Championship Series against the California Angels.
The bases loaded with one out, the Brewers trailed 3-2. Up stepped Cooper, who drove an opposite field single to left to plate the tying and go-ahead runs with a hit that would eventually prove to be a World Series clincher.
While it wasn't a walk-off hit such as Morgan's, it was a hit that put the Brewers in their one and only World Series thus far and is the undeniable No. 1 moment in team history.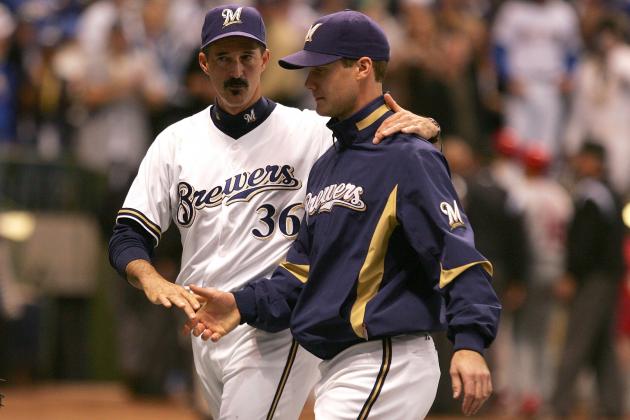 Jim McIsaac/Getty Images

Game 3 of the 2008 NLCS vs Philadelphia Phillies (2008)
The Brewers first playoff victory in 26 years.
Ryan Braun's walk-off grand slam vs Pittsburgh Pirates (Sept. 25, 2008)
Braun's grand slam helps the Brewers keep pace with the New York Mets for the NL Wild Card.
Mark Attanasio purchases the Milwaukee Brewers (2005)
Attanasio becomes the team's new owner, giving the Brewers help financially.
Harvey Kuenn takes over as manager (1982)
After struggling out of the gate, Kuenn leads the Brewers to a World Series appearance.
The Brewers arrive in Milwaukee (1970)
After a five year hiatus, baseball returns to Milwaukee thanks in large part to Bud Selig.