Jeremy Lin: Carmelo Anthony Is in No Way to Blame for Lin's Departure from NY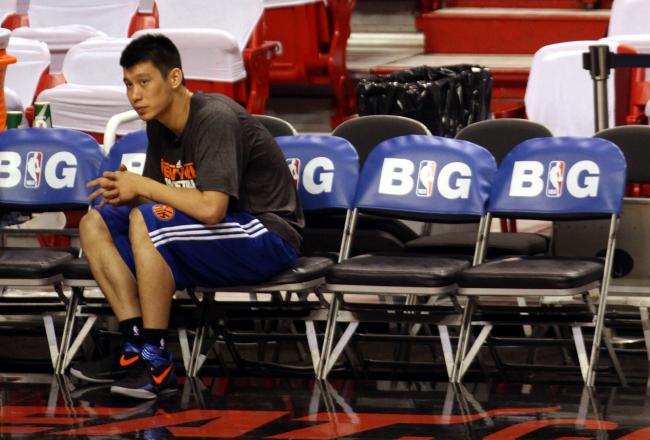 Marc Serota/Getty Images
Jeremy Lin is no longer a New York Knick because of financial road blocks and a few botched gambles. None of that had anything to do with Carmelo Anthony.
So why is anybody blaming him for the fact that Lin is now a Rocket?
According to the New York Daily News, Anthony is under fire because he had the audacity to express his opinion of Lin's new three-year contract with Houston, which is worth $25 million total and will pay the point guard $14.8 million in the final year.
Anthony feels that the contract is "ridiculous," according to the Daily News. Apparently, the Knicks thought the same thing—and they couldn't afford to pay it, anyway, which is why they didn't match Houston's offer sheet.
Now, there are rumors abound that the real reason the Knicks didn't retain Lin is because Anthony wasn't a fan, per the Daily News.
Forget about the contract. That sentiment is what's ridiculous.
Afterward, Anthony was forced to do the kind of backtracking every celebrity must do in the aftermath of making a comment that isn't well-received by the public. He told the Daily News that he's a staunch supporter of his former teammate, then added:
It is what it is. Anything that happens in New York they blame me. I accept that. I don't really worry about it, to be honest with you.
First off, why wouldn't Anthony be a Lin supporter? Lin, for the short time he was on the court, helped the Knicks win. Everyone affiliated with the Knicks supports winning.
Also, given the fact that Jeremy Lin might be the most inoffensive, down-to-earth member of the NBA, it's unlikely that Anthony had any personal beef with him, either.
Anthony and his fellow high-profile NBA athletes are public figures. They get asked a lot of questions and are expected to have opinions. Some of those opinions are going to be uncensored, and some of them aren't going to be positive—even if they're tangentially related to a player the entire New York fanbase loved and supported.
Just because Anthony dared to be honest about his thoughts regarding Lin's contract doesn't mean he doesn't like Lin. Derek Jeter would probably say that A-Rod's $275 million deal with the Yankees was ridiculous. Theo Epstein would probably say, in retrospect, that paying J.D. Drew $70 million over five years was ridiculous, and he's the guy who proposed the deal.
This is the nature of professional sports, and it's not news to anyone. Players who are in high demand end up getting paid a lot more than they're worth—mostly because there aren't many other options on the market that make sense, and sometimes because a front office member has a strange fixation with that one player.
Is Carmelo Anthony to blame for Jeremy Lin's departure?
The Rockets wanted a point guard with a lot of upside who wouldn't cost an obscene amount of money or require a huge, long-term commitment. They set their sights on a restricted free agent, and they offered him a paycheck he couldn't refuse and his current team couldn't match. It's business, and the Rockets did what they had to do in order to get the player they wanted.
Is Lin going to be worth that $14.8 million three years from now? Maybe. Nobody knows, because Lin's only started 25 NBA games. He was excellent during most of those 25 games, but it's a small sample size.
I think Lin's great, and I also think we can all agree that banking $25 million on one month's worth of performances is a little ridiculous. Carmelo Anthony certainly isn't the only one who thinks so.
He's just the most famous person who dared to say it out loud.
This article is
What is the duplicate article?
Why is this article offensive?
Where is this article plagiarized from?
Why is this article poorly edited?

New York Knicks: Like this team?