Penn State Football: Why No Fan Should Blame a Player If He Transfers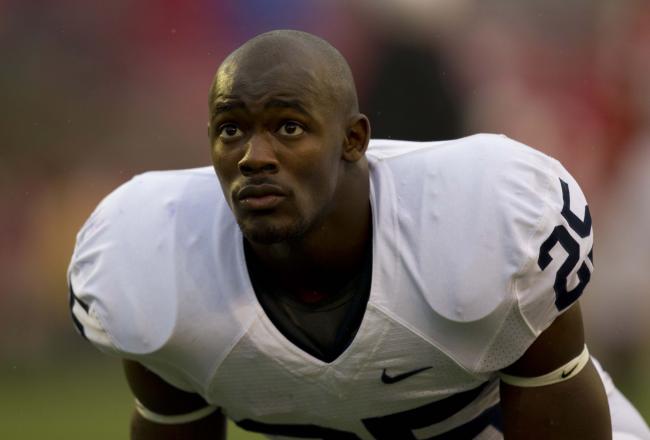 Will Silas Redd stay or go?
Jeff Hanisch-US PRESSWIRE
Should they stay or should they go? This is a question many are asking about Penn State's football players. Of course, the only person who should answer the question is the individual player.
Not the media. Not the fans.
The NCAA brought the hammer on Penn State's football program last week. A four-year postseason ban, five years of probation and a $60 million fine to be paid over the next few years to set up an endowment fund to benefit victims of child sexual abuse was the sentence. Whether you believe the sanctions to be too strong or too lenient, now that the sanctions have been confirmed, the time to turn the page is now for Penn State.
In addition to the sanctions, the NCAA opted to allow any player on the roster to seek a transfer with immediate eligibility. This was a decision that was universally accepted as the right call. But the NCAA went a step further by lifting normal recruiting regulations for Penn State players.
This has led to coaching staffs invading State College like flies to a rotting carcass. If NCAA president Mark Emmert was looking to cure the football culture he accused Penn State of being sucked in to, perhaps he should take a closer look at the door he opened as schools look to see if any Penn State player is interested in a change of scenery.
No player should be shunned for taking advantage of this rare opportunity to switch uniforms, of course. This is a rare instance in which players are being given a second chance to make a key decision that many will never get in college football, at least with the opportunity to play immediately. The majority of Penn State's roster will remain intact, as over 70 players have confirmed their commitment to the Nittany Lions in the fallout of the NCAA sanctions. Those players and pledged recruits should be recognized for their commitment to the full Penn State experience, which includes a quality education.
Others will explore their options, and some will eventually decide to leave Penn State. This should not result in anger from Penn State fans. After all, these are college kids just looking to put themselves in a situation they feel comfortable in. People change jobs when they are not happy. Students change colleges. Players change teams.
Right now, some schools have everything Penn State has to offer and more. Depending on the player and school, the decision can be even tougher.
Penn State running back Silas Redd continues to weigh his decision to stay at Penn State for at least one more year or pursue a realistic chance at a BCS championship with the USC Trojans. USC was quick to express interest in the tailback following the NCAA sanctions, and head coach Lane Kiffin all but said Redd's name during Pac-12 media day, as the coaching staff has been hot in recruitment of Redd.
Redd was scheduled to attend Big Ten media days as a player representative for Penn State but cancelled his trip so he could hear from the USC program in his Connecticut home. A three-hour meeting including a PowerPoint presentation was apparently enough to convince Redd to make a trip to USC to check things out this weekend. Now, Redd must decide between staying with his current teammates for what could be a special year or take advantage of a second chance to pursue a BCS championship.
For Redd, it is a tough decision with no wrong answer. But he is not alone.
Kicker Anthony Fera is considering moving closer to home this season, perhaps playing for the Texas Longhorns. Defensive tackle Jamil Pollard was the first player for the class of 2012 to commit to Penn State following the sexual abuse scandal, and now he is considering a switch to Rutgers in his hometown state of New Jersey. Defensive back Ross Douglas of Ohio was the first to decommit to Penn State following the NCAA sanctions, and he soon pledged to the Michigan Wolverines instead.
The 2012 season figures to bring back most of the roster Penn State had planned on having. Those who go are not turning their backs on the program. Instead, they are taking advantage of a second chance.
Wouldn't you at least consider the same?
None of these players signed up for a postseaosn ban or the negative publicity received by the school. And they certainly did not sign up to be criticized for leaving the program in a time of struggle.
There is no shame in leaving the program in search of a better collegiate experience. You only get four or five years to take advantage of it. But those who stay will forever be remembered for their dedication and devotion to the program they played with through some dark times. Those who stay may not be champions, but they will be thought of as legends.
Kevin McGuire is the host of the No 2-Minute Warning podcast, managing editor of Nittany Lions Den and a member of the Football Writers Association of America and National Football Foundation. Follow him on Twitter, Facebook and Google+.
This article is
What is the duplicate article?
Why is this article offensive?
Where is this article plagiarized from?
Why is this article poorly edited?

Penn State Football: Like this team?