USA Olympic Basketball Team 2012: Tyson Chandler Crucial to Gold Medal Hopes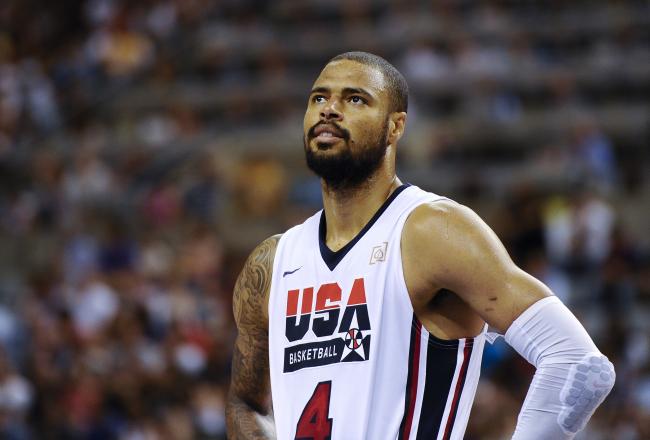 David Ramos/Getty Images
As Team USA's basketball team embarks on its quest for Olympic gold in London Sunday, there may be no more vital a player to those hopes than center Tyson Chandler.
And that's strange considering Chandler wouldn't have even made the trip without two critical injuries.
A herniated disk in Dwight Howard's back abruptly ended his 2011-12 NBA season and rendered an Olympic repeat impossible. Andrew Bynum, citing a rest and his faulty knee, chose to forgo the games in London to undergo the infamous Orthokine (blood platelet spinning) treatment in Germany this offseason (via Los Angeles Times).
That left Team USA desperate for big men, eventually settling on New York Knicks center Tyson Chandler and Los Angeles Clippers forward Blake Griffin...until a torn meniscus put Griffin out for the Olympics and forced an emergency call to New Orleans Hornets rookie Anthony Davis.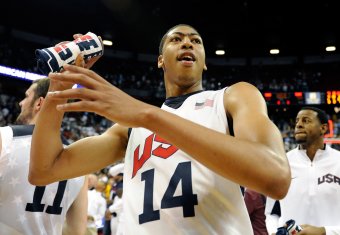 David Becker/Getty Images
Davis was a defensive menace last season at Kentucky, averaging 10.4 rebounds and 4.7 blocks per game, but he's 19 years old and hasn't played a minute in the NBA. Historically speaking, players that young are unreliable pros, let alone on the brightest of international stages.
That leaves Chandler, the 2012 NBA Defensive Player of the Year, as the only player above 6'9" Team USA can undoubtedly count on.
With the team obviously unable to keep Chandler on the floor the entire 40 minutes, the exhibition season became one of experimentation for American coach Mike Krzyzewski. And one lineup in particular, with LeBron James at center and Carmelo Anthony at power forward, proved particularly effective.
In Team USA's final exhibition matchup against world No. 2 Spain, the small-ball lineup eviscerated the Spanish squad defensively. When Spain tried to use their size advantage using pick-and-rolls with Serge Ibaka, Team USA simply trapped the ball-handler while using their quickness to rotate and cut off the roller.
That led to a massive plus-19 plus-minus when that lineup was in the game. And with Chandler's main purpose being to defend big-heavy teams like Spain, that's led some to wonder whether the seven-footer is better off on the bench.
Quick answer: Absolutely not.
Who is Team USA's best option at center?
Krzyzewski's small-ball discovery simply gives Team USA yet another weapon to deploy, but certainly doesn't render Chandler useless. Chandler is not just the United States' best defender. His three years of running pick-and-rolls with Team USA point guard Chris Paul with the Hornets also gives the team a secret offensive chemistry.
And it's not as if Team USA's small-ball tactics can be a long-term solution against teams like Spain. The Spanish squad is well coached. Traps and rotations can only work so long against elite teams before they eventually start finding open men beyond the arc.
So long as the coaching staff doesn't fall in love with the small-ball squad's athleticism, Team USA's lineup variation should be enough to keep almost every team on the ropes. But the key to that versatility (and the United States' gold medal hopes) begins with Chandler.
If the seven-footer provides brilliance in the defensive middle and doesn't hurt the team on offense, Team USA could cruise to gold.
If he doesn't, it could be a cruel summer for Team USA in London.
This article is
What is the duplicate article?
Why is this article offensive?
Where is this article plagiarized from?
Why is this article poorly edited?