Alabama Football: Top 6 Camp Standouts Bama Needs to Snag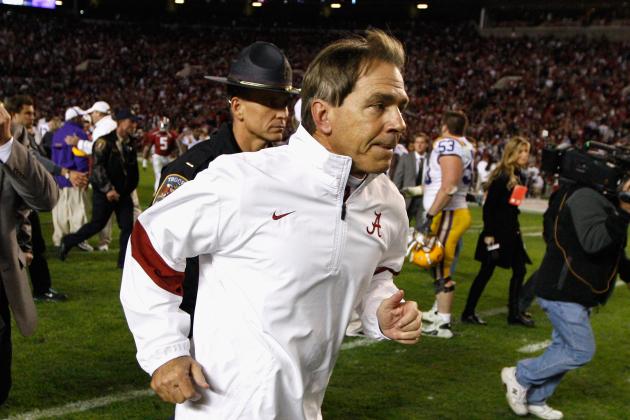 Streeter Lecka/Getty Images
Nick Saban welcomed a large number of decorated recruits to his annual camp held last week, but a select group of them are targets crucial pieces for Alabama's 2013 and 2014 classes.
Alabama held its second camp session of the summer last week, with the main focus for Nick Saban and his staff being to hone in on the key targets remaining for 2013 plus get a head start on evaluating kids for the 2014 cycle and beyond.
With fall practice beginning in a few weeks, the camp represented Saban and his staff's best chance to focus on recruiting before they ramp up preparations for the 2012 season.
The star-studded event proved to be fruitful with a pair of 2013 prospects—tight end Josh McNeil (during camp) and linebacker Walker Jones (shortly after returning from camp) announcing their intention to sign with the Tide.
There are still a few recruits that Saban has made a push for to fill gaps in the 2013 class and try to get off to a fast start for 2014.
Here are the top six camp standouts that Alabama needs to land.
Begin Slideshow

»
Alabama has only one true corner—Texas native Maurice Smith—committed for the 2013 class, and with several teams still pursuing him, Saban needs to make sure he pulls an elite player at that spot this cycle.
Enter Alexander—a 5-star defensive back according to ESPN—that was a surprise visitor for Saban's camp.
The former Tennessee commitment is a bit of a wild card with several teams in the mix—such as other schools he has visited recently like Georgia, Miami, Notre Dame and Florida State.
Considering Saban's sterling reputation with defensive backs, the remainder of Alexander's recruitment should be one worth following for Crimson Tide fans.
Running back is one of Saban's biggest needs for the 2013 cycle, which is why despite having commitments from a pair of 4-star running backs in Altee Tenpenny and Tyren Jones, the Crimson Tide are still in the market for another elite talent to join their backfield.
Kamara is an all-purpose back that can do damage lining up as a traditional running back or turning into a receiver out of the backfield—which makes him a valuable commodity.
There's a reason that Saban famously sent him more than 100 letters in a day—and why the Crimson Tide will fight tooth and nail with Georgia for Kamara's services.
Scarbrough—a 5-star prospect for 2014 and the top junior in the state of Alabama—had previously announced his intention to commit on July 23, but he backed off after a visit to Georgia shuffled his leader board.
The fact that the dynamic athlete—who is capable of being a game-breaker at running back or wide receiver—is from Tuscaloosa makes it even more important for Saban to keep him home for college.
Aside from Georgia, Florida and Clemson make up the other programs in Scarbrough's top four—but it is hard to imagine him leaving the city limits when it comes down to his final decision.
The consensus top prospect for the class of 2014, Hand stayed in Tuscaloosa for nearly a week checking out several facets of the Crimson Tide program.
The Virginia native racked up 21 sacks as a sophomore—which is a testament to the 6'5", 245-pounder's dominance on the prep level.
Hand is a candidate to play either defensive end or the Jack linebacker for Alabama, and the fact that he made an extended trip shows the mutual priority the two parties have for one another.
However, the battle to land Hand will involve a fierce battle with the likes of Ohio State, Virginia and Virginia Tech amongst several others.
Another surprise visitor from the Sunshine State that made it to Tuscaloosa last week was 5-star athlete and former Georgia commitment Derrick Henry.
The Crimson Tide have emerged as the top team on Henry's leader board since he opened up his recruitment.
The 6'3", 240-pounder has been adamant in his desire to play running back, and his size and bruising running style would be a perfect complement to current Tide backfield commitments Altee Tenpenny and Tyren Jones.
Despite losing out on top 2013 defensive end Robert Nkemdiche (who committed to Clemson), the Crimson Tide hosted Walker—the top pass-rusher from the state of Florida—for the third time in the last four months.
Considering the Tide's need for a dominant defensive end in this class, the 6'3", 276-pound Jacksonville native may be Saban's top priority left for the 2013 class.
With a tentative announcement set for Aug. 3, Crimson Tide supporters are hoping that Saban was able to seal the deal last week and help him spurn in-state power Florida when he chooses his college destination next week.