Lose-Lose: Jacksonville Jaguars & Maurice Jones-Drew Will Both Be Hurt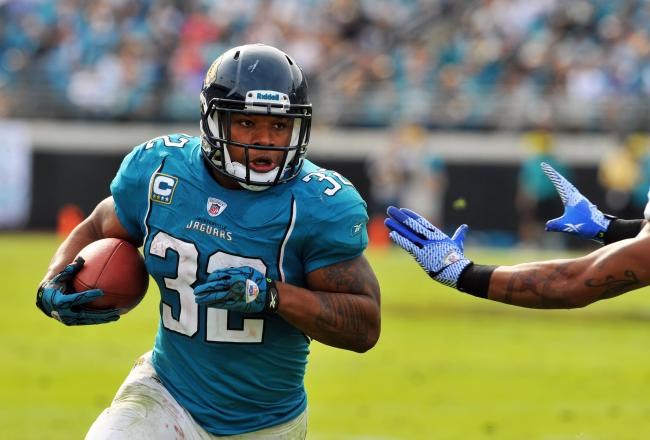 Al Messerschmidt/Getty Images
These things never end well.
Jacksonville Jaguars all-world running back Maurice Jones-Drew is coming off of a season where he led the NFL in rushing yardage (not to mention attempts), despite the fact that every defense in the league knew the Jaguars couldn't pass the ball.
Now Jones-Drew wants to be paid. He has watched as players like Baltimore Ravens running back Ray Rice and Chicago Bears running back Matt Forte have landed big paydays this summer, following Tennessee Titans running back Chris Johnson's huge payday last summer—after a lengthy holdout.
The Jaguars, for their part, obviously value MJD's contributions, but they signed the veteran to a five-year, $30.95 million contract back in 2009, with $17.5 million of it fully guaranteed.
At that point, Jones-Drew was being paid for projected performance. The problem being, of course, Jones-Drew has not only performed, he has out-performed his peers at the running back position and now wants to be compensated for what he's done with two years still remaining on his deal.
We see this seemingly every year, where veteran players want to be rewarded for what they've done the on the field, while teams are more interested in paying for what they see coming down the road—thereby locking up the player at what turns out to be a reduced rate.
As is often the case when it comes to contract squabbles, I can understand both sides here. Jones-Drew wants to be compensated in-line with what he sees his peers getting. Unfortunately, Jaguars owner, and the man who signs Jones-Drew's checks, Shad Kahn made his position crystal clear earlier this week, via the Florida Times Union:
There's no decision here. It's his choice. There's been very little for us to do rather than wait on whatever he might chose to do.
Should the Jaguars give Jones-Drew a new contract?
Translation: Whenever MJD wants to come to camp—without a new contract—we'll be here practicing.
The truly unfortunate thing is that this standoff will only end up hurting both sides. The Jaguars need Jones-Drew to be in camp while new head coach Mike Mularkey is familiarizing the offense with his playbook.
Now, Jones-Drew is a seasoned pro. I don't buy into the whole "He'll be so far behind!" meme that has been floated by some. Most NFL offenses use a lot of the same stuff, and Mularkey's is no different in that regard.
However, there is terminology to be learned, protection calls to sort out, things that Jones-Drew will certainly need time to learn. The longer he's away, it becomes increasingly likely that he will be limited in what he's able to contribute, at least in the passing game, during the Jaguars first game against the Vikings.
Then, of course, there's the looming specter of injury whenever he does decide to report. If one thing has stayed true throughout generations of football, it's that guys who have lengthy holdouts almost always end up injured when they do finally report.
Sometimes it's just a tweaked hamstring, sometimes something more serious, but more often than not, the player who is suddenly trying to keep up with guys who have been practicing day in day out for weeks is simply unable to.
As for the Jaguars, there's no question they need their all-star running back. Though the NFL has certainly become a quarterbacks league, they are starting a second year pro coming off a shaky first season as a starter who needs every possible advantage he can get while trying to improve.
Having Jones-Drew in the backfield ensures that teams will have to try dropping extra guys into the box, thereby giving new targets Laurent Robinson and Justin Blackmon (whenever he gets into camp, which is a whole other headache...) some chances against one-one-one coverage on the outside without safety help over the top.
Jones-Drew's backup, Rashad Jennings, missed all of 2011 with a knee injury, but the last time he saw the field, he was actually quite effective. He's a bigger back who has decent vision and a great burst through the hole. All that said, he isn't nearly the talent MJD is and needs to improve in pass protection, a quality you never like to pair with a young quarterback.
For his part, it doesn't sound like Jennings will have any problem staying focused if the situation becomes the distraction it certainly has the potential to become. I simply loved this quote from back in June when Jennings was asked about possible negativity surrounding the team, via the Florida Times-Union:
Look, I wear a mouthpiece that's considered a pacifier, and I wear that for a reason. It's because I put on my mouthpiece, and shut up and work.
If you have to have a guy trying to hold down the fort for your star player while he holds out, that's the kind of attitude you want him to have, no doubt.
The longer Jones-Drew stays away, the more likely it is that both sides end up hurting themselves. I would expect the Jaguars to eventually do some adjusting to his contract, perhaps by giving him the remaining cash on his contract upfront, but nothing close to what Forte and Rice saw earlier this month.
Regardless, the situation is a bad one and, the longer it lasts, a real lose-lose for all involved.
This article is
What is the duplicate article?
Why is this article offensive?
Where is this article plagiarized from?
Why is this article poorly edited?