Pittsburgh Steelers: One Question Concerning Each Player on the Roster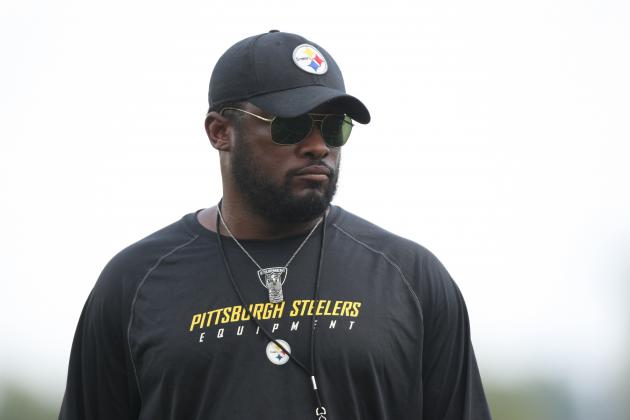 Jason Bridge-US PRESSWIRE

The Pittsburgh Steelers will have one of the most talented rosters in the NFL this season and should once again be a contender in the AFC.
An influx of young talent will join the experienced veterans which should make for an exciting season according Brett Keisel. Via Teresa Varley of Steelers.com:
I am very excited. We have a young group of guys coming in here. This is where you define your team and figure out who is going to help you win games throughout the season. You don't know what guys are capable of until they put on the pads and go full speed. It will be interesting to see who steps up and makes plays.
It did not take long for these players to get on the field.
After getting checked in, the Steelers participated in the conditioning test and Mike Tomlin was impressed with the start. Via Teresa Varley of Steelers.com:
I was really pleased, largely with the group. We talked about everybody having the responsibility to show up and be ready to play, and everybody had the right to expect others to do the same. I think I can say unequivocally that we got that done. That was impressive work by the men, young and old.
Even with a good start to camp, the Steelers players have plenty to prove and there are a number of questions that must be answered now that camp is underway.
Here is one question concerning each player on the Steelers roster.
Begin Slideshow

»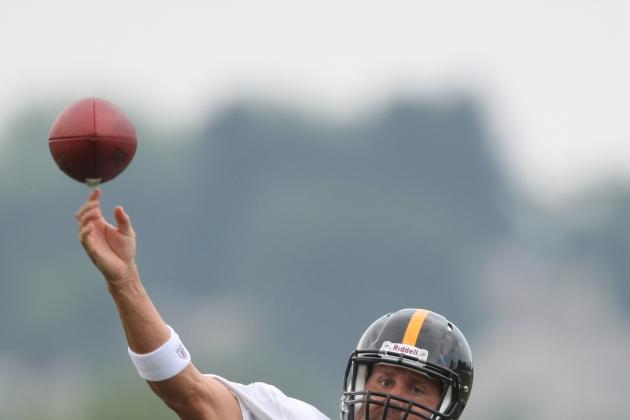 Jason Bridge-US PRESSWIRE

How long will it take Roethlisberger to execute Todd Haley's offense?
Last season, Roethlisberger may have had the best training camp of his career, but he did not put up the touchdown numbers that he should have.
Byron Leftwich
Can Leftwich stay healthy long enough to be the backup?
Leftwich was lost for the season last year with a broken arm. They need him healthy this year.
Charlie Batch
How much does Batch have left in the tank?
Batch has been nothing but dependable when called upon. However, his skills are eroding and at some point he will no longer be a viable option.
Jerrod Johnson
Will Johnson show enough potential that the Steelers will consider him as a future backup?
Pittsburgh could use a young, long-term backup quarterback. Maybe Johnson can be that guy.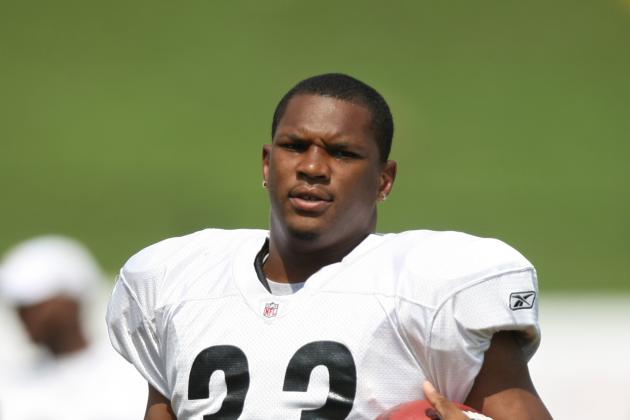 Jason Bridge-US PRESSWIRE

Isaac Redman
How effective will Redman be in the starting role?
Redman has played very well as a backup, but he has started only one game in three years. He has never had to carry the load either. For his career, Redman has only had three games with at least 15 carries.
Jonathan Dwyer
Has Dwyer put forth enough effort to contribute as the backup?
Dwyer had loads of potential coming out of college, but fell in the draft due to concerns over his weight and work ethic. He has been in Tomlin's doghouse, but things may have finally "clicked" this year.
John Clay
Is there a spot for Clay on the roster?
Clay is a powerful, straight-line runner who could be a nice short-yardage back. However, the limited skill set may prevent him from earning a roster spot.
Chris Rainey
How much of a playmaker can Rainey be?
Rainey is a role player who can play many positions on the field. A lot has been made of his athleticism, but there are a lot of great athletes in the NFL.
Baron Batch
Can Batch replace Mewelde Moore as the third-down back?
The Steelers could use a replacement for Moore and Batch appears to be the best fit for the position. He will have plenty of competition for the job.
Rashard Mendenhall
How effective will Mendenhall be when he returns?
With an upgraded offensive line, Mendenhall could be a very dangerous weapon.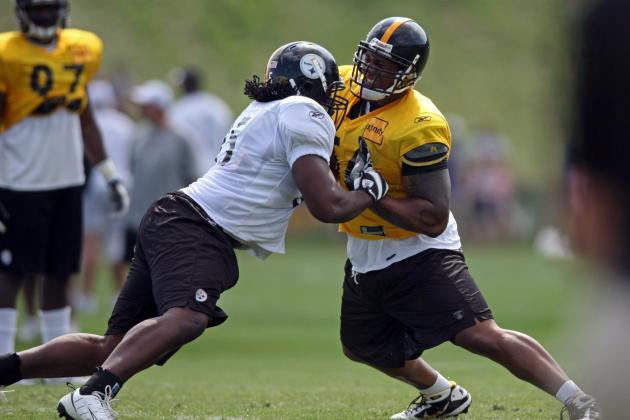 Jason Bridge-US PRESSWIRE

David Johnson
Can Johnson develop into a "true" fullback?
Johnson will spend more time working from the fullback position. This should help him improve how he reads plays, but he still needs to block better. The Steelers need someone back there who is a fullback, not a tight end who is playing fullback.
Will Johnson
Will Johnson's athleticism help him win a job?
Will is faster than David and this would add another dimension out of the backfield. He must prove that he can block.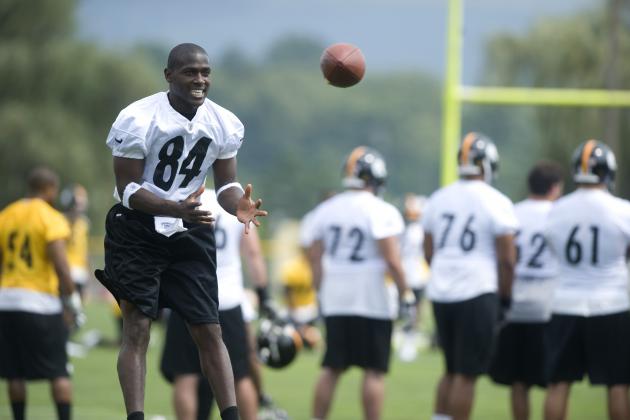 Vincent Pugliese-US PRESSWIRE

Mike Wallace
Will Wallace be more consistent this season?
Wallace is one of the most dangerous deep threats in the league. He had a great first half to the 2011 season, but the second half was underwhelming. Regardless of his contract status, Wallace must get back to being a productive receiver for a full season.
Antonio Brown
How much more can Brown develop?
The development of Brown was amazing. He went from the fourth or fifth receiver to a starter last season and will look to take a leap forward to becoming one of the better receivers in the league this year.
Emmanuel Sanders
Can Sanders stay healthy and make an impact on the offense?
The only thing that has held Sanders back has seemed to be his health. A full training camp will help him, especially getting reps as the starter while Wallace is out.
Jericho Cotchery
How many balls will Cotchery have thrown his way?
Cotchery is a very dependable receiver and will be on the field in four wide receiver sets. There is a lot of talent for Roethlisberger, so Cotchery's opportunities may be limited.
Toney Clemons
Can Clemons win the final receiver spot?
Clemons has good size and speed. Being a draft pick, he will be a favorite to win the final receiver spot.
Derrick Williams
Will Williams' experience give him an edge to make the roster?
Williams is the most experienced receiver outside of the top four. So far that has not gotten him very far.
Marquis Maze
How dynamic can Maze be as a returner?
Maze will have a tough time making it as a receiver, so he will have to really make the most of his chances as a returner.
Tyler Beiler
Will Beiler be a camp sleeper?
Beiler was productive in college and has some nice skills to work with. He will likely be a fan favorite at camp.
David Gilreath
How much will Gilreath's size be a disadvantage?
Gilreath is only 169 pounds. He will have a tough time against the physical corners that he will have to go against.
Juamorris Stewart
Will Stewart's size help him make an impact?
Size is the one thing that Stewart has going for him. At 6'2", Stewart is tied with Clemons as the tallest receiver in camp.
Jimmy Young
Can Young get open?
Many receivers have trouble getting open in camp. Young has trouble getting separation from corners. That is not a good combination.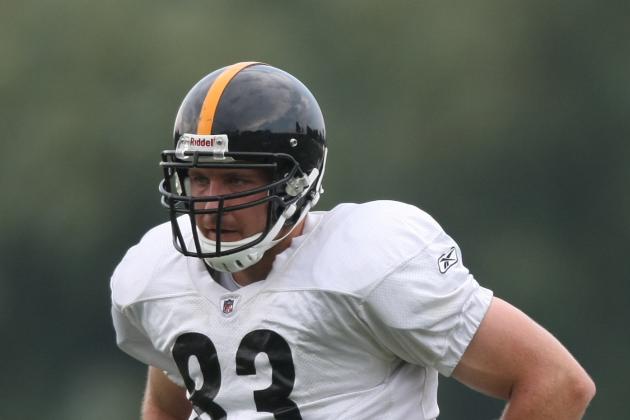 Jason Bridge-US PRESSWIRE

Heath Miller
How much more involved will Miller be in the offense?
Miller isn't as big or athletic as some of the elite tight ends in the league, but he is still an excellent receiving option and should be used more in Todd Haley's offense.
Leonard Pope
How overrated is Pope's height?
The 6'8" Pope is the tallest receiving option on the team. A lot of people will talk about him being a dangerous option in the red zone because of it. With nine touchdowns in six seasons, Pope's height has not made much of a difference.
Weslye Saunders
Will the Steelers give Saunders more opportunities?
Saunders is big and is a good route runner. He profiles as a legitimate No. 2 option at tight end and the Steelers need to use him this way.
David Paulson
Will Paulson flash potential for future years?
There is too much talent ahead of Paulson to make the roster. He needs to show enough to make the practice squad.
Jamie McCoy
Can McCoy build on last year's performance?
McCoy made a push for the roster last season. He'll have to be even better this year.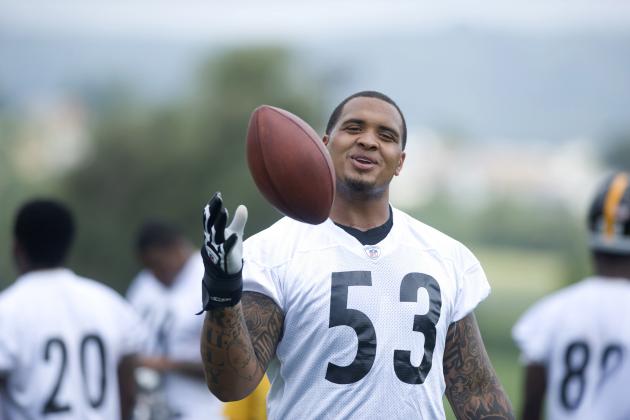 Vincent Pugliese-US PRESSWIRE

Maurkice Pouncey
How will Pouncey look with a healthy ankle?
If he is past the dreaded high-ankle sprain, Pouncey should once again establish himself as one of the top centers in the game.
Doug Legurksy
Where will Legurksy end up on the guard depth chart?
Legurksy is clearly the top backup center, but there will be plenty of competition at guard.
Doug Lee
Can Lee make the practice squad?
The ability to play guard and center is a plus, but he will need to show a lot.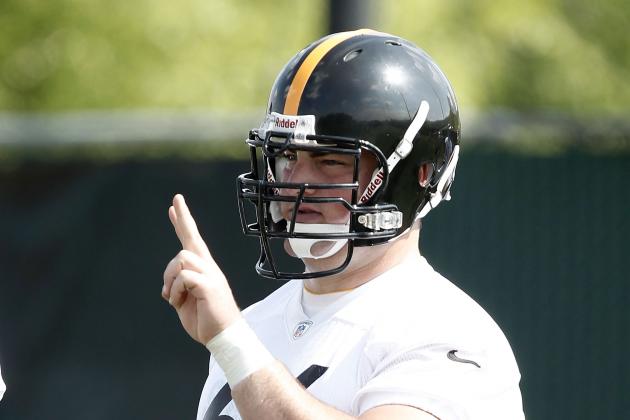 Jared Wickerham/Getty Images

Willie Colon
How effective will Colon be at guard?
Colon is built to be a guard and will finally get his shot there. Expect him to be an upgrade over Chris Kemoeatu, but it may take some time for him to adjust.
Ramon Foster
Can Foster backup at tackle too?
Foster will be one of the top guard backups on the line. It would be good to see him at tackle as well.
David DeCastro
Can DeCastro live up to the hype?
As the best guard prospect in years, there are a lot of expectations on DeCastro. The Steelers need him to be very good from the start.
Kelvin Beachum
Is Beachum a future utility backup?
Beachum will move from tackle to guard. There is a lot to like about him as a backup, but he will have to learn a lot of positions.
John Malecki
Can Malecki show enough to latch on with another team?
Malecki is a scrappy player that you like to have on your team. He is limited, though, and will not make the Steelers.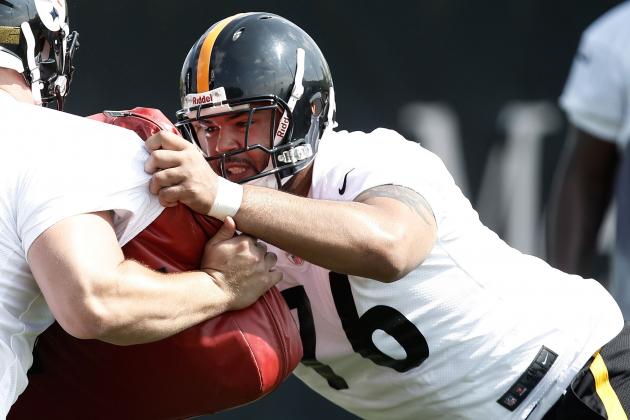 Jared Wickerham/Getty Images

Trai Essex
Will Essex continue to play all five positions on the line?
Essex is a solid veteran lineman to have as a backup. He can play all five positions on the line and has plenty of game experience. But with the depth on the line, the Steelers may choose to focus him one one position this year.
Marcus Gilbert
How much will Gilbert improve from his rookie year?
Gilbert developed into a solid option at right tackle. That does not mean he does not need to get better. Playing next to DeCastro should help.
Max Starks
How long before Starks can play?
Starks will compete with Mike Adams for the starting job at left tackle, but he must be healthy. The Steelers cannot rush Starks back.
Mike Adams
Is Adams strong enough to handle NFL defenders?
This was one of the knocks on Adams. It's a good thing he will get to go against very good competition in camp.
Kyle Jolly
Is Jolly back again?
It seems like Jolly has been around forever. He probably will not be around for very long.
Chris Scott
Can Scott turn his play around and find a spot on the roster?
Scott was awful last year. He was given every opportunity to take a starting job and he didn't. Scott has to show a lot in camp if he event wants to be considered for a roster spot.
Bridger Buche
Is there a better name for an offensive lineman?
There is not much else to say here.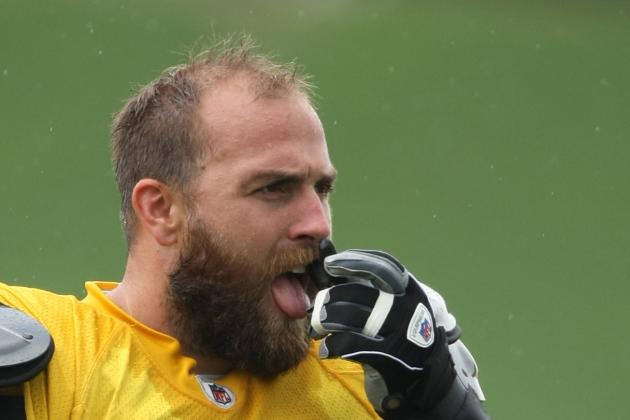 Jason Bridge-US PRESSWIRE

Ziggy Hood
Will the strength training pay off for Hood?
Hood moved into the starting role last season and he had some faults in his game. He used the offseason to train hard to improve. The Steelers need him to play better. He may not be another Aaron Smith, but he can still be an impact player.
Brett Keisel
Will opposing offenses continue to "Fear the Beard?"
Keisel is the best defensive lineman on the roster and needs to continue to play at this level.
Cameron Heyward
Will Heyward earn a starting role at some point this season?
Heyward is an excellent fit for the Steelers' defense. It is only a matter of time before he will start.
Corbin Bryant
Can Bryant make the roster as another backup to add to the rotation?
Bryant showed signs that he could be a roster player last year and would be a good option to make the team. The Steelers rotate their defensive linemen and could use more depth.
Al Woods
Can Woods make the roster as another backup to add to the rotation?
If Bryant does not make the team, Woods would be next in line.
Igbinosun Ikponmwosa
Is Ikponmwosa capable of making the practice squad?
He was very productive in college. He will need time to develop.
Jake Stoller
Will Stoller make it past the first cuts?
There is just too much depth ahead of him.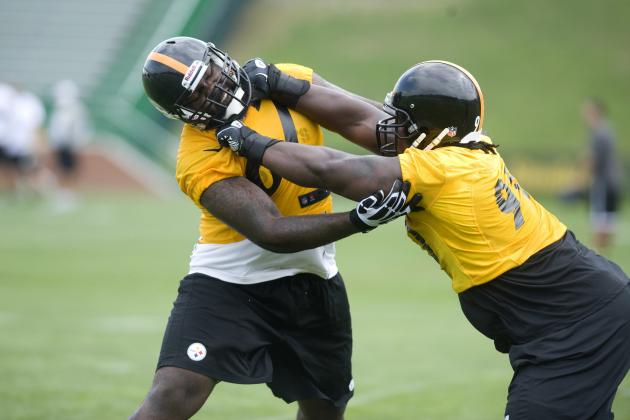 Vincent Pugliese-US PRESSWIRE

Steve McLendon
What will the defense look like with McLendon as a starter?
McLendon is not the same type of nose tackle as Casey Hampton, so it will be a different feel with him in there.
Casey Hampton
How effective will Hampton be when he returns?
Hampton is not the same player that he was a few years ago. Now coming off of a major knee injury, he will be even more limited as a player.
Alameda Ta'amu
How soon before Ta'amu contributes?
Ta'amu is the future at nose tackle and will need to play early if Hampton is not ready to start the season.
Kade Weston
What type of impression can Weston make?
Weston had potential coming out of school, but has yet to establish himself in the NFL.
Mike Blanc
How long will Blanc last?
Blanc has a lot to overcome given his limitations and the talent ahead of him.
Jason Bridge-US PRESSWIRE

Lawrence Timmons
Will Timmons be a playmaker this year?
Timmons had a down season last year. He was moved around to various spots on the field and had to spend a lot of time in coverage. The Steelers need more from him.
Larry Foote
How will Foote do replacing James Farrior?
It will be different in the defensive huddle without Farrior. However, Foote knows the defense very well and is a solid replacement.
Sean Spence
Can Spence contribute early in the season on passing downs?
Spence made an early impression and now everyone gets to witness his abilities. The Steelers could use his athleticism on defense.
Stevenson Sylvester
Can Sylvester make the necessary leap forward to contribute?
Sylvester was once thought of as a future replacement for Farrior. Now he could potentially have a rookie pass him up on the depth chart.
Mortty Ivy
Could Ivy make the team?
Ivy made a strong push to make the team last year. If he continues to improve, he will give the coaching staff a lot to think about.
Marshall McFadden
How will McFadden do against the pass?
McFadden is experienced and strong against the run, but he has struggled dropping into coverage.
Ryan Baker
How will Baker look in the Steelers' system?
If you play defense at LSU, you must have some talent.
Brandon Hicks
How will Hicks look in the Steelers' system?
Hicks lacked production at college, but sometimes the Steelers' system can make linebackers look better than what they are.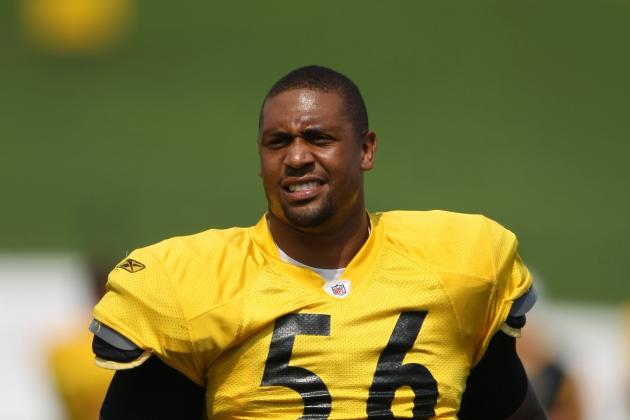 Jason Bridge-US PRESSWIRE

James Harrison
How much does Harrison have left in the tank?
Injuries may start to get the best of Harrison. The Steelers need him to be healthy for the defense to be dominant.
LaMarr Woodley
Can Woodley be one of the best defenders in the league?
For a month last season, Woodley was the best defender in the league. If he stays healthy, he could have a repeat performance.
Jason Worilds
Can Worilds prove to be the future at outside linebacker?
Worilds has not shown me enough to feel comfortable with him as a future starter. Maybe his third year will finally be the season he makes that jump.
Chris Carter
How is Carter as a pass rusher?
Injuries caught up to Carter last year. He needs to flash potential as a pass rusher.
Brandon Johnson
Can Johnson make the roster as a special teams player and utility backup?
Johnson can do a lot of different things on the field and has been dependable. He could be a valuable backup this year.
Adrian Robinson
Can Robinson rediscover what he showed in 2009?
Robinson had a great year in college in 2009, but has fallen off since. Flashing talent as a pass rusher will take him a long way.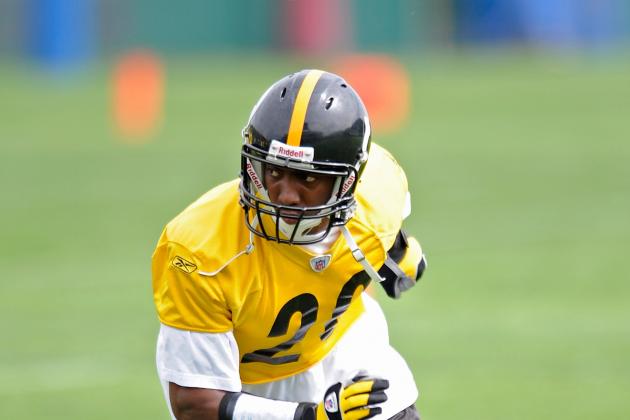 Joe Sargent/Getty Images

Ike Taylor
How will Taylor play coming off of his disappointing playoff performance?
Taylor is a pro. He should have another solid year.
Keenan Lewis
Can Lewis become a Pro Bowl player?
Lewis set high expectations for this season. Now it is time for him to start living up to them.
Curtis Brown
Will Brown contribute on defense this year?
Brown was excellent on special teams last year. Adding him to the defense would be a plus.
Cortez Allen
Can Allen develop into the next Ike Taylor?
Allen is extremely athletic and has potential to develop into a very good shutdown cornerback. It may take a couple seasons, though.
Terrence Frederick
Will Frederick show potential as a future nickel back?
The Steelers are set with their top four cornerbacks, but they need a fifth.
Terry Carter
Will Carter compete with Frederick for the final spot?
Carter's skill set is very comparable with Frederick's. It may come down to these two players.
Walter McFadden
Has McFadden finally developed enough to contribute?
McFadden has been in the league since 2010. It may be now or never.
Andre Freeman
Can Freeman make the jump from Slippery Rock to the NFL?
That is a major jump for Freeman. Maybe he can show enough to make the practice squad.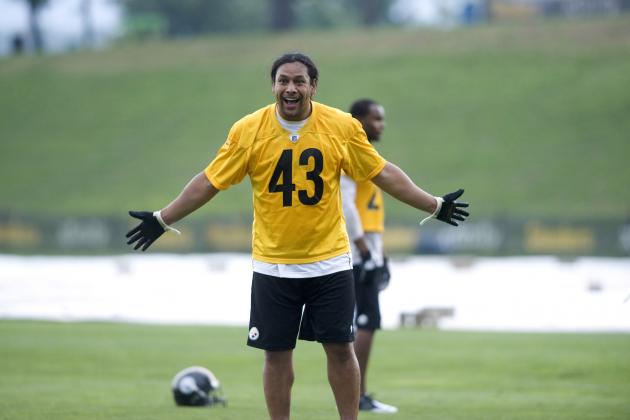 Vincent Pugliese-US PRESSWIRE

Can Polamalu get back to playing at a Defensive Player of the Year level?
If healthy, Polamalu is still one of the best players in the league.
Ryan Clark
Will Clark continue to be the ideal complement to Polamalu?
Clark is a very dependable player. He should once again perform well this season.
Ryan Mundy
Can Mundy develop into a potential replacement for Clark?
So far Mundy has proven to be a capable backup, but can he do more?
Will Allen
Does Allen do enough to justify his cost?
Allen carries a $1.6 million cap hit. That is a lot for a special teams player and fourth safety.
Damon Cromartie-Smith
Is this the year Cromartie-Smith finally cracks the roster?
Cromartie-Smith has been around the Steelers for awhile now. If he is going to make it as a backup, this will be the year.
Myron Rolle
Does Rolle have any potential as an NFL player?
Rolle was a great prospect coming out of college, but he took a detour to the NFL. This may be one of his final chances to make it.
Robert Golden
Can Golden compete with the other safeties?
Golden has played cornerback and safety. That may give him an edge over his competition.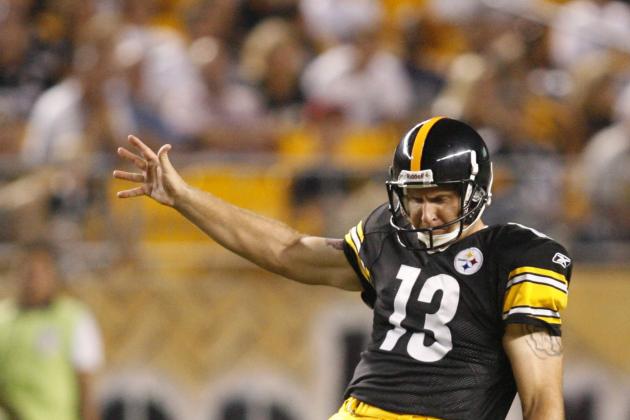 Charles LeClaire-US PRESSWIRE

Greg Warren
Will anyone say Warren's name this season?
Probably not. Warren is very good at his job.
Matt Katula
How long will Katula be in camp?
If it is not broke, why fix it? Warren is still effective.
Shaun Suisham
Can Suisham be more consistent?
Suisham is what he is and it was mildly surprising that the Steelers did not bring in tougher competition.
Daniel Hrapmann
Can Hrapmann show enough to be considered in future years?
A young kicker can make an impression that will get them a job later.
Jeremy Kapinos
How will Kapinos perform as the favorite going into camp?
Kapinos had been behind Daniel Sepulveda. Now he is the veteran with a rookie trying to take his job.
Drew Butler
Can Bulter beat out Kapinos?
Kapinos is not an elite punter. May the best man win.