Red Sox Trade Rumors: Why Josh Johnson Should Be Boston's No. 1 Priority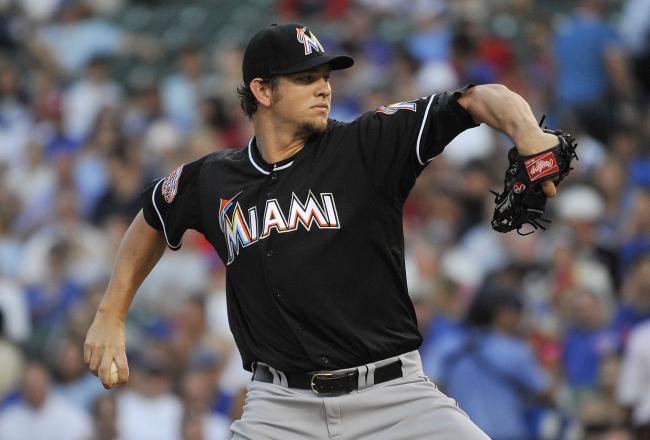 Brian Kersey/Getty Images
The Boston Red Sox have gotten a reality check in the last week, and it hasn't been pleasant.
When Cody Ross launched a walk-off homer against the Chicago White Sox last Thursday, the Red Sox were winners of five out of seven and in the thick of the AL playoff hunt. They've since lost five of six since, largely due to poor pitching outside of Clay Buchholz, and have fallen a full five games off the pace in the wild card race.
The organization's immediate and long-term futures would seem to hinge on what happens this weekend in the Bronx. The Red Sox will be playing at Yankee Stadium for the first time all season, and they desperately need to win the series. You might even say they need a sweep (I would).
If the Red Sox get swept or even lose just two out of three, they could wave a white flag and invite teams to pick their roster clean in the hours left before the July 31 trade deadline.
It's either that, or they can imagine that there's still hope for them and go shopping at the deadline.
If the Red Sox are to be buyers, they shouldn't bother troubling themselves with going after bullpen help or bats. Starting pitching is the team's primary need by a long shot, and they can't allow themselves to settle for a back-end starter. They need an ace. Or at the very least, a pitcher with the ability to be an ace.
And this pitcher must not be a rental.
There aren't many options out there who fit this particular bill. The one guy who looks better than anybody else is Miami Marlins right-hander Josh Johnson.
There are two things we know right now regarding the Sox and Johnson. One is that the Marlins are definitely selling. They've made that clear by trading away Anibal Sanchez, Omar Infante and Hanley Ramirez. The second thing we know is that the Sox are very much interested in Johnson.
Nick Cafardo of The Boston Globe noted earlier this week that the Red Sox have scouted Johnson:
Red Sox have scouted but are not close on a deal for struggling Marlins righty Josh Johnson

— Nick Cafardo (@nickcafardo) July 23, 2012
On Thursday, Sean McAdam of CSNNE.com wrote that not much has changed. While the Sox do have some interest in Zack Greinke, Johnson appears to be more preferable because he's under contract through the 2013 season.
Naturally, the situation has its complications. According to ESPN's Jayson Stark, the Marlins are conflicted about trading Johnson. Unlike Ramirez, the Marlins still like Johnson, and they like that he's under contract through 2013 as much as the next team.
If they move Johnson, it will only be for what Stark called a "monster return." One MLB executive said that the Marlins are looking for a "young, star-caliber player who isn't arbitration-eligible" in exchange for Johnson.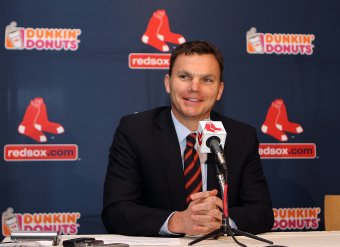 Sox GM Ben Cherington needs to decide where to draw the line as far as his assets are concerned.
Jim Rogash/Getty Images
The Red Sox are short on those. In fact, the only guy who comes to mind is Will Middlebrooks. The Marlins would probably love to have him seeing as how they just traded away their everyday third baseman, but the odds of the Red Sox trading Middlebrooks now are beyond slim.
So the club would have to find a way to convince the Marlins to take prospects for Johnson, and that too would be risky business. The Marlins would surely ask for a package based around Matt Barnes or Xander Bogaerts. Maybe even both of them.
This isn't what Ben Cherington wants to hear. Guys like Middlebrooks, Barnes and Bogaerts figure into the club's long-term future in a significant way.
But this doesn't mean he should immediately hang up the phone and wash his hands of Johnson completely. Dreaming big about prospects and championships to come a few years down the road is all well and good, but the Red Sox of the present need some attention too. As I'm sure Cherington has noticed by now, the club is in a bit of a crisis.
Injuries have been largely to blame for the club's disappointing showing thus far in 2012, but all of the club's assorted injury problems could have been non-issues if the Red Sox had good starting pitching.
They don't. The club's starting pitching has been as bad all season as it was in September of 2011, when Red Sox starters went 4-13 with a 7.08 ERA, according to FanGraphs. Thus far in 2012, Red Sox starters are 36-38 with a 4.85 ERA that ranks 27th in all of baseball.
You can't win with bad starting pitching. And the worst part about Boston's bad starting pitching is that the problem has less to do with injuries and seemingly everything to do with, to put it bluntly, bad pitching.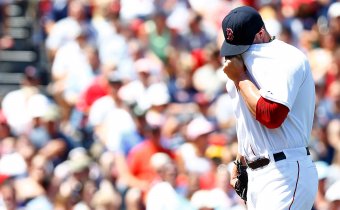 Jon Lester has looked nothing like himself this season.
Jared Wickerham/Getty Images
The two primary culprits are Jon Lester and Josh Beckett, who are a combined 10-17 with a 5.05 ERA. They're supposed to be Boston's two best starting pitchers, yet the Red Sox are 13-24 when they take the mound.
Neither Lester nor Beckett are going anywhere. McAdam said in his report that Lester isn't going to be dealt. Gordon Edes of ESPNBoston.com recently reported the same thing. McAdam and Rob Bradford of WEEI.com have both reported that the Red Sox have taken calls on Beckett, but trading him is going to be all but impossible for obvious reasons.
What it comes down to is that the Red Sox are stuck with Lester and Beckett. They can either hope that the two of them snap out of it at the exact same time, or they can realize what they have become over the last 12 months: back-end starters.
If so, Buchholz is the unquestioned ace of Boston's starting staff, and will be in 2013 and beyond.
In the AL East, one ace isn't good enough. It behooves a team to have two.
And this brings us back to Johnson.
The perception is that Johnson is something of a fraud of an ace. He's only really had one great season, and his tendency to get hurt is a pretty major issue. Worse, his fastball seems to have lost some of its old zip.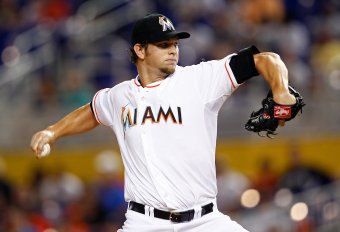 Johnson's teammates are as much to blame for his ERA as he is.
Sarah Glenn/Getty Images
It's true. Per FanGraphs, Johnson's fastball is checking in at an average of 93.0 miles per hour this season. When he led the NL in ERA in 2010, he was throwing his heater at an average of nearly 95 miles per hour.
But a 93-MPH heater is still plenty good. And though Johnson's 4.14 ERA reeks of underachievement, it also reeks of bad luck.
Johnson's fielding independent pitching (or FIP, for short) is 2.97. That puts him in the same company as pitchers like Johnny Cueto and Felix Hernandez, who are both having Cy Young-caliber seasons.
Since the start of the 2009 season, Johnson's FIP is 2.79. Want to know how many pitchers have a lower FIP since then?
None. Not a single pitcher. None with at least 500 innings pitched, anyway.
So why doesn't Johnson have super-shiny numbers like the Justin Verlanders and Roy Halladays of the world?
It has a lot to do with the fact that he's played on some bad Marlins teams. If he were to be put on a good team, it stands to reason that his ERA would reflect his ability as much as it did in 2010.
Is Josh Johnson worth Miami's asking price?
Outside of their pitching, the Red Sox are a good team. They're second in baseball in runs scored, and they're among the top 10 in baseball defensively in terms of both UZR and defensive runs saved (DRS).
On the Red Sox, Johnson would be an ace. And if the Red Sox are to have any hope of contending this year, they're going to need Johnson. They're going to need him if they are to have any hope of contending in 2013 too.
It's up to Cherington to decide how much Johnson is worth. The one thing he should keep in mind either way is that Johnson is without a doubt the best option available.
If you want to talk baseball, hit me up on Twitter.
This article is
What is the duplicate article?
Why is this article offensive?
Where is this article plagiarized from?
Why is this article poorly edited?