Silas Redd: Will Lane Kiffin Convince RB to Transfer After Face-to-Face Meeting?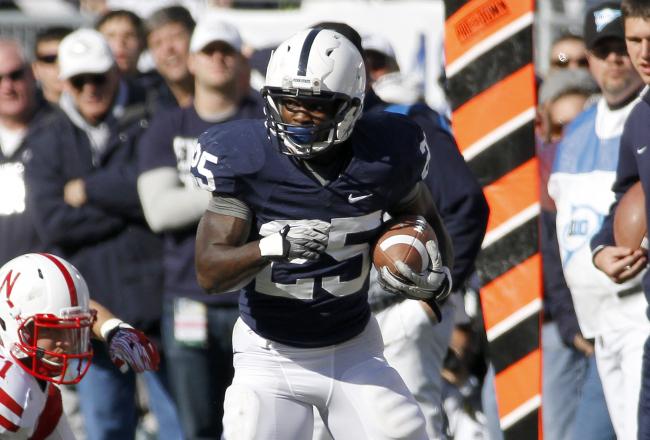 Justin K. Aller/Getty Images
The mystery of Silas Redd's absence from Big Ten Media Days has been solved.
On Wednesday, ESPN's Joe Schad reported that no Penn State player would be taking part in the media days Thursday and Friday, but Thursday morning, Schad tweeted that only Redd would be absent.
Why won't he be present? Well, let's just say Redd has interviews scheduled elsewhere, according to Schad's tweet.
PSU RB Silas Redd didn't make it to Big Ten Media Days today. He is scheduled to meet with Lane Kiffin.

— Joe Schad (@schadjoe) July 26, 2012
Ah, of course. It makes perfect sense. It turns out Redd didn't miss a public statement to stay given by roughly 25 Penn State players for nothing. Oh no, this time the speculation that ensued yesterday seems spot-on.
UPDATE: July 26 at 12:18 p.m. ET

Schad tweeted that the meeting went "really well," according to his source.
Penn State RB Silas Redd met with USC coach Lane Kiffin for three hours in Connecticut today and a source said "it went really well."

— Joe Schad (@schadjoe) July 26, 2012
Schad then tweeted that Redd could make his decision as soon as next Monday.
Redd may travel to California for a visit on Saturday and decide by Monday.

— Joe Schad (@schadjoe) July 26, 2012
END OF UPDATE
So now the ball is in Redd's court. Will he abandon his university to play for Lane Kiffin and USC, or will he choose to return to Penn State?
After Redd missed the public statement and missed media days to meet with Kiffin, it's safe to say Redd may have his mind already made up. Why else would he skip out on his teammates to meet with an opposing coach?
Where will Silas Redd play football in 2012?
It's not just the fact that he's meeting with Kiffin, but the timing of the issue. Kiffin slithered his way into the picture, and now after he shows Redd the campus, the coaches and who could be his future teammates, it could be hook, line and sinker for Kiffin.
However, nothing is set in stone, at least not yet. Kiffin has to deliver in this meeting, and if he does, he'll prove that he can recruit anyone out there. But that's not to say Redd isn't interested.
If Redd truly wanted to stay with Penn State, he would've delayed the meeting and given the media positive answers about the state of his university on a large platform.
Rather, he chose to meet with USC's coaching staff, and that's not a decision I blame him for. Just don't be surprised to see Redd actually make the jump now. As Kiffin's No. 1 recruiting class shows, he's an excellent recruiter, and quite frankly, USC sells itself.
If the beautiful campus in Southern California doesn't sell immediately, all Kiffin will need to do is talk about his star quarterback Matt Barkley returning, along with receivers Marqise Lee and Robert Woods, who both had over 1,000 receiving yards in 2011.
The bottom line is USC is pursuing Redd hard, and should Redd choose to transfer, he would be eligible to play for a national championship without having to sit out a year. You better believe that'll be Kiffin's main pitch.
That, my friends, is a game-changer—or better yet, a location-changer.
This article is
What is the duplicate article?
Why is this article offensive?
Where is this article plagiarized from?
Why is this article poorly edited?