Dallas Cowboys: Predicting Stat Leaders in Every Receiving Category for 2012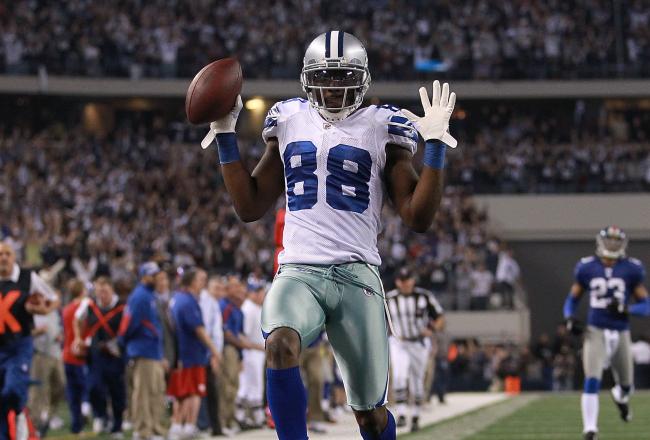 Ronald Martinez/Getty Images
There are no shortage of playmakers on the Dallas Cowboys offense. In fact, not many teams can say that their running back, quarterback, tight end and both starting wide receivers will be drafted in every fantasy football league across the nation—all before the sixth round.
Fantasy often imitates reality and the reality is, despite the Cowboys ranking only 15th in overall offense last season, 2012 has them looking a lot more like a reincarnation of the 2006 offense that ranked fourth.
As with every team, it's all about the quarterback. Tony Romo is coming off the best season of his career, both statistically and theoretically. Not only did he have his best passer rating to date, he also shook some critics, gained some respect and showed the leadership this team has needed for years.
With an improved offensive line and a healthy backfield, Romo will be even better in 2012. That's good news for his receivers. What's good news for you is that we already know who will lead in every statistical category (that matters) when it comes to who's making the plays down the field.
Yards After Catch: Miles Austin
With preseason games just around the corner the Cowboys are faced with the exact same question they were at this time last year: who will be the third wide receiver?
Laurent Robinson did a great job of filling that role last season and did an even better job, in the absence of Miles Austin, of filling in as the No. 2. But he's gone and we're faced with guessing at his replacement. Will it be Kevin Ogletree? Dwayne Harris? Danny Coale? A surprise free agent?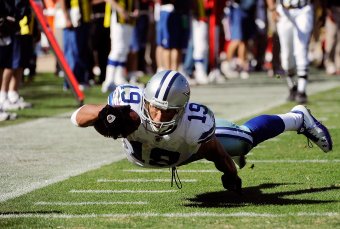 Thearon W. Henderson/Getty Images
Whoever it is, what's important to remember is that the Cowboys aren't looking for a slot receiver. Jonathan Bales does a great job of curing that misconception. Austin is their slot guy. He's an X-Y-Z receiver that can be used all over the field and that's what makes him one of the most valuable players on this offense.

Where he's most dangerous is once he gets the ball in his hands, he's tough to tackle and has just enough speed to embarrass a safety or two. He'll be the leader of YAC, not just for the Cowboys, but for the NFL.
Receptions: Jason Witten
Jason Witten has led the Cowboys in receptions for five straight years. As prolific as the Internet is, I can't find any evidence to suggest that he won't lead them in receptions again this year.
Witten routinely finishes in the top 20, and it's not just on the Cowboys roster that he excels or even in the modern football era, Witten moved into third place for the most receptions by a tight end in the history of the NFL.
If we're keeping score, and we most certainly are, that suggests that Witten is one of the best tight ends in the history of our beloved organization.
So it's easy to predict that he will once again lead the Cowboys in receptions. But I also expect him to finally crack double-digit touchdowns. It's sad to think that a tight end of Witten's size (6'6", 260 lbs) and talent has touchdowns on only 5.9 percent of his catches. That changes in 2012.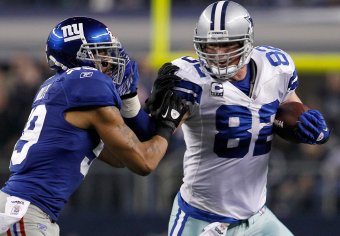 Tom Pennington/Getty Images
Yards Receiving: Dez Bryant
What is becoming known as the Dez and Pony Show in the media (credit to David Moore of the Dallas Morning News) thanks to Bryant's most recent run in with the law, will eventually be known as the Dez and Tony show in 2012.
Make no mistake about it; Bryant has the size, the talent and the quarterback to become a top-five wider receiver this year. It goes without saying that his maturity needs more work than his route running. And his image could do with an upgrade. But Bryant's strength and speed makes him one of the most dangerous receivers playing.
He has the footwork and arm strength to deflate jams by cornerbacks and the speed to make them pay for their indiscretions. Most importantly, he has the hands to close on his routes. After all, what good is being a great route runner if you can't catch? (Braylon Edwards)
The great news for Bryant is that the best corners in the NFC East play for the Cowboys (I hear you Eagles fans). That means he'll be practicing against them and playing against the lesser. Even better news is that the NFC East is so competitive, that grinding out the clock will rarely be an option. That means a lot of yards for receivers. Especially for one that has the turn-and-burn abilities of Dez Bryant.
Touchdown Receptions: Dez Bryant
As far as Cowboys fans are concerned, and history for that matter, there is only one No. 88. Bryant may have that number stitched onto his jersey, but Michael Irvin has that legacy sewn into the fabric of America's Team—America's sport.
It's an impossible standard to live up to. Not in a role model sense, but in a teammate "I won't let you down" sort of standard. That's the pay grade Irvin set for every receiver that follows. Team first. You second.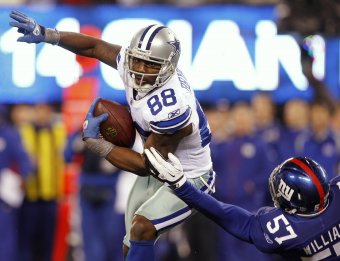 Rich Schultz/Getty Images
Bryant hasn't lived up to that expectation in any sense. But the humanitarian response defends the trouble he has been in by comparing it to those around him and before him. Even that of Irvin's, who set the mold for Cowboys wide receivers.
Bryant hasn't been in trouble with drugs. He hasn't been in trouble with guns. He hasn't been in trouble with strip clubs and gang related activities. Instead, he's been accused of wearing inappropriate attire at an upscale mall. He's mishandled his finances. He was recently involved with a domestic dispute involving his mother (who spent time in prison for drug trafficking).
Whatever issues face Bryant and whatever demons follow him around, fans need not be concerned with his commitment to the Dallas Cowboys. Cornerbacks, on the other hand, should definitely concern themselves with stopping him in the red zone.
With a 6'2" frame and great hands, Dez and Romo will be the best quarterback to wide receiver tandem in the NFL. Consistency was born in the name of familiarity, but conceived in the bosom of talent.
That's where Romo and Bryant connect, with talent and ridicule; with back-shoulder fades and go-routes.
The Cowboys may see another 1,000 receivers and not see another quite like Irvin. It's an unbearable comparison to make. But Bryant is definitely the best thing since. He'll be the go-to threat in 2012.
This article is
What is the duplicate article?
Why is this article offensive?
Where is this article plagiarized from?
Why is this article poorly edited?

Dallas Cowboys: Like this team?