Green Bay Packers: Who Are the Biggest Threats to Their NFC North Dominance?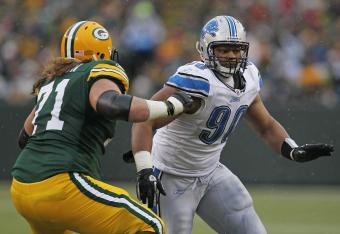 Packers offensive lineman Josh Sitton faces Ndaumkong Suh last season.
Jonathan Daniel/Getty Images
The Green Bay Packers are absolutely among the favorites to not only repeat as NFC North champions, but to represent the conference in the Super Bowl and perhaps win it all.
They're not infallible, however. And there are several players within the division that are a threat to the Packers' dominance.
The Packers showed last year that despite an NFL-best 15-1 record in the regular season, you don't automatically get your ticket punched in the playoffs.
And remember that the year the Packers won the Super Bowl in 2010, they didn't even win the NFC North (the Chicago Bears did), and Green Bay was a No. 6 seed in the postseason.
Head coach Mike McCarthy actually worried about complacency during a press conference on Wednesday before the start of training camp. His comments were specifically about the 2012 rookie class, but it served as a good reminder about the challenge the team as a whole faces this season:
My concern, frankly, is this rookie class came in here and things were pretty, you know, the feel was, 'This ain't so hard. Pro ball isn't maybe what I thought it would be.' And that's something that will not be the case when we hit the field tomorrow. Complacency, relaxing, any type of comfort is really not the element you want to be any part of your training camp. And we'll make sure that it doesn't exist.
To avoid such things as complacency and defend their division crown, the Packers have to be acutely aware of Ndamukong Suh of the Detroit Lions, Brandon Marshall of the Chicago Bears and Jerome Simpson of the Minnesota Vikings.
Ndamukong Suh
The Packers know Suh all too well. His stomp of guard Evan Dietrich-Smith during the nationally-televised Thanksgiving game last season created a league-wide stir.
But he's also a potentially dominant defensive lineman described by some as "unblockable." And he plays for the only other team in the NFC North that qualified for the playoffs last season.
The Lions have a young and talented core of players, which makes them a threat to the Packers for years to come. Calvin Johnson is a threat in his own right, but Suh commands the attention of an entire offensive line.
According to Bleacher Report NFC North blogger Andrew Garda, the Lions have new plans for Suh that will change how he lines up and moves around in 2012.
"That complicates things for the Packers is in terms of blocking," said Garda. "'Where is Suh? Where is he going to be and how are we going to adjust our blocking to account for him but also make sure that we have an eye on Corey Williams or Sammie Lee Hill?"
At the same time, Garda also thinks the Packers have the most stable offensive line in the division, which gives them an upper leg in terms of how they plan to deal with the danger that Suh poses.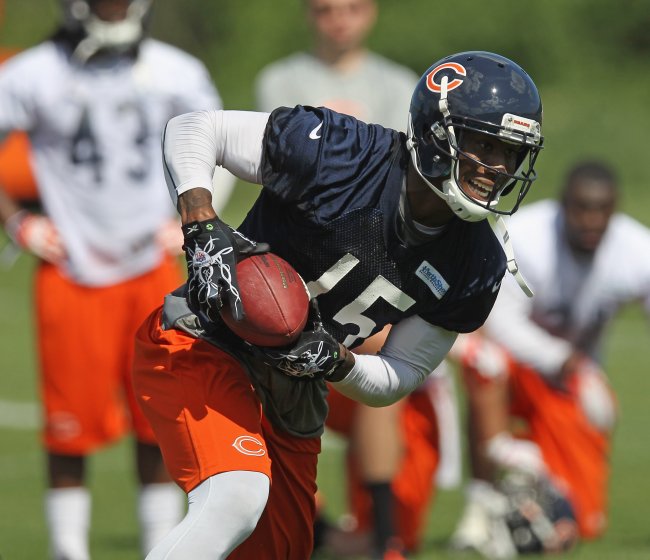 Jonathan Daniel/Getty Images
Brandon Marshall
Dangerous could just be the word to describe the Bears offense in 2012.
They have a formidable running back duo of Matt Forte and Michael Bush. And Jay Cutler, while not Aaron Rodgers, does a pretty good job of distributing the football. The problem is, he's been plagued by a less-than-stellar group of receivers.
"When your most effective receiver is Johnny Knox, as much as I love Johnny Knox, that's not a great receiving corps," said Garda. "But bringing in Brandon Marshall as a guy you know is going to get the yards and a guy who's going to get the catches."
The Bears got serious about upgrading the talent at wide receiver during the offseason, and weren't about wait until the draft to address the deficiency. They sent a pair of third-round draft choices to the Miami Dolphins in order to get Marshall, and now they have a legitimate No. 1 receiving option.
Perhaps best of all for the mercurial Marshall is that he's being reunited with Cutler, teammates in Denver during 2007 and 2008 when Marshall enjoyed a good rapport with his quarterback and had back-to-back 1,200-plus yard seasons.
The key to Marshall's success might be how he handles the mental aspect of the game, but if he can get that under control, he can be a difficult assignment for an opposing defensive back says Garda:
The Packers are really going to have to worry about where Marshall is and what he's going to do, and it's not going to be a matter of simply doing what teams have done in the past, which is jamming him, getting under his skin and kind of knocking him off his game. If Marshall is as focused as I think he could be, you've got a situation where this guy really could have a tremendous season.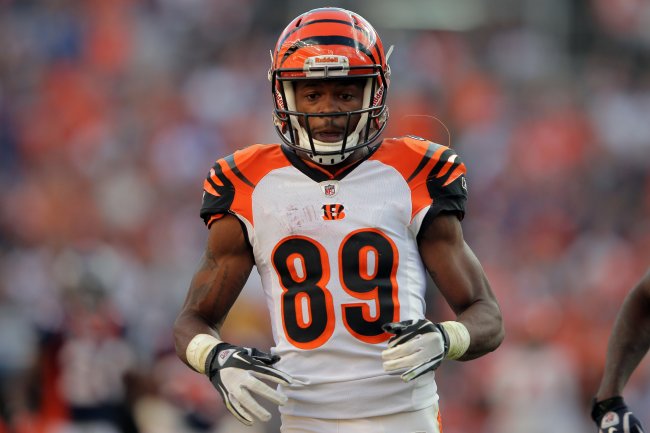 Doug Pensinger/Getty Images
Jerome Simpson
Some might argue that the Vikings aren't a threat to win the NFC North in 2012, and they would probably be right. But all it takes is one loss to the Vikings that could spell the difference between winning the division and being runner-up for the Packers.
And certainly, there are other players on the Vikings that will determine if they can play winning football, namely Adrian Peterson and Christian Ponder.
Which team will win the NFC North in 2012?
But Simpson is the under-the-radar type, the kind of guy who can help determine whether the Vikings offense is proficient or just stuck in neutral.
"If Simpson can step up and be effective, that opens things up for Percy Harvin and Kyle Rudolph at the tight end and whatever wide receive they have in their three- and four-wide sets," said Garda. "And it makes life easier for Peterson and Gerhardt as well."
Yes, Simpson is suspended the first three games of the regular season for violating the league's substance abuse policy. But the Packers don't face the Vikings until late in the season, so they will have to prepare for Simpson twice.
The question is whether he can be the player who was just mediocre for several years with the Cincinnati Bengals or the guy who had a relatively impressive 2011.
"If Simpson can step up and be reliable, it's going to give Ponder more options that he can believe in, as well as open up the offense," said Garda.
This article is
What is the duplicate article?
Why is this article offensive?
Where is this article plagiarized from?
Why is this article poorly edited?

Green Bay Packers: Like this team?