Milwaukee Brewers: 5 Things We Learned from the Philadelphia Phillies Series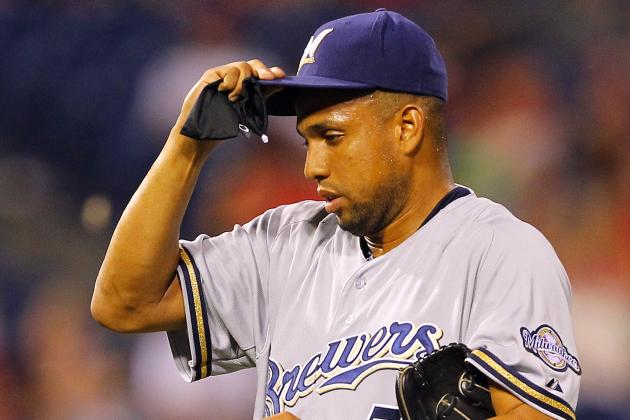 Rich Schultz/Getty Images

The Milwaukee Brewers certainly haven't done themselves any favors in the past week, dropping six in a row that included two devastating sweeps at the hands of the division rival Cincinnati Reds and Philadelphia Phillies.
It's been a brutal stretch, to say the least.
After scoring a grand total of four runs in three games against the Reds, Milwaukee turned right around and lost three to the Phillies in about as heartbreaking of fashion as one could imagine.
Immediately following the All-Star break, the Brewers won back-to-back series against the Pittsburgh Pirates and St. Louis Cardinals, sparking some hope around Milwaukee. Both teams were ahead of the Brewers in the Central Division standings.
However, the two losses suffered against the Pirates and Cardinals came as a result of blown leads from the bullpen.
In all three losses to the Philadelphia Phillies, the bullpen—you guessed it—did the exact same thing.
The final score of each game? 7-6.
While it was perhaps the worst three-game stretch the Brewers have suffered through this season, there are five things we can take away from it moving forward. And I swear it's not all bad.
Begin Slideshow

»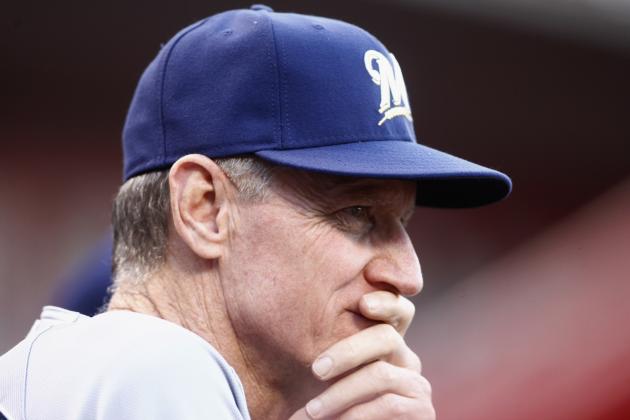 John Grieshop/Getty Images

And it's not even his fault.
Well, maybe a little bit.
The Brewers skipper turned to his bullpen in all three games of the Phillies series, which isn't a rare occurrence by any means. Unfortunately, the current state of the 'pen makes Roenicke's job next to impossible.
Twice, Francisco Rodriguez failed to not only hold a lead, but he also lost the two games he appeared in.
Ironically enough, the only guys who could be trusted were a minor league call-up (Tyler Thornburg), an in-season pick-up (Livan Hernandez) and the man who was replaced by K-Rod at closer—John Axford.
In the end, Roenicke didn't have many options when he was forced to turn to his bullpen, but he didn't do himself any favors by replacing Axford with K-Rod, putting on multiple unnecessary safety squeeze plays and pulling Zack Greinke on Tuesday after 87 pitchers.
Speaking of Greinke...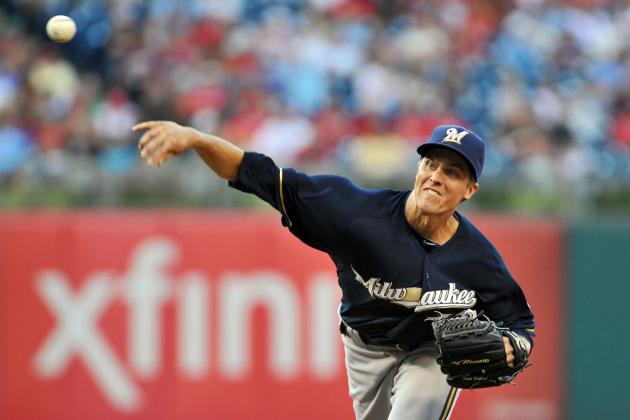 Drew Hallowell/Getty Images

In 11 starts this season, Zack Greinke hasn't allowed more than one earned run.
Tuesday's start against the Phillies was one of those starts.
Greinke only allowed three hits and struck out five while allowing one run, as he solidified his trade value in front of several drooling scouts at Citizens Bank Park.
For having 11 days of rest prior to the start, some might expect such a performance, but being thrown out of his routine had potential to play against Greinke.
The fact that Greinke only threw 87 pitches makes you wonder if Roenicke was given orders to pull his ace in order to keep him fresh for the stretch run.
His early exit resulted in a six-run Phillies eighth. Ouch.
Still, what Brewers fans can take solace in is the fact that Greinke, unlike K-Rod, helped his trade value against the Phillies and should help Milwaukee receive a nice little bundle in return for his services.
With Cole Hamels locked up, Greinke unquestionably becomes the most valuable pitcher—and perhaps player—on the trading block.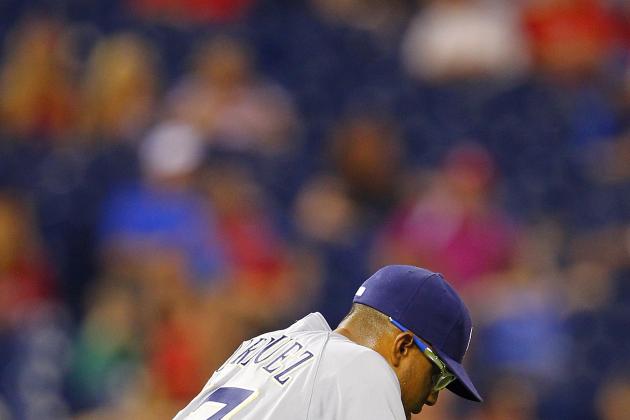 Rich Schultz/Getty Images

The performance of Francisco Rodriguez in this series was a microcosm of the 2012 Milwaukee Brewers bullpen—and season.
In two appearances, K-Rod got behind in the count, left pitches up in the zone and ultimately allowed six earned runs and had two blown saves that cost the Brewers a series victory.
It's safe to say he now has little to no trade value.
This is too bad for the Brewers, who were likely looking to ship off K-Rod for something in return, especially as a soon-to-be free agent.
But it hasn't just been K-Rod. Over the course of 2012, the Milwaukee bullpen has been one of the worst in the league, and it proved it against the Phillies by allowing 12 earned runs in 9.1 innings.
It's ERA stands at 4.73, good for 28th in Major League Baseball.
K-Rod's ERA is 4.80, and that number eliminates any chance Rodriguez will be moved by July 31.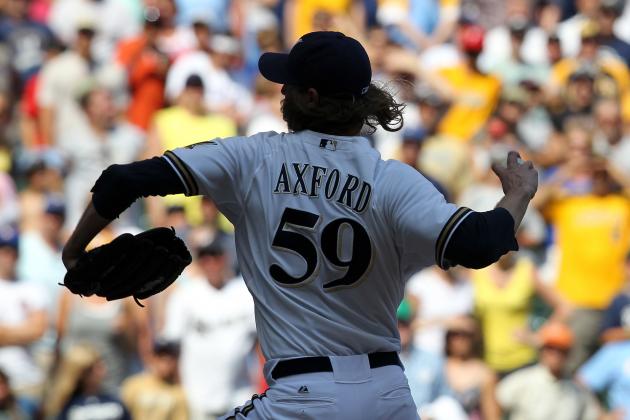 Mike McGinnis/Getty Images

Hindsight is 20-20.
I would be hard-pressed to find a Brewers fan who didn't want to see John Axford "axed" from the closer role in Milwaukee, but look where we stand now.
Axford hasn't allowed a run in 5.1 innings since being removed as closer and has gone from being the Brewers' most unreliable bullpen pitcher to the exact opposite.
It's just been that kind of season for the Brewers.
The scuffling K-Rod and Axford's rediscovery of his 2011 self should land the Ax Man back in the ninth-inning role. Now it's just a matter of whether or not he can continue that success.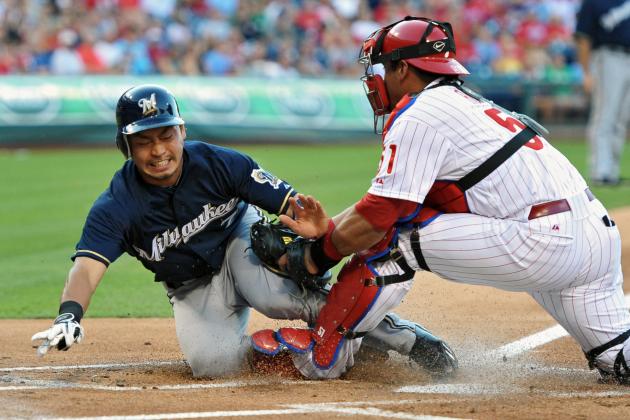 Drew Hallowell/Getty Images

Maybe some of you believed this before now, but nevertheless, the Phillies put the final nail in the coffin.
Milwaukee is 44-53, 9.5 games out of the final wild-card slot, and 13.5 games out of the Central Division lead.
OK, so we've seen stranger things happen, but let's be realistic: with a bullpen like this, the Brewers aren't going anywhere this season.
What also sets up a blockade is the fact that Greinke—and perhaps others—will no longer be wearing a Brewers uniform once Aug. 1 rolls around.
All of this may sound depressing, but there's reason to remain optimistic for the future.
Pieces acquired in the Greinke trade should benefit Milwaukee in the long run, and who's to say Greinke won't re-sign with the Brewers in the offseason?
Not only this, but unloading will allow young minor league players to fill the empty big-league roster slots and attempt to make their mark. Watching prospects try and make a name for themselves at the big-league level is always a reason to stay invested in a team.