Olympics 2012 Schedule: Can't-Miss Events for First Day of Action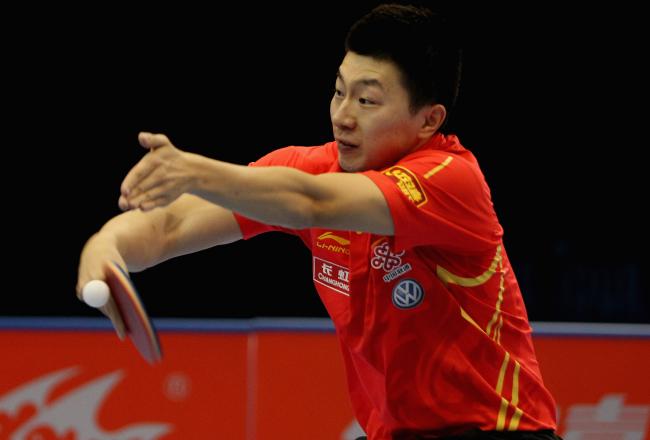 Scott Heavey/Getty Images
The 2012 London Olympics officially get underway on Friday evening with the opening ceremonies. After the pomp and circumstance are out of the way, athletes from around the world get down to the business at hand when the first full day of competition begins on Saturday.
The networks of NBC and nbcolympics.com will air hours upon hours of programming Saturday, running the gamut from swimming to archery to basketball and soccer.
However, if you have a couple of hours to kill Saturday afternoon (don't lie, you know you do) and basic cable then get comfy, grab some nachos and a cold beverage and tune your television to MSNBC for this trio of lesser-known but riveting Olympic events.
Table Tennis (2:00 - 2:45 P.M. EDT)
Almost everyone has picked up a paddle and played table tennis at one time or another, but I guarantee that the game you played has very little in common with table tennis at the Olympic level, where ball speeds can reach upwards of 70 miles per hour and the action is incredibly frenetic.
Since table tennis became an Olympic event in 1988 the sport has been absolutely dominated by the Chinese, who have won 20 of 24 gold medals in the team and individual events.
A new rule implemented for the 2012 Games states that only two representatives from each nation may compete in the singles events. Saturday's televised action will feature round one of the men's singles competition, where China will be led by 24-year-old Zhang Jike, the reigning winner of both the World Cup and World Championships.
His first-round opponent has our condolences in advance.
Women's Handball (2:45 - 3:30 P.M. EDT)
When most Americans think of handball they think of two opponents smashing a rubber ball into a wall with, well, their hand.
However, Olympic handball shares absolutely nothing in common with its American counterpart. The game is a team sport that combines elements of basketball, soccer and rugby in an exciting contest that International Handball Federation president Dr. Hassan Moustafa calls "a terrific fast paced play including many goal-scoring scenes, fascinating tackling, acrobatic shots, brilliant tricks and spectacular goalkeeper saves."
The game is a lot easier and more enjoyable to watch than explain, so just sit back and relax as the Swedish women's team that finished second in the 2010 European Championships battles Denmark.
Women's Fencing (3:30 - 4:00 P.M. EDT)
For Olympics fans who want to see some medals awarded, the finale of this two-hour set will be right up your alley. The women's foil competition is one of the earliest medal events at the 2012 Games, and there's a very good chance that when all is said and done an Italian will stand atop the medal platform while Il Canto degli Italiani is played.
Valentina Vezzali will attempt to accomplish the unprecedented feat of winning Olympic gold in the individual foil competition for the fourth straight time.
According to FOX Sports Vezzali will face strong competition from countrywomen Elisa Di Francisca and Arianna Errigo, but Vezzali's biggest roadblock to a fourth straight gold likely lies in Nam Hyun-Hee of South Korea, whom Vezzali defeated 6-5 in the final in Beijing four years ago.
This article is
What is the duplicate article?
Why is this article offensive?
Where is this article plagiarized from?
Why is this article poorly edited?