'92 Barcelona Is the Greatest Olympic Games Ever... in My Opinion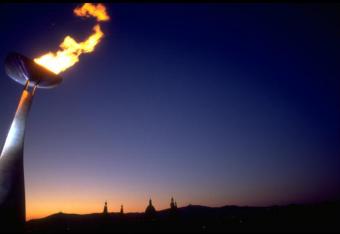 Shaun Botterill/Getty Images
"Higher baby...get up a little higher...push a little harder, a little bit faster."
These were the words Will Smith rhythmically chanted on his guest turn on the Barcelona Gold soundtrack back in 1992. That year's Olympiad in Barcelona was as diverse as the artists that made up its soundtrack (Smith, Tevin Campbell, Freddie Mercury, Madonna). Yet just like the soundtrack, everything about it felt right.
As a nine-year-old it was the second Olympics I actually remember watching and in the twenty years that have passed, the only one I still talk about. The year 1996 brought us Kerri Strug and 2008 gave birth to the Michael Phelps phenomenon. But what other games had such a beautiful tapestry woven into it like Barcelona? In my view, none. So while it's easy to reminisce on the allure of those games like a man who can still smell the sweet scent of his first love decades later, I should probably give you the reasons for my love affair with Barcelona.
The lighting of the flame was ignited by a flaming arrow being shot over the unlit torch upon reaching the Olympic stadium. It was the first time the flame had been showcased in such a way. I can remember sitting in front of my mom's black 19-inch TV set thinking that was the coolest thing I had ever seen.
Then there's the visual of Derek Redmond of Great Britain, who tore his hamstring at the 400-meter semi-finals. As Redmond grimaced in pain and tried to make it to the finish line, his father jumped out of the stands and helped his son make it across the finish line. While I was too young to realize the importance of this moment, it was evident by the emotions displayed on their faces that it wasn't just about a race. It was about family, love and pride.
Which is your favorite Olympics?
The hype leading up to Barcelona was unmatched by any other games, at least on the American side of things. There were commercials heralding the arrival of the Dream Team, Dan & Dave (two of America's best hopes in the Decathalon). Even athletes like swimmer Janet Evans and the bright-eyed U.S. gymnastics teams were getting a shine that seemed brighter than usual. As a result, ratings for the two-week event were among the highest of all time.
In the case of the Dream Team—they were arguably the most popular guys living in the Olympic Village. They were rock stars of the highest order, as evidenced in Michael Jordan's VHS Documentary "Hang Time." The world at large was transfixed on this elite who all were at the height of their powers on the basketball court. Their dominance was unquestioned and their attraction helped bring the Games to a fever pitch. I couldn't fathom that while I was sitting on my couch in Kentucky wearing my Dream Team caricature T-shirt that similarly a young Dirk Nowitski or Steve Nash was doing the exact same thing.
But since I was a young basketball fan, I knew that I would be watching Jordan and the boys take on smaller, less basketball-oriented countries. But I never knew I would fall in love with events like track and field, gymnastics, swimming, archery and more. I found myself mesmerized by people who would usually never appeal to me.
But I think the thing that stands out for me the most about Barcelona is how in those two weeks I learned so much about pride for my own country, respect for other countries and their athletes, and the beauty of sports that I would have never watched any other time. That is why Barcelona will remain in my heart as one of the greatest Olympics ever.
This article is
What is the duplicate article?
Why is this article offensive?
Where is this article plagiarized from?
Why is this article poorly edited?