Yankees the Morning After: Yanks Zero in on Padres Third Baseman Chase Headley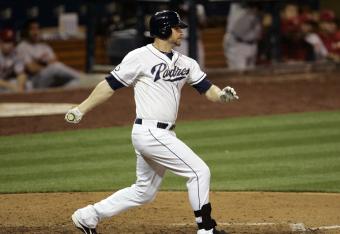 Will the Yankees make a run for Padres third-baseman Chase Headley?
Kent Horner/Getty Images
On a night where Felix Hernandez plunked three Yankees batters, one of those errant pitches may have done significant damage to the Yankees season. Alex Rodriguez was hit by that Hernandez pitch, and was diagnosed with a broken left hand. He will likely miss two months.
Suddenly, the overpaid slugger that Yankee fans love to hate will be greatly missed.
There does not appear to be any upgrade in store within the Yankees farm system. The immediate answer is to plug Eric Chavez in at third base. Chavez has performed admirably in limited duty this season, but has hit almost exclusively against right-handed pitching. Of his at-bats, 143 of 156 have come against right-handers.
Chavez is an excellent choice for part-time duty, but the Yankees will want to look elsewhere.
Hey, remember Eduardo Nunez, anyone? The much maligned fielder can definitely hit at the major league level, and as the dog days of summer approach, he may have just been given his chance for redemption with the Yankees on a silver platter.
Nunez was just activated off the minor league disabled list, and there was speculation he may be used as trade chip at the deadline. The irony is, he still may. According to ESPN's Buster Olney, the Yankees are highly interested in Chase Headley.
The Yankees will be considering all 3B options, including Chase Headley, who'd make sense for them on a lot of levels.

— Buster Olney (@Buster_ESPN) July 25, 2012
Headley is a product of the San Diego Padres farm system, and has been a lifer with the Southern California ball club. Headley is a player that doesn't do one thing great—yet he does everything well. His splits against righties and southpaws are nearly dead even in terms of production. He's had many more opportunities to hit against right-handers.
Should the Yankees trade for Chase Headley if they have to part ways with two of their top prospects?
Headley is not an elite defensive third baseman according to the defensive wins above replacement (WAR) metric, though he's certainly a solid fielder. He currently has the second-highest fielding percentage of any third baseman in the game.
Headley will add a power dimension at the hot corner, and he fits the Yankees lineup well in that he takes pitches. Headley already has 52 walks on the season, good enough for 11th in the majors, and he profiles as a patient hitter, willing to wait for the right pitch.
Additionally, a move from spacious Petco Park to the hitter's delight that is Yankee Stadium should surely help the 28-year-old. Headley would relish the opportunity to bomb one into the right-field bleachers at Yankee Stadium, which stand a mere 314 feet away from home plate.
The question immediately becomes: How much will it cost the Yankees to bring Headley to the Bronx? Either way, the price for Headley isn't going to be similar to what the Yankees gave up for Ichiro. That was a pittance by comparison.
The Padres will likely want one of the Yankees top pitching arms from their minor league system. Think Manny Banuelos—and maybe even a player like David Phelps. Banuelos has not pitched since mid-May, though he is still considered a promising prospect.
The Yankees will be highly reluctant to part with uber-prospect Gary Sanchez, who was raking in Single-A Charleston earlier this season and is considered one of the Yankees' top prospects. Most of the Yankees' top talent at this point is in Double-A and below.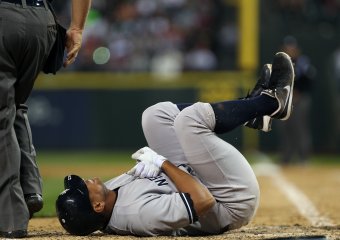 This is not a sight Yankees fans wanted to see. Alex Rodriguez writhes in pain after being beaned on his left hand by Felix Hernandez.
Otto Greule Jr/Getty Images
A-Rod is hitting .276 with 15 home runs and 44 RBI. His .806 OPS is respectable, but well below his career production. At age 37, the A-Rod that Yankees fans have seen this season is likely what they'll see for the foreseeable future. And things may only get worse as the veteran slugger nears the big 4-0.
Right now, however, Yankees fans would give their left arm for a third baseman on the cheap that could hit for power and get on base nearly 36 percent of the time. Based on financial compensation, A-Rod should be performing at an exponentially higher clip than he is. The man is making an astounding $30 million this season.
He's not the player he once was. And it's Yankees ownership that made the foolish decision to sign him to a 10-year deal after he turned 32. All of that said, even when a player of his caliber is underperforming, you don't know what you've got 'til it's gone.
It's early to know for certain if the Yankees are willing to make a deal for Headley, considering A-Rod may be back for the playoffs. The team is very likely to not give up any of their top-three prospects. That would be cost-prohibitive.
But in such a tight time frame, just two months until the playoffs, the Bombers should be willing to take a chance, if the price is right.
This article is
What is the duplicate article?
Why is this article offensive?
Where is this article plagiarized from?
Why is this article poorly edited?

New York Yankees: Like this team?