UFC Hall of Fame: Stephan Bonnar Deserves Inclusion from Dana White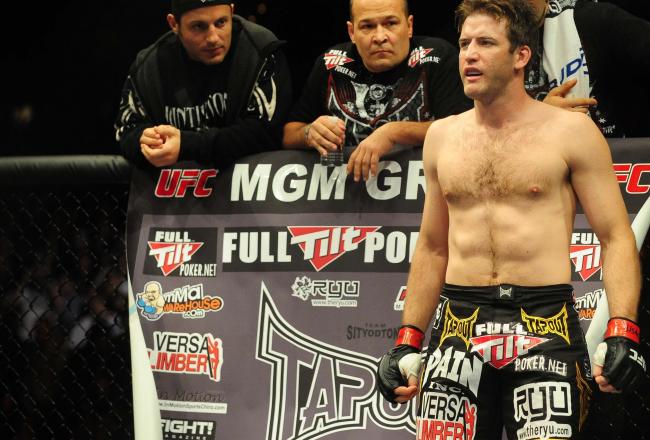 Mark J. Rebilas-US PRESSWIRE
It's been a weird year for Stephan Bonnar. He's been rolling in the cage in ways he hasn't for a very long time, and yet away from it, he's been unable to gain any traction whatsoever.
Wants to fight Rampage Jackson? Not gonna happen.
Wants to coach The Ultimate Fighter against Forrest Griffin? No thanks, Stephan.
Wants to fight any name that will move him up the ranks? Sorry, pal, can't help you.
After repeatedly having fires stomped out by the UFC before he can properly stoke them, the aging warrior seems to be in a place where retirement is his most viable option. When you've spilled as much blood as Bonnar has in the Octagon, you get to call those shots.
Make no mistake: the UFC doesn't owe Bonnar anything.
Just as he did so much for the promotion in his first fight with Forrest Griffin, the promotion did plenty for him by keeping him around despite some slides and promising a career for life no matter what.
It's been a two-way street.
But you know what? The UFC needs to put Stephan Bonnar in its Hall of Fame.
The fact of the matter is that the UFC Hall of Fame is, relatively speaking, a joke. Sure, the guys who are in it are deserving, but the joke comes from the guys who aren't in there.
Guys like Frank Shamrock and Don Frye—legends in the sport who did incredible things to build the UFC—are openly unwelcome because of personal differences with Dana White.
There's also the fact that there are no concrete guidelines to get in: No known voting protocols, no time on the calendar that inductions are known to happen, no known number of inductees that are to be brought on board at a given induction.
Should Stephan Bonnar be inducted into the UFC Hall of Fame?
Plus the little issue of the Hall of Fame being run by a promoter rather than an independent panel—something no other pro sport does.
Qualms with the UFC Hall of Fame aside, though, it's the best the sport has at the moment. And it's where Bonnar belongs if it's where his contemporaries are.
Ask anyone and they'll say Forrest Griffin will be inducted upon his retirement. He was a TUF winner, a champion and one of the first marketable personalities of the promotion's most significant boom. He also took part in what White calls the most important fight in UFC history, against Bonnar.
With that in mind, how can Bonnar not follow his friend and nemesis there?
Sure, he didn't win titles or even any fights against a name bigger than Keith Jardine, but he was there when it mattered. He was a blood-and-guts warrior when the promotion needed one, and he always did it with a good quote, quick wit and an understanding of what he brought to the UFC.
That may not be enough to warrant Hall of Fame consideration—one massive fight and a willingness to bleed, admittedly, doesn't sound that impressive on its own. However, one of the greatest pitfalls of the UFC Hall of Fame could become one of its greatest assets in the case of Bonnar—the unchallenged omnipotence of the UFC in deciding who gets in.
Other sports see plenty of guys who could warrant Hall of Fame consideration for things other than pure numbers, but because certain stats are seen as benchmarks, the individuals on voting committees tend to err on the side of caution with their selections.
Dana and company don't have to do that. So why not put him in? Issues with the current UFC Hall of Fame system notwithstanding, it would be a great sendoff for a true warrior who deserves it.
He wasn't an all-time great. He never held gold, and he never will.
But if what he did for the UFC was truly as important as White would have you believe, that glass plaque would be more meaningful in Bonnar's hands than in the hands of any man who came before him—both for the UFC, and for the man holding it.
This article is
What is the duplicate article?
Why is this article offensive?
Where is this article plagiarized from?
Why is this article poorly edited?