US Olympic Track & Field Team: Meet the Next Generation of Stars
Ashton Eaton
Christian Petersen/Getty Images
The next generations of stars for the Unites States Track and Field team will be a strong group of talented athletes that will bring home a grip of gold medals after the London Olympics are all said and done.
Track and field athletes have a relatively small window of opportunity to compete at a high level compared to most major sports around the world. This is why the world, as well as the US is blessed to have a regular outburst of new stars with each passing Olympics.
Here is a rundown of the top young men and women who will be competing this summer.
Ashton Eaton (Decathlon)
Andy Lyons/Getty Images
The wide-eyed innocent Ashton Eaton looked more like a seasoned veteran instead of a stumbling youth after he broke the world record in the men's decathlon at the US Olympic trials.
The 24-year old University of Oregon product is hands down the favorite to win gold in the decathlon competition this summer. Eaton's record breaking 9,039 points was enough to win trials, and it also earned him the title as the "world's best athlete."
Lolo Jones (100-Meter Hurdles)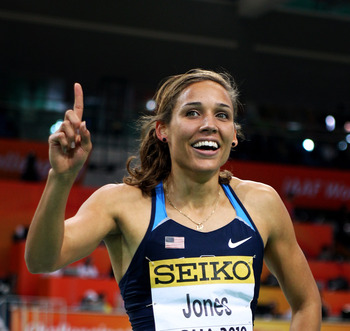 Michael Steele/Getty Images
Nearing 30 years of age Lola Jones is no spring chicken, but her drive and athleticism paint a much different picture.
Jones is a highly decorated college athlete with three NCAA titles as a hurdler, and also has 11 All-American honors from her time at LSU.
However, she has yet to win an Olympic gold medal.
Jones finished in third place at the Olympic trials and is not highly favored to win big like she was in the Beijing Olympics. Sadly she stumbled during the 100-meter hurdles back in 2008 and ruined her chances of winning, but that emotional loss will surely push Jones to her limits in this year's Olympics.
Galen Rupp (5000-Meter Run, 10,000-Meter Run)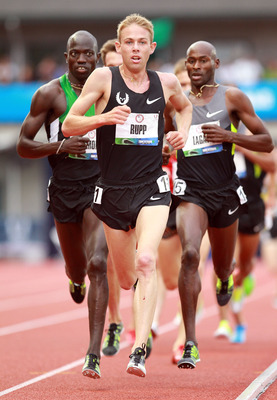 Andy Lyons/Getty Images
Don't be fooled by the Mr. Burns physique; Galen Rupp is an athlete of the highest caliber.
In the 10,000-meter run he set an Olympic trials record after finishing in 27 minutes and 25.33 seconds. He was also the trials champion in the 5,000-meter run with a time of 13 minutes and 22.67 seconds.
The 26-year old five-time USA outdoor 10,000-meter champion will be a fierce competitor in the London Olympics and will more than likely bring home at least one gold medal.
Lashawn Merritt (400-Meter Sprint)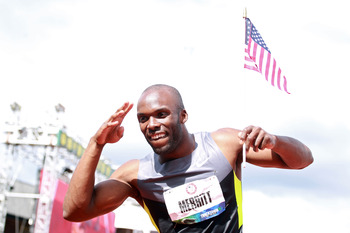 Andy Lyons/Getty Images
The 26-year old Lashawn Merritt is a rare breed of athlete that should never be counted out.
Merritt returned to competition after a 21-month doping suspension and finished second in the 400 meter run at the 2011 World Championships. His fall from grace wasn't as dramatic as some would have thought after missing so much time.
He also won the 400 meter run in the U.S. Olympic trials with a time of 44.12 seconds, but Merritt's recent hamstring injury could put a damper on his return to the Olympics.
Janay Deloach (Long Jump)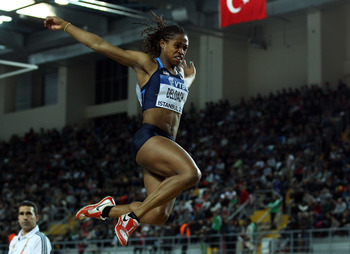 Ian Walton/Getty Images
Janay Deloach doesn't have the championship pedigree that many stars have from their international and collegiate competition, but the potential is certainly there.
The 26-year old is prime to break out and make a lot of noise in the London Olympics. The talented long jumper placed third at the 2012 Olympic trials with a leap of 23' 2.75", which was good enough to rank her sixth worldwide.
While she will certainly face stiff competition overseas, Deloach is perfectly equipped to handle anything that comes her way.
Keep Reading