Big Ten Football: Penn State Transfer Targets for Each Team
Patrick Smith/Getty Images
One of the most destructive penalties to befall Penn State is the lifting of transfer restrictions from the current Nittany Lions as the athletic department prepares for massive sanctions. Not only are Penn State players allowed to transfer within the FBS without the standard one-year penalty both before and after this season, but schools are allowed to go beyond their 85-scholarship limit to accommodate these players.
Additionally, the Big Ten is likely to allow transfers from Penn State into other member programs, a rare step from a conference that generally shuns in-conference transfers. That's where we come in.
While nobody at Penn State has decided to leave the program as yet, the fact of the matter is that the door couldn't be more wide open for such a transfer to happen, and there are a lot of Big Ten schools who would be improved considerably with just a key transfer or two from Penn State.
So let's take a look at every Big Ten school and who it should be thinking about recruiting from Happy Valley.
A few ground rules: No player gets repeated, otherwise we'd just list Silas Redd and Gerald Hodges for everyone and call it a day. Additionally, the biggest of the big dogs aren't going anywhere, and even if they are, it's only to a bigger-named school than Penn State.
So that's why, spoiler alert, Gerald Hodges isn't listed. He's staying...right?
We're still taking a couple liberties in terms of whether a player would actually leave Penn State for a have-not in the Big Ten—there's one admittedly indefensible suggestion early on—but by and large, we'd like to believe that if you squinted hard enough, you could see these moves happening.
Onward!
1. Illinois (Leaders Division)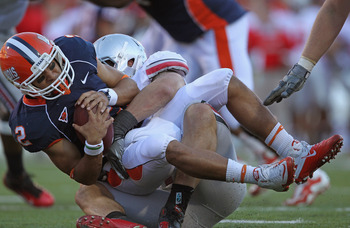 A good pair of tackles means a whole lot less of Nathan Scheelhaase going through this.
Jonathan Daniel/Getty Images
RT Adam Gress, Jr.
LT Donovan Smith, Fr.
Illinois doesn't have a ton of glaring weaknesses this year—at least, not at positions of relative strength for Penn State—but the Illini offensive line could really use some help, especially at the tackle positions. Gress and Smith have both asserted themselves as not only starting-quality bookends, but potential difference-makers for an offense that's going to have a hard time getting points on the board.
What would make either of these guys a prime target for recruiting is the fact that they've split time at camp at the other tackle position, giving them (and, by extension, the whole offensive line) a measure of versatility, which is critical for getting your "best five" blockers on the field at once.
2. Indiana (Leaders Division)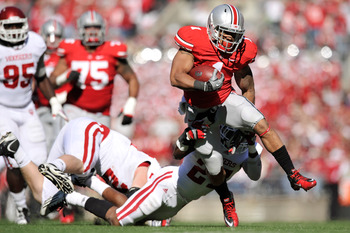 This would end in Herron standing in the end zone. It might not be that way with a better Hoosier defense.
Jamie Sabau/Getty Images
OLB Michael Mauti, Sr.
DE C.J. Olaniyan, So.
Pretty much Penn State's entire team, if we're being honest
Indiana's defense was nothing short of a letdown for Kevin Wilson and the rest of the team last year. The Hoosiers were dead last in the Big Ten in rushing defense, passing efficiency defense, total defense and points allowed; only Northwestern was worse at preventing third-down conversions.
All that comes down to is sheer talent on the defensive side of the ball, an area where Indiana is painfully lacking. Mauti is an absolute game-changer and has the ability to play on the inside if need be (though Indiana's better with him on the edge), and Olaniyan would give Indiana three years of strength at defensive end (or two if he transfers after 2012). Olaniyan is a backup for Penn State, but he'd be a major contributor for the Hoosiers.
And that's what it comes down to: The Hoosiers need a sea change in terms of overall talent, and that's something that's going to come from years of good recruiting, not just one player here or there. They need Big Ten-quality playmakers and Big Ten-quality depth; they have neither right now.
3. Iowa (Legends Division)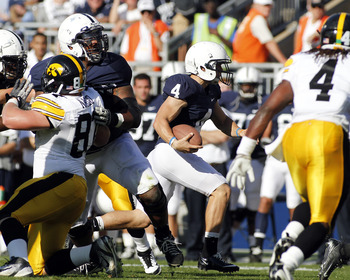 Getting mashed is not a good look.
Justin K. Aller/Getty Images
DB Adrian Amos, So.
DE Sean Stanley, Sr.
Iowa didn't have a bad defense in 2011. It wasn't good by any stretch, but the overall numbers—eighth in the Big Ten in total defense, a little under 24 points per game allowed—didn't scream "disaster."
One thing missing, however, was clutch defense; there, Iowa struggled mightily. Only Indiana and Northwestern were worse in the Big Ten at third-down defense; Iowa was 99th overall, allowing 95 of 207 third downs to be converted. More troublingly, Iowa ceded a first down on 14 of 19 fourth downs, the second-worst rate in the entire nation behind Arizona.
The problem is simple: Iowa was generally well coached on defense, but the overall talent level was about as bad as it had been in over a decade. Stanley would be a massive upgrade at DE for Iowa, as his ability to disrupt passing plays is something Iowa just didn't have last season (and doesn't look to have this year).
Amos, meanwhile, is a wonderfully athletic and aggressive defensive back who can play either cornerback or safety and excel at both. Iowa would probably pair him with Nico Law for its best safety tandem since NFL starters Bob Sanders and Sean Considine roamed back there.
4. Michigan (Legends Division)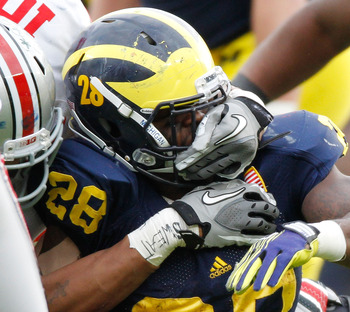 Ohio State's going to stuff a lot of teams this year. Can Michigan stop them?
Gregory Shamus/Getty Images
OG Miles Dieffenbach, So.
TE Garry Gilliam, Jr.
Michigan's a pretty solid team this year, with very few people who would elicit a "wait, he starts? And for Michigan?" type of reaction. Still, that offensive line looks like the closest thing to a problem on the entire team, and if Denard Robinson and Fitz Toussaint (whenever he gets out of Brady Hoke's doghouse) don't get blocking, they're not going to be able to make a whole lot happen.
In steps Dieffenbach, a strong, smart, athletic guard who represents a significant upgrade from Elliott Mealer, who's in danger of losing his starting spot to either a walk-on or a true freshman. Michigan needs better than that from its line in a pivotal year like this.
Additionally, Gilliam is a beast of a man at TE and figures to be more prominently involved as a blocker than a pass-catcher, and that'd be nice because Michigan basically has just the untested Brandon Moore there, starting almost by default. Gilliam adds toughness and size to the position, and his perseverance after losing 20 months to knee problems means he adds mental toughness to the unit as well.
5. Michigan State (Legends Division)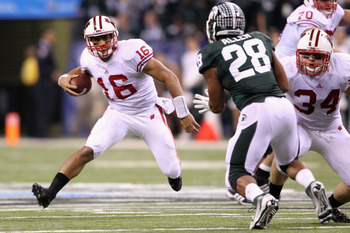 Spoiler: doesn't end well for Denicos Allen
Andy Lyons/Getty Images
FS Malcolm Willis, Jr.
DT Jordan Hill, Sr.
It's weird to look at Michigan State's team, which replaces its entire passing game and brings back one of the nation's best defenses, and pick out a couple PSU defenders to plug into the team.
But the fact is that Penn State can't help Michigan State in the passing game. Andrew Maxwell's a better quarterback than anyone in Happy Valley, the Spartans have enough bodies out wide (especially with DeAnthony Arnett eligible), and Dion Sims is primed for a breakout year at TE.
No, here Michigan State just needs to be able to replace FS Trenton Robinson and DT Jerel Worthy, and Penn State's got the kind of talent to do exactly that. Willis is strong and athletic and has spent enough time in the Penn State program that he'll probably succeed as a starter this year.
Hill, meanwhile, is in a dogfight with Ohio State's Johnathan Hankins for the title of the best defensive tackle in the conference. With him in the middle, Michigan State's front seven would officially be the best in the Big Ten. Shutouts galore!
6. Minnesota (Legends Division)
To avoid more punting, bring in more offensive artillery.
Jeff Gross/Getty Images
RB Bill Belton, So.
WR Justin Brown, Sr.
Once again, as many people as they can possibly contact
Like Indiana, Minnesota's at the point where it just needs to upgrade its overall talent level. It's by far the worst team in the Legends Division this year, which speaks just as much to the strength of the rest of the division as Minnesota's weakness, but still: Minnesota's weak.
If we could give them 30 PSU players, we would.
That said, the Gophers are losing a couple longtime playmakers on offense here with RB Duane Bennett and WR Da'Jon McKnight both moving on, and that productivity needs to come from somewhere. Silas Redd would obviously be a lovely candidate at RB for Minnesota (and, well, everyone else in the nation), but if USC's calling him too, he's not going to listen to Minnesota for very long.
Belton, though, might be willing to jump at the prospect of early playing time, and he's athletic enough that he would provide a significant boost to the return game as a complement to Troy Stoudermire.
Brown, meanwhile, is probably not much more likely than Redd to go somewhere like Minnesota, but at some point we have to be willing to bend reality for the sake of alternate histories. He'd be getting passes from MarQueis Gray instead of Matt McGloin (which is, improbably, a marked improvement), and having the opportunity to maximize your productivity in your senior season is quite valuable for an NFL prospect like Brown. So there.
7. Nebraska (Legends Division)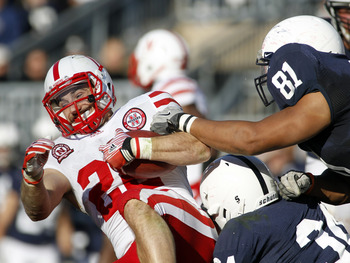 Yes, some more help blocking would be nice.
Justin K. Aller/Getty Images
LB Mike Hull, So.
TE Jesse James, Fr.
Nebraska's got a strong team this season, and the Huskers might be able to take the next step and make it to Indianapolis for the Big Ten Championship with the players they've got right now. So where Nebraska would probably be best served if we're picking out a couple players for them is playing for 2013 and beyond.
To that end, the famed tight end duo of Kyler Reed and Ben Cotton is on its swan song in 2012, and Nebraska will need some new talent in there as soon as possible. Jesse James is a true freshman this year who clocks in at a legit 6'7" and 265 pounds, and he's already pushing for playing time in Happy Valley. If he can seal an edge as well as someone his size should be able to, then he'd be welcome in Lincoln.
Similarly, Mike Hull was a 4-star linebacking prospect and is currently sitting behind Gerald Hodges on the depth chart. Waiting. Lurking. Wasting a year.
He'd probably have better luck pushing for a starting role on Nebraska's team, plus he's got two full years of eligibility after 2012, and he's the kind of prospect you can build around.
8. Northwestern (Legends Division)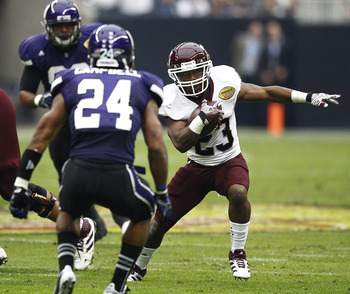 Safety having to come up to make a tackle while defensive lineman watches from 10 yards behind = very bad sign.
Bob Levey/Getty Images
LB Ben Kline, Fr.
DT DaQuan Jones, Jr.
Northwestern is close to being a very good team. It's very, very close. It just can't get anyone off the field on third down, and as a result, that defense just gets worn down over 60 minutes, week in and week out.
Kline is a prototypical Penn State linebacker—a hard-nosed, athletic Pennsylvania kid—and would be a major addition to the defense and a perfect replacement for senior David Nwabuisi. He could probably push for a starting spot this year, but he'd definitely start for Northwestern in 2013.
Meanwhile, DaQuan Jones adds much-needed size to a defensive line that's working its way toward respectability.
9. Ohio State (Leaders Division)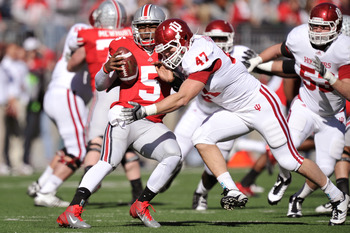 If Penn State had anyone who could help stop this from happening, Ohio State would love to know about it. But PSU probably doesn't.
Jamie Sabau/Getty Images
QB Matt McGloin—Okay, not really, but could you imagine?
Ohio State would probably take one look at the Penn State roster and say, "Y'know what? We're probably good."
And that's not to say Ohio State's roster has no flaws. It does. It's just that Penn State has no worthwhile wide receivers to offer the Buckeyes, and the cornerback situation in Columbus is actually better than it is in Happy Valley.
OK, actually, Ohio State would probably take a look at Adrian Amos and Justin Brown, but those guys are already off our board, and that's what Ohio State gets for being so low in the alphabetical pecking order in the Big Ten.
10. Purdue (Leaders Division)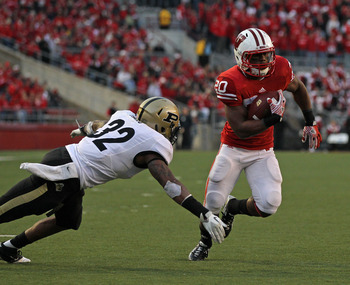 How'd that work out for you, 32? Need some help? Penn State can probably help.
Jonathan Daniel/Getty Images
LB Khairi Fortt, Jr.
DE Deion Barnes, Fr.
Purdue's defense tries. They try, man, and the secondary is doing its best. But the front seven is still two playmakers short of really hitting the next level.
Fortt is a strong prospect who's pushing Glenn Carson for the starting MLB role; with him in the middle, Will Lucas and Dwayne Beckford can occupy the outside spots. All of a sudden, that's almost the best linebacking corps in the Big Ten.
Meanwhile, the defensive line is solid, and Ryan Russell has a boatload of potential, but it's lacking a bookend opposite him, and Barnes can absolutely be that guy. He's already close to 250 pounds after coming into camp last year closer to 220, and with his ears pinned back he's a menace off the edge.
We mentioned that Indiana and Minnesota really need as much help as they can get in terms of increasing the talent in the program. Purdue's not that; it's actually pretty close to being legit right now. If Danny Hope wants to tell some potential Penn State ex-pats that, who knows? They just might listen.
11. Wisconsin (Leaders Division)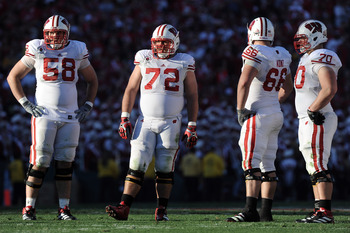 SILAS REDD BEHIND THESE GUYS. OR THOSE OF THEM THAT ARE LEFT ANYWAY. MAKE IT HAPPEN.
Harry How/Getty Images
RB Silas Redd, Jr.
DO IT. GO GET SILAS REDD. BRING HIM TO MADISON AND START GETTING FITTED FOR RINGS NOW.
I'M SO SERIOUS ABOUT THIS THAT I CAN'T STOP YELLING.
SILAS REDD + MONTEE BALL + JAMES WHITE > LEBRON JAMES + DWYANE WADE + CHRIS BOSH
Keep Reading