2012 MLB Trade Deadline: Why the Braves Are Better off Without Ryan Dempster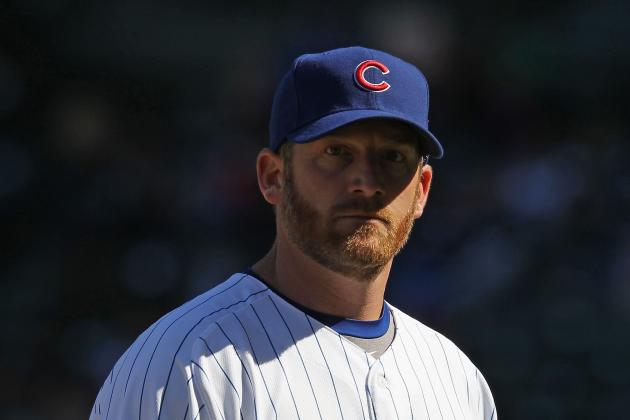 Jonathan Daniel/Getty Images
GM Frank Wren should see the writing on the wall and pull the deal off the table
The last 48 hours have been tenuous for Atlanta Braves baseball fans to say the least. Word broke yesterday that the Braves and Chicago Cubs agreed to a deal that would send ace Ryan Dempster to Atlanta for Randall Delgado.
Fans of both franchises were ecstatic with the move. For the Braves, Dempster provided stability to a rotation that has been plagued by a season-ending injury to Brandon Beachy and uneven performances by Tommy Hanson, Randall Delgado, and Mike Minor. The Cubs gained a young pitcher in Delgado who could develop without the added pressure of a pennant race in the back of his mind.
As the day wore on, reports began filtering out that Dempster was not aware of any impending trade and then early today MLBTradeRumors.com reported that Dempster was on the fence about signing any deal because he wanted the Cubs to re-open trade talks with his first choice, the Los Angeles Dodgers.
As a player with 10 years of MLB experience, including five with his current team, Ryan Dempster has the right to veto any trade this season per the Collective Bargaining Agreement. This article will list five reasons why the Braves are better off without Ryan Dempster.
Begin Slideshow

»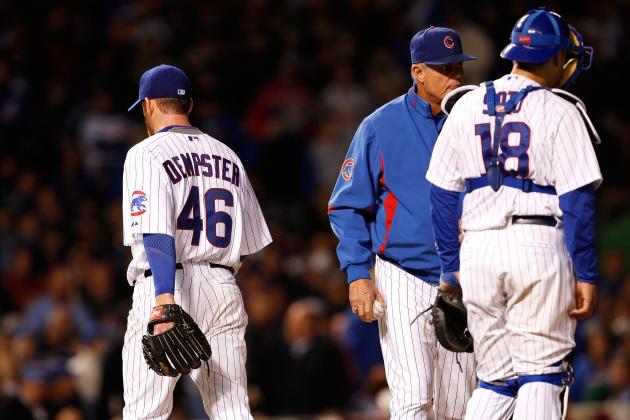 Jamie Squire/Getty Images
Dempster is likely to walk after the season is over
Part of the reason why the Braves coveted Dempster is because they thought they had a high likelihood of signing him to a new deal at season's end. Braves manager Fredi Gonzalez and GM Frank Wren thought they had established a solid relationship with the gifted right-hander when all were members of the Florida Marlins franchise.
However, the tables have turned in the last 48 hours. The Braves can't feel comfortable with their chances in light of how this trade debacle has played out. Dempster will test the free agency waters after the season and will be free to field offers from all potential suitors, including the Dodgers.
Dempster will likely be a rental and by dealing the No. 3 prospect in the organization, Randall Delgado, the Braves are paying too high of a price for a rental.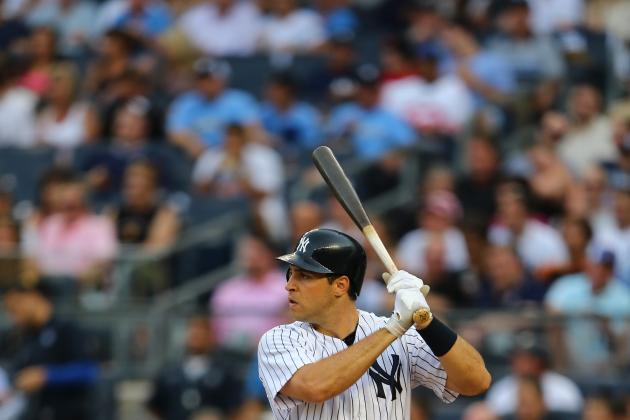 Al Bello/Getty Images
Mark Texiera turned out to be little more than an expensive bust
Most Braves fans remember the debacle that was the trade with the Texas Rangers for Mark Texiera.
The Braves sent Elvis Andrus, Neftali Feliz, Matt Harrison, Beau Jones, and Jarod Saltalamacchia to the Rangers in exchange for Texiera and Ron Mahay.
Texiera was traded almost a year later after to the Los Angeles Angels while Mahay fell off the baseball map.
Andrus, Feliz and Harrison became All-Stars, playing an integral part in the Rangers run to the World Series last year. Saltalamacchia is enjoying a career year with the Boston Red Sox.
It should be noted that when the Braves pulled the trigger on this trade, they trailed the division leading New York Mets by 4.5 games. As this article is written, the Braves trail the division leading Nationals by...4.5 games.
While the number of players involved is different, the Braves are giving up a top prospect for what should be construed as a mere rental. Hopefully, Frank Wren and the Braves have learned from the mistakes of the past and pull this deal off the table.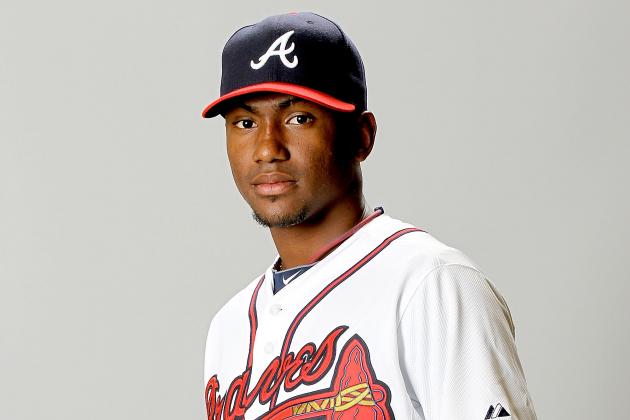 Matthew Stockman/Getty Images
Top prospect Julio Teheran is not ready for the spotlight of the big leagues...yet
If the current deal goes through, and Ryan Dempster walks in free agency, a Braves 2013 rotation could look something like Brandon Beachy, Tim Hudson and Tommy Hanson.
Jair Jurrjens has gone back to his old inconsistent ways. Mike Minor is progressing, albeit slowly. Ben Sheets is one more elbow tinge away from being out of the majors again and back onto his deck in Monroe, LA. Braves No. 1 prospect Julio Teheran has top-of-the-rotation stuff, but has suffered a regression is 2012 after an encouraging season in 2011.
A move here, assuming the Braves are ready to trade Randall Delgado, needs to ensure some stability beyond this season. Otherwise, GM Frank Wren may end up overpaying for a free agent during the offseason (can anyone say Kenshin Kawakami?).
A trade with some contract stability would make more sense. Matt Garza and James Shields would both offer this stability to the Braves.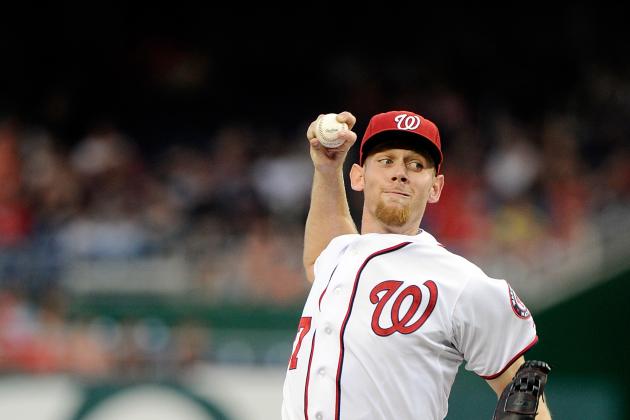 Greg Fiume/Getty Images
If Dempster isn't going to the Nats, then the value of the trade goes down.
Currently the Braves are locked in a heated divisional battle with the Washington Nationals. A big point of debate and contention has been whether or not the Nationals will honor their commitment to shut down ace Stephen Strasburg at 160 innings to prevent another arm injury.
The addition of Ryan Dempster would make perfect sense for the Nats. He is merely a rental to insert at the top of the rotation to avoid losing ground to the Braves in the pennant race.
Consequently, the addition of Dempster for the Braves would prove crucial. The Braves could not afford to face a rotation that included Dempster in a divisional race without a legitimate ace of their own.
However, Dempster has shown no interest in playing in our nation's capitol, so that issue should be a moot point. I'm sure the Nationals have a plan in place for their rotation when they shut down Strasburg, but if Dempster isn't part of it, then the Braves don't have to beat them to the punch.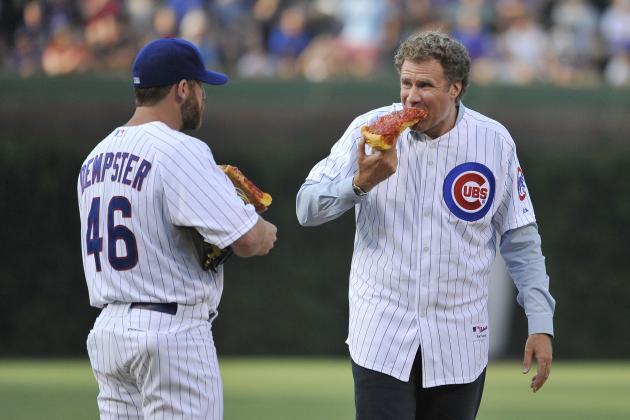 Brian Kersey/Getty Images
Will Dempster be the same kind of clubhouse leader that he was for the Cubs?
No disrespect to Cubs fans, but in light of the last 48 hours, the Braves have to be concerned with what kind of teammate they will be gaining in this deal.
To be fair, Dempster has been a model teammate, citizen of Chicago and is not, by any accounts, a primadonna.
However, his reception in Atlanta would be tempered at best after the events of the past few days. Braves fans are a proud bunch and do not like to be made to feel like second-class or second-rate. As Dempster hems and haws publicly, Braves fans have got to be smoldering over this disrespect.
Atlanta's proud baseball tradition deserves players who embrace the city and its fans, not players who use their veto rights to barter a better deal.
I understand perfectly Dempster's passion for wanting to be closer to his family and hometown in British Columbia. However, I do not appreciate him stringing the Braves along and I don't think many Braves fans do either.
Braves players have to also be on the fence at this point. Teammates have to watch each other's backs, and while Dempster has been a great teammate in Chicago, it doesn't sound like his heart will be in Atlanta. The Braves don't need an outsider in their midst while they push for the playoffs.
The Braves need a player who is committed 100 percent and anything less is simply unacceptable.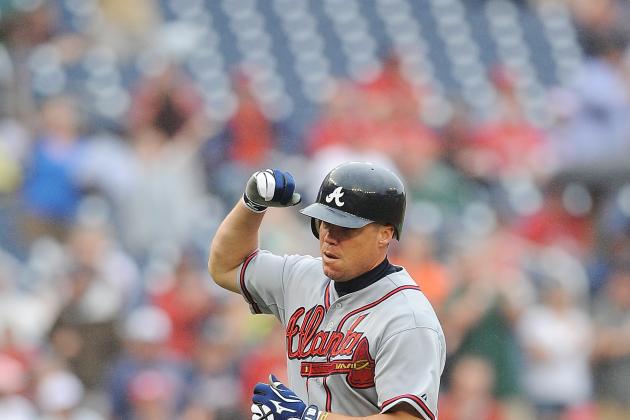 Patrick McDermott/Getty Images
Chipper and the Braves can still celebrate in the postseason without Ryan Dempster
While Ryan Dempster sports a league-leading 2.11 ERA this season, there are many reasons to believe that this trade isn't in Atlanta's best interests.
Among the reasons listed in this article, he sports a career ERA over 4.00, and he has a grand total of two postseason starts under his belt. At age 35, he is not getting any younger.
Dempster's trade value is at an all time high right now, but he is due for a regression.
The longer he waits to make his decision, the more valuable time ticks away for the Braves to pull the trigger on a move that will set them up for a post-season run.
Wren has showed that he is willing to deal to bolster his 2012 Braves team. However, at this point, enough is enough. Wren should pull this deal off the table and focus on a player that wants to be in Atlanta. Proud Braves fans everywhere will thank him for it.