WWE Raw 1000: Top 6 Awesome Moments of Monday
Raw 1000 is officially in our rear view mirror and boy is it going to have an impact going forward.
There were several amazing moments meant to remember the past, but there were also the moments which set a tone for the future.
I got everything that I wanted out of the 1,000th episode of Raw (except Stone Cold) and here are what I believe to be the six most awesome moments of Monday night.
Begin Slideshow

»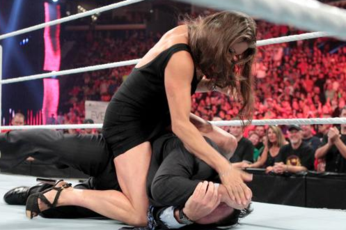 A lot of people did not like this segment because Brock Lesnar did not come off as the monster that everyone wants him to be.
I have to disagree.
This segment as a whole was awesome. Paul Heyman always kills it, seeing Stephanie is always a distinct pleasure, seeing her jump on Heyman was just ridiculous and the ensuing brawl between Triple H and Brock was great!
So Triple H got the better of him this time, but big deal! There is plenty of time to make Brock look strong before their match.
Great segment.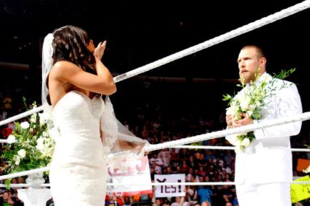 AJ said yes... to Vince!
The question about what AJ will do after the CM Punk-Daniel Bryan love triangle has been answered.
AJ as the general manager of Raw is the perfect move right now. She is nuts, and almost everybody loves her new character.
AJ's craziness leads to a whole new sense of unpredictability, which will lead to better programming and to the liking of WWE officials, better ratings.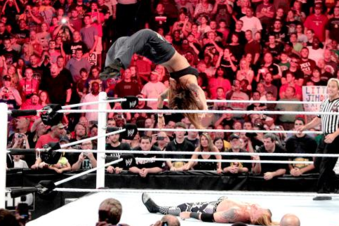 The final payoff to the Heath Slater storyline was a good one.
Losing to a girl, let alone Lita was a perfect way to finish off Heath Slater, and Lita was great!
Not only did she look great but the Twist of Fate and Moonsault combination was pure money! Not to mention the Clothesline from Hell and the Damn!
Can the WWE bring Lita back? It looks like she's still got it. She could be a great Diva to hold the title until their FCW talent is ready.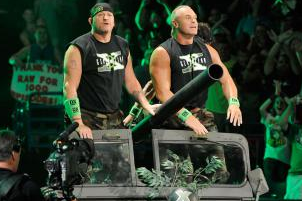 By the end of the opening segment on Monday, my arms were getting tired from holding them above my head in an X for 20 minutes.
This was awesome!
Seeing Triple H and HBK do their stuff is great, but bringing back Billy Gunn, Road Dogg and XPac made it so much better.
Later, the segment with Triple H and Trish Stratus was absolutely hilarious. Amazing flashback, and the interaction with DX only made it funnier.
And if you didn't think that was awesome, well then I've only got two words for ya!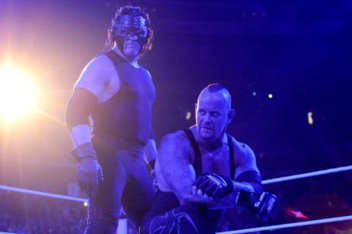 When the six mid-carders came down to the ring and surrounded Kane, you knew something was going to happen.
Gong!
It wouldn't have mattered what Undertaker even did just because his entrance is so amazing.
But then he came down to the ring, did a double Choke Slam with his brother followed with a double tombstone.
Their pose after was really just too perfect.
It wouldn't have been the 1,000th episode without Taker.
Wow.
Didn't see that coming.
The match between Punk and Cena was lackluster. With no new title belt, a SuperCena appearance and a terrible DQ finish, I thought the ending to the 1,000th episode of Raw was going to be terrible.
And then the Rock's music hit and I texted my roommate, "OH YES."
Rock dominated Big Show, dropped the spine buster, started the People's Elbow and... got laid out by Punk! My next text to my roommate was, "YES YES YES YES YES."
Punk, looking ever conflicted, proceeded to mock the Rock with his won set-up and then nailed the GTS and slowly departed with his WWE Championship.
My roommate then responded, "He's going to be the most talked about wrestler for a while now. This was the one big moment he needed to be THE guy."
I couldn't agree more.
CM Punk wasn't having it anymore. No more being overshadowed by the likes of the Rock and John Cena. No more Mr. Nice Punk.
This was truly the most epic moment of Monday night and I really cannot wait for what should be an epic pipe bomb next week.
Awesome. So awesome.