West Virginia Football: Vegas-Style Odds for Each Mountaineers 2012 Game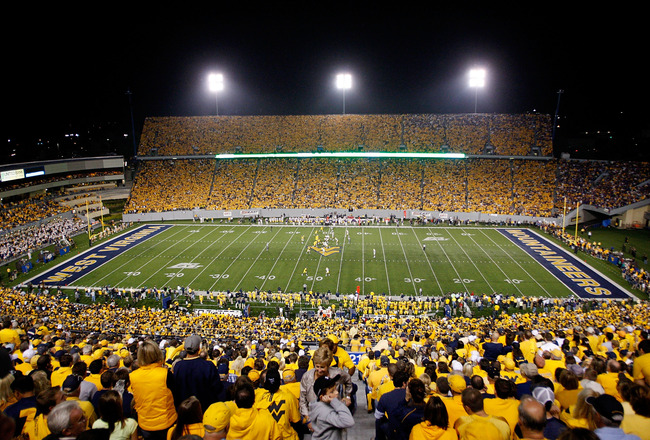 Jared Wickerham/Getty Images
The West Virginia University football team will be facing a new level of competition in the Big 12 Conference this season.
With a rather easy non-conference schedule, the Mountaineers will be tested at home by the likes of Kansas State, TCU, Baylor and Oklahoma. The biggest road test will be against Big 12 powerhouse Texas.
The Mountaineers are projected to finish second in the Big 12 after Oklahoma. Not bad for a team that is new to a conference.
Here's a look at the Vegas odds for each game of the 2012 season.
Marshall Thundering Herd at West Virginia Mountaineers (-20)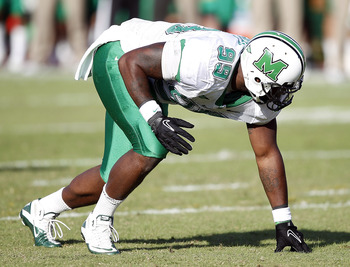 Bob Levey/Getty Images
The annual in-state rivalry will open the season at Milan Puskar Stadium on Sept. 1.
As in most years, The Mountaineers will be the heavy favorites. In fact, West Virginia has never lost to Marshall in the "Friends of Coal Bowl."
WVU was able to win last season after a long rain delay. The game would eventually be called in the Mountaineers' favor.
West Virginia will try to deliver a message to the rest of the country with this game. Expect a dominant offensive performance from Geno Smith and company.
West Virginia Mountaineers vs. James Madison Dukes (FedEx Field)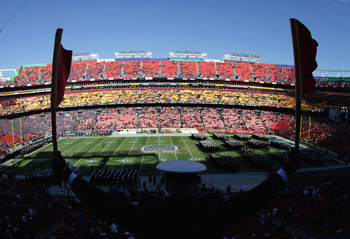 Rob Carr/Getty Images
In a non-conference affair, the West Virginia Mountaineers will battle the James Madison Dukes at FedEx Field, home of the Washington Redskins.
In the only other meeting in 2004, WVU was able to win 45-10. While the Vegas odds are not available for this game yet, the Mountaineers should be the heavy favorites to go 2-0.
Many remember James Madison as the team who knocked off the Virginia Tech Hokies a few years ago. Anything goes in college football, but West Virginia's potent offense should be too much for the Dukes in this outing.
Maryland Terrapins at West Virginia Mountaineers
Rob Carr/Getty Images
West Virginia will take on the Maryland Terps in the third game. The Terrapins were actually a slight favorite in last season's game, but the Mountaineers were able to pull out the victory in Maryland.
This year's game will be at Mountaineer Field. The Mountaineers have had success against the Terps in the last decade. WVU hasn't lost to Maryland in quite sometime. The last two seasons saw the Mountaineer offense put up points against the Terps defense.
WVU will be a heavy favorite against the dying ACC team. Last year, Maryland was 2-10 in a very disappointing season.
Both teams could very well be undefeated at the time of the game as Maryland has battles with William & Mary, Temple and Connecticut. West Virginia will only have played James Madison and Marshall.
Baylor Bears at West Virginia Mountaineers (-11)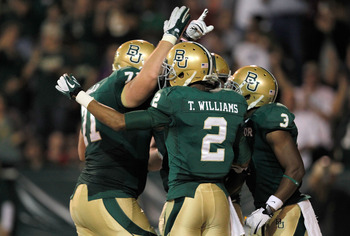 Sarah Glenn/Getty Images
The Baylor Bears will travel to Morgantown in the first Big 12 Conference game of the season. WVU actually marked this game a "Stripe the Stadium" game. That means that half of the stadium will be marked in gold, while the other marked in blue.
WVU will be tested by the tandem of quarterback Nick Florence and receiver Terrance Williams. Both guys are explosive at their positions.
Baylor's offense really skyrocketed last season, led by Robert Griffin III. In the bowl game against Washington, the Bears were able to put up 67 points. That's second best to WVU's 70 points in the Orange Bowl.
To say both teams can put up points is a bit of an understatement. This game will tell a lot for both teams.
West Virginia Mountaineers at Texas Longhorns (-4)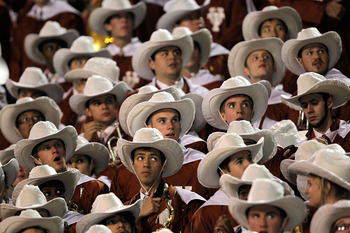 Sarah Glenn/Getty Images
The first true road test for the Mountaineers in the season. It's actually the first away game that's not in a neutral site for West Virginia.
Everyone knows about how Texas is usually a 10-win season team. Last year was a bit of a disappointment, but the Longhorns have one of the fastest and toughest defenses in the country.
WVU could have some troubles with the Longhorns defense in this one. Both teams could very well be undefeated as well going into this one. College GameDay in Austin, anyone?
This game will really be of importance to West Virginia. It will definitely show the nation if it is ready for the adjustment of being consistent against quality teams.
West Virginia Mountaineers at Texas Tech Red Raiders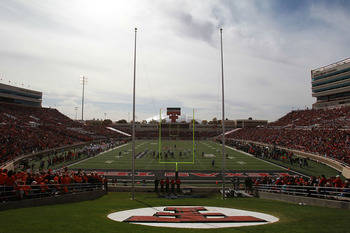 Ronald Martinez/Getty Images
An underrated team in Texas Tech hosts West Virginia in week seven. The Red Raiders have a very fast team that can give the Mountaineers trouble on the road.
WVU will be the favorites in the game, but going into Lubbock with the mindset of a cakewalk will not be in the best interest for the Mountaineers.
Head coach Dana Holgorsen will have a bit of a homecoming when he comes back to Texas Tech, a team that was a top 10 offensive team under his control in 2006 and 2007.
While the Red Raiders only managed to win five games last season, the defense struggled especially. Tech's defense gave up nearly 40 points per game. WVU could have a strong day offensively if that continues.
Kansas State Wildcats at West Virginia Mountaineers (-7.5)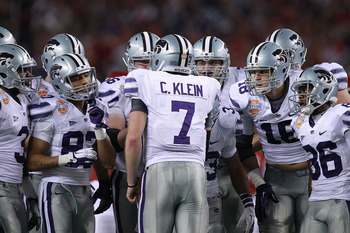 Ronald Martinez/Getty Images
Chances are that another ranked opponent will be coming to Morgantown in Kansas State. Led by quarterback Collin Klein and veteran head coach Bill Snyder, the team from Manhattan will be coming off a 10-3 season.
The Wildcats will be led by Klein, a former receiver. He accounted for 69 percent of the offense last year. With one rushing touchdown, Klein will tie the FBS record for most rushing touchdowns in a career by a starting quarterback.
In 2011, he had 27 touchdowns alone. He's not the only offense, though. Junior running back John Hubert rushed for 900 yards last season.
This game will be a battle of two high-octane offenses. It might be a shootout even.
TCU Horned Frogs at West Virginia Mountaineers (-6)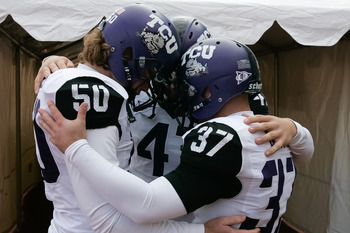 Otto Kitsinger III/Getty Images
A battle of two newly acquired members of the Big 12 Conference. The Texas Christian University Horned Frogs will travel to Morgantown in week 10.
Both teams have had success in their former conferences. WVU was usually in the Big East Championship hunt, while TCU was a three-time Mountain West Conference Champion.
TCU has a complete package of rushing and passing. In fact, the Horned Frogs was the only team in the country with three running backs earning more than 700 yards.
Junior Casey Pachall had a strong season last year with only seven interceptions and 25 touchdowns. He successfully led the team following the departure of Andy Dalton.
West Virginia Mountaineers at Oklahoma State Cowboys (-6.5)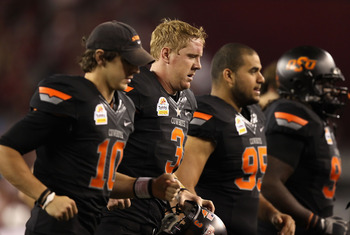 Christian Petersen/Getty Images
The Oklahoma State Cowboys will host West Virginia in Stillwater in week 11. After a Fiesta Bowl win, Oklahoma State will need to regroup with the loss of its quarterback and star wide receiver.
Last year saw the Cowboys go 12-1 under the leadership of head coach Mike Gundy, quarterback Brandon Weeden and receiver Justin Blackmon.
WVU will be tested by the Cowboys and their high-powered offense. West Virginia must attack the defense and be able to match Oklahoma State offensively.
Oklahoma Sooners (-4) at West Virginia Mountaneers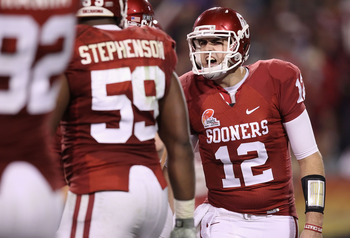 Christian Petersen/Getty Images
The biggest game of the season in Morgantown. Oklahoma will most likely be a top five or top 10 program at this stage of the season.
The Mountaineers will have their annual "Gold Rush Game" against the Sooners in mid-November.
Oklahoma will be led by a potential Heisman candidate in Landry Jones. He's been very consistent in each season he has started. West Virginia can't allow Jones to beat them by himself.
Expect the best atmosphere at Milan Puskar Stadium in this one. This game could be a big factor in terms of Big 12 standings.
West Virginia Mountaineers at Iowa State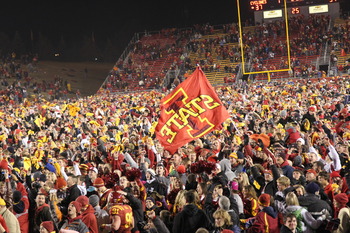 Reese Strickland/Getty Images
Remember that picture? No? Well, it was the upset victory over the No. 3 Oklahoma State Cowboys last season. In fact, it was the only loss the Cowboys saw.
Yes, that's right. The Iowa State Cyclones shocked the world. It is not a perennial powerhouse in the Big 12 by any means, but it is capable of an upset against any team.
WVU will be traveling to Iowa to face the Cyclones in week 12. The Mountaineers can't simply overlook Iowa State, especially after last season.
Even though Iowa State was very inconsistent, WVU must come out and attack the defense in the air. Quarterback Geno Smith should be able to find his receivers throughout the game.
Kansas Jayhawks at West Virginia Mountaineers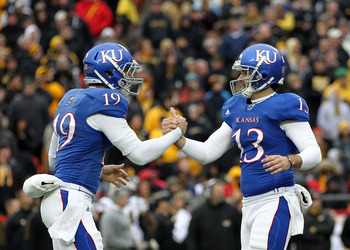 Jamie Squire/Getty Images
The Kansas Jayhaws travel to Morgantown for the last game of the season. Kansas, a school more known for hoops than football, will be hoping to have a different type of season than last year.
The Jayhawks have been struggling in football for sometime now. The Mountaineers should be a heavy favorite in defeating the team in Lawrence.
Led by Charlie Weis, the Jayhawks hope to have new success under Weis. It will be a tough task to immediately become competitive, but if anyone can do it, Weis can.
Keep Reading

WVU Football: Like this team?