Hope Solo, the goalkeeper for the US women's soccer team, tested positive for a banned substance earlier this month.
However, she claimed she made an honest mistake with a medicine she was taking, and the U.S. Anti-Doping Agency believed her. She'll be a full participant in the 2012 London Olympics.
But, just because she's been cleared to play, it doesn't mean she's been cleared of all guilt in the court of public opinion.
It's hard to say why the USADA chose to believe Solo's story when other athletes with similar excuses have had to face their full punishments.
For Solo though, the past is the past, and she needs to turn her full focus to the Olympics, where Team USA is trying to avenge a loss in the World Cup final with an Olympic gold medal.
Team USA opens up the Olympic tournament against France on Wednesday, a tough team to face in the first game.
If Solo's mind is elsewhere, the team could find itself in an early hole that will be tough to dig out of.
However, Solo should know that this tournament will be her best shot at redemption. If she shows that she hasn't lost a step and comes out with a dominant performance against France, it'll help put the failed test behind her.
The more clean sheets she piles up in the Olympics, the more willing the public will be to believe she wasn't taking performance-enhancing drugs, forget about the test and move on.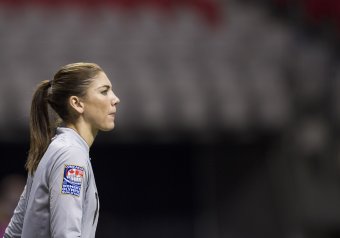 Rich Lam/Getty Images
But, if she struggles, there will be plenty of fans and media outlets speculating that she was indeed taking a PED and is struggling without it in her system.
Solo shouldn't have any trouble silencing critics in group play of the Olympic tournament though. The Americans have a relatively easy road to the knockout stages in Group G, facing France, Colombia and Korea DPR.
Solo will have a tough road to redemption ahead of her in the knockout stages of the tournament, but she'll have plenty of motivation to do everything to help her team succeed.
Winning a gold medal will put all the worries about the failed drug test behind her and will also help ease America's pain after an excruciatingly tough loss to Japan in the 2011 World Cup.