Notre Dame Football: Analyzing Andrew Hendrix's Strengths and Weaknesses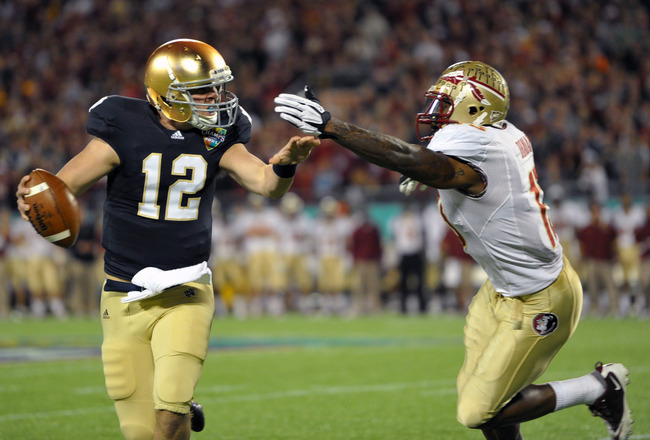 Matt Cashore-US PRESSWIRE
In the second part of a four-part series, I will be analyzing Andrew Hendrix's strengths and weaknesses.
The redshirt sophomore is in the midst of a quarterback controversy with incumbent starter Tommy Rees, Gunner Kiel and Everett Golson.
What advantages does Hendrix have over his competition?
For the answer to that question, let's analyze his game.
Enjoy.
Strength: Mobility
The most glaring advantage that Andrew Hendrix has over Tommy Rees is his mobility.
Brian Kelly has stated time and again that his starting quarterback needs to have "escapability." Andrew Hendrix offers that and more. Take, for instance, his 78-yard run against Air Force last season (which begins at the 3:12 mark of the video provided).
If you're looking for more than just one highlight, check out Hendrix's bottom line from the 2011 season.
Hendrix finished the 2011 season with 162 net rushing yards on 25 carries, compared to Tommy Rees' -56 net rushing yards (yes, negative yards) on 31 attempts.
Hendrix need not be worried about injury, either. The Cincinnati native is about as durable as they come, having packed on 220 pounds to his 6'2" frame.
Weakness: Reading and Reacting to the Blitz
This is an understandable weakness, considering that Hendrix has been limited in game action.
Against Stanford last season, head coach Brian Kelly chose to play Hendrix for the duration of the second half, which gave fans enough film to pick apart his game.
That film shows that Hendrix's most glaring weakness is his ability to read and react to pressures brought by the defense.
The 5:10-5:20 mark of the video provides an excellent example.
Hendrix is lined up in the shotgun against a four down linemen, two high safety look from Stanford. Prior to the snap, both the outside linebacker and middle linebacker move up to the line of scrimmage, with the cornerback covering Roby Toma playing up close.
Hendrix fails to recognize the Cardinal's tactic of bringing extra pressure from his left, resulting in a seven-man rush and another sack in the books for Stanford.
Strength: Arm Strength
Aside from his mobility, Andrew Hendrix's greatest strength is his arm strength.
Hendrix has a cannon for an arm, and delivers the ball on what this writer prefers to call a "frozen rope." That tremendous arm strength is a testament to Hendrix's days as a pitcher at Cincinnati's Moeller High School, which Eric Hansen of the South Bend Tribune detailed in an article published earlier this week.
Hendrix's powerful arm can be seen at the 1:17 mark of the video provided, in which he fires the ball to a well-covered Michael Floyd on the near sideline for a 20-yard gain.
Hendrix places the ball high into the outstretched arms of Michael Floyd, a spot in which only Floyd could have touched the ball. Not many quarterbacks have the ability to make that type of throw.
Weakness: Accuracy
While he does have an extremely powerful arm, Hendrix struggles with the accuracy of his throws.
He tends to leave the ball high, oftentimes leaving his receivers vulnerable to punishing hits from defenders in coverage.
In this example, Hendrix misses a wide open Michael Floyd for what would have been a catch and run, likely leading to a crucial touchdown for the Fighting Irish.
At the 1:36 mark of the video, Floyd is lined up in one-on-one coverage, and beats the cornerback off the line of scrimmage. Hendrix recognizes the favorable coverage, but misses a wide-open Floyd.
Overview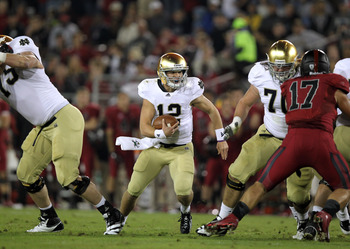 Ezra Shaw/Getty Images
The video I provided for analysis was the second half of Notre Dame's eventual 28-14 loss to the Stanford Cardinal.
Hendrix took every snap of that second half against a Cardinal defense that was one of college football's top five units. Considering that he was able to lead his squad to two scores speaks to his ability to lead a football team.
Also consider the fact that the second half of that game was the first time in his career that he managed multiple drives in a game. Now imagine what he would be capable of should Brian Kelly give him more first-team reps in practice.
Food for thought.
Keep Reading

Notre Dame Football: Like this team?