Rick Nash to the New York Rangers: Is Shane Doan Next?
Use your ← → (arrow) keys to browse more stories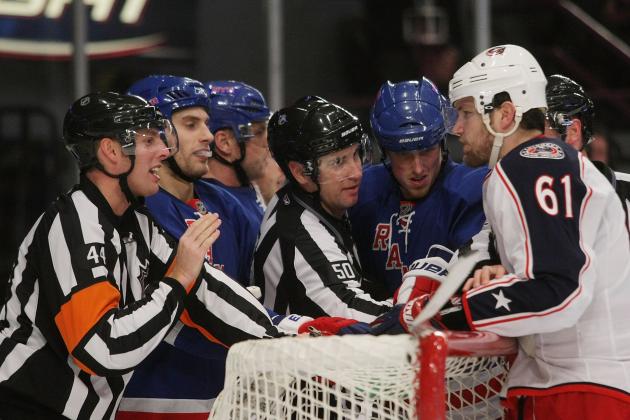 Bruce Bennett/Getty Images

There is a new sheriff in town.
His name is Ranger Rick.
The Rick Nash saga has finally come to a conclusion (via ESPN). Howson and Sather finally came to terms that sent Rick Nash, minor league defenseman Steve Delisle, and a conditional third round draft pick headed to the Rangers. In return, the Columbus Blue Jackets receive Brandon Dubinsky, Artem Anisimov, Tim Exrion, and a first round pick.
The Rangers wanted an elite scorer. They got exactly that in Rick Nash and did so without breaking the bank. Glen Sather was adamant on not including his "kids" to obtain Nash. While Anisimov could be considered a kid, he has had ample opportunity to prove his worth to the team. Artem's failure to impress the front office ultimately ended with his departure.
To Columbus:
Brandon Dubinsky disappointed virtually everyone last year, from fans to front office. Dubinsky, last year, failed to meet expectations earning himself on the trading block. His cap hit heavily outweighed his production, in return limited the amount of teams taking interest in Dubinsky. The Rangers finally found a suitor. The Columbus Blue Jackets were willing to take a risk.
Artem Anisimov has great skills. In his three years with the Rangers organization, Anisimov failed to elevate his game. He remained consistent with his rookie season contributions, never progressing into the type of player the Rangers thought they drafted. This move to Columbus could spark the fuse that allows Anisimov to hit second gear.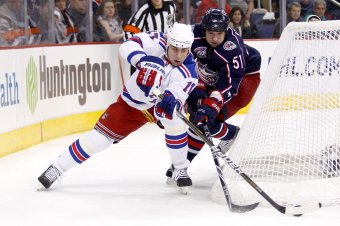 John Grieshop/Getty Images
Tim Erixon, another young prospect, could have been the deciding piece for Howson. The Rangers have solid depth of defensemen waiting for the opportunity to play in the NHL. Erixon did see some limited time in New York, but the move to the Blue Jackets could give Erixon more time in the pros.
First Round Draft Pick's have an undetermined value to them. They could translate into a franchise player, but have the potential to turn into a bust. The first round draft pick Columbus received in the deal most likely will turn into a late round pick.
To New York:
Rick Nash has been among the league's elite goal scorer over the last eight years. Nash has played the last nine years with a Columbus team that has lack a solid supporting cast and managed to average 32-plus goals a season. Playing alongside a top set up man like Brad Richards should help Nash be able to once again find himself a 40-plus goal scorer.
Steve Delisle has yet to see time in the NHL. Offensively there isn't much upside to him, but his style of play might have drawn some interest from the Rangers. Delisle could turn into a seventh defenseman for the Rangers, as they continue to develop their young draft picks.
The conditional third round pick goes back to Columbus if the Rangers make the Stanley Cup Finals. Columbus has been in the league's cellar for several years, so this pick has potential to turn into a decent draft pick.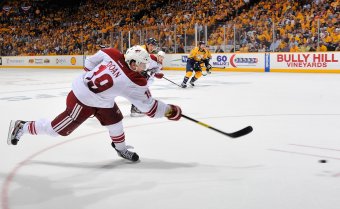 Frederick Breedon/Getty Images
Overall the Rangers really took advantage of the deal. They did part ways with a couple guys who have the potential to develop into really good hockey players in the future, but getting one who has been among the best goal scorers in the league for years is exactly what the Rangers needed.
The Rangers lost a power forward, a skill player, a defensive prospect, and a draft pick in the deal. They managed to replace most of what was lost in one guy. They addressed what Nash couldn't replace with additional pieces by adding a draft pick and a minor league player who just might need time to develop.
The New York Rangers' Future:
The New York Rangers have made it clear that their scoring and powerplay were subpar over the last couple of season. Because of this the Rangers were eyeing Rick Nash since the trade deadline of last year. Although it took some time to finalize the deal, the Rangers might have just solidified their top spot in the East with this trade. The Rangers managed to compliment their solid shut down defensive with a dangerous offense.
A big misconception that many had was Nash's $7.8 million cap hit and how it would prevent the Rangers from signing the second wave of their youthful core. Now this might hold true to a point, Glen Sather managed to counter by neutralizing Nash's cap hit and sent $7.825 million back to Columbus. Thus allowing the Rangers the potential to re-sign the core of the team when the time comes.
The Rangers have made it clear that they were interested in both Rick Nash and Shane Doan (via Larry Brooks of the New York Post). Sather announced he believed he would be able to land both players. Phase one is now complete as Rick Nash has been acquired via trade by Sather. Next in line, luring Shane Doan out of Phoenix and dress him up in Broadway Blue.
If New York lands Shane Doan, they could become the favorites to win the Stanley Cup. Shane Doan would bring in a two way style of play. He would contribute to the Rangers with secondary scoring and additional leadership. Doan in New York after the Nash deal might be the icing on the cake.