5 Weaknesses That Could Cost Team USA the Olympic Gold in Women's Gymnastics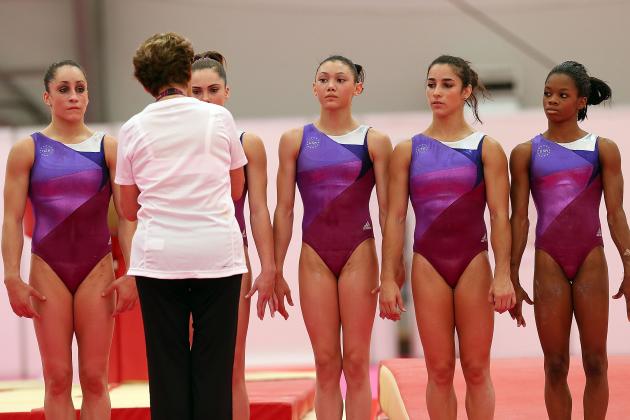 Ronald Martinez/Getty Images
The U.S. women's gymnastics team receiving the attention of team co-ordinator Marta Karolyi during a training session in London. From left to right: Jordyn Wieber, McKayla Maroney, Kyla Ross, Aly Raisman, and Gabrielle Douglas
As reigning world champions and with a line-up that many pundits consider to be America's best in history, Team USA is the big, heavy favorite for gold in London.
But that doesn't mean they don't have an Achilles' heel or are impervious to faltering. In the following slides, we will look at five key weak areas of the Americans and how each one—or a combination of any of them—could cost Team USA the gold.
It is, after all, theirs to lose.
Begin Slideshow

»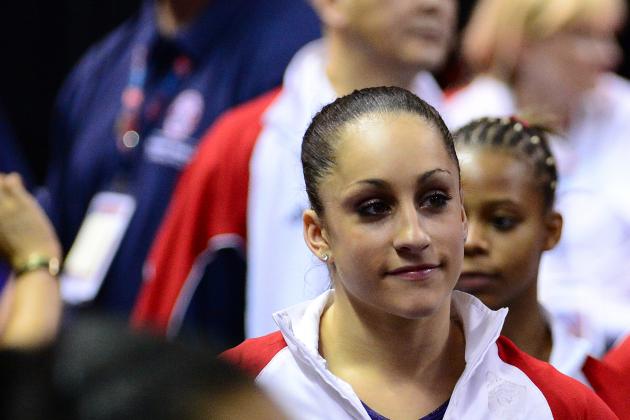 Kyle Terada-US PRESSWIRE
Jordyn Wieber looking on as Gabby Douglas receives congratulations for her Olympic Trials win
This is not just about the rivalry between Jordyn Wieber and Gabby Douglas for all-around glory—one that has only intensified since the Olympic Trials and Douglas' win over the reigning world champion—but that's one place to start.
Sure, it's natural if close competitors aren't exactly the best of friends, but there's an arrogance in Douglas' manner and an 'it's me against them' attitude that does little for the team's camaraderie. Take this gymnastike interview after the American Cup, where Douglas was an alternate but had a higher (unofficial) total score than Wieber. (Jump to 1:09 where she talks about how great it was "just to get my name out there and represent me.")
Even more telling is this short clip from NBC Olympics, where Douglas talks about her lead after Day 1 at the Visa Championships and how she wasn't surprised at all. "I'm a winner and I'm going into war and this is a battle," she adds.
You certainly don't hear that from the other gymnasts.
On Wieber's end, there is something of a 'Queen bee' clique that includes McKayla Maroney and Aly Raisman (with Kyla Ross as an honorary member) which is not wrong in any way, but again, it doesn't help build team unity. The girls' Twitter and Instagram feeds are not conclusive but are, to an extent, revealing—most group pictures and mentions don't include Douglas (though this seems to have changed a little ever since people started commenting about it on the USA Gymnastics Facebook page).
Despite the Karolyi national training camps, the U.S. gymnasts are unlikely to have the same team strength that centralized training (employed by the Russians and Romanians, especially) breeds. The Americans will almost definitely be grabbing lots of individual hardware in London, but it remains to be seen whether their collective desire for a team win is as great as their opponents'.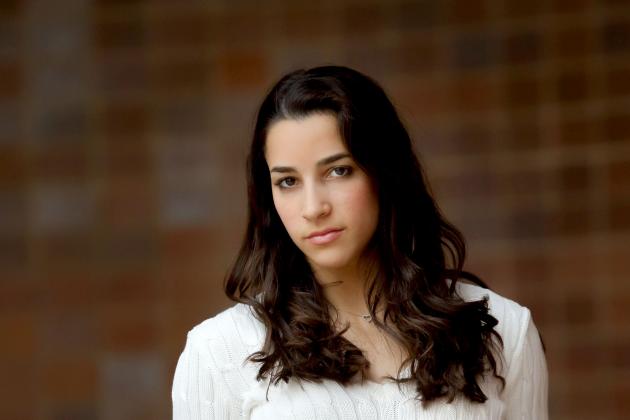 Kevin Jairaj-US PRESSWIRE
Aly Raisman poses for a shoot at the 2012 Media Summit
Media conferences, photo shoots, endorsement deals, and on to the next TV appearance, please.
It seems the U.S. gymnasts have their schedules packed with more of those non-training activities than any of the other teams, what with the hype around the reigning world champions.
As Jordyn Wieber's coach John Geddert wrote in his blog, these take up more time than anticipated and can prove to be disruptive. Going into the London games, three of the five girls in Team USA are professional athletes with the additional endorsement obligations on top of all the pressure to do well at the Olympics. Not so for most of the other top teams.
Yet something that could potentially be more distracting than the publicity and attention is right in the hands of the athletes: their social media accounts, all synced on their phones. As Jonathan Horton pointed out in a USA Today article, Twitter, in particular, has become a way for athletes to build their "brand."
Even though the women's team isn't as blatant or aggressive with soliciting followers on Twitter as some of the men's team members are, they sure are a lot more active on those platforms than gymnasts from other countries. And when every bit of focus is needed for the big moment, a little less time thinking about posting pictures of a new competition leotard (or some pouty kisses) could be useful.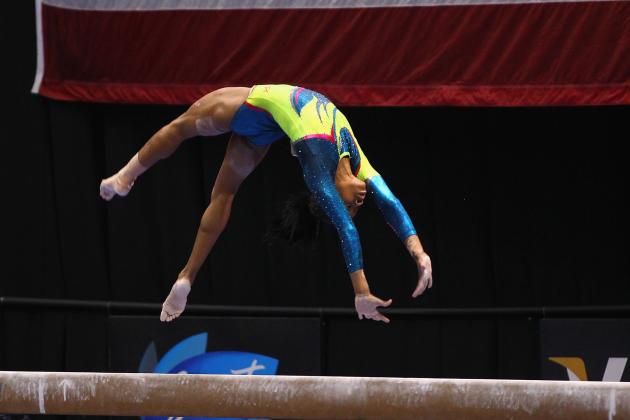 Dilip Vishwanat/Getty Images
Gabby Douglas on beam during the 2012 Visa Championships
Gabby Douglas has a very impressive overall difficulty score on all four events, and on paper, her beam looks great.
But she has struggled meet after meet to produce a clean routine that would do justice to her high start value, one that currently ranks among the top 10 worldwide. On Day 2 of the 2012 Visa Championships, Douglas fell on beam, losing her Day 1 lead to Jordyn Wieber. Wobbles and balance checks also marred her Olympic trials performances, and of all the apparatuses, beam is her weakest.
Given her higher start value, Douglas does have the potential to outscore teammates Kyla Ross and McKayla Maroney, giving her a spot on the U.S. women's beam line-up during team finals.
But will Marta Karolyi take that risk, and if so, will it pay off?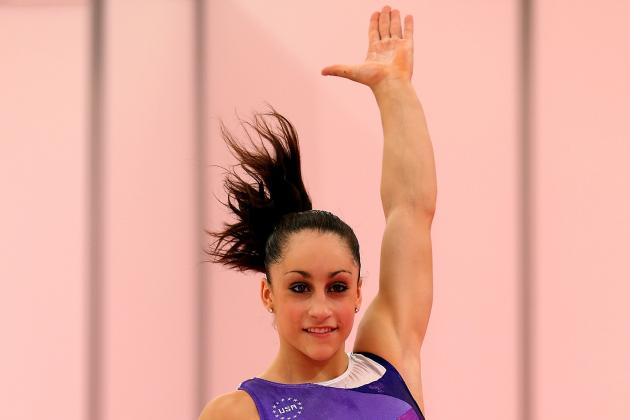 Ronald Martinez/Getty Images
Jordyn Wieber during a recent Olympics training session in London.
She is the world all-around champion, a two-time U.S. senior national champion, a three-time American Cup champion.
Jordyn Wieber is also the only one among the U.S. women's five gymnasts who has consistently been in the top three on all four events. With Gabby Douglas' beam troubles and Kyla Ross' beautiful clean lines on the same event, it's highly likely the team's final line-up will be as follows:
Vault: Maroney, Wieber, Douglas
Bars: Douglas, Ross, Wieber
Beam: Raisman, Wieber, Ross
Floor: Raisman, Wieber, Douglas
Should anything happen to Wieber—injury, sickness, or simply nerves—the team will suffer significantly. Yes, the Romanian team is in somewhat of a similar situation with their star, Larisa Iordache, but not so the Russians or the Chinese, both of which are also in contention for the team title.
Wieber has proven to be consistent, almost to the point of being machine-like, but we're talking about 'what-ifs' here and Team USA would look to be in trouble if a 'what-if' took Wieber out of the picture.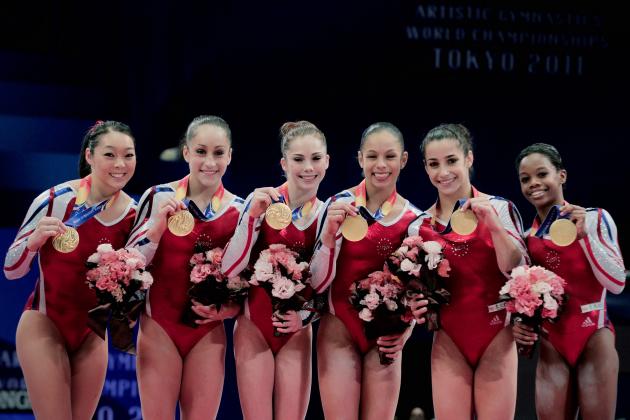 Lintao Zhang/Getty Images
Team USA, 2011 World champions
Team USA were the world champions in 2003, but had to settle for silver in Athens a year later. The upset was replayed in 2008, when the Americans were once again dethroned in the Olympic year.
Was it the pressure from the hype, the attention, the expectations? Was it overconfidence?
Will it happen again in London 2012?
As far back as the 1970s, no reigning women's world championship team has gone on to defend their position at the Olympics the year after. So whatever it is, the empirical evidence isn't looking very good for the Americans.