Cincinnati Bengals: 5 Potential Sleepers to Watch for in Training Camp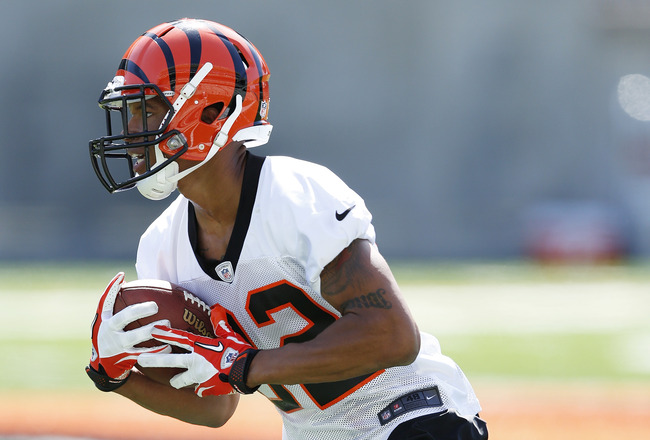 Joe Robbins/Getty Images
Everyone loves a good story about a sleeper that winds up succeeding in the NFL. Guys that roll into camp with little to no chance of starting that wind up stars—well, that's what we've come to love.
This year, things are no different, as there are plenty of guys preparing to take the field with not a lot of hype. Personally, I believe that having no pressure at all should be your motivation to come out on fire.
In Cincinnati, the team has really started to come together nicely, so there are a lot of guys who could potentially fulfill this sleeper role. Who are they?
Brandon Thompson, DT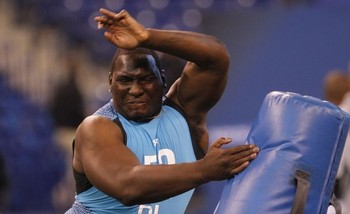 The very sight of the giant man scares me.
His college numbers wouldn't indicate how massive of a threat Brandon Thompson is, but that's mostly because he was good enough to be double-guarded. He was drafted to be a premier run-stopper.
Given how powerful Thompson is, he has never had a problem breaking into the backfield to get to runners—the same can't be said of the passing game. But what he lacks there, he certainly makes up for against the run.
Right now, the defensive line is loaded beyond belief and the feeling is that Thompson will probably be on the outside looking in. Domata Peko and Geno Atkins are guaranteed playing time, so Thompson will be competing with a more agile Devon Still and an experienced Pat Sims.
Watch for Thompson, though—he wasn't taken for nothing.
Brandon Tate, WR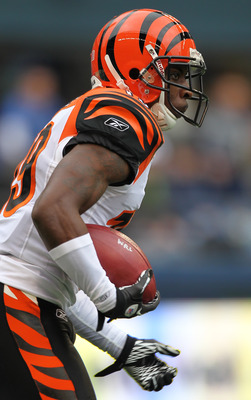 Otto Greule Jr/Getty Images
Now, I call Brandon Tate a sleeper despite the fact that he's been competing for the No. 2 receiver job with the rest of the receivers. Why?
Well, Tate never really has been a great receiver—and he played with Tom Brady. There's no doubt he's very agile and quick—that's what makes him good on special teams. As a receiver, I'm not convinced he has the hands for the job.
While it seems he's begun to slip out of the running, it's still possible that we see Tate on the field a lot more than we would have expected a year ago. It seemed a foregone conclusion that Sanu would take it (at least to me), but I give Tate credit for his effort so far.
A few good performances in training camp could put him on the map.
Dan Skuta, LB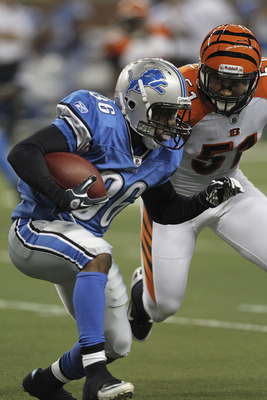 Leon Halip/Getty Images
Dan Skuta isn't exactly a no-name player in Cincinnati, but he really isn't on the map either. In 16 games last season, Skuta only recorded 31 tackles and a half-sack—but he was mostly playing behind the ever under-achieving Manny Lawson.
This year could be a make-or-break season for Lawson, and if he doesn't come out impressing some people in training camp, you know Skuta will be waiting. Entering his fourth season from Grand Valley State, I've noticed that Skuta hits hard and he can read a passer.
This makes him good to drop back into coverage or even blitz. The hitting hard thing is good for highlights, but it remains to be seen how he does with tackling in the open field.
With Lawson potentially having to prove himself, watch for Skuta to make a statement in training camp.
Marvin Jones, WR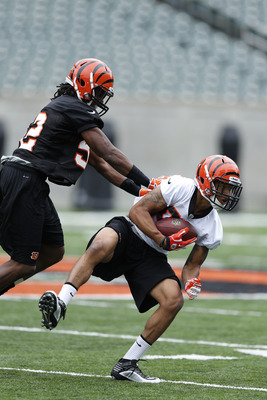 Joe Robbins/Getty Images
I've been noticing that as we get closer to training camp and the start of the season, Marvin Jones has been steadily climbing up the ranks of Cincinnati receivers.
Taken in the fifth round of the 2012 draft, Jones certainly has a lot of upside. He's got stellar hands and a good mind for football. Apparently, he was one of the better route-runners in the draft.
His downfall has been that he's not going to be the fastest guy on the field, but that can certainly be overcome. There is a lot of competition ahead of Jones, given the return of Jordan Shipley, the drafting of Mohamed Sanu, and then Armon Binns and Brandon Tate.
Jones is good enough to overcome the odds, and with a good training camp performance, he can work his way into Jay Gruden's good graces. He may even be the sleeper of the NFL season.
Vontaze Burfict, LB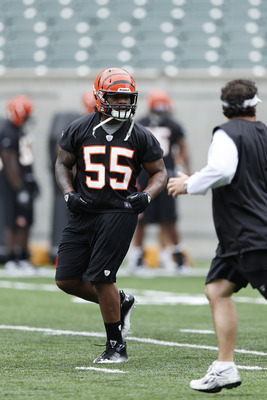 Joe Robbins/Getty Images
Oh, how much of a steal this could wind up being. I'm not making any bold predictions for Vontaze Burfict, but how awesome would it be if he came out firing?
After being a highly-touted draft prospect throughout his Arizona State career, Burfict began struggling with his anger. Multiple personal foul penalties and ejections ruined his value, and he followed that up with a dreadful NFL Combine performance.
Burfict was once thought to be a sure-fire first-round pick, but went completely undrafted. Here in July 2012, he's battling to be Rey Maualuga's backup, but given Maualuga's struggles against the pass, there is certainly room for him to be passed.
Maybe not all eyes will be on Burfict, but you can bet that a big chunk of them will be. This could be the steal of the century so far—with little risk in making the effort.
Keep Reading

Cincinnati Bengals: Like this team?