St. Louis Rams: 5 Players Who Cannot Get Hurt in 2012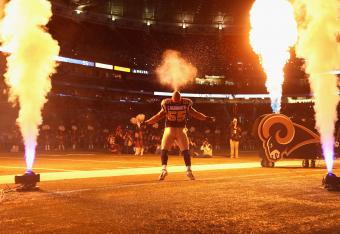 James Laurinaitis
Dilip Vishwanat/Getty Images
Injuries for the St. Louis Rams, and most teams around the NFL, will play a crucial role in regard to overall team success during the 2012 season. Sure, vastly talented teams like the Green Bay Packers of 2010 can occasionally overcome a significant number of injuries and still reach their ultimate goals. In fact, the Packers of that aforementioned season saw starters miss a league-high of 91 games to injury.
Most teams, however, cannot overcome widespread injuries to find team success. What the Packers did is a rarity and certainly an exception to the rule, even for talent-laden teams, much less teams with marginal talent like the 2011 Rams.
Last year, the Rams lost 10 cornerbacks for the season and sent key players like Ron Bartell, Bradley Fletcher, Jerome Murphy, Jacob Bell, Mark Clayton, Jermelle Cudjo, Michael Hoomanawanui, Austin Pettis, Rodger Saffold, Jason Smith, Danny Amendola and Greg Salas to the injured reserve.
They also saw several other vital players, like Steven Jackson and Sam Bradford, miss games to injury or play at far below 100 percent.
St. Louis does look to be more talented than a year ago and possesses a roster that has been turned over. In fact, as of June 4 the Rams were the youngest team in the league. Last season, the Rams had one of the oldest rosters.
Hopefully, the new crop of players will be a healthier bunch and most of the returnees can remain healthy, too.
Of course, no team will go unscathed or untouched by injury. The key for St. Louis, though, and the vast majority of teams, is keeping that number as low as possible.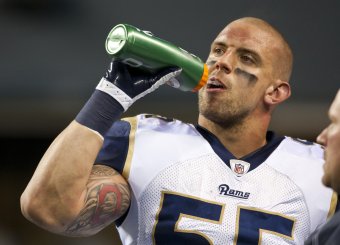 Jay Drowns/Getty Images
Another key, perhaps even more pressing, is in keeping several key cogs, at areas with little depth, healthy throughout the year.
With that said, here are the players I feel the Rams must keep healthy to succeed in 2012.
James Laurinaitis, Middle Linebacker
This was the easiest call of all.
St. Louis has nothing proven behind James Laurinaitis, and he is truly the leader and quarterback of the defense.
He absolutely must remain healthy if this defense is going to make a couple of steps forward in the coming campaign.
Laurinaitis played well enough to earn a Pro Bowl berth last season, but when playing on a 2-14 team with a porous defense, it is not surprising that he was snubbed.
Laurinaitis is the only sure thing St. Louis has at linebacker. It is imperative that the Ohio State product remains healthy in 2012.
Sam Bradford, Quarterback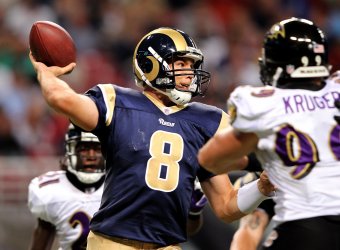 Jamie Squire/Getty Images
Although Sam Bradford remained off of the injured reserve, he was a shell of himself after suffering an ankle sprain in the middle of October and was virtually out of commission by the end of the season.
Bradford's high ankle sprain, first diagnosed as day-to-day, lingered throughout the entire season and in fact grew worse.
Even though I like Rams backup quarterback Kellen Clemens more than most, and love his familiarity with Brian Schottenheimer's offense due to their dual stay with the New York Jets in the Big Apple, he is not as talented as Bradford and would not consistently offer the team as good of a chance to win each week.
Bradford, unlike Clemens or anyone else on the roster, has the arm to make all the throws, opening up more dimensions and potential options for offensive coordinator Brian Schottenheimer.
Schottenhiemer is excited about the opportunity to work with Bradford and believes he can be special, as shared in this piece at stltoday.com:
I've been around a lot of young quarterbacks. I think he has a chance to be really special. I'm thrilled to have a guy like that to build around.
Make no mistake, if the Rams have any chance of being special in 2012, the former NFL Offensive Rookie of the Year must remain on the field.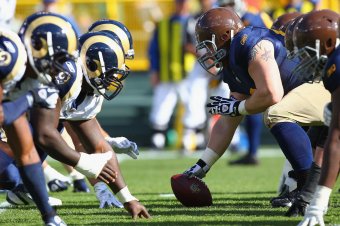 Dilip Vishwanat/Getty Images
For this team to reach its optimal level of play, Bradford must stay healthy and play good football.
Scott Wells, Center
As is the case at middle linebacker, the Rams have little, if any, proven starter level depth at center.
For not only what Scott Wells does between the whistles (and he graded out as the Green Bay Packers' best offensive lineman the last two seasons) but for what he does pre-snap, it is crucial that he stay on the field.
Wells will make pre-snap adjustments, something that should help Bradford immensely. Last season, Bradford was responsible for this duty, but with Wells on board, he will have one less important thing to worry about.
Wells, a Pro Bowl player last season, should help to solidify this line. His veteran presence and all-around abilities (as covered above) should make the entire unit better.
Cortland Finnegan, Cornerback
Nobody else knows the Jeff Fisher defense like Cortland Finnegan, the former Tennessee Titans corner and 2008 Pro Bowl honoree.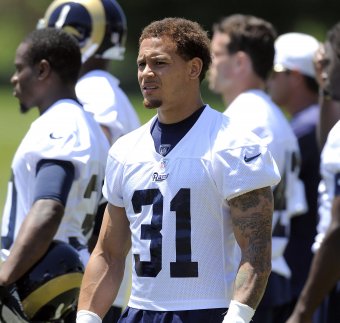 Jeff Curry-US PRESSWIRE
Finnegan will help set the tone within the Fisher defense and help instill an aggressive, feisty attitude within the young cornerbacks around him.
Not only that, but his excellent play will be a critical part of the success of this defense. According to Pro Football Weekly via this piece, Finnegan was the league's third best all-around corner in 2011.
The Rams have struggled mightily against the run of late, finishing 31st of 32 teams last season in yards allowed per game and yards per rush. Finnegan will help there, too, as he was rated as the NFL's second best corner versus the run last year.
St. Louis does indeed have enhanced depth at cornerback, but the other Rams corners either have had past injury concerns (Bradley Fletcher and Jerome Murphy) or are rookies (Janoris Jenkins and Trumaine Johnson).
Bottom line: Even with all the talent here, Finnegan is the only sure thing for the Rams at CB.
Rodger Saffold, Left Tackle
Rodger Saffold had a very strong rookie season that left the Indianapolis Colts lamenting passing up on the University of Indiana product.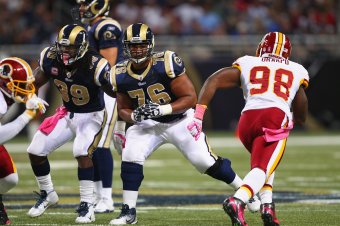 Dilip Vishwanat/Getty Images
However, Saffold was banged up from the get-go last season and struggled with injuries (and thus, reduced play) before landing on injured reserve in November.
You can bet that the Rams will pound the rock this season, and thus will run quite a bit of play action. It is vital that the Rams protect Bradford's blind side in these situations (and consistently in all passing situations, for that matter).
Saffold is capable of doing so, and it will be very important that he does just that.
For years, Kurt Warner knew, if nothing else, left tackle Orlando Pace literally had his back. If Saffold can play in a similar manner, it will make for a more comfortable and better Bradford this fall.
This article is
What is the duplicate article?
Why is this article offensive?
Where is this article plagiarized from?
Why is this article poorly edited?

St. Louis Rams: Like this team?