Olympic Basketball 2012: USA vs. Spain Preview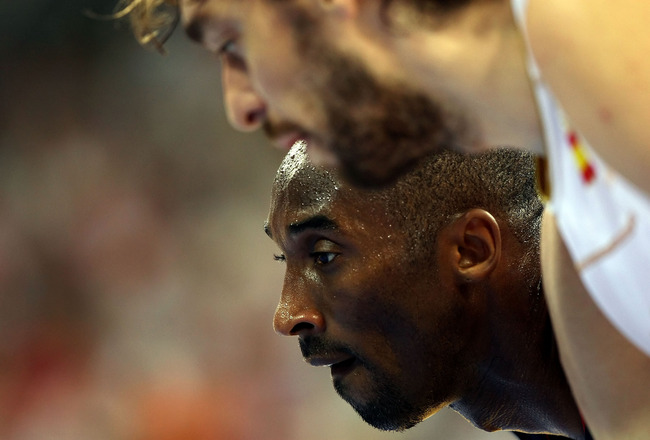 Jed Jacobsohn/Getty Images
The last time USA and Spain met in the Olympics, the United States pulled out a thrilling 118-107 gold-medal-game victory, while receiving a tremendous fight from the determined Spanish squad.
This time around, the Spaniards are looking to win gold and will work to use their size against the Americans. The Spaniards are led by NBA stars Pau and Marc Gasol, who present tremendous size, strength and rebounding ability, areas the smaller U.S. squad don't excel in.
The Americans are poised to win another gold medal with help from three of the game's best players: Kevin Durant, LeBron James and Kobe Bryant. Coach Mike Krzyzewski is banking on his smaller but more athletic unit to pressure the basketball, causing havoc for opposing teams all game long.
With an international tune-up game before London 2012 scheduled for Tuesday, now is the time to take a closer look at the matchup between the No. 1 and No. 2 ranked teams in the world.
Here is a breakdown of Team USA vs. Team Spain as they prepare for the 2012 Olympic Games.
Point Guard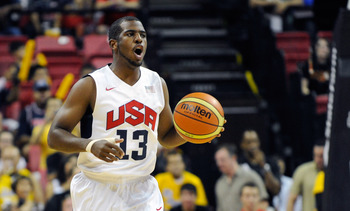 David Becker/Getty Images
Team USA: Chris Paul
Last season Chris Paul put on an MVP-caliber performance helping the Los Angeles Clippers reach the postseason. Paul shouldered most of the load in Los Angeles, proving that he is still the best point guard in the game.
Paul averaged 20 points, nine assists, four boards and a league-leading three steals per game. The Spanish will have trouble against the agile and incredibly smart point guard who finds ways to weave through the defense to set up his teammates for easy buckets.
Team Spain: Jose Calderon
Jose Calderon is a tremendous point guard who plays an excellent European style of basketball for the Toronto Raptors. Calderon averaged over 10 points, eight assists and one steal per game last season.
He is a very good outside shooter (37 percent on three-pointers) who does an excellent job of breaking down the defense to find the open shooter. The issue with Calderon is his defense, or lack thereof, which will be exposed against his tough American counterparts.
Advantage
If Ricky Rubio were healthy, this may be a different discussion, but take Chris Paul over Jose Calderon any day.
Shooting Guard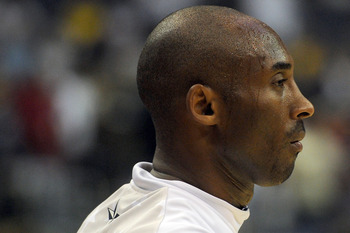 Patrick Smith/Getty Images
Team USA: Kobe Bryant
Even at 33 years old, Kobe Bryant is playing at his best. In his most recent game, Kobe combined with Kevin Durant to score the team's first 19 points en route to a 86-80 victory. Kobe understands the importance of the Olympics and called out Team Spain for pretending to not take its Olympic tuneup more seriously.
Last season, Kobe averaged 28 points per game, second behind Kevin Durant by a slim margin, with five rebounds and assists per game. He is ready to carry Team USA to another gold medal in what could be his last Olympics.
Team Spain: Juan Carlos Navarro
As the captain of this loaded Spanish squad, Juan Carlos Navarro is quite the talent who plays professionally for FC Barcelona Basquet. Navarro played one season in the NBA in 2006-2007 and averaged 10.9 points per game off the bench.
At 6'2", he is a tad undersized for the shooting guard position, but he makes up for it with quickness and shooting touch. In the 2010 World Championships, Navarro averaged 15.5 points per game while shooting 45 percent from behind the arc.
Advantage
The Black Mamba will expose Navarro's short stature and create his own shot at will for Team USA.
Small Forward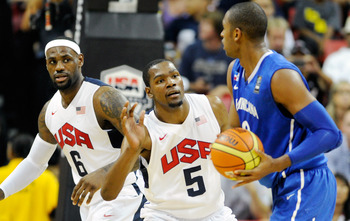 David Becker/Getty Images
Team USA: LeBron James and Kevin Durant
Regardless of who starts for Team USA, the small forward position will be played by one of the best in the game.
Let's start with LeBron, the defending NBA Champion and Finals MVP who played the best basketball of his career in the postseason. LeBron averaged 30 points and nine rebounds per game, showcasing his ability to take over games when his team needed it most.
You know your team is loaded at a position when the NBA's leading scorer, Kevin Durant, is coming off the bench. Kevin Durant has shown an excellent touch from behind the arc so far this summer and will use his 6'10" frame to create easy opportunities at the basket.
This formidable combination of forwards is the most unstoppable duo in Olympic basketball.
Team Spain: Rudy Fernandez
Rudy Fernandez's game is tailored perfectly for Olympic competition. In the 2008 Olympic Final, Fernandez came off the bench and caught fire, scoring 22 points on 5-of-9 shooting from behind the arc.
During his four-year career in the NBA, Fernandez was considered a legitimate shooting threat, shooting 36 percent from three in his career. The key for the 6'6" swingman is whether he gets momentum early. He could give Team USA fits if he gains his confidence, but he has a history of disappearing when he gets off to a bad start.
Advantage
KD and LBJ have no competition in this department. These two men are the best at the game at their position and will carry Team USA in the Olympics.
Interior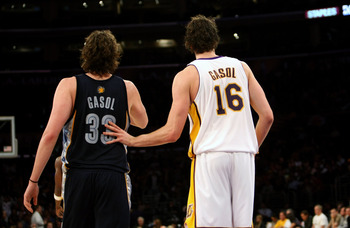 Stephen Dunn/Getty Images
With the way Team USA is constructed, the power forward position does not properly suit this discussion. Therefore, we will bunch the Gasol brothers together and focus on the interior matchup.
Team USA: Tyson Chandler
Tyson Chandler is the one legitimate big man starting for Team USA who will have to manage the Spanish onslaught coming his way. Chandler is an elite defender that can play against quick, athletic big men while also banging down low with larger bodies.
Chandler runs an excellent pick-and-roll with Chris Paul and will be looked upon to get the Spanish duo in early foul trouble. He averaged 11 points and nine rebounds per game last season as one of the only defensively minded players on the New York Knicks.
The 7'1" big man is key to the success of Team USA and will be the X-factor for its chances at gold.
Team Spain: Marc and Pau Gasol
Pau has two NBA titles to his name and at 32 years of age will look to add Olympic gold to his already prestigious trophy case. As the tournament torch barrier for Spain, Pau embodies Spanish basketball at its finest.
Pau had a slight down year last season—17 points and 10 rebounds per game—but still remains one of the most offensively gifted big men in the game. Pau is not a masher and banger like his brother Marc, but at 7'1" and 250 pounds, he can certainly score and control the paint at an elite level.
At 7'1" and 265 pounds, Marc has emerged as a legitimate center in the NBA and will make be a tremendous difference maker for this year's squad. In his fourth season of action, Marc averaged 14.6 points and 8.9 rebounds for the physical Memphis Grizzlies.
Advantage
Expect Marc to step up on the international stage to match the skill of big brother Pau, giving Spain a formidable two-headed monster in the paint.
Bench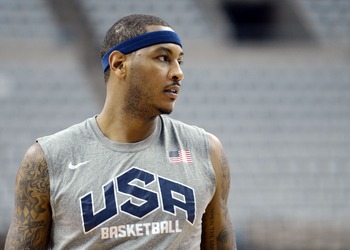 Jerry Lai-US PRESSWIRE
Team USA
The greatest strength of Team USA is its ability to bring All-Star quality players off the bench. This group is highlighted by the likes of Russell Westbrook, Deron Williams and Carmelo Anthony.
Of all the role players, Anthony must take center stage for Team USA's success because of his ability to take over games with his scoring in clutch situations.
Big men Kevin Love and Anthony Davis may not receive large minutes but must play huge for Team USA if Tyson Chandler or LeBron James get in early foul trouble. Expect Team USA to not play a tight rotation in the Olympics, instead favoring healthier, faster lineups to put pressure on the opposition for 48 minutes.
Team Spain
The Spanish have one NBA star on their bench in Serge Ibaka but the rest of this unit should not be overlooked.
It all starts with Ibaka, the runner-up for Defensive Player of the Year, who averaged over three blocks and seven boards per night. His quickness and athleticism will pose well for Spain, who can use him to possibly guard teammate Kevin Durant in certain situations, plus creating matchup nightmares all over the floor with his length.
Felipe Reyes and Sergio Llull are quality options for Spain. Reyes is a physical 6'9" power forward who will flourish with the already daunting Spanish frontcourt.
Llull is a small forward that played one season in the NBA for the Houston Rockets. In 2008-2009 Llull averaged eight points per game while shooting 45 percent from the field.
Advantage
While the Spanish have some gems off the bench, the balance and countless number of scoring options give Team USA the edge in this department.
Coaching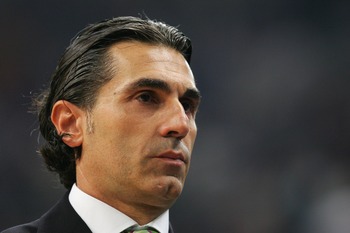 Julian Finney/Getty Images
Mike Krzyzewski and Sergio Scariolo are two tremendous coaches that have thrived on completely different stages.
Krzyzewski is the winningest coach in men's college basketball history and led Team USA to Olympic gold in 2008. Mike adds experience and a strong demeanor to a depleted U.S. squad looking to repeat as Olympic champions.
He will be challenged to find the right rotation to keep his superstars happy, but if anyone is objective enough to find the correct rotations, Krzyzewski is the guy.
Scariolo has held the reins for the Spanish Team since 2009 and cannot wait to bring Olympic gold to an already prolific summer for Spanish sports. Scariolo has the second-best squad in the world and must look to feed the ball down low to his bigs, while keeping his shooters involved behind the arc.
This coaching matchup will come down to who can make the most adjustments to counter the opposite teams strengths. Expect Scariolo to rally his troops against the favored U.S. squad, invoking his team's best effort in London.
Matchup to Watch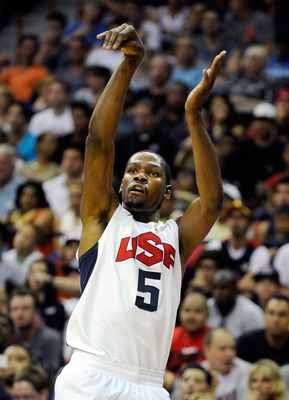 David Becker/Getty Images
USA Three-Point Shooting vs. Spain Perimeter Defense:
Although the Spanish have a huge advantage down low in the paint, the game will ultimately be decided outside on the perimeter. The Americans average over 28 attempts from behind the arc in Olympic play and scores 32 percent of their points on three-point shots.
In their last tuneup versus Argentina, Kevin Durant shot 10-15 from behind the arc and will continue to make a living from that range if not properly defended. Team USA is loaded with three-point shooters and can run away in the Olympics if allowed to jack up attempts.
What is great about this matchup is that Spain has defended the three quite well.
On July 10th, France took on Spain and was shut down from three-point range, shooting only 4-of-23. The U.S. has become reliant on threes in Olympic play, but Spain's disruptive defense could pose problems for the Americans like it did against the French.
The team that wins this matchup will have a huge advantage in controlling the tempo and score of the game, which will pay huge dividends in deciding its ultimate victor.
Prediction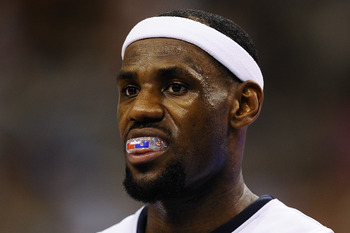 David Ramos/Getty Images
If these teams meet in the Olympics, which we sure hope happens, the game will ultimately come down to the play of the best player in the world, LeBron James.
LeBron is unstoppable at this point in his career and can control the tempo of the game at both ends of the floor. If LeBron plays like he did in the NBA Finals, the Spanish will not be able to overcome the Americans.
That being said however, the Gasol brothers and Serge Ibaka give Spain a tremendous edge down low that should allow them to grab rebounds and slow the pace to a more favorable speed.
These interesting matchups and polar differences in style should make USA vs. Spain the most intriguing and noteworthy matchup in the 2012 Summer Olympic Games.
Keep Reading