US Men's Olympic Gymnastics Team 2012: Dissecting Strengths and Weakness of USA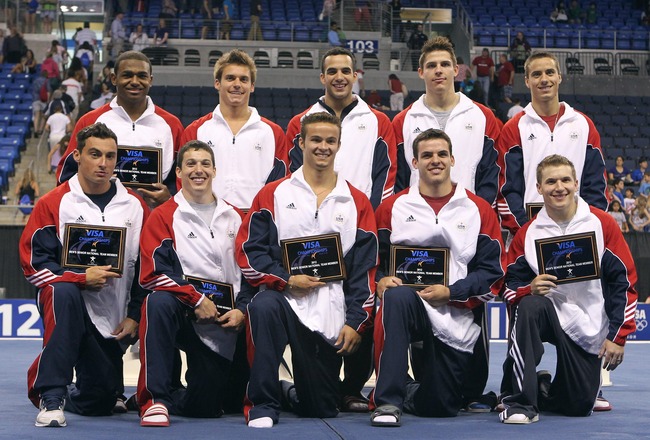 Stew Milne-US PRESSWIRE
While considered among the favorites to vie for Olympic gold, the U.S. men's gymnastics squad has a few questions to answer and problems to solve.
Every country has their weakness (most notably the pommel horse for most squads), and it's something they'll have to overcome in the struggle for gold.
So where does Team USA lack?
But every squad also has certain strengths that they hope they can ride to Olympic glory. For some, it's experience. For others, it's depth.
So where is Team USA strongest?
Here are the three biggest potholes that can derail the men's squad's hope for gold, and the three best chances they have for glory as well.
Weakness No. 1: Pommel Horse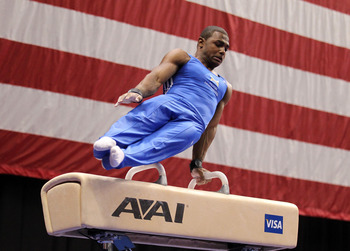 Orozco is Team USA's best bet on the team's weakest event
Stew Milne-US PRESSWIRE
While a weakness on many teams heading into the Games, pommel horse is a glaring hole on Team USA.
Orozco's true value comes in on the most needed of events, as he's the only Olympian on the team who's averaging over a 14.2 (he averages 14.81). After Orozco, things get rather dark for the Americans.
Mikulak and Leyva are the only other team members to average above a 14. If one of these three gets injured before the pommel horse, Jonathan Horton and Dalton are in no shape to pick up the slack.
The best scenario for the team is to hold steady with Orozco leading the way and hope that one of the other starters surprises with an above-average performance.
If there's an injury or a major error, the chances for a medal will plummet.
Strength No. 1: Vault
Jacob Dalton is the team's best vaulter
Stew Milne-US PRESSWIRE
While vault is a typically higher-scoring event in gymnastics, the reason I believe this is a strength for Team USA is depth.
In 2012, the five-member squad averaged 15.8, but all five averaged at least a 15.6. Jacob Dalton leads the way with a 16.21 average with Sam Mikulak sitting at 16.1.
Surprisingly, such a strong team event isn't where John Orozco and Danell Leyva provide the most value. If it wasn't for their all-around potential, an argument could be made that they shouldn't be one of the three to compete on this event.
That's how deep this team is on vault. Two contenders for the all-around title don't even lead their team on vault.
Obviously, it's hard to see Orozco and Leyva not getting the nod for two of the starting spots, but there can only be three.
It's good to have this kind of problem.
Weakness No. 2: Rings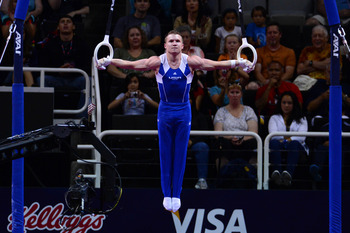 The only returning Olympian, Horton, is looking to maintain high scores on his best event
Kyle Terada-US PRESSWIRE
Rings are the only other event that the U.S. didn't average at least a 15.0 in 2012.
Unlike the pommel horse, there is a little more depth on the rings and the potential for higher scoring. Horton leads the team with 15.45 this year, while Orozco and Dalton follow with sub-15.0 scores. But if one of those two can't compete, or is chosen not to compete by the coaches, then it won't be as big a fall for Mikulak or Leyva to take over.
As with the pommel horse, they will have to rely on their leader, in this case Horton, and hope to get solid or above-average scores from whoever takes the other two starting spots.
It would have been nice to find specialists for the rings and pommel horse, but it wasn't possible given the options Team USA had, considering they must look at the big picture.
Strength No. 2: High Bar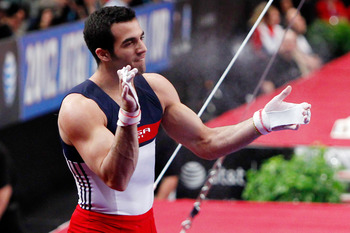 Leyva, a threat for an all-around medal, is the clear leader on the high bar
Debby Wong-US PRESSWIRE
Parallel bars and the high bar are similar high points for the U.S. squad, but the difference between the two, and what makes the high bar a strength for the team, is the possibility of higher scores.
While the team averages just north of 15.2 in both events, Leyva is a consistent threat to score a 16.0 or higher, and Orozco and Horton have been knocking at that door. The potential for higher scores on the high bar is clear.
Horton took silver in 2008 in this event, and while it's a testament to him that he still provides high value for Team USA on the bar, it's an even bigger testament that Orozco and Leyva have overtaken him by an average of .35 points.
With Leyva leading the way and Horton potentially bringing up a very solid rear as the three starters (along with Orozco), this could be a major statement event for the team.
Weakness No. 3: Youth and Inexperience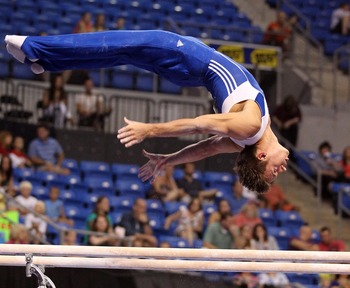 Mikulak is one of many rising young stars
Stew Milne-US PRESSWIRE
Much like the women's squad, the men's roster is filled with Olympic rookies.
Horton is the grizzled old vet on the roster at 26 and the only one with an Olympic appearance. The rest aren't even of drinking age.
Youth almost always has a way of showing itself at some point in a competition, but Team USA is hoping it doesn't rear its ugly head in a major way.
Horton doesn't believe it will be a problem.
"I think the more people doubt us, the more it's going to give us that fuel to perform the greatest any of us ever have," he said in an article on ESPN.com.
If anyone can pull the best out of his young teammates, it's going to have to be Horton.
It's okay, though—only Olympic glory is on the line.
Strength No. 3: Two All-Around Contenders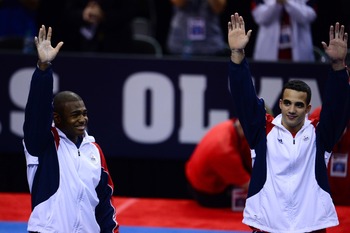 Orozco and Leyva could bring home two medals in the all-around
Kyle Terada-US PRESSWIRE
Leyva, like Jordyn Wieber on the women's squad, has been considered the front-runner to lead the way for Team USA in the all-around.
And Leyva has certainly performed as such.
Outside of pommel horse he is fairly consistent across the board and has the potential for big scores on the vault and both bars events. He has also steadily improved his floor and pommel horse routines, working hard to strengthen his weaknesses.
As for Orozco, he has jumped on to the scene in a major way in the months leading up to the Olympics. It's a similar story to Gabby Douglas—the rising challenger competing against the established winner.
While Leyva has a higher scoring potential in various events, Orozco is far more consistent across the board, with no average in any of the events under 14.8 and an increasingly serious dark-horse candidate for all-around gold.
They are a fantastic one-two punch for Team USA and the most important factor in their challenge for gold.
Keep Reading