Highlighting the Best Rookie vs. Vet Battle in Cincinnati Bengals Training Camp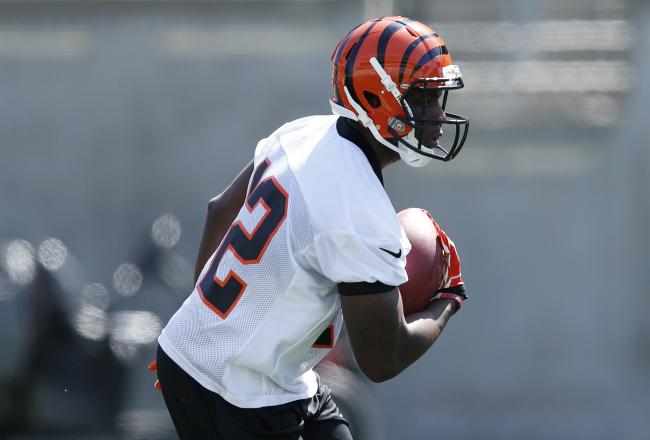 Rookie Mohamed Sanu will be embroiled in the Bengals' biggest camp battle this year—the one for the No. 2 receiver.
Joe Robbins/Getty Images
One of the most compelling things about any NFL team's training camp are the battles that go down between established veterans and up-and-coming rookies. First-year players, no matter their draft position, are always looking to make an impact, and there are always veterans whose jobs are in jeopardy as younger and better talent keeps filtering in, season after season.
For the Cincinnati Bengals, the biggest rookie-versus-veteran battle in this year's camp is for their No. 2 wide receiver job, pitting newcomer Mohamed Sanu against Brandon Tate and Armon Binns.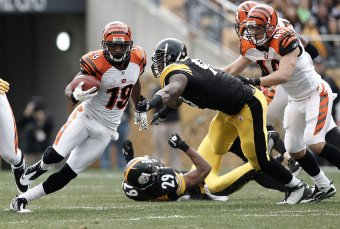 Can Brandon Tate prove to be more than just a return man?
Jared Wickerham/Getty Images
Now, it's almost a stretch to say that Tate and Binns are established receivers. Last year, Tate was used only in a return capacity and didn't catch a single pass; Binns spent most of his rookie season on the practice squad and even attended rookie minicamp this year after not having such a luxury during the 2011 lockout.
However, both Tate and Binns have had first-team reps this offseason, alongside Sanu, and the battle should be fierce as well as entertaining once camp kicks off later this week.
In Tate's three years in the league, he's been used heavily as a receiver just once—in 2010 as a member of the New England Patriots, when he caught 24 passes for 432 yards and three scores as well as rushed five times for 62 yards. The most Binns has done so far was in last year's Week 2 preseason contest against the Atlanta Falcons, in which he caught two passes for 20 yards and a touchdown.
Still, both Tate and Binns have more professional experience than Sanu and more familiarity with offensive coordinator Jay Gruden's system, and they've been making most of their opportunity to learn. Tate turned heads during the offseason program and Binns also showed marked improvement.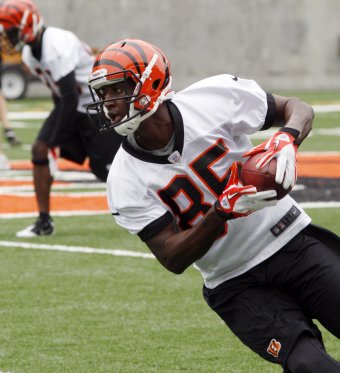 Can the Bengals' new 85—Armon Binns—surpass both Sanu and Tate and win the No. 2 job?
David Kohl-US PRESSWIRE
But Sanu also impressed in the offseason and, as a third-round draft pick, at least has the benefit of draft positioning to secure him enough reps to beat out Tate and Binns at the job.
I am of the opinion that Tate isn't truly contending for the No. 2 job, no matter how many reps he got with the first team at OTAs and minicamps. Rather, his heavy workload was more about the coaching staff gathering intel about who has a future on the roster and who doesn't.
The Bengals currently have 10 receivers vying for at most six spots, and with Tate very sparingly used as a receiver and the team maybe moving in another direction when it comes to kick and punt returns, the first-team reps may have only served as a way to evaluate whether Tate has a place on the roster this year.
Ultimately, the Bengals would likely prefer to save roster spots for their own young, homegrown talent rather than a specialist veteran like Tate. Therefore, the battle for that No. 2 job will likely ultimately come down to Binns vs. Sanu rather than Tate vs. Sanu (vs. Binns).
Who do you think will win the Bengals' No. 2 receiver job this year?
There is a lot at stake for Binns and Tate during this training camp. It's quite possible that one of the two could find themselves without a job in Cincinnati when it's time to whittle down the roster. There's little chance Sanu will be headed to the practice squad—he'll either be a starter or a backup, but should be on the 53-man come the deadline.
Though there are many a wide receiving battle happening at Bengals camp this year—Jordan Shipley, Marvin Jones and Ryan Whalen are all hoping to stick around, too—the fight for the No. 2 job will be the most compelling and the most consequential of the bunch.
Can Sanu win the job outright? Will this competition result in Tate or Binns (or both) being cut? These are important questions that the Bengals training camp will answer—and because the team has relied so heavily on the passing game, this is the premier rookie versus veteran battle to keep your eyes on in this year's camp.
This article is
What is the duplicate article?
Why is this article offensive?
Where is this article plagiarized from?
Why is this article poorly edited?