New York Jets: 7 Potential Sleepers to Watch for in Training Camp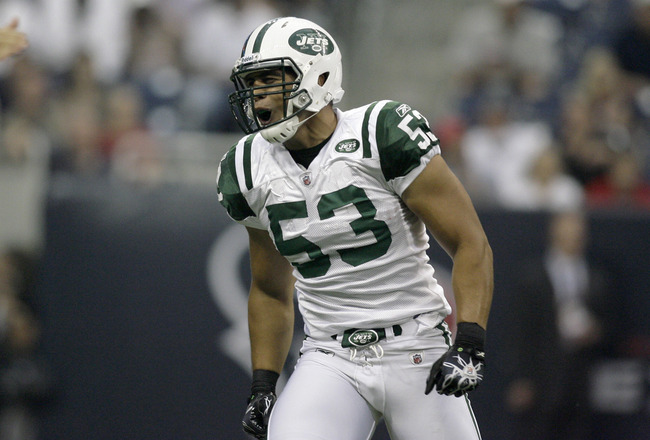 Brett Davis-US PRESSWIRE
Sleeper: a movie, book, play, etc. that achieves sudden unexpected success after initially attracting little attention—typically one that proves popular without much promotion or expenditure.
The definition of a sleeper correlates perfectly with the NFL-version of the word.
Players like Victor Cruz, Arian Foster and James Harrison come to mind as stars who have enjoyed tremendous success after initially receiving little media attention.
The Jets had a sleeper of their own in 2011 in Aaron Maybin. Maybin was considered a bust entering last season, but he managed to lead the team in sacks and to establish himself as a solid pass-rusher.
So who can be the Jets 2012 version of Aaron Maybin?
Hayden Smith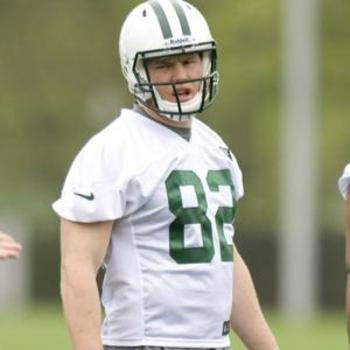 Hayden Smith was one of the most unusual signings of the free agency period.
Smith is a former rugby union player, having represented the USA in the 2011 Rugby World Cup.
The 27-year-old has a lot to learn, as his football IQ is subpar. However, he has the physical skill set to be a fine tight end for the Jets.
Smith has good size (6'7", 260 pounds) and above-average speed (4.75 40). Having spent many years playing rugby, his toughness is top-notch.
If Smith can pick up the game quickly, he could have an impact this season as a special-teams player, and maybe even as an occasional receiving threat.
Antonio Allen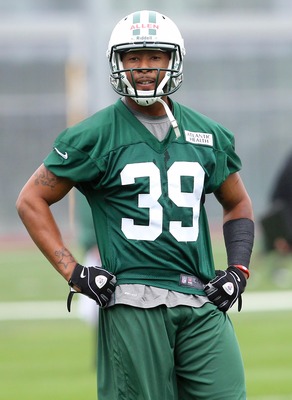 Ed Mulholland-US PRESSWIRE
Although he can struggle in man-to-man coverage, and he possesses subpar tackling technique, Antonio Allen has the most potential of any of the Jets' late-round picks.
The 23-year-old was the leader of South Carolina's dominating defensive unit last year, as he recorded an outstanding 88 tackles, three interceptions, four forced fumbles and two fumble recoveries.
The strong safety is a solid athlete and a hard-worker. He has the ability to excel when placed in the box.
Allen could see some playing time this season, as the Jets' two starting safeties (LaRon Landry and Yeremiah Bell) both struggle with injuries.
Chaz Schilens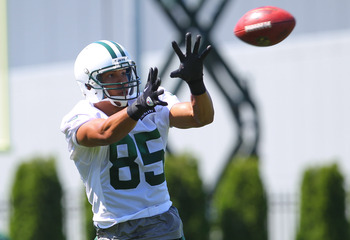 Ed Mulholland-US PRESSWIRE
Schilens has enjoyed little success over his five-year NFL career, but he still has the ability to break out in the near-future.
Schilens is a dynamic athlete with good size (6'4'') and unbelievable speed (4.33 40). At just 26 years of age, he is just entering his prime.
Although he will be battling for the No. 3 or 4 wide receiver role, Schilens could make an enormous impact this season as a deep-ball and red-zone target.
Kenrick Ellis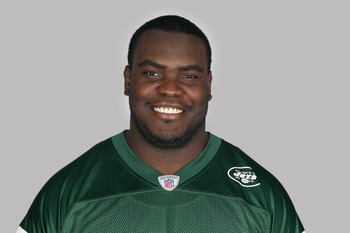 Handout/Getty Images
Kenrick Ellis has had his run-in's with the law, as he spent 45 days in jail this offseason due to an assault and battery charge.
These off-field issues, coupled with injuries, have kept Ellis, well, off the field. The Jamaican-born nose tackle only played in five games all of last season.
If he can avoid trouble from now on, Ellis has the ability to be one of the game's premier run-stuffers. He possesses excellent size (6'4'', 346 pounds) and outstanding strength (26 BP reps).
Ellis could potentially make the Jets defensive line one of the best in football this season.
John Connor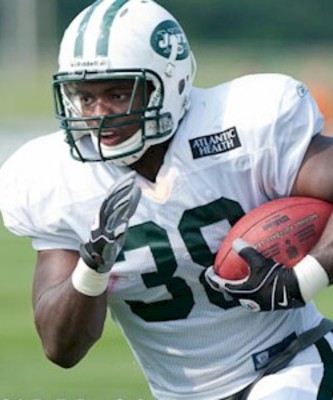 John Connor emerged as a fan favorite a few offseasons ago, as he played a vital role in HBO's Hard Knocks.
However, the "Terminator" has yet to live up to the hype on the field. He has struggled to adapt to the pace of the game at the NFL-level.
Despite the early struggles, Connor still has the ability to emerge as one of the NFL's best fullbacks. He possesses an outstanding work ethic, and he blocks with the best of them.
Gang Green are looking to get back to their Ground-and-Pound roots this season, and to do so successfully, they need Connor to step up.
Expect a breakout season from the 25-year-old.
Bilal Powell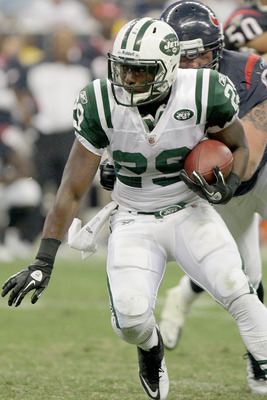 Troy Taormina-US PRESSWIRE
Bilal Powell has been overmatched by opposing defenses in his brief NFL career, as he has carried the ball 13 times for just 21 yards.
However, the small sample-size does not reflect Powell's true ability.
The 23-year-old running back has solid speed and explosiveness, and he performed unbelievably in both college and the preseason.
With LaDanian Tomlinson out of the equation, Powell could emerge as a solid No. 3 and third-down option for New York.
Josh Mauga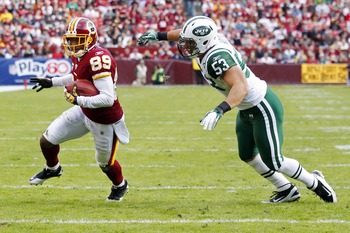 Geoff Burke-US PRESSWIRE
Josh Mauga's solid performance last season went virtually unnoticed by the average fan.
However, the coaching staff recognized Mauga's never-say-die attitude and terrific all-around game, and they rewarded him with more playing time.
The former undrafted free agent will have to compete with both veteran Bart Scott and rookie DeMario Davis for playing time at middle linebacker, but he could have the most impact of the group.
Expect the 25-year-old to have a great year this season and to emerge as one of the Jets' unheralded stars.
Keep Reading

New York Jets: Like this team?