UNC Basketball: How Former Tar Heels Performed in 2012 NBA Summer League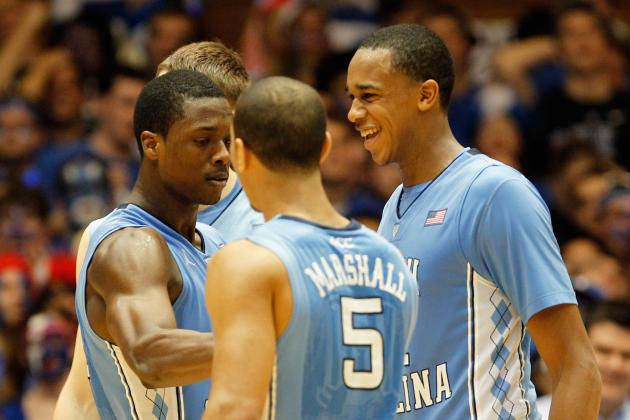 Streeter Lecka/Getty Images

We may never see Harrison Barnes, Kendall Marshall, Tyler Zeller or John Henson in Carolina Blue again, but that doesn't mean we can't continue to root them on.
All four players participated in the 2012 NBA Summer League in Las Vegas this past week, which finished up on Sunday. All of the former North Carolina stars had their moments of glory and moments they'll want to forget. That's all a part of being a rookie in the best basketball league on earth.
Before getting into how your favorite Tar Heels performed, understand this was not against your normal NBA-level competition. The NBA Summer League consists of mostly rookies, bench players and others vying for a spot on a team. I'd consider the competition to be more akin to the D-League than the NBA.
Is that better or worse than college competition? That's a tough question to answer, but that doesn't mean we can't get excited about their prospects in the NBA.
Also remember that they don't have the stars surrounding them to make them better either.
Harrison Barnes had some eye-opening games, and John Henson was a model of consistency through most of the games. Kendall Marshall and Tyler Zeller didn't have as many "wow" moments, but they were still pretty solid and appeared to get more comfortable as the games went on—especially Marshall.
Though the Big Four didn't dominate throughout, they certainly didn't stink it up.
Begin Slideshow

»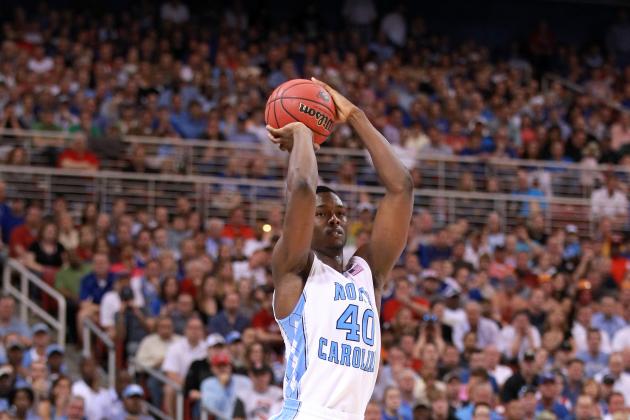 Andy Lyons/Getty Images

Harrison Barnes came out with some solid averages and probably had the best game of the group.
Over five games, Barnes averaged 16.8 points, 5.6 rebounds and 1.8 steals over 33.6 minutes per game. The range that disappeared late in the season (after the ankle injury) came back to life. Barnes was 8-of-14 from downtown, which calculates to 57.1 percent.
Of course nobody keeps up that kind of pace, but it's still good to see he appears to have his deep stroke back.
Harrison Barnes' best game was his first, putting up 23 points in 25 minutes versus the Lakers. Even more impressive, he went 8-of-13 from the floor, 3-of-5 from the line and a perfect 4-for-4 from downtown.
I'm looking forward to seeing him team up with Stephen Curry, Andrew Bogut, Klay Thompson and David Lee. Golden State could definitely be a surprise playoff team if Curry and Bogut can stay healthy.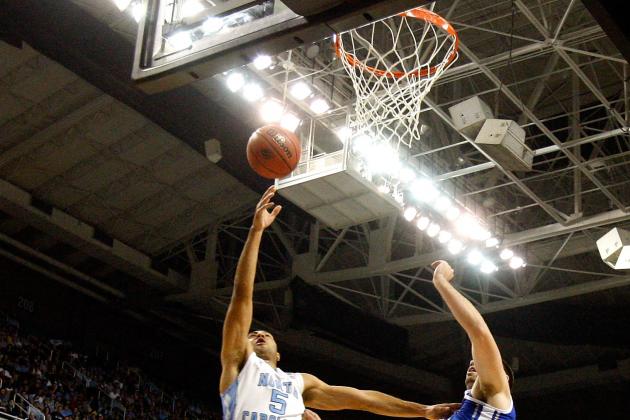 Streeter Lecka/Getty Images

With a very slow start, Kendall Marshall's averages didn't come out very awe-inspiring.
In his first three games, Marshall was 5-of-25 from the floor, 0-for-8 from three-point range and tallied 16 assists. In his fourth and final game, it was more of the Kendall Marshall we saw toward the end of the college season.
In that game against the Memphis Grizzlies, Marshall dished out 10 assists to only three turnovers. He was also 6-of-10 from the floor and 3-of-4 from downtown, to make up his 15-point total.
Even with the poor start, he led the league in assists at 6.5 per game. That shouldn't come as a surprise, though. The man knows how to dish it.
Kendall Marshall finished out the summer averaging seven points and 1.8 steals per game. No matter the competition, that isn't too shabby for someone people claim can't play defense.
What wasn't so impressive was his 31.4-percent shooting from the field or his 25-percent conversion rate from beyond the arc.
The last game for Marshall was something to hold on to, however. He was aggressive, didn't make many mistakes and just looked more like the Kendall Marshall we saw before he went down in the tourney.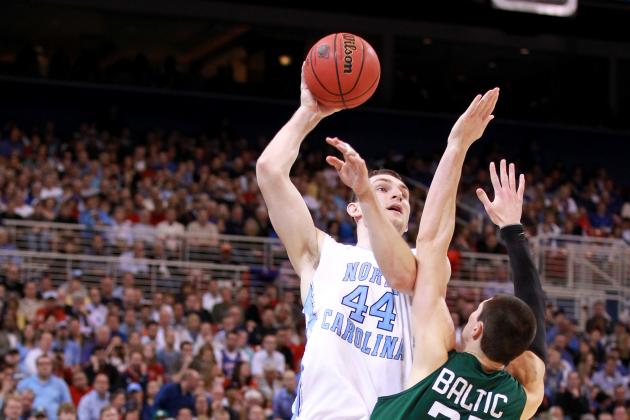 Andy Lyons/Getty Images

Tyler Zeller got the least playing time of all the former Tar Heels, only averaging 22.6 minutes per game. However, his stat lines are still pretty solid, considering he played about 10 minutes less per game than the other three.
Zeller averaged 11.4 points, one block and 7.2 rebounds over the five games he participated in. The most impressive part of his rebound average is that he had a perfect split in offensive and defensive rebounds at 3.6 per game.
He also shot a solid 46.3 percent from the field and 90.5 percent from the free-throw line.
His best game came against the D-League Select team. In that game, Zeller was 5-of-8 from the floor and 9-of-10 from the charity stripe for a total of 19 points. He also tallied two steals, two blocks and seven rebounds over just 25 minutes of play.
Though fellow rookie Dion Waiters hasn't had a very strong showing this summer, I still believe there could be a Big 3 in the making with Zeller, Kyrie Irving and Waiters. Only time will tell how good that trio will be, but I still have the Cavaliers making the playoffs this year.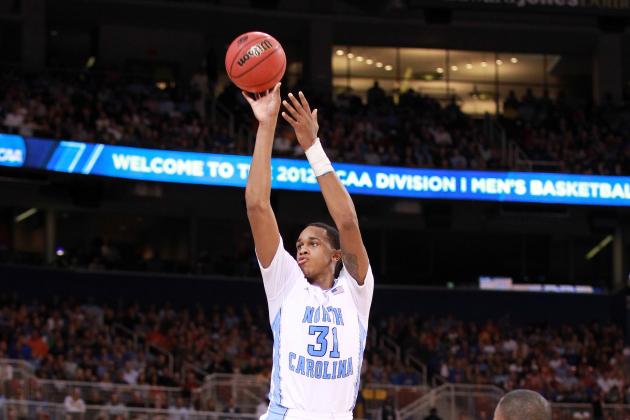 Andy Lyons/Getty Images

It's a shame John Henson played in that last game against the Chicago Bulls. His averages were outstanding until playing just 21 minutes in that game.
They still look pretty darn nice, though.
Henson finished up his summer with 18.3 points, 6.8 rebounds, 1.5 blocks and 1.5 steals over 32.5 minutes per game. Equally impressive was his 53.4-percent shooting and his 2-of-3 from downtown.
He was also shooting 90 percent from the charity stripe until going 0-for-4 in his fourth and final game.
John Henson's best game came against the Boston Celtics, putting up 22 points, nine rebounds, four assists, one steal and one block in his 37 minutes of action. He finished 9-of-18 from the floor, 1-of-2 from beyond the arc and 3-of-4 from the free-throw line.
I won't make any predictions about his Milwaukee Bucks, but John Henson could make himself a contender for Rookie of the Year if he can maintain those stat lines. He is perfectly capable of doing it, too.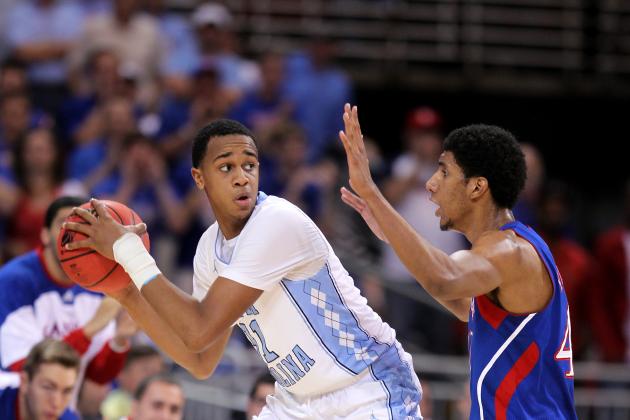 Andy Lyons/Getty Images

Before closing out, I've compiled a leader board for the former Tar Heels.
John Henson's name is seen the most, even after losing a couple categories with the last game. I also put Barnes with Henson on the three-point percentage, as Henson only had three attempts to Barnes' 14.
It's going to be fun watching these young players grow up in the NBA. They could very easily be the best crop of NBA talent Roy Williams has produced.
The NBA and college basketball seasons can't come soon enough for me.
Average:
FG%: John Henson (53.4)
3P%: John Henson (66.7)/Harrison Barnes (57.1)
FT%: Tyler Zeller (90.5)
PPG: John Henson (18.3)
APG: Kendall Marshall (6.5)
RPG: Tyler Zeller (7.2)
SPG: Harrison Barnes/Kendall Marshall (1.8)
BPG: John Henson (1.4)

Game Highs:
PTS: Harrison Barnes (23)
AST: Kendall Marshall (10)
REB: Tyler Zeller (12)
STL: Harrison Barnes (4)
BLK: John Henson (4)
3PM: Harrison Barnes (4)
Complete stats from all participants in the 2012 NBA Summer League