Alabama Football: Why Crimson Tide Must Let AJ McCarron Air It out More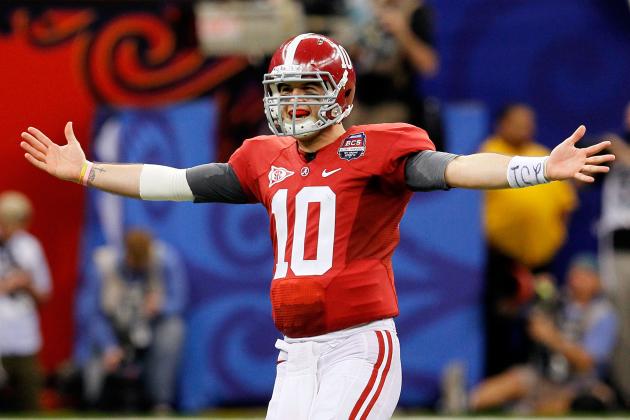 Kevin C. Cox/Getty Images
Could Alabama QB A.J. McCarron take the Tide's offense to another level if Nick Saban and the coaching staff let him open up the passing attack?
Alabama dominated LSU in the BCS national title game last season, in part because quarterback AJ McCarron executed an aggressive, pass-first game plan to perfection and left the top-ranked Tigers dazed and confused.
McCarron delivered a surgical performance on the grandest of stages, and proved that he can carry the offensive load when his number is called—which presents Nick Saban and new offensive coordinator Doug Nussmeier with an intriguing dilemma heading into 2012.
Throughout its storied history, Alabama has always maintained an offensive identity that has consisted of playing physical, smash-mouth football.
Despite having a long list of quality quarterbacks to line up under center for the Crimson Tide, Alabama has never been an offense that would line up and pass the ball 30 to 40 times a game.
While no reasonable person will expect the 2012 edition of the Crimson Tide to break the offensive mold, Saban and Nussmeier may be tempted to loosen the reigns on quarterback AJ McCarron—for a variety of reasons.
Whether or not it will actually happen, Alabama is equipped—possibly more so than anytime in recent memory—to open things up in their passing attack.
Here are four reasons why the Crimson Tide must let McCarron air it out more.
Begin Slideshow

»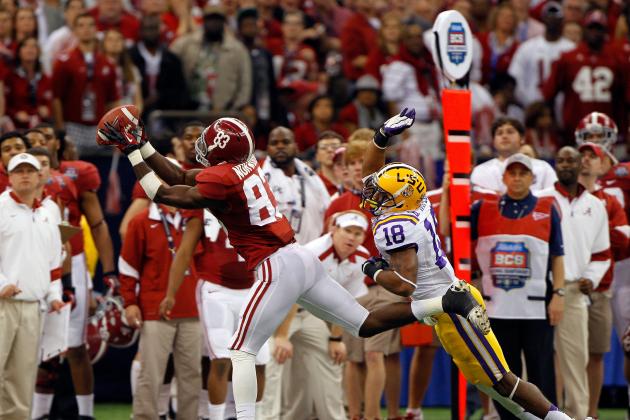 Chris Graythen/Getty Images
Norwood is one of the veterans at WR expected to step up for the Tide this season.
Aside from junior running back Eddie Lacy, Alabama's collection of skill talent represent the overall theme of the entire team this season—a young group of talented players that are only lacking in experience.
Saban has assembled a deep segment of wide receivers that all bring unique elements, which helps their ability as a group to pose significant challenges to opposing defenses.
Players like juniors Kenny Bell and Kevin Norwood have come up big when their numbers have been called in previous years, while emerging talents such as sophomores Christion Jones and DeAndrew White represent fluid pass-catchers capable of creating big plays in space.
Alabama also has a nice blend of tight ends and H-backs, headlined by senior tight end Michael Williams and a trio of intriguing H-backs in Harrison Jones, Brian Vogler and Brent Calloway.
Factor in potential impact freshmen like Amari Cooper, Chris Black and Eddie Williams, and it's clear to see why McCarron is likely chomping at the bit to open things up.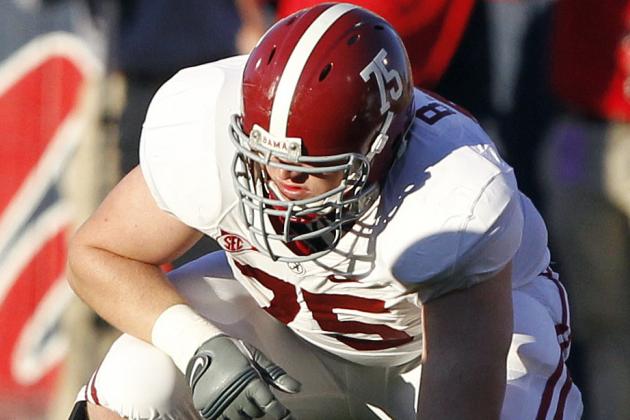 Butch Dill/Getty Images
Jones is the leader of one of the best OL units in the nation.
Perhaps the biggest reason McCarron wants to spread the ball around is because he will have the luxury of being the most secure asset this side of Fort Knox considering the offensive line he has in front of him.
A trio of upperclassmen that could realistically find their way onto an All-American team—headlined by senior Barrett Jones—will ensure that McCarron has plenty of time to survey the field to find an open target.
With four starters returning from a unit that gave up only 17 sacks last season, Nussmeier has the unique freedom to call any play in his playbook with confidence.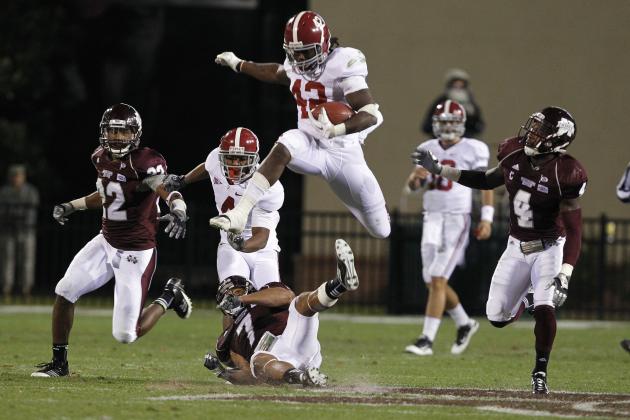 Butch Dill/Getty Images
A strong and steady passing attack will loosen up running lanes for Lacy and company.
Taking into account that Lacy is the main proven entity in the skill group, and the Tide's strength in the trenches, it's a natural assumption that defenses will be keying on stopping the run.
If defenses stack the box with eight and nine defenders, McCarron has shown that he can make tough throws against elite defenses (see the BCS national title game against LSU for reference).
However, can McCarron and the receivers step up to the challenge consistently?
In the event that he and his receivers are able to make defenses respect the passing game, Alabama's offense has the capability to become the best balanced attack in the SEC and one of the best in the country.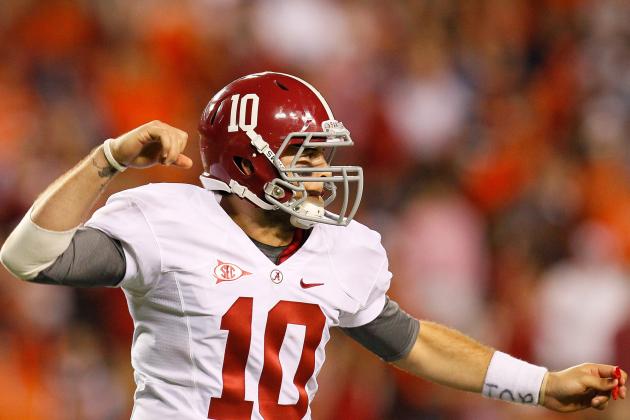 Kevin C. Cox/Getty Images
McCarron could challenge Tyler Wilson and Aaron Murray for the honors of being the SEC's best signal-caller.
Most observers across the country do not give McCarron enough credit for how well he performed last year—as a first-year starter that wound up finishing third in the SEC in passing (h/t cfbstats.com).
He managed that despite playing with a receiver unit that accounted for just seven touchdowns and two plays of more than 40 yards as a group last season.
His performance against LSU in New Orleans cemented his ability to make NFL-caliber throws under pressure, and the assumption can be made that he will only get better with experience.
With a year of experience under his belt, McCarron has everything in place around him to challenge Tyler Wilson of Arkansas and Aaron Murray of Georgia for the right to be called the best signal-caller in the SEC.