James Shields Trade Rumors: Updates on the Angels, Tigers and More
Jason Miller/Getty Images
The time may have come for the Tampa Bay Rays to move 30-year-old right-hander James Shields.
While Rays' GM Andrew Friedman is playing it close to the vest, multiple reports have surfaced that Shields is, in fact, available, and according to CBS Sports' Danny Knobler, the Rays seek young pitching and their catcher of the future in any deal, whether it be for Shields or another one of their pitchers:
Rays are a fascinating team to watch. Could trade starters (anyone but Price, Moore), relievers, Upton. Looking for young catcher, pitchers

— DKnobler (@DKnobler) July 18, 2012
With things about to get fast and furious less than two weeks away from the trade deadline, how is a fan supposed to keep up on it all?
That's where B/R comes in—we'll be bringing you the most up-to-the-minute rumblings about the Cubs' most valuable trade chip, along with analysis and everything else that comes with it. The best part—everything will be right here, so there's no risk of missing a juicy rumor that just broke.
Let's take a look at the latest rumblings surrounding the man known as "Big Game James," shall we?
*This will be updated on a regular basis—often multiple times per day—so while the post date will always show as July 22, simply click to the next slide to see the latest rumors and rumblings about Shields as the Rays attempt to define whether they are going to be buyers or sellers.*
Will Shields Join Justin Verlander in Detroit Rock City?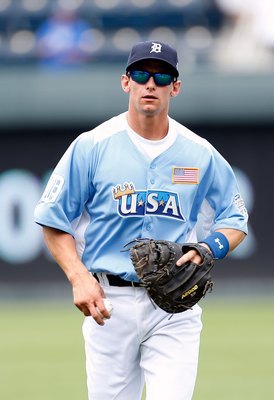 Could Rob Brantly be the answer to the Rays' catching woes?
Jamie Squire/Getty Images
Jon Paul Morosi and Ken Rosenthal of Fox Sports point out that the Tigers have coveted James Shields for a number of years, and with the Rays now potentially making him available in a trade, they are in a good position to make a move for him.
Detroit has two intriguing catching prospects in Rob Brantly and James McCann.
The 23-year-old Brantly has split time between Double-A and Triple-A this season, and he's hitting a combined .291/.336/.392 with three home runs and 30 RBI. McCann, 22, has split time between High-A and Double-A, posting a combined .237/.284/.311 batting line with a home run and 30 RBI.
Baseball Prospectus (subscription required) ranked Brantly as Detroit's 10th best prospect, McCann 12th overall.
ESPN's Buster Olney reported that the Tigers are willing to include their top pitching prospect, Jacob Turner, in the right deal, and he certainly would fit into what the Rays are looking to acquire:
Tigers have made it known to other teams that they are willing to trade Jacob Turner in a deal for the right pitcher. That's a big piece.

— Buster Olney (@Buster_ESPN) December 31, 2011

It's entirely possible that an offer built around Turner and Brantly could be enough to land Shields in Detroit.
Will a Halo Rest Above Shields' Head?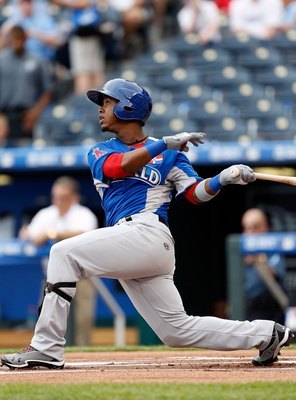 Jean Segura could be Tampa's long-term answer at shortstop.
Jamie Squire/Getty Images
The Angels scouted James Shields' last start, according to Jon Paul Morosi and Ken Rosenthal of Fox Sports, and with it a pretty well-known fact that they are looking to add starting pitching, it makes sense that they'd have interest in the 30-year-old.
Rosenthal notes that the Angels aren't particularly interested in dealing outfielder Peter Bourjos or starter Garrett Richards, but notes that prospects Jean Segura and Kaleb Cowart could be moved to bolster their rotation.
Segura, 22, has posted a .294/.346/.404 batting line with seven home runs, 40 RBI, and 33 stolen bases as the starting shortstop for Double-A Arkansas and ranked as the Angels' best prospect not named Mike Trout, according to Baseball Prospectus (subscription required.)
Cowart, a 20-year-old third baseman, has split time between Single-A and High-A, putting up a combined .292/.371/.480 batting line with 12 home runs and 74 RBI. With Evan Longoria at third base, Tampa would likely try and move Cowart across the diamond to first base were they to trade for him.
John Hellweg, a 23-year-old right-handed starter at Double-A could also be of interest to the Rays, among others.
Would Tampa Trade Shields in the Division?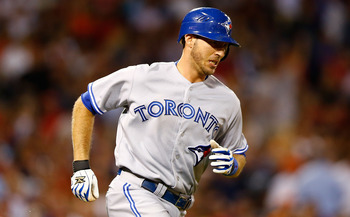 Could J.P. Arencibia head south for the summer?
Jared Wickerham/Getty Images
Also noted by Fox Sports' tag-team of Morosi and Rosenthal was that a number of other teams, including the Blue Jays, Red Sox and Yankees all had scouts in attendance for Shields' last start.
Let's break down what Tampa's division-mates could potentially offer the Rays in return for Shields.
Toronto has the deepest and most talented farm system in baseball, led by injured catching prospect Travis d'Arnaud. The Jays also have J.P. Arencibia, currently the starter in Toronto, as a young catcher that the Rays could covet. Young arms such as Noah Syndergaard, Justin Nicolino and Deck McGuire could also become part of a package.
The Red Sox don't have much in the way of major-league ready pitching prospects, but they can offer Triple-A catcher Ryan Lavarnway, who is seemingly blocked in Boston by Jarrod Saltalamacchia.
Brian Cashman and the Yankees have two quality catching prospects in Austin Romine and Gary Sanchez, though Romine has been injured this year and Sanchez has battled bouts of immaturity thus far in his development.
Were the Rays to deal Shields within the division, Toronto would have to be the favorite among the three teams to land him.
Keep Reading

Tampa Bay Rays: Like this team?