Rex Chapman, Wes Unseld Headline Inductees to Kentucky Basketball Hall of Fame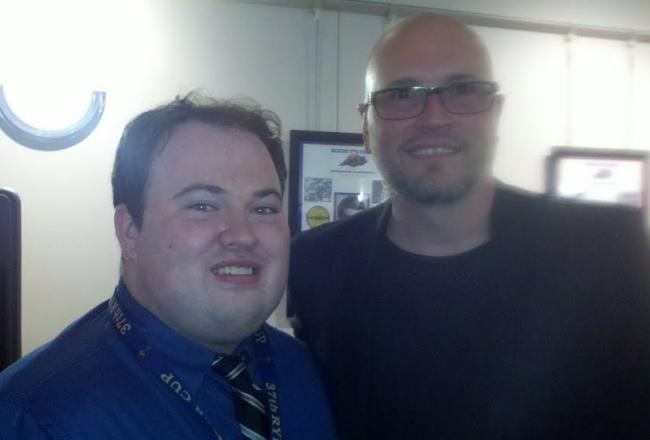 Standing next to "King Rex" at the Hall of Fame ceremony

The inaugural class of hardwood legends has been inducted into the Kentucky High School Basketball Hall of Fame. This new group of basketball legends hail from all across the Bluegrass state and features some of the most legendary players to ever hail from this great state.
There were 16 total inductees, including former high school players and coaches. The group of players is very strong and consists of some former University of Kentucky and University of Louisville greats.
Headlining the Kentucky players was Rex Chapman, Cliff Hagan, Richie Farmer, Wallace "Wah Wah" Jones and Ralph Beard. All five achieved great things during their time in Lexington, as well as their high school days.
The most decorated of all would be Hagan, Jones and Beard. All three played for legendary coach Adolph Rupp and won NCAA national championships at UK. Hagan starred for the 1951 title team and eventually became an NBA All-Star and champion for the St. Louis Hawks.
I asked Hagan about his early playing days with St. Louis, in which he played against the like of Bill Russell and Wilt Chamberlain. He had this to say about those early days of the NBA:
"Well, back when I first started in 1956, Boston had never won a division, much less a championship. The St. Louis Hawks had not won anything either. So we looked at them as professionals, but we were not awed by them. They beat us in the seventh game of the '57 Finals, at Boston, in double overtime. That was their first championship. The next year, in 1958, we played them and beat them in six games. I averaged 27.7 points per game in the entire playoff series. In the final championship game, Bob Pettit scored 50 points. No one had ever done that."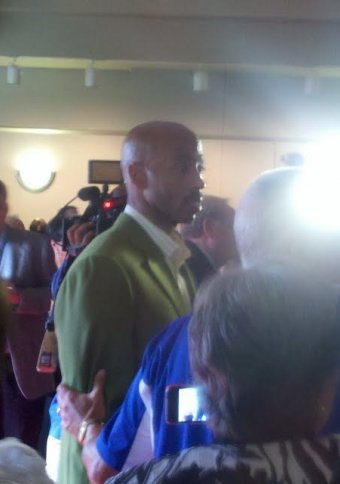 Former University of Louisville great Darrell Griffith attending the Kentucky High School Basketball Hall of Fame
Meanwhile, Jones and Beard starred on Kentucky's back-to-back title teams in 1948 and 1949. After winning the '48 championship trophy, both players were selected to play on the US Olympic basketball team that year. They went on to win Olympic gold, representing the commonwealth and the country with pride.
Ralph Beard sadly passed away in 2007, but "Wah Wah" Jones attended the induction ceremony. Interestingly, he is the only player in Kentucky athletics history to have his jersey retired in basketball and football. When asked about what it was like to play for both Adolph Rupp and "Bear" Bryant, Jones said:
"I got along with them really well. I didn't have any problems with them and I did what they asked me to do. It is a great honor being honored in the SEC for football and for basketball. It's funny; I received the same trophy for both honors."
As for Chapman, he is known as "King Rex" and was one of the most popular players in the school's history. He played during the end of head coach Eddie Sutton's run at the university and left for the NBA after two seasons. He played for over 10 seasons and eventually served in the front office of the Phoenix Suns and Denver Nuggets after his playing career.
I asked Rex what his most memorable game was during his time at UK. After taking a moment to reflect, he settled on a matchup against a familiar conference foe:
"Oh man. I would probably say it would be my freshman year at home against Tennessee. We were down by 10 points with a minute to go. We ended up coming back and pushing it into overtime and winning in overtime. So that was probably my most memorable game."
Farmer did not win a championship during his time at Kentucky, but he did cement his name as a member of perhaps the school's most beloved team in history. He played with Sean Woods, John Pelphrey and Deron Feldhaus to form the "Unforgettables" team. They were cherished because they stayed loyal to the Cats, even as probation struck the school and Rick Pitino took over as the head coach.
Who was the greatest player among the former UK greats?
This team of seniors cemented themselves in college basketball lore by playing against Duke in the 1992 NCAA Elite Eight, which is often referred to as the greatest game in college basketball history. Although Kentucky lost in the end, the school retired the jersey of all four seniors and their names hang in the rafters of Rupp Arena.
When questioned about the feeling that he gets when seeing those jerseys in Rupp, Farmer gives a great answer that any native Kentuckian could relate to:
"Well, that's one of the greatest honors I've ever had in my life. I used to lay in bed and dream of a lot of things, but that's one of those things you didn't dare dream of. It just meant the world to me. As a matter of fact, every time I go into Rupp Arena I kind of have to peak up there to make sure it's real."
There were also two University of Louisville greats, arguably the two best players in the school's history. Wes Unseld and Darrell Griffith were both honored at the event for their contribution to high school basketball and beyond.
Unseld played three seasons for the Cardinals and was a dominant force in college. He moved on the NBA in 1969 and immediately announced his presence by winning the Rookie of the Year award, as well as the Most Valuable Player. He is one of only two players to ever collect both awards in the same season. Unseld shares this record with none other than the great Wilt Chamberlain.
Unseld seemed to be proud of this feat, but there are other things in life that he chose to focus on as well:
"I guess it is impressive, somewhat. It is one of those things that I'm proud of. But there are a lot more important things, like winning championships, being a good father, things like that."
Who was the greatest player among the former UofL greats?
He did become a NBA champion by leading the Washington Bullets to the 1978 NBA title, while also winning the Finals MVP award. Unseld is now a member of the NBA Hall of Fame.
Darrell Griffith did not have quite the professional career as Unseld, but his college career trumps nearly any other player from his era. Playing for head coach Denny Crum, Griffith led Louisville to the school's first national championship in 1980. He became known as "Doctor Dunkenstein" and was known for his high-flying acrobatics and powerful dunks.
Griffith left the university as its all-time leading scorer, a record which he still holds to this day. Griffith then moved on to the NBA and played his entire career with the Utah Jazz. He formed a potent high-scoring duo with forward Adrian Dantley and eventually had his name retired by the Jazz organization.
It was easy to tell that Darrell greatly enjoyed himself at the Hall of Fame induction. I asked him what the event meant to him, and his response was genuine and heartfelt:
"It's a great honor to be a part of this class, with such great talent. It is really a great honor."
The players were the star of the show at the inaugural event, but there were prominent coaches there as well. One of the most prominent of all was Kenneth Davis, who was the captain of the 1972 US Men's Olympic basketball team.
One of the players that played for him was none other than Doug Collins, who is the current head coach of the Philadelphia 76ers. Davis mentioned that he had witnessed some of Collins' coaching tactics and had this to say about why he has been so successful in the NBA:
"I think a lot of the kids that play for Doug buy in to his leadership. They respect him and they play hard for him, and that's the way Doug played as well. They pick up on that."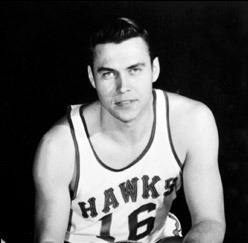 Cliff Hagan was a champion in college and NBA (NBA.com).
To round out the event, I would be remiss if there was not a mention of the great "King" Kelly Coleman. He is Kentucky's all-time leading scorer in the high school ranks, finishing his career by scoring 4,337 career points.
Coleman gave a simple yet effective answer when inquired about the significance of his high school scoring record:
"The older you get, the better you like it."
That same concept applies to all of these players and coaches. As they progress in age, their legend on the court continues to grow. The event was truly an unbelievable collection of talent and represents some of the greatest basketball players ever produced in the Kentucky high school system.
All of these players created incredible memories for basketball fans across the state and the country, so it is only fitting that they formed the inaugural class of the Kentucky High School Basketball Hall of Fame.
Paul Ables is a Featured Columnist for Bleacher Report. Unless otherwise noted, all quotes were obtained first-hand via interview.
This article is
What is the duplicate article?
Why is this article offensive?
Where is this article plagiarized from?
Why is this article poorly edited?

Kentucky Wildcats Basketball: Like this team?