Rory McIlroy British Open: Re-Dedication to Golf Key to Salvaging Season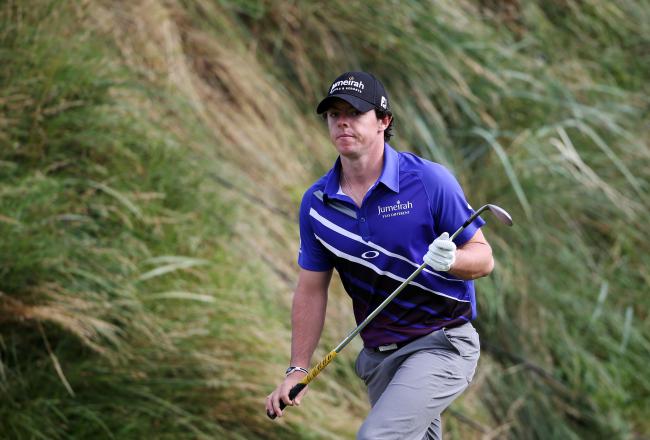 Ross Kinnaird/Getty Images
After carding his third straight round in the black with a three-over 73 on Sunday, Rory McIlroy finished the 2012 British Open at eight-over par in a tie for 60th place. That capped yet another disappointing finish in a 2012 season that has gone from frustrating to disastrous, for a player that for a short time earlier this year was the top-ranked golfer in the world.
In 2011, the young Irishman took the golfing world by storm, placing in the top 10 in seven PGA Tour events and racking up well over $2 million in earnings. While at the same time winning his first career major by laying waste to the course at Congressional Country Club in Maryland en route to a record-setting win in the U.S. Open.
McIlroy seemed primed to take his place as golf's next big thing, but rather than continue last year's momentum into 2012, this year has been nothing short of a nightmare.
McIlroy has only one tournament win this year (The Honda Classic in March), and since April, McIlroy has more missed the cut more times (three) than he has finished in the top 10 (one). His performances in majors have been even more miserable, as McIlroy finished tied for 40th at the Masters and missed the cut at the U.S. Open, before his implosion at Royal Lytham & St. Annes.
At this point, McIlroy's game appears in tatters and his confidence rattled. The 23-year-old's comments to Bill Pennington of The New York Times sound like a young man who knows he's floundering but has no idea how to make it stop.
"I'm frustrated," he said, agreeing it can have an impact on this game. "But that's golf. And you just have to get on with it and keep trying and keep practicing and stay patient until it turns around. I've just lost the consistency with my swing. And from there it's tough. Whenever you're not confident in the shots that you're trying to hit, then it is tough to sort of trust it all."
Here's an idea, Rory. Get back to the business of trying to get better at your craft. I don't care if you're a writer, a carpenter or an elite professional golfer. If you want to get better it takes practice, and the more difficult the endeavor the more practice it takes.
I'm not knocking McIlroy. If I was 23, rich and had a beautiful tennis star as my girlfriend, I'd be sorely tempted to spend my days canoodling on the beach with my sweetie too.
However, the days and weeks that McIlroy has spent with Caroline Wozniacki are days and weeks he hasn't spent honing his game, and sneaking away to hit balls for an hour before dinner isn't the same as the level of preparation that most top pros engage in on a weekly basis.
If McIlroy wants to break out of this funk and return to the top of the PGA, then it's going to take a re-dedication to improving his game. That means long hours at the driving range, countless practice rounds and entering as many "minor" tournaments as possible.
It also means less spooning time with Wozniacki.
Or, McIlroy can continue his "double life" bouncing around the world to follow his girlfriend, entering a tournament here and there and practicing when he can squeeze it in.
With that said, if Rory McIlroy continues along that second path, then a lot more missed cuts and 60th place finishes are probably in his future, and 10 years from now we'll all be talking about what a great golfer Rory McIlroy could have been instead of the great golfer he is.
This article is
What is the duplicate article?
Why is this article offensive?
Where is this article plagiarized from?
Why is this article poorly edited?