British Open 2012: Analysis of Adam Scott's Disastrous Collapse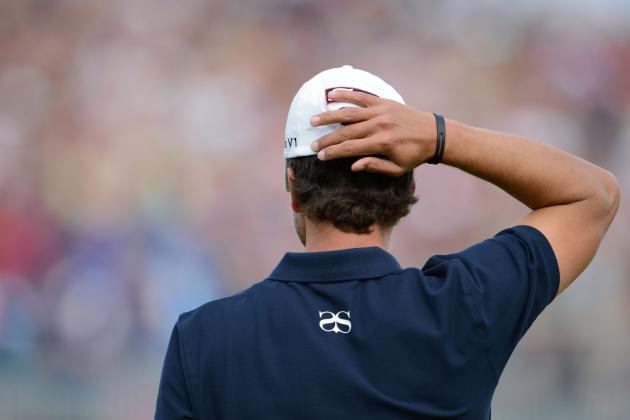 Stuart Franklin/Getty Images

Going into the final round of the 2012 British Open no one could have predicted the kind of collapse that Adam Scott experienced.
There is no other word to describe it than disastrous.
At the start of the round, Scott held a four stroke lead over the rest of the contenders and seemed primed to continue his strong play en route to his first major win.
He was able to battle through a few early ups and downs, and finally on the 14th hole Scott was able to make birdie to once again extend his lead to four strokes.
A four stroke lead with only four holes to play. It seemed in the bag for Scott at this point—as long as he could keep playing decent golf.
What happened next will surely go down as one of the greatest monumental collapses ever.
In case you missed the downfall live, here is a play by play analysis of it—hole by hole—from the 15th to Scott's final collapse at the 18th.
Begin Slideshow

»
Coming into the 15th hole after birding the one before, you would think Scott would be able to keep that momentum rolling, but that was not the case.
Unfortunately, Scott hit his second shot into a bunker near the green, and put himself into a tough position to save par. He managed to get the ball out of the bunker, but could not roll it up close enough to give himself a guaranteed putt.
He left himself too much work to save par, and he just could not handle it. He missed the putt and ended up with a bogey on the hole.
With a four stroke lead coming into this hole there was no reason why Scott's ball should have ended up in the green side bunker—either one of them to be exact.
The only exception to this is that he hit a bad shot, or was just not playing it safe. The green on 15 is protected by two bunkers lying to the right and to the left of the middle of the green.
Scott only needed to play a safe shot, somewhere in the middle of the green, and then work with his putter to give himself a two putt.
Looking back, if he was to play the safe approach to the middle of the green, he would have had an easier shot at two putting for the par rather than holing out a one putt from distance for the sand save.
All that Scott needed on this hole was a good score. That did not have to be a birdie, but just a simple par would do. Something he had been able to do so consistently during the middle part of his fourth round.
A par would bring him back down to the point where he would not have to think about his golf game. After the bogey on the 15th there is no questioning the fact that self-doubt was creeping into Adam Scott's mind.
The 16th hole was so important for Scott to turn it around and get himself back on track, but he failed to do so.
After hitting a tee shot that gave him a wedge into the green, he had set himself up about as good as you could ask for. But then his second shot was anything but good.
Scott somehow managed to get too much of the ball and it flew onto the green landing some 25 feet from the hole. Even so, his first putt, and third shot, was lagged to within three feet.
After recovering from his approach with a long putt that should have given himself an easy par, Scott lost all control of his game and from here on in you knew that the opportunity to lose was in full force.
You can understand the pressure that Scott would be facing at this point, and you can give him the benefit of the doubt for his second shot. After all, he was able to recover nicely and put himself in a position to come out of the 16th with a par.
What you can not forgive is his second putt. When you give yourself a chance to save par with a putt that is around three feet long you need to make it. You do not only need to be able to make that on a normal day, but even more so when you are three holes away from winning a Major.
That putt should have been a given at the very least.
After bogeying the last two holes, the pressure Scott felt walking the fairway on the 17th must have been unbearable.
He heard the cheers coming from the 18th green as Ernie Els was able to bring himself within one stroke of Scott after sinking a birdie putt.
That turned the 17th hole for Adam Scott into a do-or-die situation. If he was not able to manage a par on this hole then he would be going into the final hole in the worst possible scenario.
After a good tee shot, Scott was able to give himself some opportunity with a good approach shot. That did not turn out as planned. He went left of the green and managed to find some thick grass.
Like the two holes before, he could have been able to save this with a good chip shot and putt, but neither was accomplished.
The chip was a tough shot, to give Scott the benefit of the doubt, but he still left himself with a tough putt for par. Sitting at about 12 feet away, he misread the break and putted it with the right speed but to the left.
Although you can not blame Scott for getting a bogey on this hole, his second shot should of been better. He knew that his round needed to be turned around before the final hole because then all the pressure he could imagine would be on him, but he just could not do it.
All it would have took on this hole was a better approach shot by Scott, that either landed somewhere on the green or in a safe place that would allow him a controlled chip. Neither was done, and that second shot on 17 is one that Scott would like to have back.
After three holes with three straight bogeys, Scott had one last chance to turn around his opportunity to win a major. Most likely he would not be thinking of birding the hole and winning The Open outright, but rather a par to force a playoff and get his game back together.
Using a three wood off the tee, Scott found a fairway bunker on the left. His ball bounced in and caught tight against the face of the bunker.
It left him with a very tough shot. So tough that he had no choice but to play a shot directly to the fairway beside him, and give himself a chance for a one putt par.
Scott's third shot on 18 was excellent. He was able to give himself an eight footer to force a playoff. In the end however, he was just not able to knock it down, watching it stay left the whole way to the hole.
The 18th was unlucky for Scott and he gave it all he could. He played it safe to give him a chance to force a playoff. It never seemed like he was going for the outright win, and in this case it was the right move.
It did not turn out to be in Scott's favor however, and it still ended in one of the worst collapses ever at the British Open.
The only shot that could have been better was the tee shot. Even then, to find that bunker and for his ball to end up in the position it was in was unlucky. If Scott landed his ball a few feet in either direction he may have been able to avoid the trap altogether, or get a better lie at the very least.
Any shot out of the bunker he could of made that would have got him closer to the hole would have given Scott a better opportunity to land a tighter approach near the pin.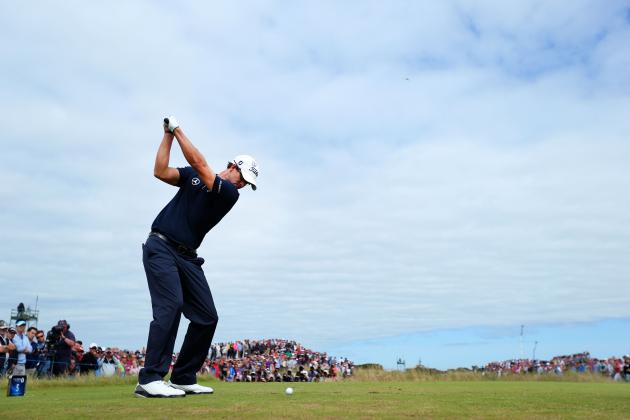 Richard Heathcote/Getty Images

Having never won a major in his career, this could be a serious blow to Scott's mindset. He was so close to being able to win The British Open, and he was just not able to finish it.
Scott went on to tell the Associated Press (Via Fox Sports) just how he was feeling right after he missed that final putt:
I had it in my hands with four to go...I managed to hit a poor shot on each of the closing four holes. Look, I played so beautifully for most of the week. I shouldn't let this bring me down.
Even though he wants to make sure that he can put this all behind him and continue to play excellent golf, it will be tough to do so.
He is right when he says that the collapse should not bring him down. Scott should make sure to learn from this, so that when another opportunity comes around he will be better able to handle himself.
Think Rory McIlroy.
Scott is too good of a golfer, with too much talent to get shut out in the major championship's. His opportunity will come again. Hopefully next time he will be able to handle the pressure.
If Scott takes the time to let it all sink in, he will realize that just this year alone he has been able to put up two top-ten finishes in the three major's thus far.
If he can continue his strong play going into the PGA Championship there should be no reason why he would not be considered a contender to take home the title. Nonetheless, he will have to prove to his doubters that he can keep his cool under pressure.
Scott does have one fan behind him who does not think that this collapse will spell the end, reports the Associated Press on CBC.ca. British Open winner, Ernie Els, gave kind words to his friend Scott and spoke of a bright future for him:
You're a great player, a great friend of mine. I feel very fortunate. You're going to win many of these.