Detroit Red Wings, Philadelphia Flyers and 8 Other Teams Facing Huge Uncertainty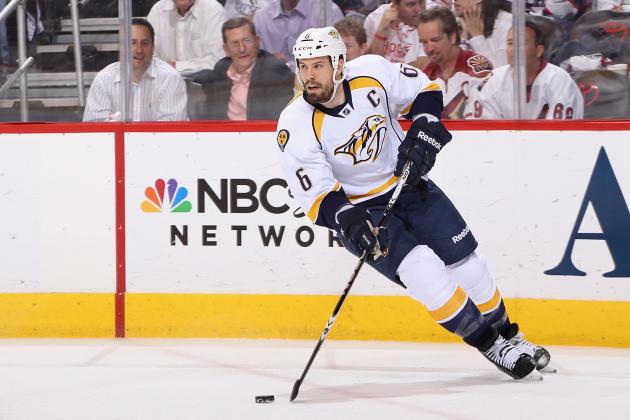 Christian Petersen/Getty Images
Shea Weber, currently of the Nashville Predators, but potentially a Philadelphia Flyer come this time next week.
The regular National Hockey League season is still a healthy two months away. However, free agency is well underway, accompanied by all the questions that follow the first few weeks of signings. If there's one thing you can take to the bank when it comes to hockey, it is that there is no actual offseason. Everything else is up in the air, including, most notably, just where Shea Weber will end up. Without further ado, here are the Detroit Red Wings, Philadelphia Flyers, and eight other teams facing huge uncertainty heading into the 2012-2013 season.
Begin Slideshow

»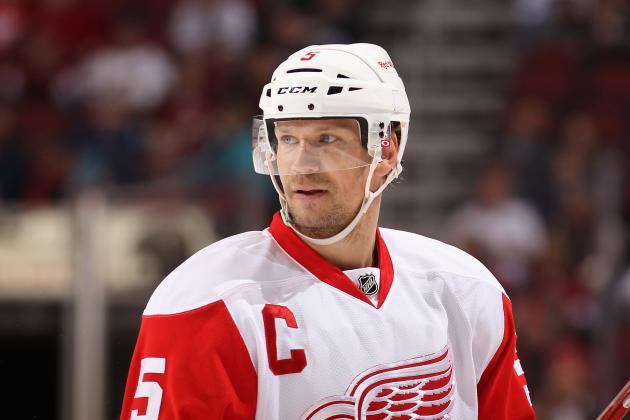 Christian Petersen/Getty Images
Nicklas Lidstrom has retired, leaving a huge hole on the Detroit Red Wings' blue line.
For the first time in a long time, the Wings entered free agency looking to make a splash. Unfortunately for them and their fans, they failed to dive in, and belly flopped instead.
Sure, the (Jordin) Tootoo train chose to make a stop, the monster (disappointment) that is Jonas Gustavsson will replace Ty Conklin as the team's back-up goalie, and Mikael Samuelsson is back in town to replace Jiri Hudler's output, but LAL (or, Life After Lidstrom for all those thinking I'm laughing out loud at the big Swede and just mistyped) begins this coming season, and the Wings are left with a huge hole on the blue line.
Of course, they still have Niklas Kronwall, Ian White, and Kyle Quincey—d-men who are at least top-four players elsewhere—but nobody that screams, "I'm the reincarnation of Saint Nick." Of course, that's probably a good thing, considering the implications: you've got a crazy person in your locker room. Without him, though, nobody really knows what to make of this year's team aside from the fact that they will still make the playoffs. At least that much is certain, but not how safely.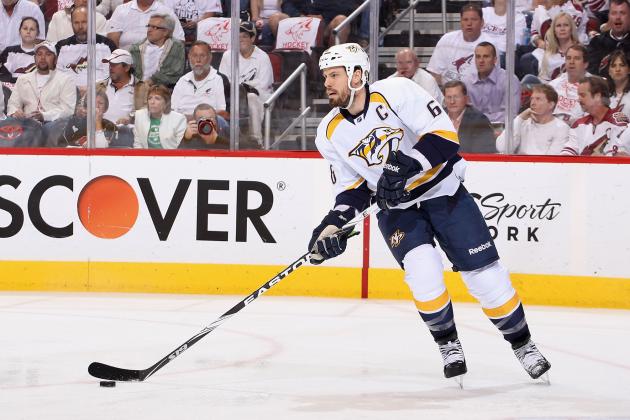 Christian Petersen/Getty Images
Shea Weber has signed a 14-year, $110-million offer sheet with the Philadelphia Flyers.
Suddenly general manager Paul Holmgren has become some weird hybrid of Kevin Lowe and Glen Sather. It's no longer good enough for him to throw money at the team's problems and hope a few bills stick and clog holes in the lineup (or Ilya Bryzgalov's game, to be more specific). Now, he has to throw money at other teams' restricted free agents like the Edmonton Oilers did with Dustin Penner. That didn't exactly turn out so hot, now did it?
Of course, Shea Weber has more than one decent season under his belt, as a Norris Memorial Trophy-caliber defenseman, and the chances of his game turning to glorified dog droppings on the ice are slim. But Holmgren still hurt his team in the long run, and the Flyers are still not guaranteed to get a top defenseman to replace Chris Pronger.
Who knows what the future will hold for the Flyers? No one except for David Poile and the rest of the league's general managers who may choose not to do business with Philly in the future.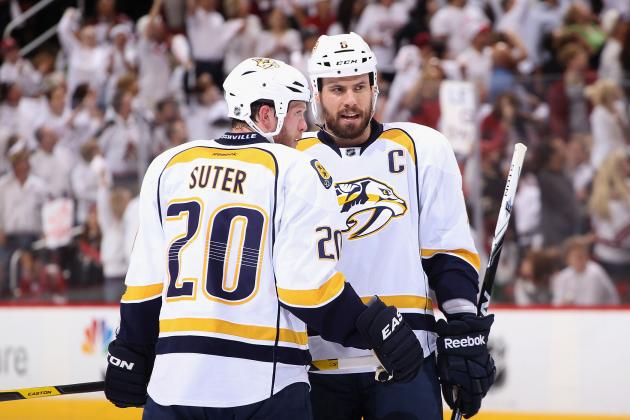 Christian Petersen/Getty Images
There's huge uncertainty as far as the Nashville Predators' defense is concerned with Ryan Suter leaving and Shea Weber potentially on his way out.
As if the loss of Ryan Suter wasn't enough. Now the team's actual best defenseman may be on his way out, and, even if the Predators were to decide to match the Flyers' offer, it has become clear that Weber doesn't want to be there anymore.
Of course, Nashville is blessed with a deep defense, with no less than three top prospects primed to make a big-league difference (Roman Josi, Ryan Ellis, Jonathon Blum), but Weber and Suter were also a big part of the team's offense. Without them, Jordin Tootoo, or even Alexander Radulov, the team's offensive depth is downright offensive. It has gotten to the point that the Predators may very well be the new Minnesota Wild: a team made up of Kyle Brodziak-esque third-line forwards who can contribute the odd goal.
When your team's most consistently capable player up front becomes Martin Erat, you're in trouble—and not the good kind with the potential of eventually making up with your significant other. Right now, the Preds lack that special person in their lives. Will someone get these crazy kids back together?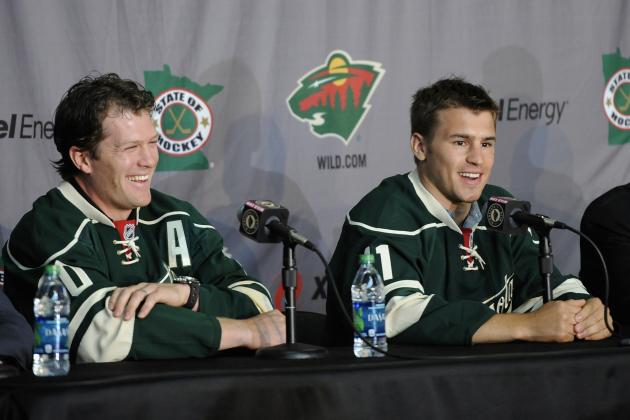 Hannah Foslien/Getty Images
Ryan Suter (left) and Zach Parise signed with the Minnesota Wild on July 4, making the team an instant playoff contender.
Minnesota is suddenly a hot place to be in the winter months. For the first time one can safely make that argument. Not since Branko Radivojevic rode shotgun with Pavol Demitra and "Maid of Glass" Marian Gaborik, has there been this much star power in Minny. In fact, there's probably more star power.
Assuming Pierre-Marc Bouchard is healthy and Mikael Granlund delivers on his potential, the Wild will actually have two legitimately dangerous lines. Sure, those are pretty big assumptions to make, but they're better than the alternative which fans had heading into free agency, that the team would not make the playoffs. Now, there's hope—a little unjustified-as-of-yet bragging, but hope, above all else.
The credibility that Ryan Suter lends to a third-rate defensive corps is invaluable, and Niklas Backstrom and Josh Harding will be lights out as usual, meaning the Wild have a decent shot at making noise. How much they end up making is anyone's guess, though.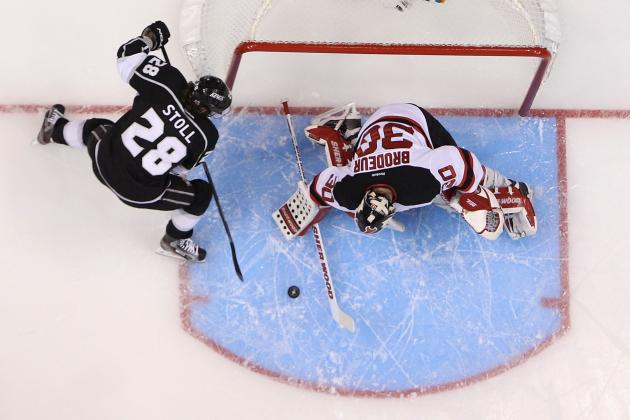 Christian Petersen/Getty Images
Martin Brodeur and the New Jersey Devils fell short of winning the Stanley Cup in June and likely won't come nearly as close this year.
Minnesota's gain has been the New Jersey Devils' loss. With Zach Parise gone as the captain and as the team's heart and soul, the Devils have the choice of either turning to Ilya Kovalchuk or Dainius Zubrus.
Okay. Maybe things aren't quite that bleak, but they aren't all sunshine and lollipops either. Patrik Elias and Martin Brodeur are each a year older. Well, technically everyone is, but it's much more evident when looking at their crow's feet.
In any case, there are no longer any guarantees when it comes to Brodeur's game, and Elias' production is set to dwindle, meaning the team's success this upcoming season lies largely with their defense. Admittedly, that's been a hallmark of Devil teams in the past. But heading into training camp, the one line the Devils are sure of comprises Steve Bernier, Ryan Carter, and Stephen Gionta. Additionally, Bryce Salvador has become key to their run-and-gun offense—it's not so much an offense as it is a question of who, besides Kovalchuk, will put the pucks in the net, and if that lucky person can score enough to offset the goals Brodeur allows.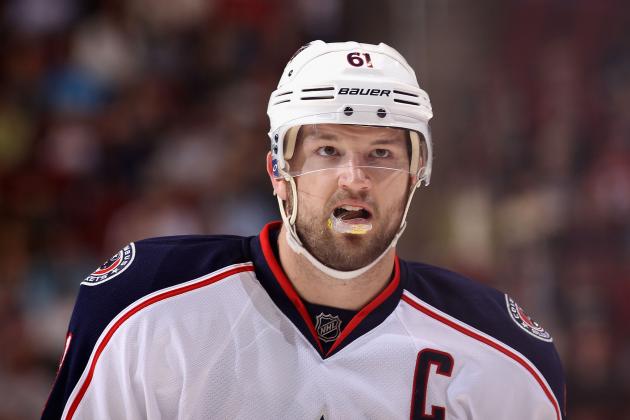 Christian Petersen/Getty Images
Columbus Blue Jackets captain Rick Nash has asked for a trade, which would potentially leave the team with a huge lack of talent up front.
A few things in life are for certain: death, taxes and the Blue Jackets not making the playoffs. In regard to the latter, there will admittedly be some questions along the way:
1. Where will Rick Nash end up?
2. Just how bad will the goaltending tandem of Sergei Bobrovsky and Steve Mason be?
3. What will it take to get Scott Howson fired?
4. Will today be the day Jack Johnson breaks into another one of his famed surf-rock sing-alongs and gives fans an actual reason to show up?
5. What? Wrong Jack Johnson?
6. Then why, oh, why did the Jackets give up Jeff Carter for him?
Stay tuned. Hopefully some answers will reveal themselves in due time.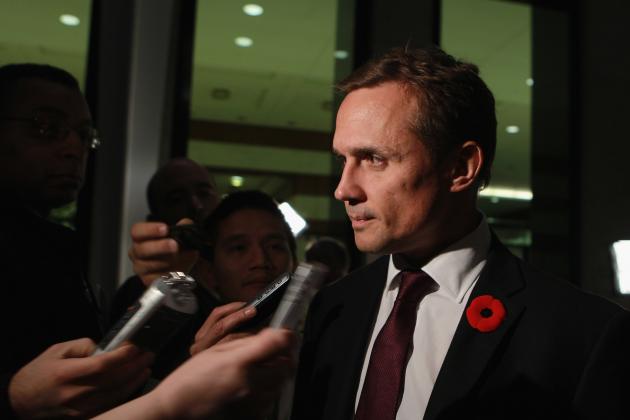 Bruce Bennett/Getty Images
Tampa Bay Lightning general manager Steve Yzerman has made a few questionable moves this off-season that quite possibly won't be the answer to the team's many problems.
It turns out for Stevie Wonder and the gang, a 42-year-old goalie was not—I repeat, NOT—the answer. Who would have guessed? So, the logical next move: trade for an unproven back-up goalie, who had a record below .500 last year. And if Anders Lindback ends up not being the answer either, there's always Benoit Pouliot. Maybe the reason he's been a perennial disappointment is that no coach has ever honed in on his true niche: goaltending could very well be his thing.
At the end of the day, Steven Stamkos, Martin St. Louis, Vincent Lecavalier, and Teddy Purcell make up just one third of the team's offense every night. And Matt Carle alone does not make for a proper defensive corps. If Victor Hedman and Brett Connolly improve by leaps and bounds, the Lightning can make things interesting out east.
If not, there's always the option of strapping the goalie pads on Pouliot. That would be plenty interesting.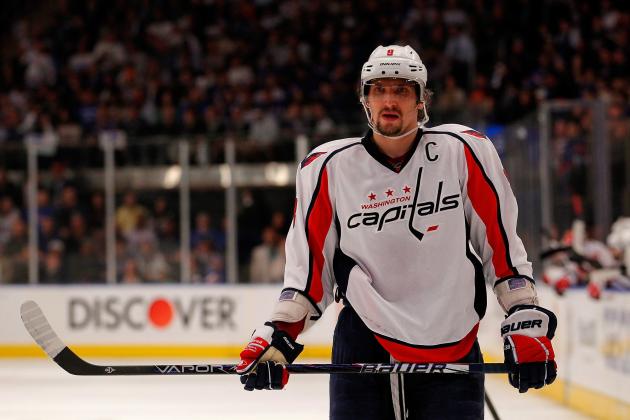 Paul Bereswill/Getty Images
Alexander Ovechkin still holds the key to the Washington Capitals' chances of success.
The acquisition of Mike Ribeiro is no doubt a good one for a team seeking added firepower following the departure of Alexander Semin. It's arguably an upgrade. Wojtek Wolski brings his share of controversy and uncertainty, as well.
However, it's the usual suspects in Mike Green, Nicklas Backstrom, and Alexander Ovechkin that will dictate whether this ship sinks or makes it to the promised land. If they are healthy and can return to form, then all bets are off. If not, all heads will turn to Braden Holtby, of whom fans will be expecting an encore performance following his heroics during these past playoffs.
Needless to say, in the nation's capital, hockey is a hotbed of unpredictability.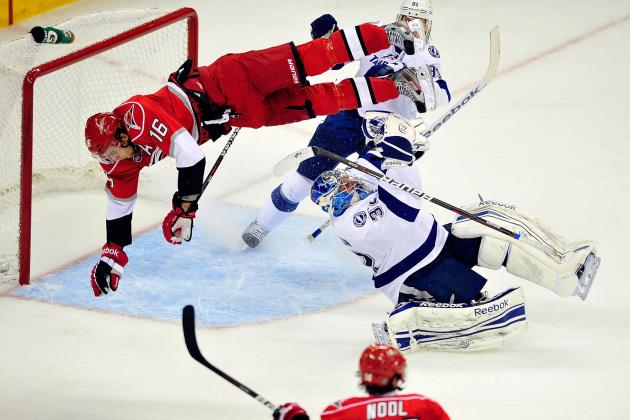 Grant Halverson/Getty Images
If Brandon Sutter can take flight with the Pittsburgh Penguins, the loss of Jordan Staal might not be as hard to take.
You have to think Pittsburgh believed they had the inside track when it came to signing Zach Parise prior to making the deal that sent Jordan Staal to the Carolina Hurricanes. However, despite his potential, Brandon Sutter is a definite downgrade.
Add into the equation Tomas Vokoun in the goaltending crease, and few people know what to make of this latest edition of the Penguins. In fact, if Pittsburgh did nothing and stood completely still, most everyone would still be wondering if Sidney Crosby was completely healthy.
People outside Pittsburgh tend to forget that each wing represents a glaring weakness for this team. Without their three two star centers, this team might just make like a real penguin and remain flightless.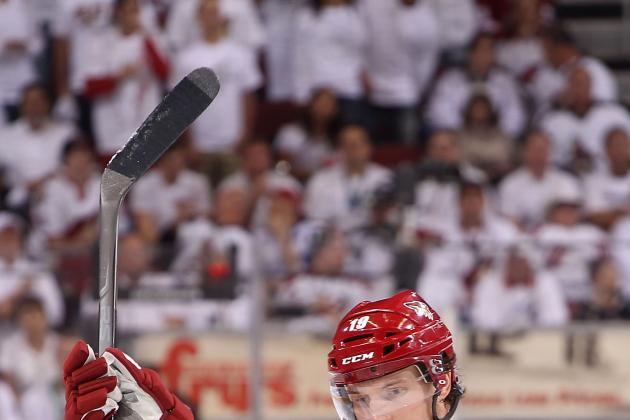 Christian Petersen/Getty Images
Shane Doan has yet to decide where he will play next season.
It's bad enough that captain Shane Doan remains in limbo, weighing his options at the team's expense. It's worse still that its goaltending situation continues to remain unaddressed, and we're supposed to just buy that Mike Smith hasn't been abducted by aliens and replaced with a double that is actually competent in between the pipes.
What's the absolute worst, though, is that the off-ice ownership situation is enough to drive anyone nuts, let alone the few fans who actually follow the team. It may be an overly harsh sentiment to verbalize, but the team is in a precarious position for a reason.
Once the team's sale to Greg Jamison is finalized, everyone can breathe a little easier. Until, of course, they realize Doan's heir apparent is a player by the name of Rob Klinkhammer. Doesn't roll off the tongue quite the same, does it? No worse than Radim Vrbata, I suppose. Okay, just a tad worse.