USA vs. Argentina: Americans Will Cruise vs. Overmatched Argentinians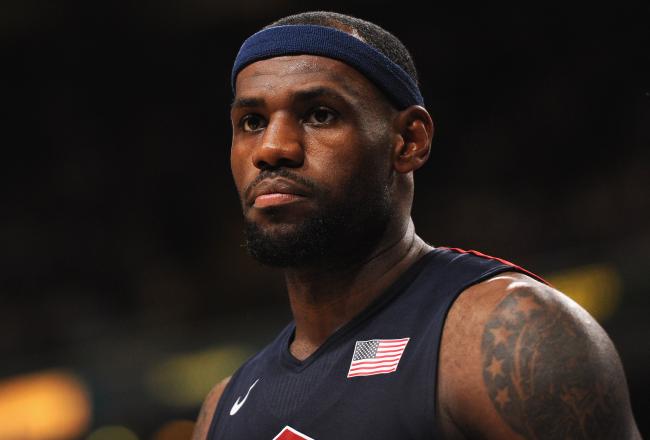 Stu Forster/Getty Images
The United States men's basketball team faces Argentina Sunday afternoon in the next-to-last tuneup before heading to London for the Olympic Games, and while there are still some kinks to be worked out and the Argentine squad features some talented players, the latest incarnation of the "Dream Team" should have little trouble dispatching them.
Granted, Team USA has looked out of sync at times, destroying the Dominican Republic and Great Britain but struggling a bit against Brazil.
However, while Argentina possesses a few NBA stars, they are also a much older and less athletic team that will probably struggle mightily against the smothering defense that Mike Krzyzewski's American squad has displayed so far in exhibition games.
Argentina doesn't possess the size up front to really take advantage of Team USA's lack of it, so their best hopes for an upset likely rest with their three best players.
Unfortunately, each of those players will have their hands full and then some with the opponent they'll be facing off against, leaving precious little chance that Argentina can give the USA a serious challenge.
Veteran shooting guard Manu Ginobili is a capable scorer who has shown for years that he's more than capable of putting up offensive numbers, but Ginobili will spend much of the afternoon matched up with either Kobe Bryant or James Harden, both of whom are intimately familiar with the San Antonio Spurs star due to their numerous Western Conference showdowns in the NBA.
Milwaukee Bucks forward Carlos Delfino adds versatility to the Argentine lineup with his ability to play both small forward and shooting guard, but Delfino faces a Herculean task on Sunday in keeping up with Kobe Bryant.
Bryant has struggled to this point in exhibition games, and it wouldn't be at all surprising if Bryant decides that Sunday is a good day to send a message by pouring it on at Delfino's expense.
Finally, Luis Scola of the Phoenix Suns may have the most unenviable task of any player for Argentina on Sunday. Scola will start at power forward for the Argentinians, which means he'll spend much of his afternoon trying to contain LeBron James, which is oftentimes an exercise in futility for even the absolute best the NBA has to offer.
Sure, it's possible that Team USA could come out flat, much as they did when Brazil raced to a double-digit halftime lead. However, the Americans righted the ship in that game and went on to an 11-point victory, and barring an unforeseen catastrophe, Team USA will almost certainly cruise to victory Sunday by an even bigger margin than that.
That will set up one last exhibition against the Gasol brothers and the Spanish national team on Tuesday, and it's in that game that we may finally see the Americans challenged, especially given the size problems that the Spanish pose for the Americans.
Until then? Just another double-digit win for a U.S. national team, whose depth and quickness will simply be too much for Argentina to handle.
This article is
What is the duplicate article?
Why is this article offensive?
Where is this article plagiarized from?
Why is this article poorly edited?