USC Football: What You Need to Know About the Trojans Coaching Staff
Stephen Dunn/Getty Images
Sadly, due to the nebulous title of this slide show, a disclaimer for the information to follow is warranted.
While the opinions contained within are pertinent and perhaps at times even "salient," they are not by any means a complete breakdown of this USC coaching staff that is in the process of returning the men of Troy to the lofty status they enjoyed not so long ago.
To offer a thorough breakdown of the Trojan brain trust would require many dozens of slides and due to circumstances far beyond my control this week, that is simply not possible.
For that, I apologize.
Instead, consider the following an "over view" of a group of Trojan coaches that are distinguishing themselves in a myriad of ways as they guide USC out of some of the darkest days in their legendary history.
How are they doing this? What traits or characteristics do these men possess that have USC on the cusp of greatness despite the fact that college football's governing body clearly intended to cripple the program with their oppressive sanctions?
It is being done through hard work, diligence and a single minded focus not to fail, all of which, when coupled with what follows, defines a plan that is on the brink of an historic season.
And this is how they are doing it...
These Coaches Are Passionate and Enthusiastic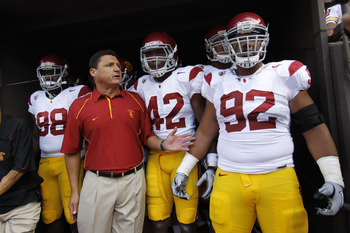 Ed Orgeron
Kent Nishimura/Getty Images
Ask any Trojan player about how enthusiastic defensive line coach Ed Orgeron is and they may ask you to wait a moment for their answer while the ringing of Coach "O's" booming voice settles out of their ears.
Such is the passion that the Trojans defensive line coach brings each and every day. And he is not alone.
Whether it is other "huge personality" coaches like special teams maven John Baxter or the more reserved demeanor of the elder Kiffin, Monte, all of the staff bring passion and enthusiasm to the joy they exhibit when coaching their boys.
In all coaching aspects, whether it is individually in one-on-one sessions or collectively as a staff, this group of coaches exude a spirit that can't help but be contagious for the young men they are seeking to improve every day.
And it is.
USC's Complete Organization Starts from the Top Down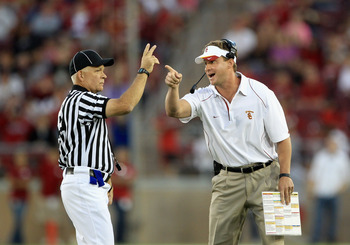 Ezra Shaw/Getty Images
In guiding USC out of the dark days of the NCAA's sanctions, Lane Kiffin and his staff have made organization the cornerstone of their overall plan to keep the Trojans at the forefront of college football.
Whether it is the planning of workouts or creating an overall scheme to handle the challenges of 30 less scholarships over the next three years, Kiffin and his staff's organization has complemented a game plan that will ensure the program's success going forward.
A good example of this is the staff's decision to only sign 12 players in 2012, thus leaving three extra "early enrollment" players for the more talented 2013 class.
There are many examples of this staff's ability to organize a solid game plan to ensure the Trojans excellence for the future.
The plan is solid and well organized and Trojan fans know it.
Innovation Is a Hallmark of USC's Braintrust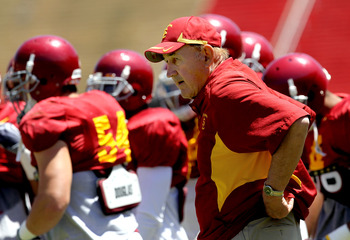 Monte Kiffin
Stephen Dunn/Getty Images
Long considered a brilliant offensive mind, Lane Kiffin has been confusing and confounding opposing defensive coordinators since his elevation to offensive coordinator in the Pete Carroll days.
And it continues today as the young head coach salivates with offensive prospects for guys like quarterback Matt Barkley and his cadre of extremely talented skill players to make life miserable for hapless defenses lining up against them.
Every year, Kiffin adds new wrinkles to an already explosive offensive game plan and this year should be fascinating when he gets to tinker with an experienced and fabulously talented group on his side of the ball.
Meanwhile, on defense, USC can boast the talents of the elder Kiffin, Monte, who is only the architect of one of the mainstays of planning which is the "Tampa 2" defense.
There has been a learning curve for the Trojans to implement Monte's system, but this year, Trojan fans should get a glimpse of how innovative it can be.
Finally, when it comes to innovation, there is not a more inventive special teams mind in college football than John Baxter.
In fact, it is Baxter's creative mind that caused so much angst for Trojan fans when he and his boss made it an aggravating habit to go for two in many extra point situations.
Fortunately, that has been tempered by more conventional wisdom as of late but at any time, Trojan opponents must be on their toes for Baxter's tricks.
In every component of the game, USC coaches make innovation a calling card of their trade.
Is There a Better Staff in College Football When It Comes to Recruiting?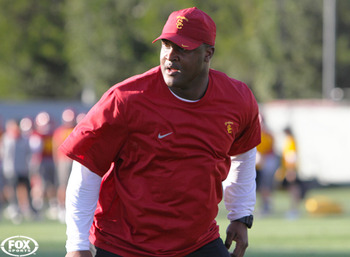 Tee Martin (photo from usc.scout.com)
The biggest story so far in recruiting for the 2013 class has been USC's absolute dominance in drawing talented players to come west and play for the Trojans.
Rated as the number one class so far by many recruiting services, those "in the know" simply can't figure out how USC is getting so many outstanding prep players while being mired in the depths of 10 scholarships being removed each year for the next three years due to those NCAA sanctions.
Of course, the prestige of the university plays a huge role in securing those verbal commitments, but someone has to sell it to these young, impressionable players.
That, of course, would be the coaches.
Relentless, charming and with a great product to offer, USC's coaches have had the cache to deliver a stellar class so far to the men of Troy.
But of course, the 2013 class is not the first great one the coaches have delivered. No, this is a perennial occurrence for the Trojans with this staff, and even new guys like Tee Martin, Scottie Hazeleton and Marvin Sanders have jumped right into the fray delivering studs to the cardinal and gold.
Is there a better group of recruiters in college football? For Trojan fans the answer is simple: no.
It Is Their Experience and Knowledge That Sets This Coaching Staff Apart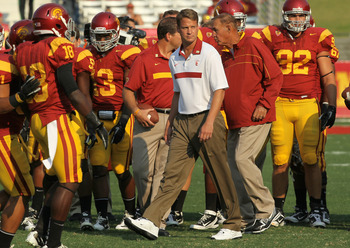 Stephen Dunn/Getty Images
With well over 200 years in collective coaching experience, it should come as no surprise that this staff possesses a wealth of football knowledge.
But knowledge is only beneficial if it is imparted in a manner that allows for the student to absorb and utilize it.
In this area, the staff at USC are masters.
With the ability to teach their charges the nuances that took them so many years to learn, the coaches at USC know their stuff and their players are imminently aware of that.
It doesn't matter how passionate, organized and enthusiastic a staff is if they have little wisdom to offer.
That is not a problem at USC.
Conclusion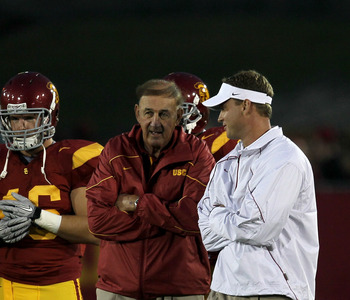 Stephen Dunn/Getty Images
As stated before, a list of what you really need to know about this USC coaching staff would be voluminous and all-encompassing.
The opinions listed here just begin to scratch the surface of what Trojan fans should know about the leaders of the program they follow so rabidly.
And while each coach brings their own peculiarities, strengths and weaknesses, it is the collective efforts of this group that makes them so special.
It is the ability of this staff to mold a group of players that makes them a favorite to win it all in 2012.
When it comes right down to brass tacks, that is all Trojan fans really need to know.
Keep Reading

USC Football: Like this team?